Dotty for pretty vintage-themed cake designs? You'll fall in love with this easy and gorgeously glam hat box cake tutorial, adorned with a gorgeously glamorous polka dot bow!
Making a cake with some true vintage style is as easy as following this fun step-by-step tutorial!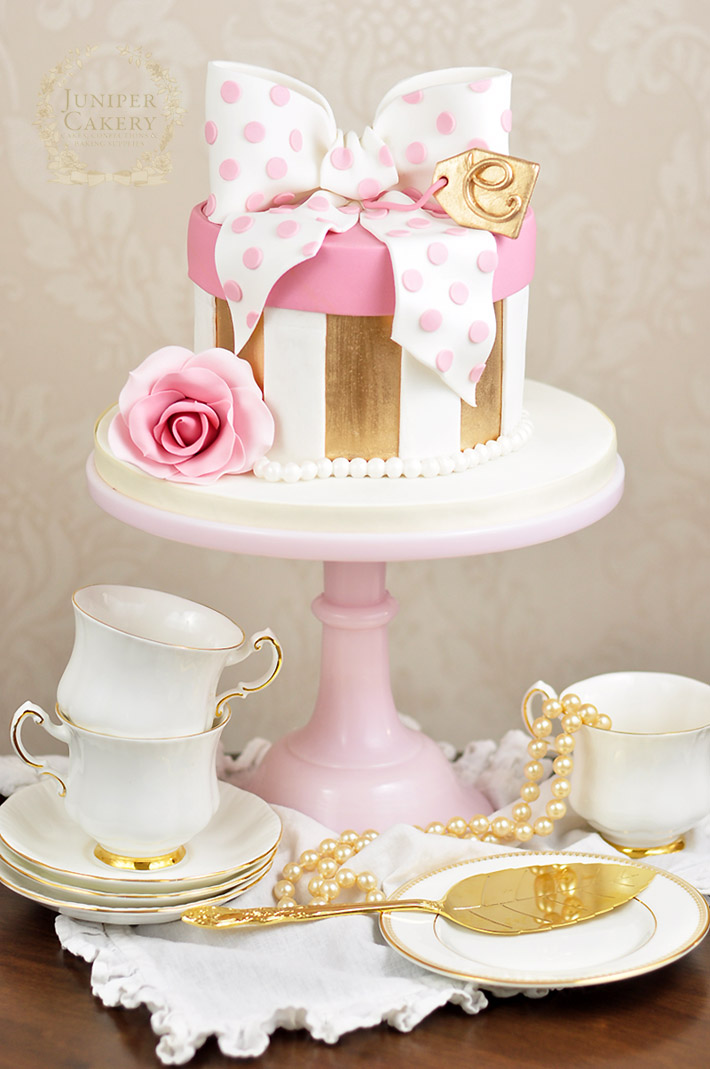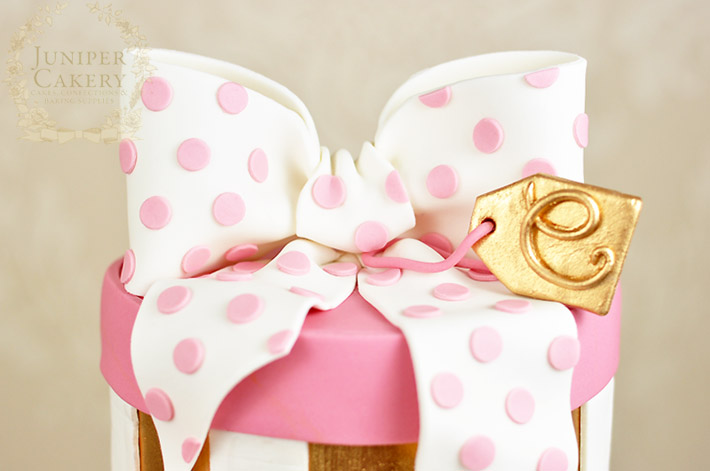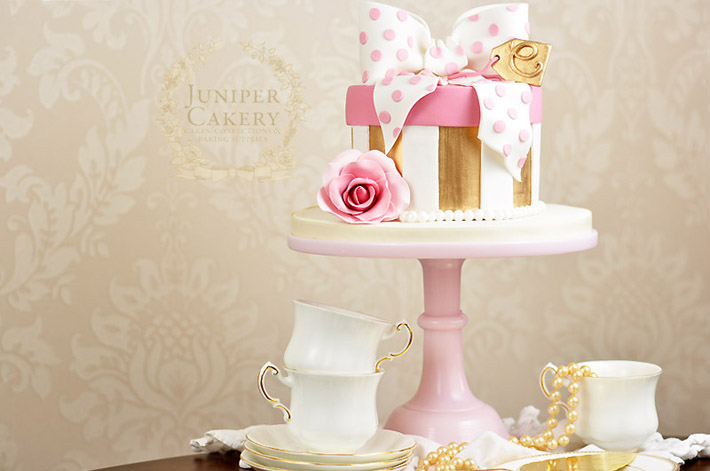 Materials needed:
Fondant-iced round cake
Covered and trimmed cake board
Edible glue
Edible gold paint (or any color you wish)
White fondant
White gum paste
Pink fondant
Cornstarch to dust surface
Pastry cutter or small sharp knife
Ruler
Paintbrushes
Parchment paper
Rolling pin
Pencil
Tylo powder
Medium-sized round piping tip
Cake smoother
Any extra decorations (sugar flowers, edible gift tags, fondant jewelry etc)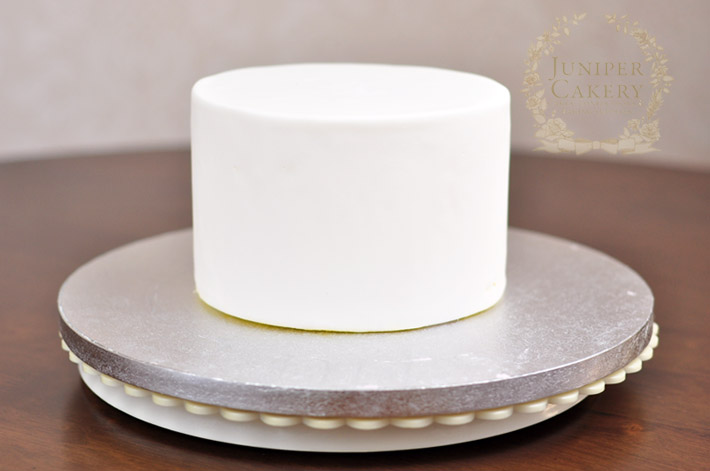 Step 1:
Make sure that your iced cake is free from any powdered sugar, cornstarch or even moisture before you begin!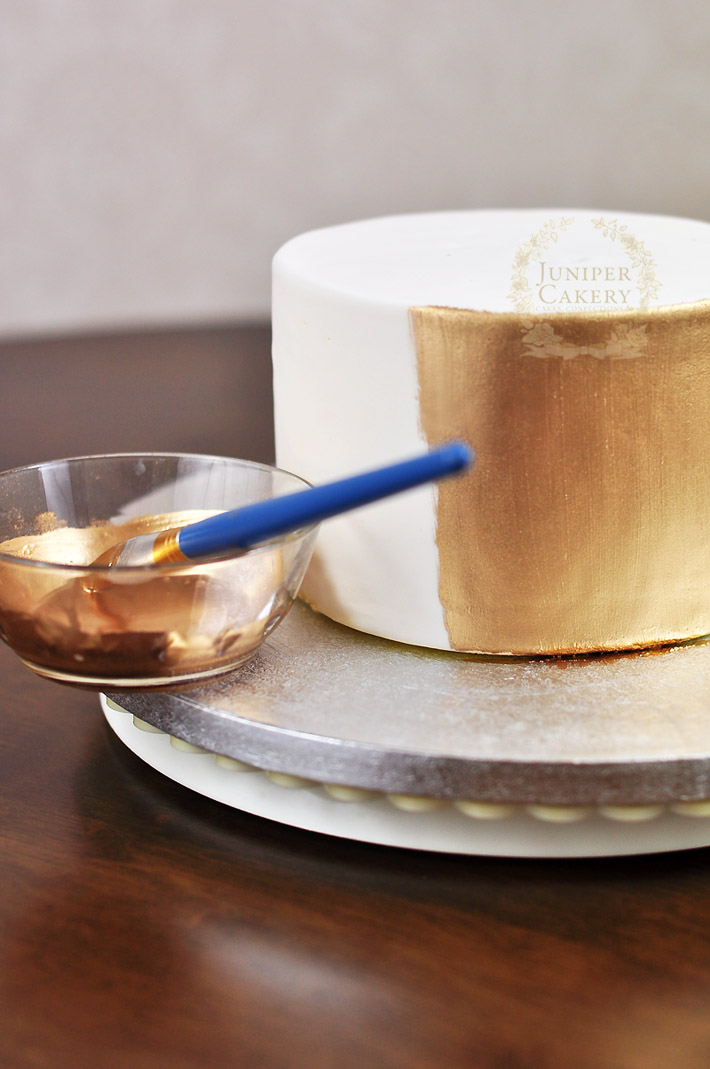 Step 2:
At this stage we chose to hand paint the surface of our cake with a good metallic gold or silver edible paint. You can also choose to leave your cake as is or initially ice your cake with your chosen color!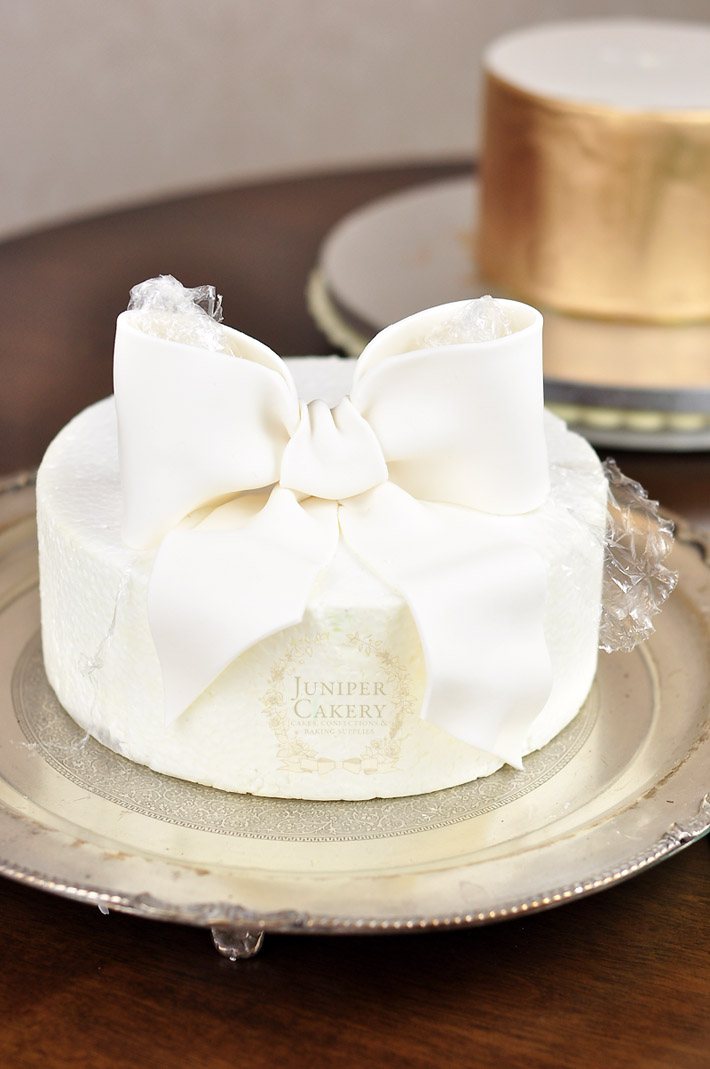 Step 3:
Now is a very good time to create the gum paste bow that sits on top! You can learn how to create fondant or gum paste bows here.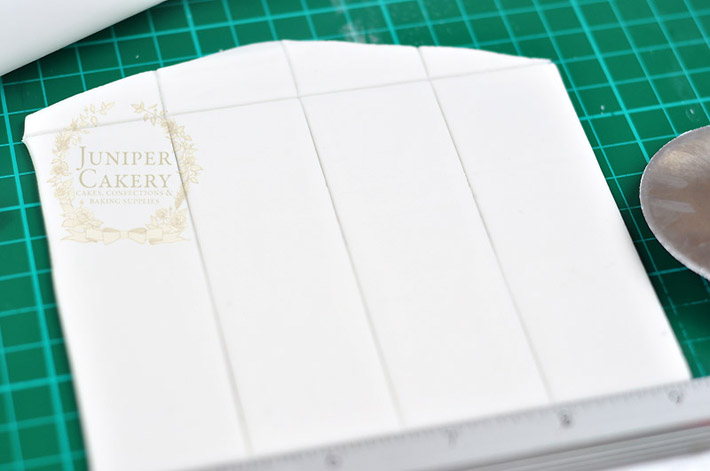 Step 4:
To create the stripes around the hat box cake roll out some white fondant and measure each strip. Make sure that the strips are also 1″ shorter than the actual cake. This is because you'll need some space to fit the lid of your box!
Step 5:
Attach each strip with some edible glue making sure that you measure an equal distance between each piece.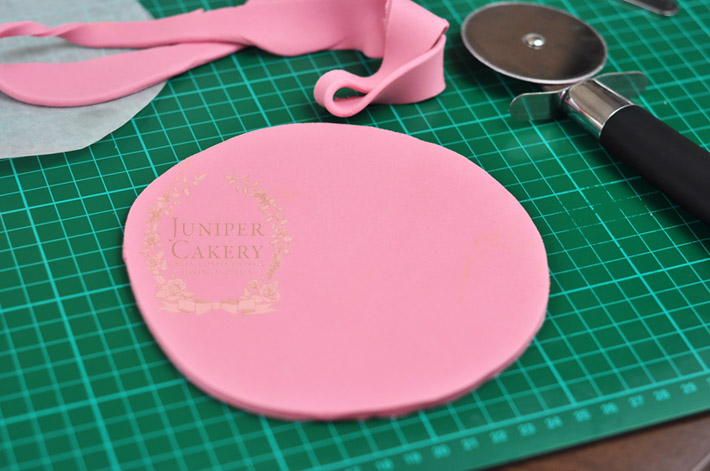 Step 6:
To begin the lid for your hat box trace the top of your cake with a pencil and some parchment paper to get the exact size before cutting out the circle template.
Step 7:
Using your template cut out a thickly rolled (around 6mm) piece of fondant into a circle the same size as your cake.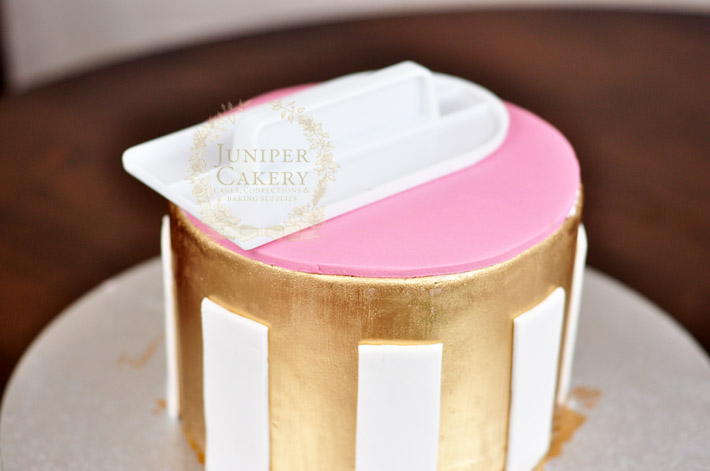 Step 8:
Attach the fondant circle to the top of your cake with some edible glue and smooth with a cake smoother.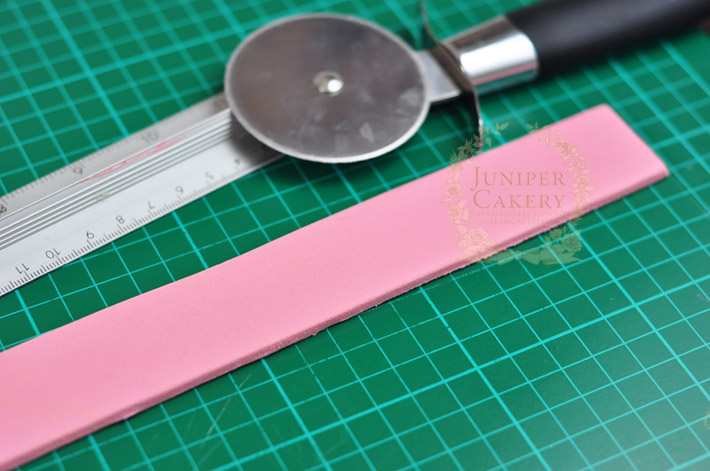 Step 9:
Now roll out a length of fondant (around 6mm thick) that measures the same as the circumference of your cake. Using a pastry cutter or small sharp knife cut a long strip 1″ wide.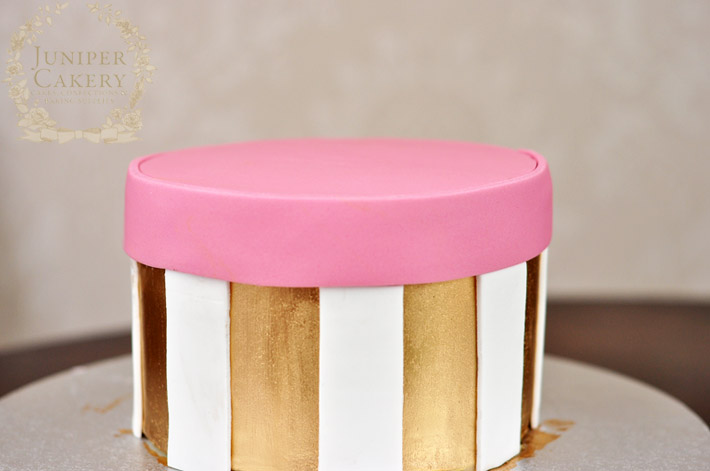 Step 10:
With some edible glue attach around the top part of the sides of your cake.
Step 11:
Place your gum paste bow on top of your cake and attach using edible glue or perhaps a little white chocolate. You can even use royal icing if you have this to hand.
Step 12:
Begin making your polka dots by rolling out some pink fondant and using a piping tip to cut out the circles.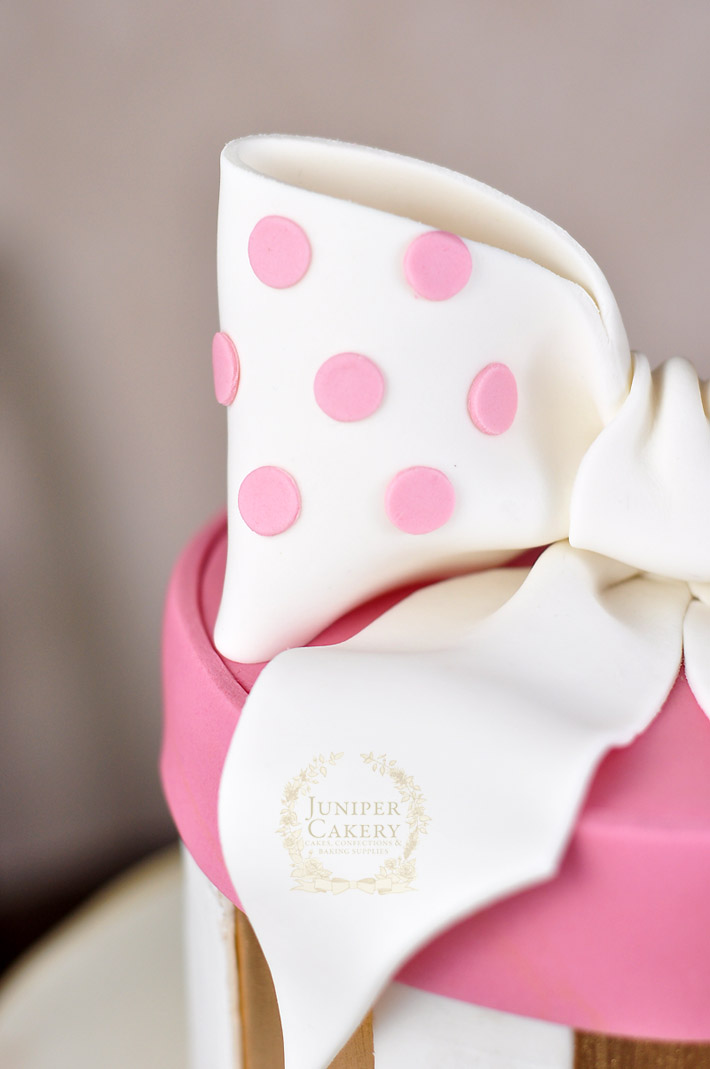 Step 13:
Attach your little fondant polka dots to the cake with a little edible glue painted onto the back of each.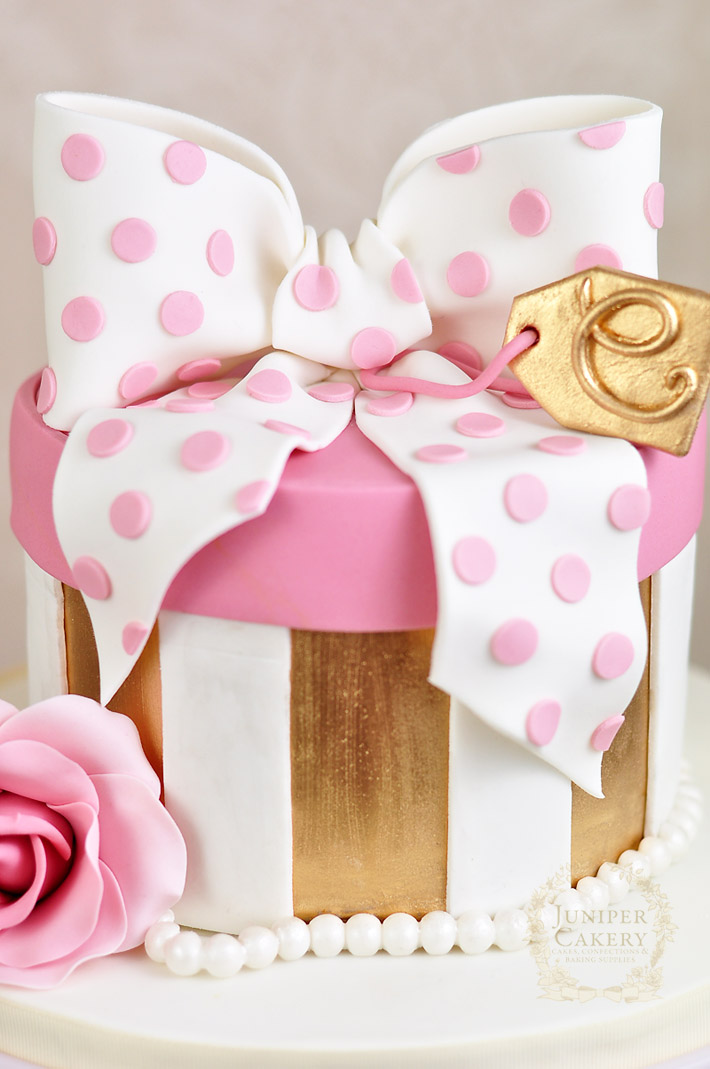 Voilà! You should now be left with one rather stylish cake! Vintage hat box cakes are always popular requests for birthdays, Mother's Day gifts, bridal showers, tiers stacked on to an impressive wedding cake design or as heirloom-inspired anniversary center pieces!
They're surprisingly quick and easy to decorate, plus they're even better to personalize and add your own spin on. For a birthday design we love the idea of a glistening couture-themed cupcake that matches the cake perched on the board complete with a golden candle. Add a thoughtful personalized message for a really sweet touch!