My husband used to tease me about saving the smallest sticks for months on end just in case I might have time to turn them into something entirely awesome. Most of them ended up being turned into kindling for our summer bonfires. As it turns out though, especially here in the Pacific Northwest, green wood is far more abundant than I ever thought. After calling a few friends, a few local arborists, and having recently bought a new (heavily forested) piece of property, I've come into a steady supply of green wood and have, as a result, also become a lot more choosy when it comes to the wood I save versus the wood I toss in the fire.
Although I am admittedly a latecomer to this fad (about 10 years too late), a certain 11-year-old recently introduced me to the Harry Potter series. Knowing I was a woodworker, she asked me to make her her own authentic Harry Potter wand. Unfortunately, it was a little difficult to come across a phoenix feather, but at least I learned a thing or two about green woodwork in the process.
Learn about turning green wood with this fun project.
Step 1: Choose your wood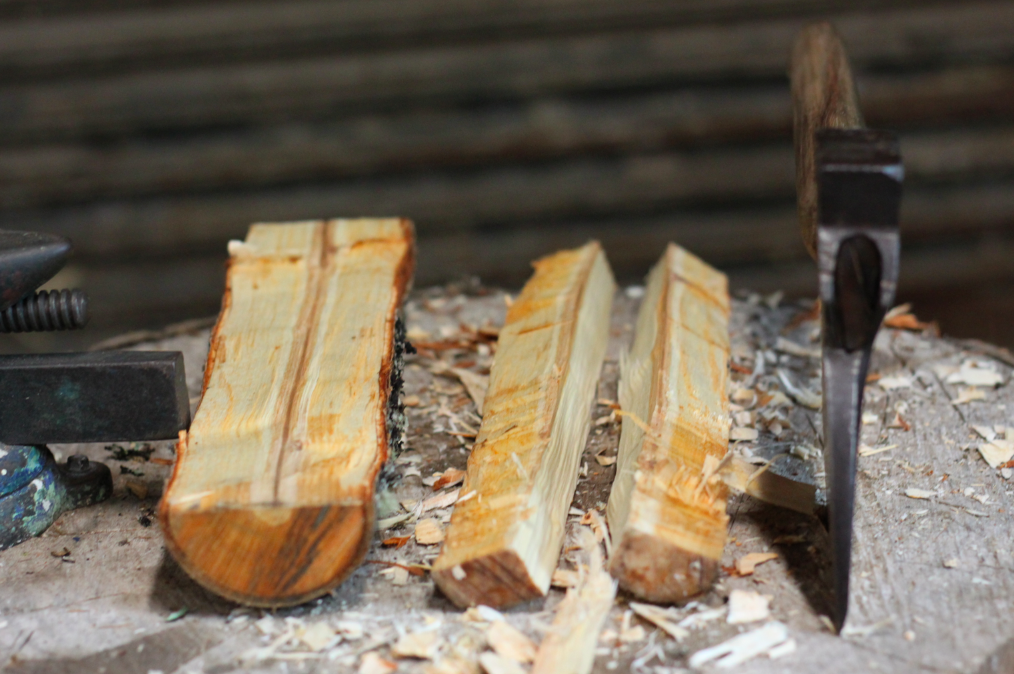 Adam and I recently trimmed a cherry tree on our new property, so we had a few nice, clear-grained cherry logs to choose from. I selected a piece about 14" long and 4" wide and used my hatchet to split it in half, then in half again.
By using this "quarter-sawn" piece of wood, rather than turning an entire branch round with the pith included, I'm saving myself a whole lot of heartache as the wood dries. If the pith, or the dark center is left, the wood will warp and "check," or crack, as it dries. I removed the bark with my hatchet, then cut an "x" in each end to help locate the centers and mount it on the lathe.
Step 2: Turn it round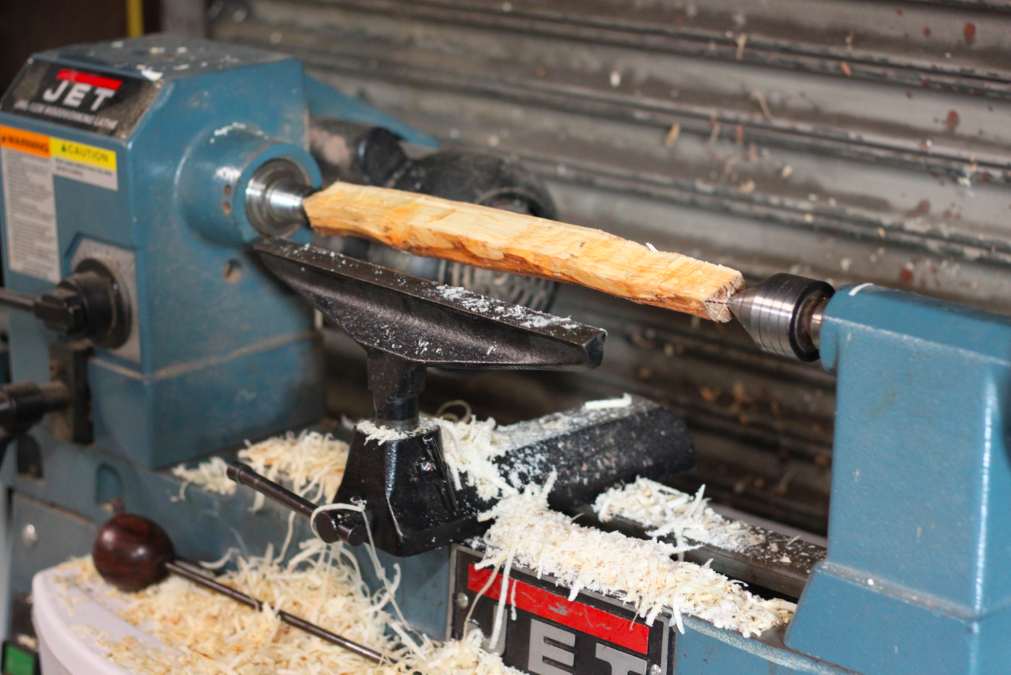 I used my gouge to turn the piece round, taking care to take small bites, to keep the bevel of my chisel at the top crest of the wood, and supporting the handle of my chisel against my hip, moving my whole body to navigate the chisel with control.
Wasting wood off a round piece of green wood is probably one of the most enjoyable tasks in the woodworking craft. Watching those gorgeous long strings float off the tip of the chisel and onto the floor is so beautiful and rewarding. Wood works so well when it is wet.
Step 3: Define your shape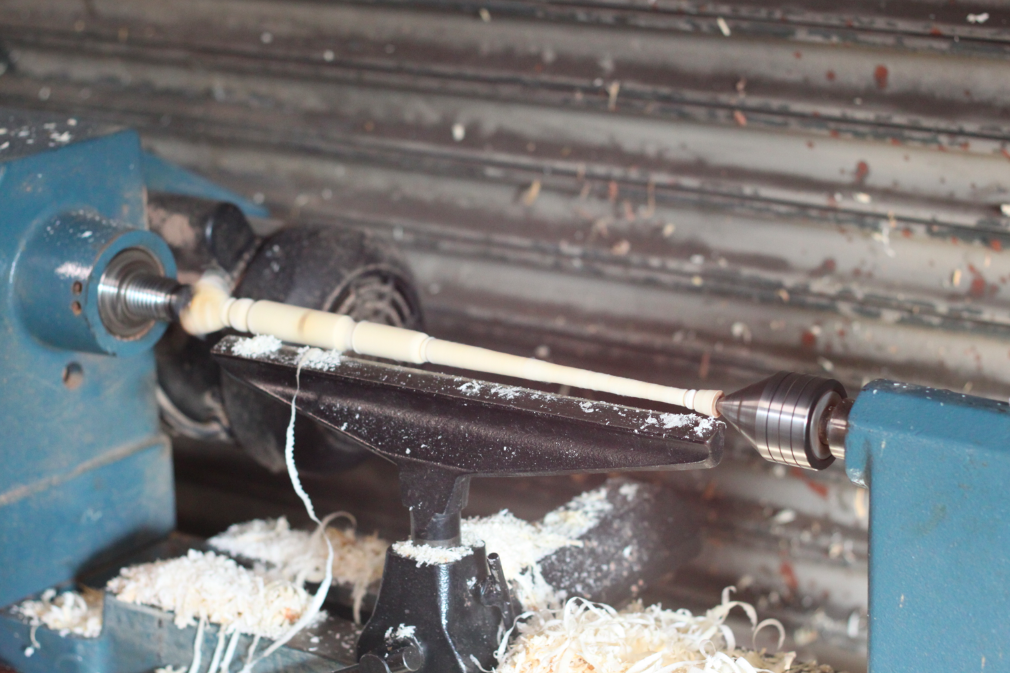 Not being an avid Harry Potter fan, I wasn't too stringent when it came to the design of my wand. I played around with my different chisels and came up with a design that was pleasing to the eye. I turned it as close to the final finish and dimension possible (very sharp chisels are a necessity when using this method), then used some strips of wet-dry sandpaper of successive grits to get it closer to the finished product.
Though wet wood admittedly doesn't sand well, and tends to clog the paper, you can use long strips, moving along the strip as it gets clogged, then lay the clogged strips aside. After a day or two of drying, you can use your vacuum to remove the clogging or just tap the dust out of the grit and reuse the pieces.
Step 4: Refining the wand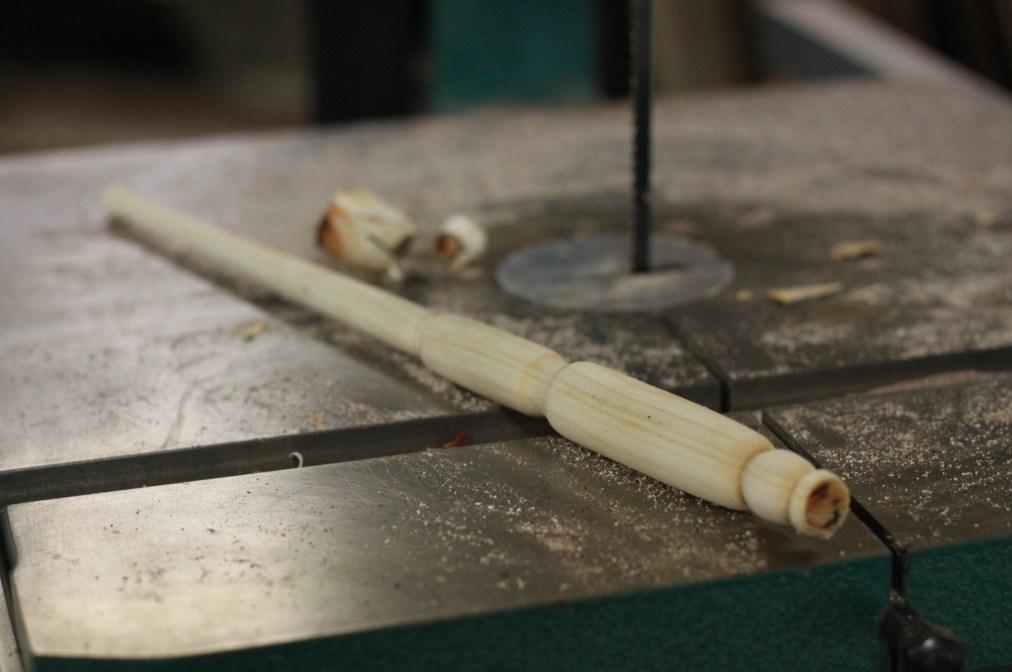 While watching the Harry Potter films, I noticed their wands were slightly crooked. Turning crooked products is incredibly difficult on the lathe, and involves a process called "offsetting," which I have, as yet, far from mastered. However, knowing how wood "works" and that it has a tendency to warp when drying, I decided to see if I could capitalize on that quirk by speeding up the drying process and thus end up with an intentionally crooked magic wand.
After the initial turning and sanding, I removed the wand from the lathe and I used my bandsaw to cut off the excess material left by the lathe. I then used a sharp carving knife to refine the cuts made with the bandsaw.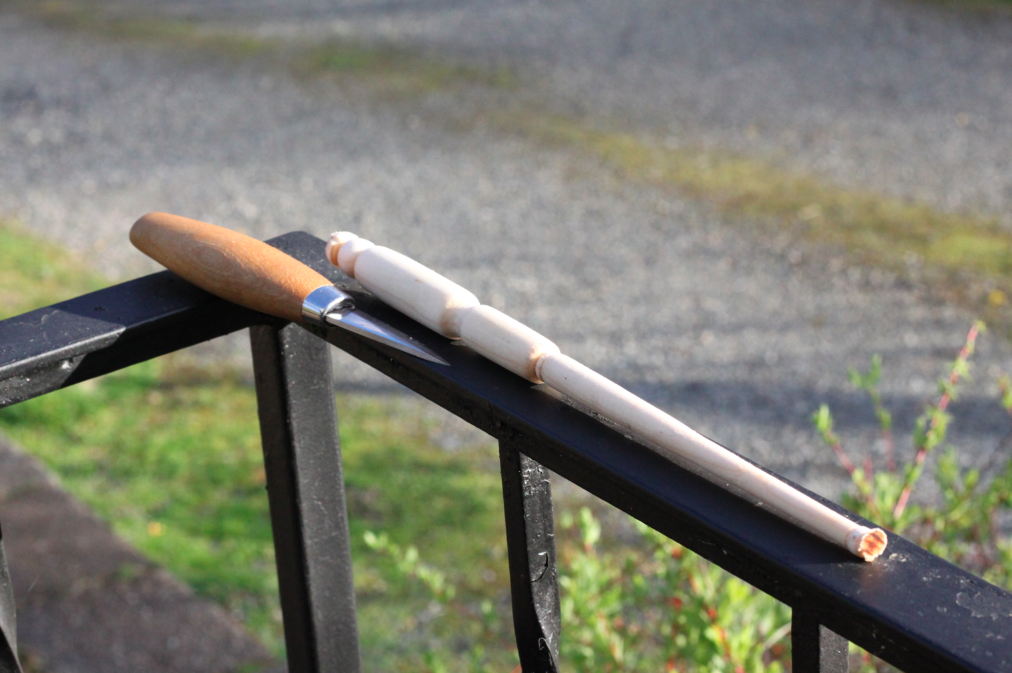 Step 5: Drying and warping the wand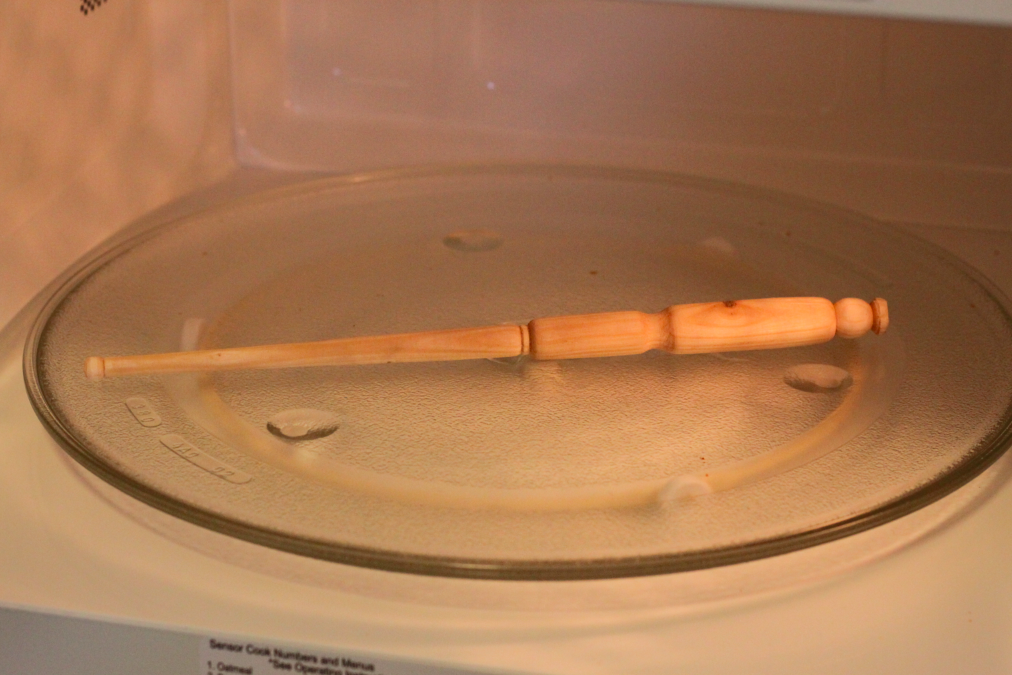 I then put the wand in the microwave for 1 minute, took it out, examined it, let it cool a bit, then put it in again for another minute. I then let it cool and put it in for another 30 seconds at a time, three more times. By this point, the wand had warped just enough to be obviously crooked and was also dry enough to sand. I started with 150-grit sandpaper and moved up the grits to 300. I finished the wand with a shop towel soaked in flax oil, and was ultimately quite pleased with the end result.
Making this wand was a fantastic exercise in green turning and the end result was a toy my little friend can cherish for years to come. I highly recommend keeping your eyes open for fallen branches after storms, for branches in your own yards that need to be pruned, and calling your local arborists to see what kind of free materials they can offer you.
Turning green wood is a joy and a pleasure, and it most certainly doesn't hurt that, most of the time, the wood is free!
Conquer Woodturning Basics