Scales, tails and delicious buttercream! Learn how to make a fish birthday cake that is sure to be the daily catch at your next party. Fun for a kid's ocean-themed bash, or for the fisherman in your life- this is one fish dish no one will turn down! No tartar sauce required, just an open circle piping tip and a spoon.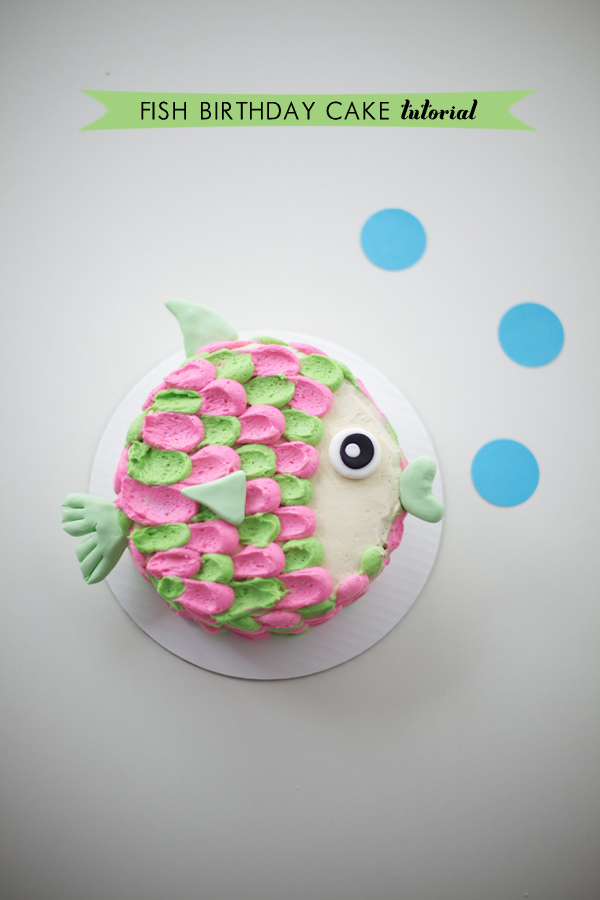 Here are step-by-step instructions to making a fun, frosting filled fish birthday cake!
I love the petal cake technique that's spreading across the Internet lately. It's a fun and unique way to manipulate a simple dot of buttercream. Not only does it look uniform and petal-like, I couldn't help but see "fish scales" when I saw it which inspired this fish birthday cake idea!
You will need:
A round layer cake of your choice, baked and cooled. I made a 7 inch round vanilla cake.
5 cups of vanilla buttercream, divided into three bowls
Pink gel food color, green gel food color
An offset spatula
Two piping bags fitted with an open circle tip
Two teaspoons
Paper towels
A 4 inch ball of green tinted fondant
A 1 inch ball of white fondant
A 1 inch ball of black fondant
A small amount of cornstarch for working with fondant
3 wooden BBQ skewers
Cake board or cake plate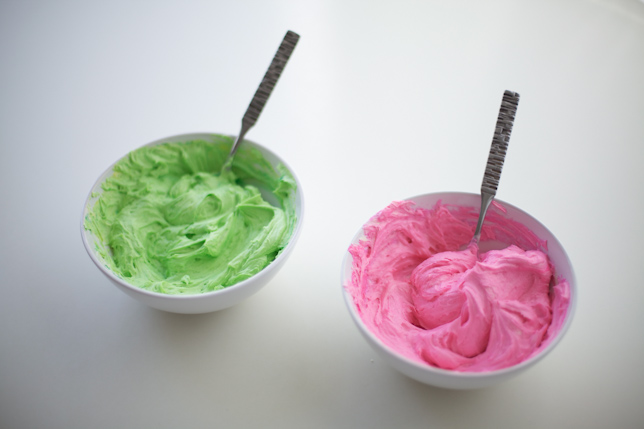 Step 1:
Divide your buttercream into three bowls. Tint one bowl with the green gel color, the second bowl with the pink gel color and leave the third bowl plain white colored.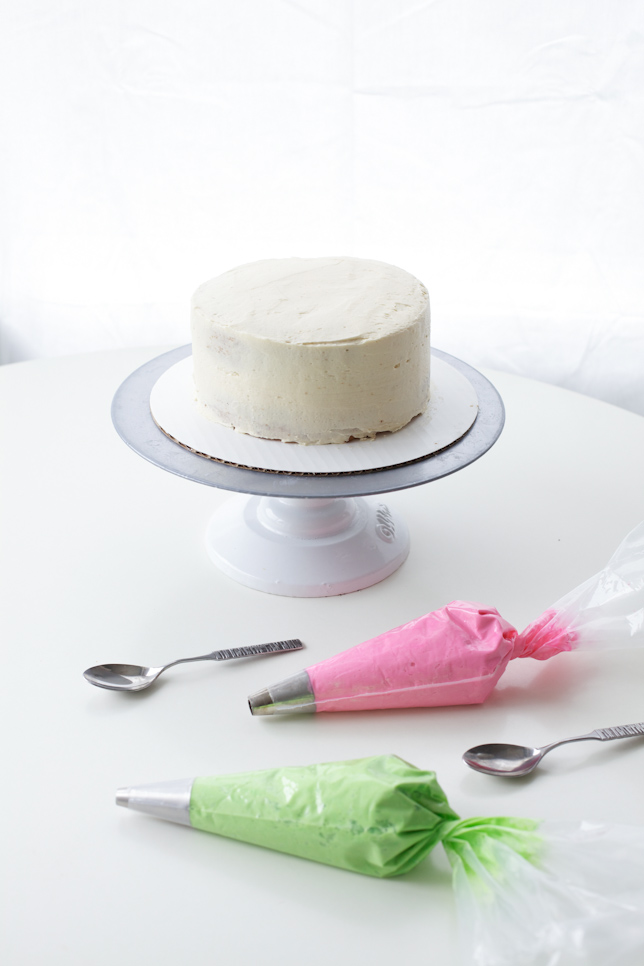 Step 2:
Fill your piping bags fitted with the open circle tip with the green and pink colors. Crumb coat your cake with the white vanilla buttercream.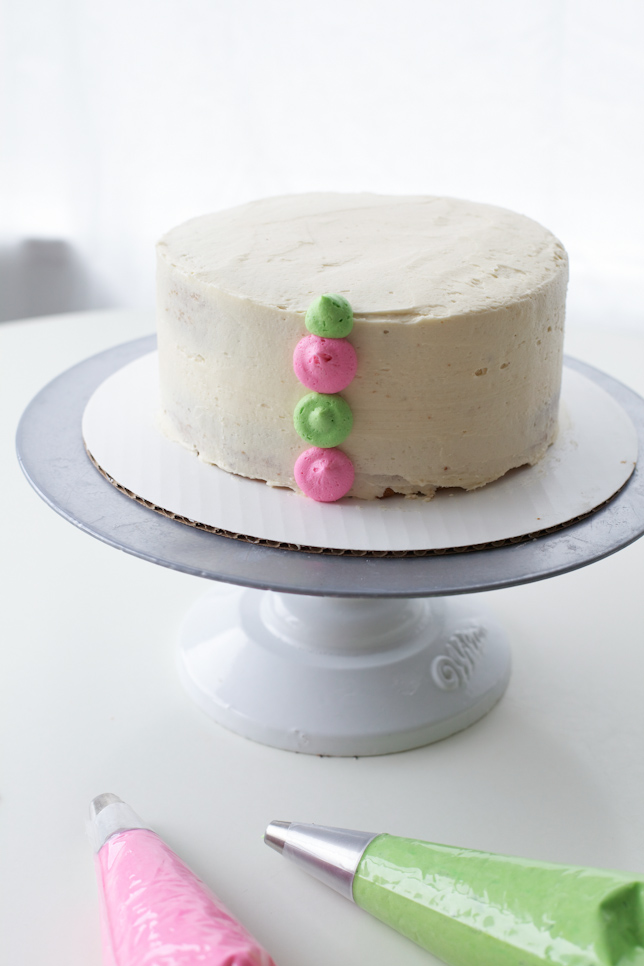 Step 3:
Start by making piped drop circles in alternating pink and green colors, making a line upward on the side of your cake as shown.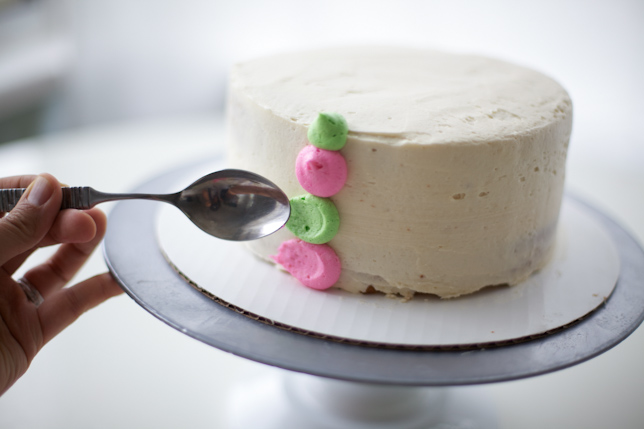 Step 4:
Using the rounded side of your teaspoon, pull the buttercream to create a smear-like effect. Use two different spoons one for each color, and have a paper towel on hand to wipe the excess onto.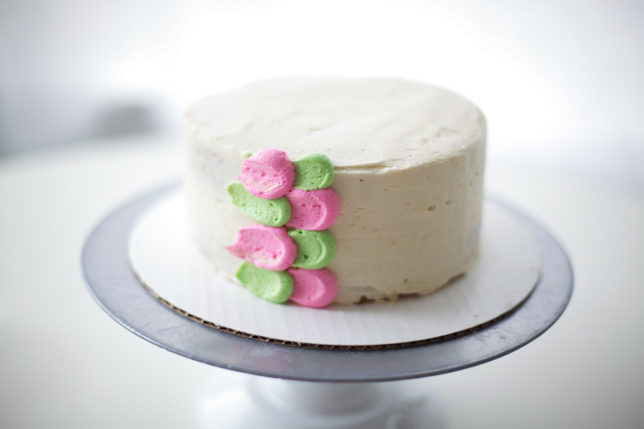 Next, pipe another drop of circles. Alternate colors of icing for a checkerboard effect. On the tail of the green petal, pipe a drop circle. Using the spoon, drag to create a tail.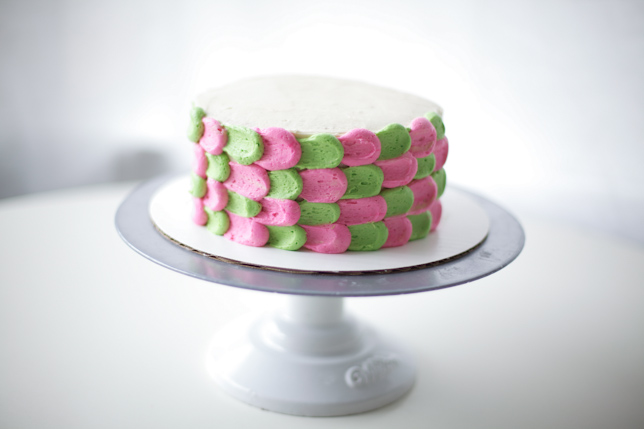 Step 5:
Continue piping and using your teaspoons until the entire sides of the cake are covered!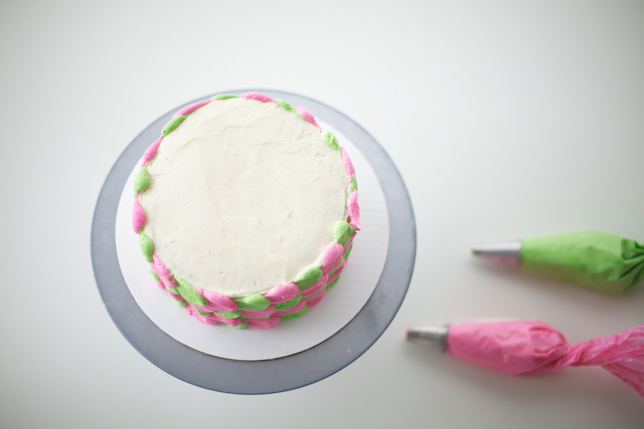 Now, turn to the top of your cake. The fish will be a bird's-eye view, as if we are looking down at the fish from above.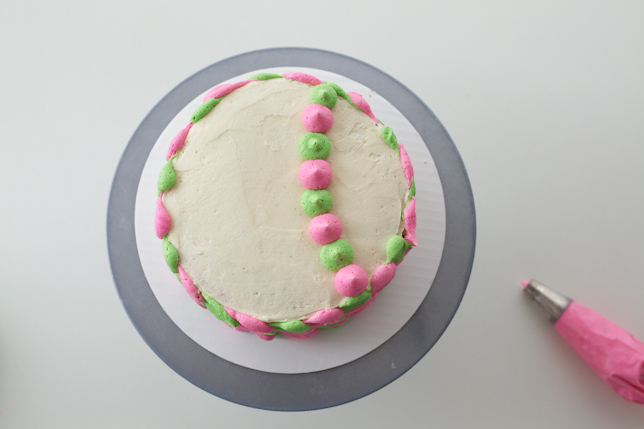 Step 6:
Create a curved line of piped dots in alternating colors on the top of the cake.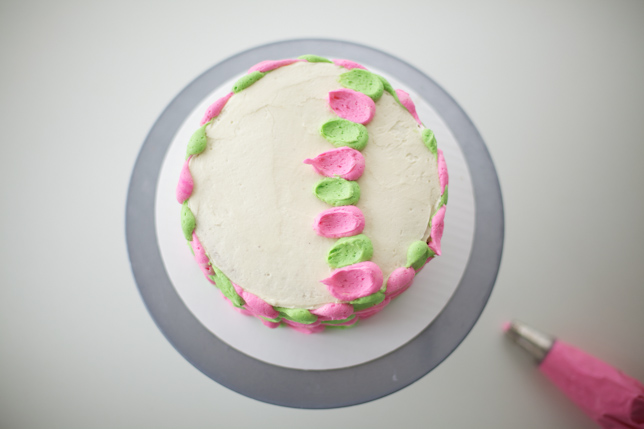 Step 7:
As you did with the sides of the cake, use your trusty teaspoon to create your buttercream fish scales!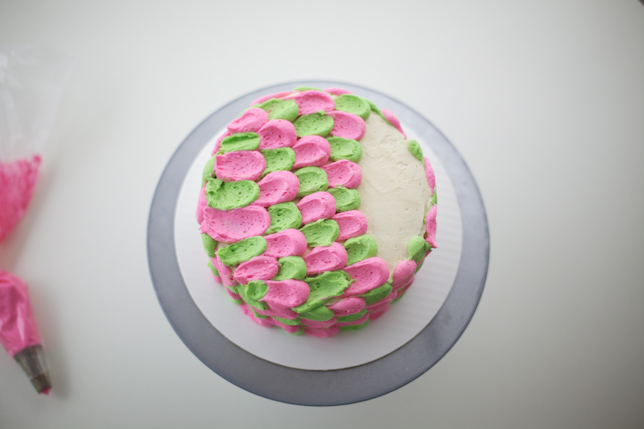 Keep going until you've reached the edge of the cake! I used the teaspoon to drag on top of any white buttercream crumb coat that might be showing through.
Step 8:
Using the fondant as outlined in the ingredients list, create shapes. With the green fondant, make two triangle shapes for fins, one larger than the other, shaping them with your hands and a little bit of cornstarch to avoid sticking. To create the mouth, roll out a thick 1/2 inch round log of fondant to 2 inches long. Fold in half, and shape to create "lips."
To create the tail, roll out a thick 1 inch round log of fondant to 3 inches long. Fold in half, shaping it into a tail. Use a knife to create a fringe. Trimming the wooden BBQ sticks in half, insert pieces into the tail, lips and larger triangle fin. To make the eye, make a 1/2 inch ball of white fondant, flatten it with your palm. Make a 1/4 inch ball of black fondant, flatten it with your palm. Make a tiny white ball of fondant. Adhere the black circle to the large white fondant circle with a tiny amount of water; press the tiny white ball of fondant on top of the black circle.
Step 9:
Insert the lips into the front of the fish face; insert the larger triangle fin into the top side of the cake; insert the tail into the opposite side of the lips. Place the smaller fin on top of the fish! You're all done!
Serve this cake up with trays of sushi and Swedish fish candy for a hilarious fish themed birthday party.
Ready to build your birthday cake decorating skills?
Join Jessica Harris in the online Bluprint class Clean & Simple Birthday Cakes to make your cakes the talk of the party!
What other under the sea cake creatures would make for a fun ocean themed party?