Double-finger rings are super trendy these days, and learning how to make one at home is easier than you think! Follow along with this simple step-by-step tutorial on how to make an adjustable double-finger ring, and start adding these to your jewelry collection today!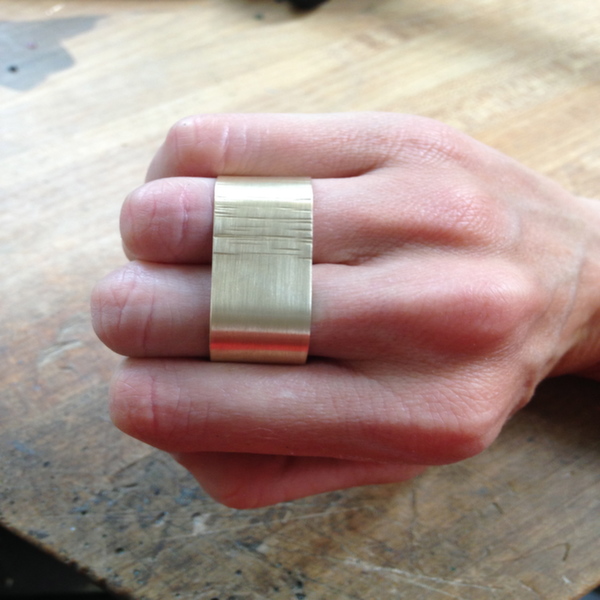 How to make a double-finger ring
Tools you'll need:
Sheet metal: 20 gauge or larger
Metal shears, jeweler's saw or your cutting tool of choice
Graphing ruler
Ring mandrel
Nylon hammer
Files — either metal or cushy nail files (or both)
Getting started
Before you begin, spend some time thinking about your design. That will affect your shape and style.
Note: In this tutorial, I'll be making a piece with a textured finished, but you can skip that part, make your own hammered texture or even make it a three-finger ring.
Some things you might want to make note of before starting:
What fingers do you want your ring to fit on?
How wide would you like your ring to be?
What finish will you use?
Do you want the bottom to be more narrow than the top?
Step 1:
After deciding on your overall width, mark that on your sheet metal with a ruler. (I'll be doing a piece that is 1/2″ wide.) Using your metal shears, cut along your previously marked line. Do not to cut all the way through the metal — this will often create a kink in your metal, which will make more work for you in the long run. For more information on cutting metal, refer to our post on how to make a metal cuff.

Step 2:
Make a pattern to confirm the overall length will work. (I'm using a 5 1/2″ x 1/2″ piece of paper)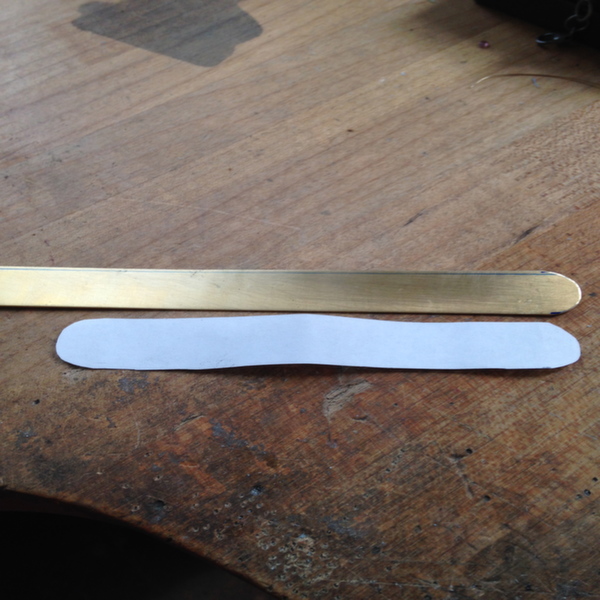 Step 3:

My plan is to make a ring that fits on fingers that are size 7 and 6. Since this will be pretty adjustable, you can get away without being super precise. My overall length is 5 1/2″  You can adjust yours accordingly.
Step 4:
Using your file. Round the edges of your metal so that it creates rounded edges. You can also cut those rounded edges with your shears. Then, go over the edges of the entire piece with your cushy nail file to smooth the edges and to make sure that you don't have any rough edges. Sharp edges that might cut between fingers are a big NO-NO here. Ouch! It's worth spending extra time on this step.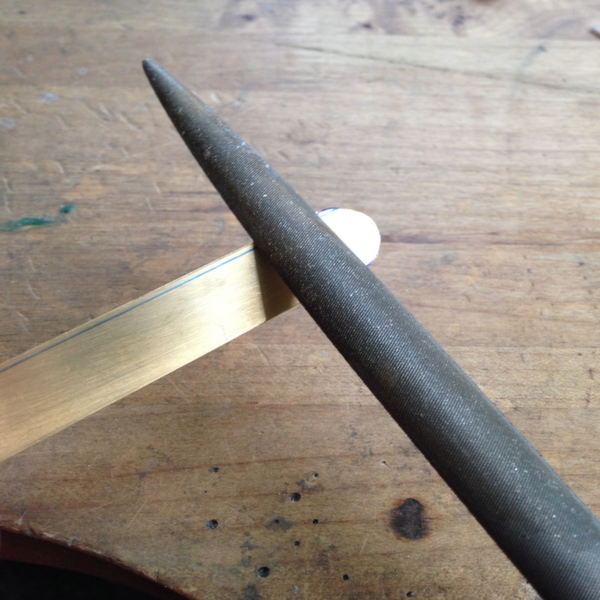 Note: If you want to hammer your piece, now would be a good time. My design will be a little off-center, so I'll wait until one side has been formed. Remember that if you do a lot of hammering you may "work harden" your piece and bending the metal might be more difficult in the next steps.
Step 5:
Hold the metal against your mandrel at a size that is about 2 sizes smaller than your finished size. Using your nylon hammer, start making your blows at the end, gently feeding the metal piece further and further on the mandrel as it begins to curl. Continue this process until it reaches about this point.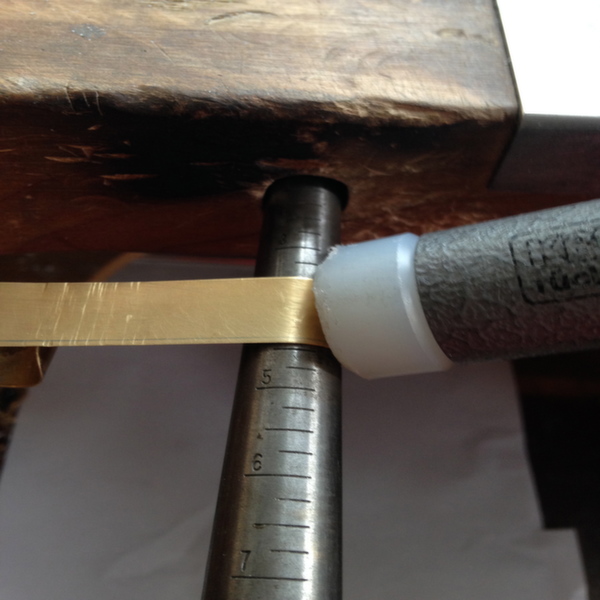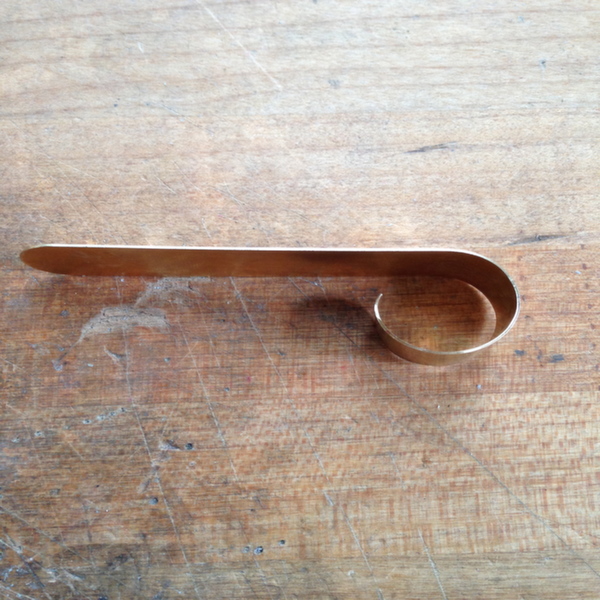 Optional step:
Texture your piece before moving to the second side. See our post on how to texture metal for more information.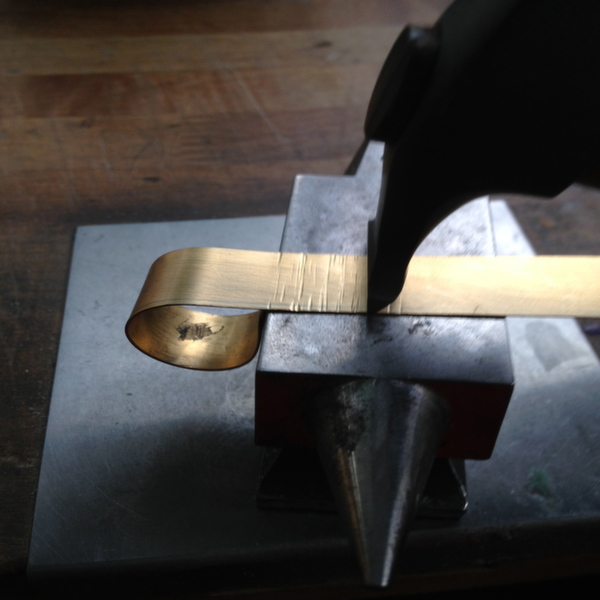 Step 6:
Repeat Step 5 on the opposite end until they match each other. You'll want a flat spot at the top that will lay across the knuckles. See the picture below for further reference.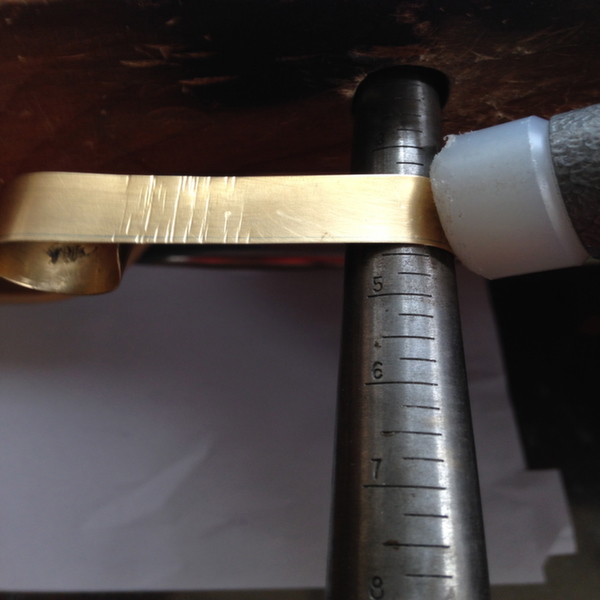 Step 7:
You can use your hands at this point to bend the rings slightly so they'll fit better. Just don't get to carried away — kinked metal is harder to fix than you'd like.
Step 8:
Choose your finish. I think the finish that Scotch-Brite makes is beautiful, so I'll be using that. Steel wool could be nice as well, or continue to use differing levels of grit in sandpaper until you reach a bright finish.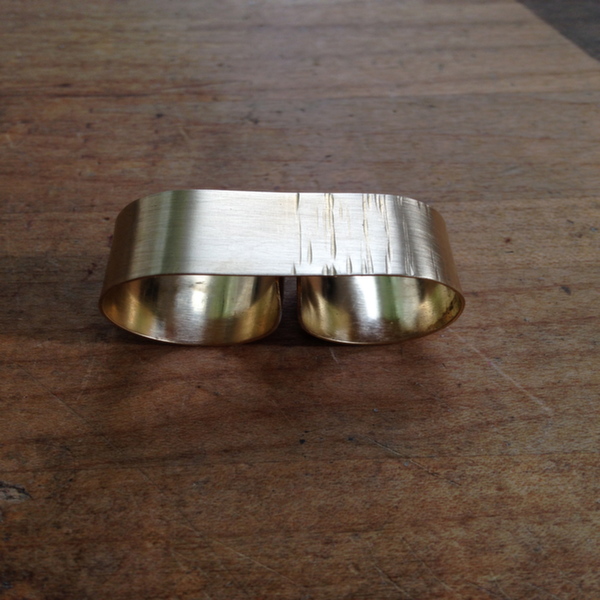 Want to learn more?
Sign up for the Craftsy class Metalsmithing at Home to discover the detailed properties of jewelry making metals, soldering safety and four unique metalsmithing projects. You'll learn everything you need to turn your kitchen table into your new jewelry-making studio!
Sign me up!
What trendy jewelry design are you most interested in making?