For those with an untamable sweet tooth, cake may just be the perfect present. So, why not go that one step further and create a stunning candy-themed cake?!
What's even better about decorating a sweet-inspired cake is that it's perfect for any age. And, if you're a novice cake decorator (or pressed for time) you can use actual candy to decorate.
Read on for our super handy candy cake tutorial to help make a confectionery-themed design fit for any sugar monster!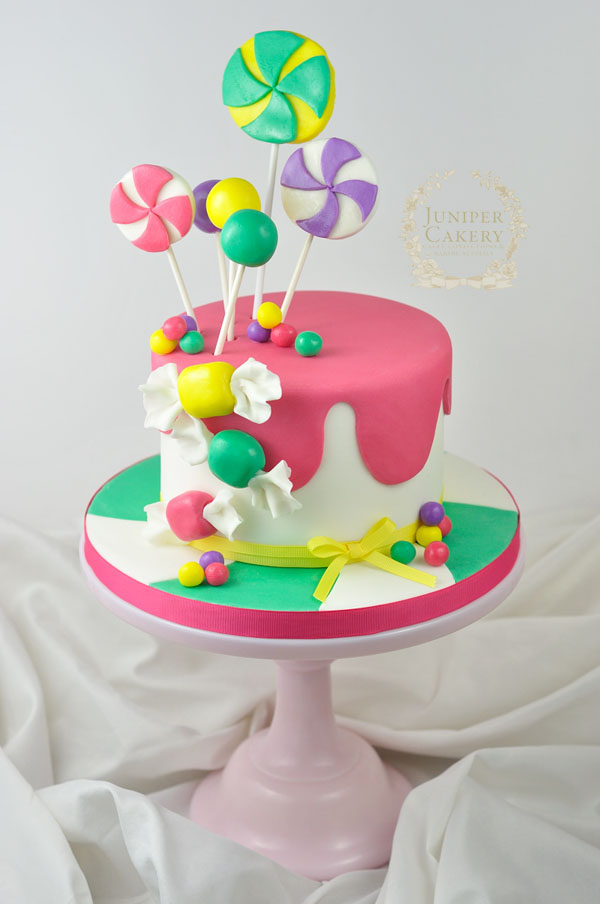 All photos via Juniper Cakery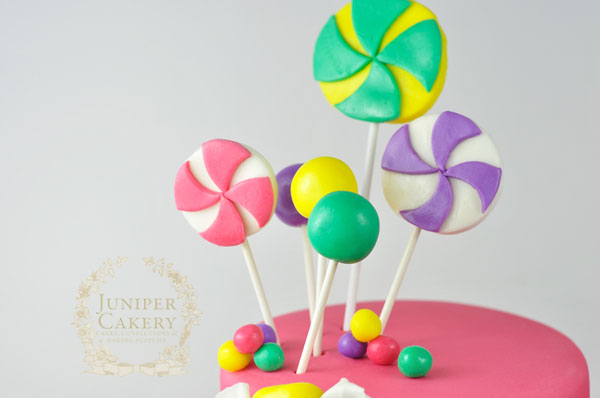 Materials needed to make a lollipop and candy inspired cake
1 x cake filled, stacked, crumb coated, chilled and covered with white fondant and placed on a decorated board
1 x yard fabric ribbon
Long lollipop or cake pop sticks
Gum paste in various colors (we used pink, pistachio green, ivory, sky blue, yellow)
Colored fondant
Edible glue
Paint brushes
Royal icing in colors that match your colored gum paste
Small plain round piping tip
Turntable
Cake smoothers
Large rolling pin
Small sharp knife or scalpel
Cornstarch to dust surface
Ball tool (small and large)
Foam pad
2″, 2 1/2″ and 3″ circle cookie or pastry cutters
Confectioner's glaze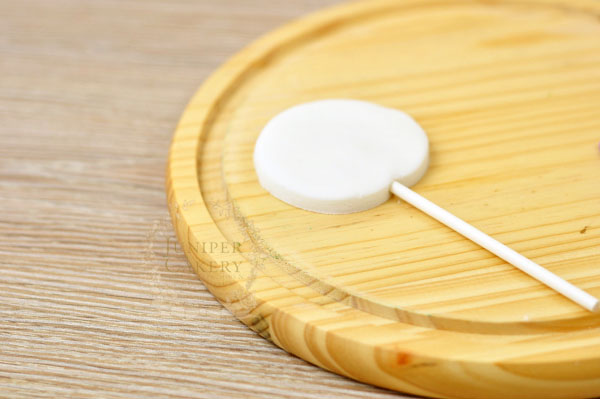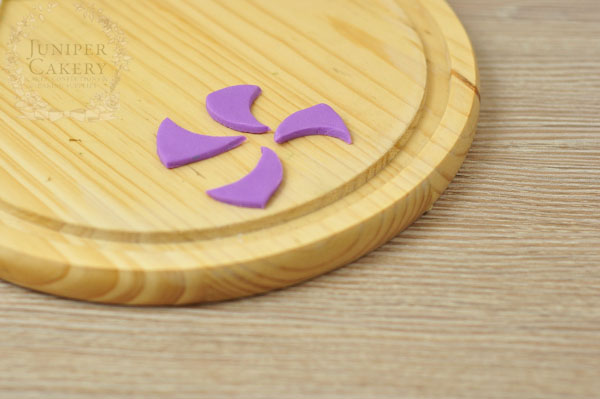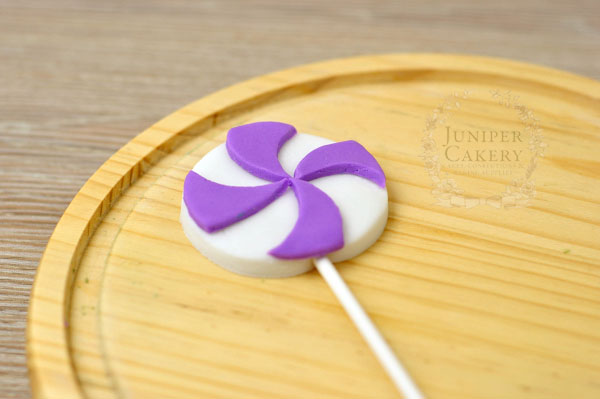 Step 1:
Prepare your candy and confection pieces so that they can set and harden before decorating.
To make the pin wheel lollipops take one color of gum paste and roll out thick before cutting with any size circle cutter. Press lightly and whilst flat insert a lollipop or cake pop stick into the base.
Remember to add a little royal icing to the tip of the stick before attaching. Roll out a contrasting color gum paste, cut a circle of this the same size as your pin wheel lollipop base and separate these into curved fan shapes. Attach these into a pin wheel swirl pattern onto your lollipop with a little edible glue. Paint or spray with confectioner's glaze.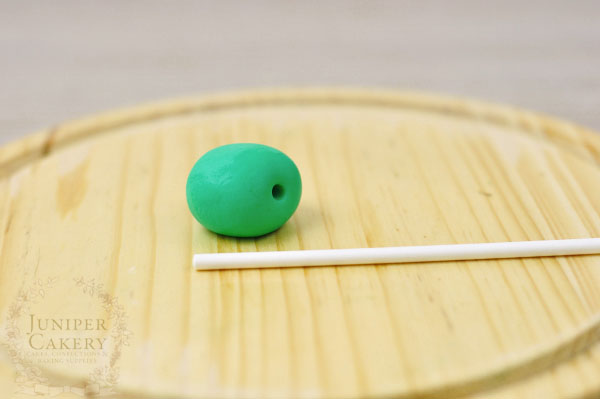 For the plain lollipops roll out medium balls of colored gum paste. Take a lollipop stick, add a little royal icing to the top of the stick and gently insert into the ball. Leave to set laid flat. Spray or paint with confectioner's glaze.
If you'd like to create lots of other treats like fake brownies, cookies or macarons, head on over and enroll in Marina Sousa's Fondant Techniques: The Sweet Treat Tower. You'll discover how to recreate these and other gorgeously sweet replicas!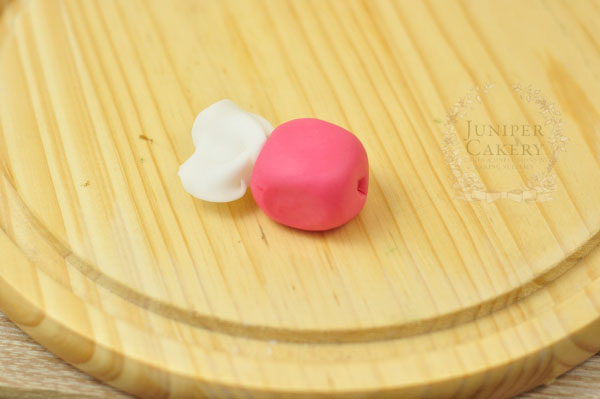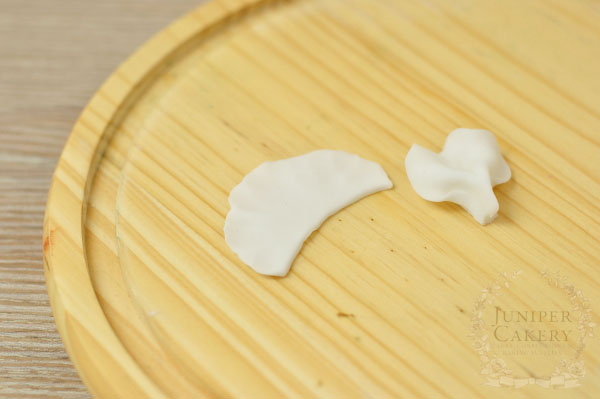 For the wrapped taffy candy create slightly flattened balls of colored gum paste and leave to set a little after indenting two opposite sides with the small ball tool. Roll out some ivory gum paste and cut out a series of circles around 2″ in diameter before slicing in half. Take a half circle at a time and thin and ruffle out the outer curved edges with a large sized ball tool on a foam pad.
Once ruffled pinch the straight edge so the ruffled circle forms a pleated fan shape (check to make sure the pinched end fits into the indentation left in the candy you just created. Leave to set. Paint or spray with some confectioner's glaze.
To make gum balls roll out lots of balls in all different gum paste colors. Spritz or paint with confectioner's glaze for a realistic shine.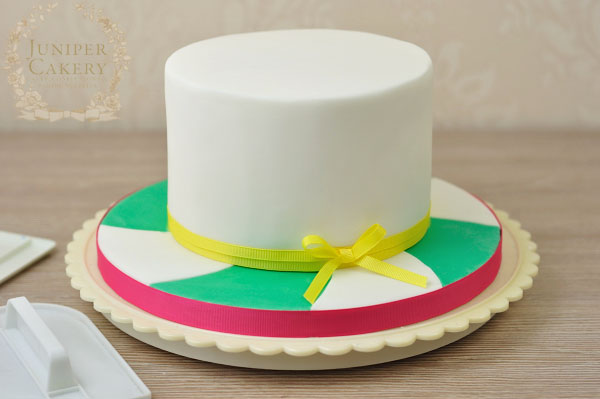 Step 2:
Take your fondant covered cake on it's board and place on a good turntable. Trim the base of the cake with fabric ribbon and finish with a bow. You can also leave the bottom of your cake untrimmed or decorate it with gum balls, sugar pearls, royal icing borders, jelly beans etc.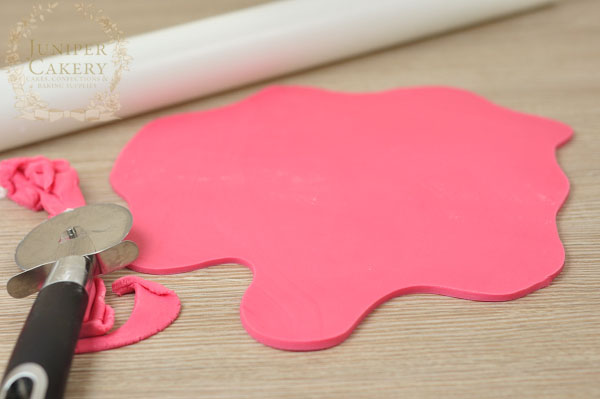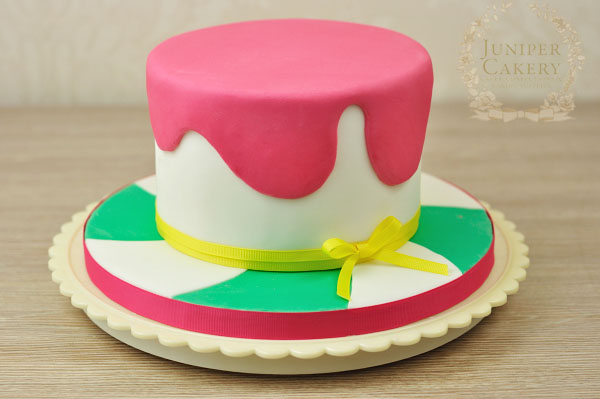 Step 3:
Take your colored fondant and roll out so that it is at least 2-3″ wider than the circumference of the top of your cake. This is going to be the fake fondant drizzle that decorates the top! Take a small sharp knife or scalpel and cut a wobbly outline. Make sure that the entire cut piece measures 2-3″ larger than the cake's circumference.
Lift and place the fondant drizzle on top of the cake and quickly yet carefully smooth down. Use some edible glue to attach if you need too.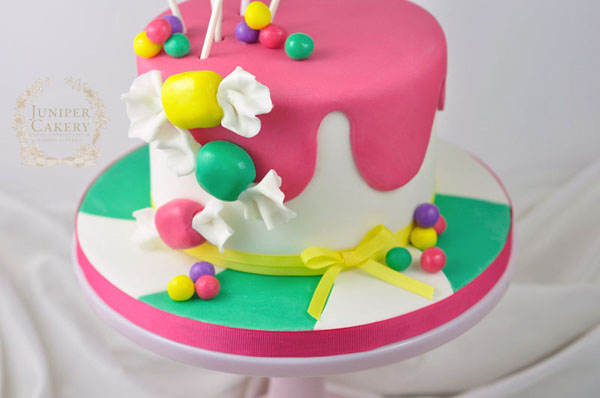 Step 4:
Now you can add all of the fun candy elements to your cake! Use royal icing or melted white chocolate with cocktail sticks to secure some of the pieces.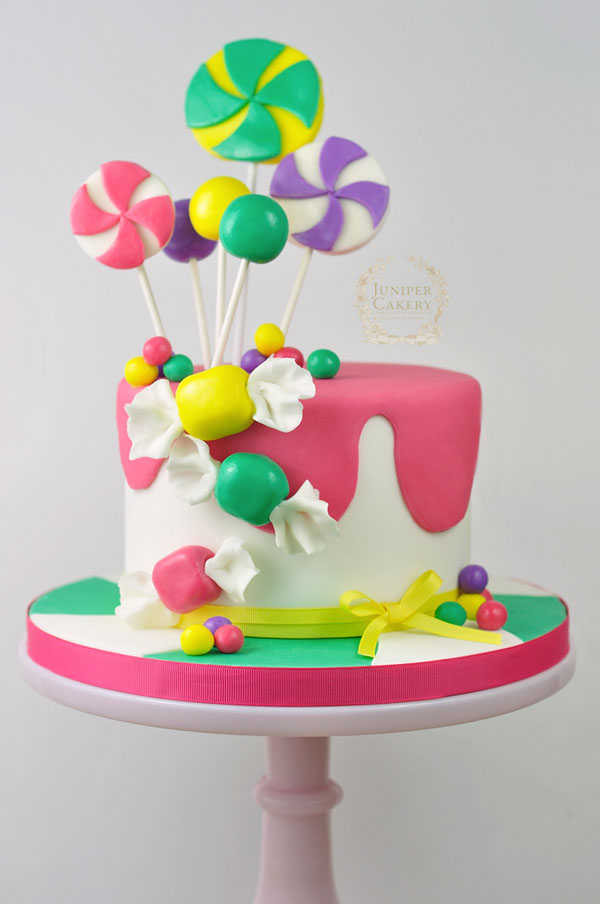 If you're creating a larger cake for a party, try adding a giant cupcake on top or add a candy striped larger tier underneath for a bigger and more playful look!
For a fun birthday we love the idea of nestling fondant streamers, wafer paper confetti and a large gum paste number amidst the tasty lollipops. To add a name create a glistening open fondant or wafer paper candy wrapper and hand paint a "winning ticket" style message inside!