Mini rosettes, drop stars and buttercream piped roses top this brightly colored floral-topped cake! Learn how to make a bouquet cake using buttercream that will sit pretty until eaten — lovely for a bridal shower or tea party birthday!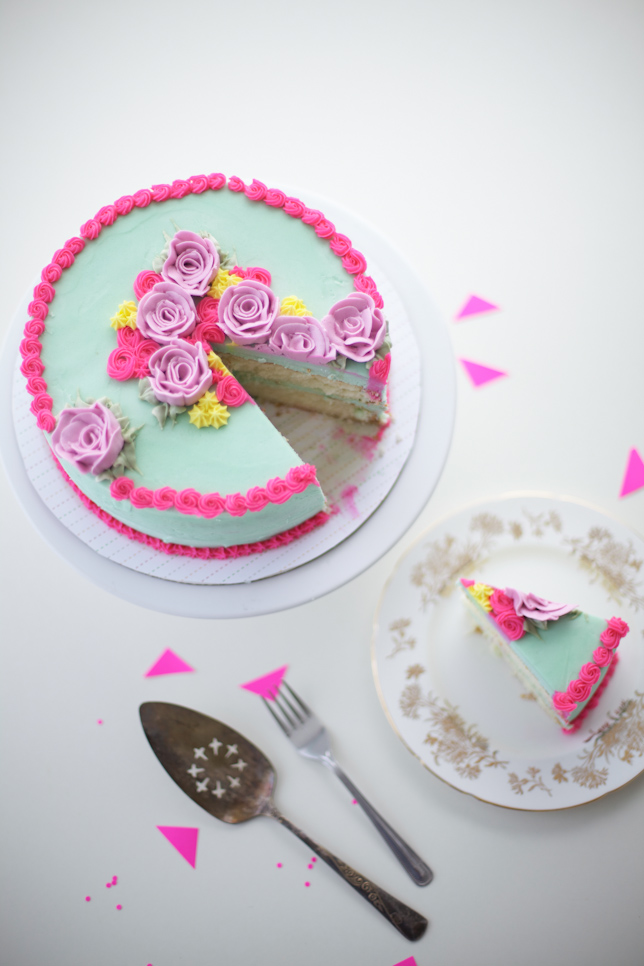 All photos via Lyndsay Sung, Coco Cake Land
Stop and smell the roses with this buttercream bouquet cake tutorial
You will need:
A baked and cooled cake, frosted in colored buttercream of your choice.

3 additional cups of buttercream, divided into four bowls.

Gel food colouring in lemon yellow, fuchsia pink, purple and green

Four piping bags fitted with various tips of your choice. I used Wilton #16 for the mini rosette and rosette border, Wilton #104 for the buttercream rose, Wilton #2010 for the drop star flower and a leaf tip for the green leaves.

A flower nail and parchment paper or wax paper squares for piping the buttercream roses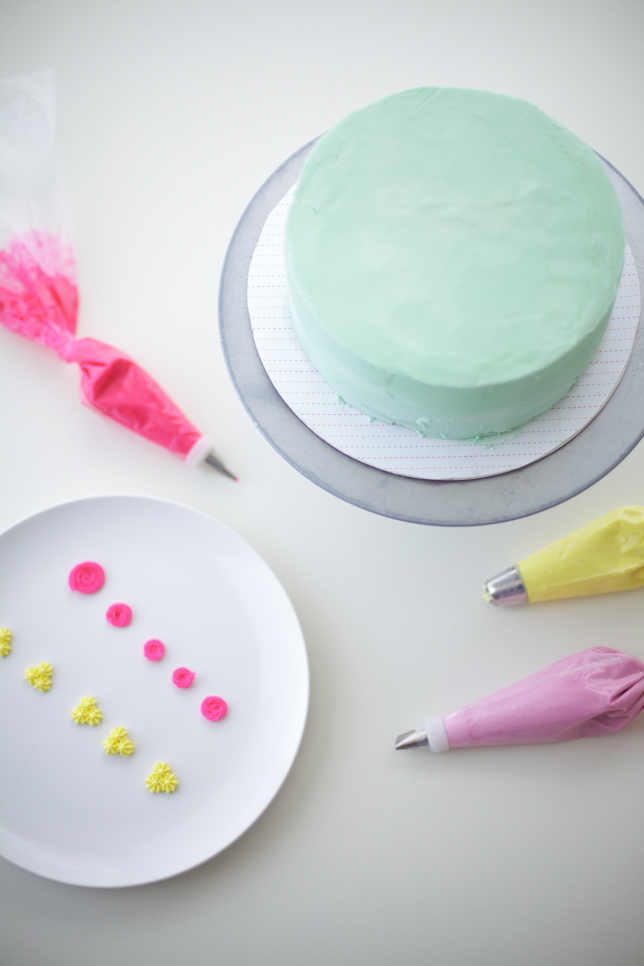 Cake decorator's tip: I often practice by creating little patterns on a plate or piece of parchment paper before applying to the cake.
Let's make roses!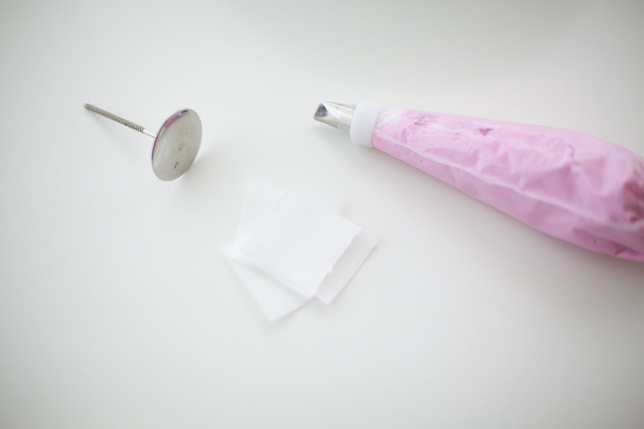 Step 1:
Fill your piping bag fitted with a #104 rose petal tip. Apply a tiny amount of buttercream onto your flower nail; adhere the parchment paper square to the nail.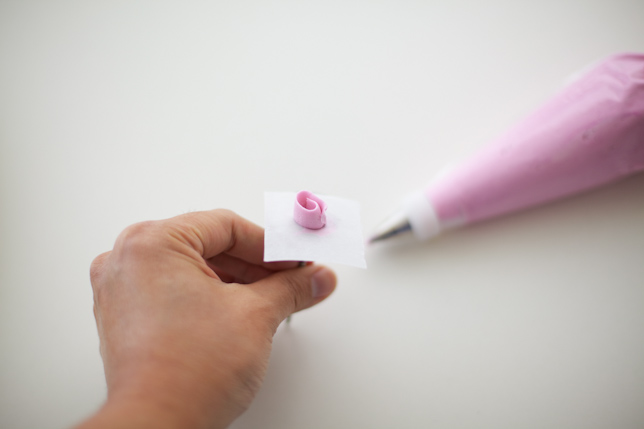 Step 2:
Holding the flower nail with your left (or non-dominant) hand, with the piping tip in the thin-side-up position, pipe a ribbon of buttercream while turning the flower nail, creating this little ribbon center. Practice a few times if you need to!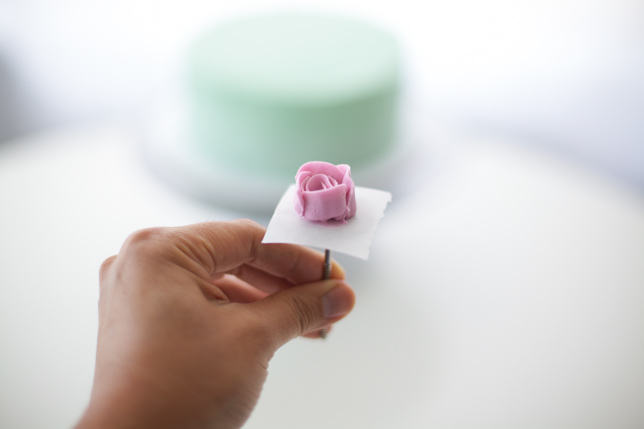 Step 3:
Pipe petals around the center ribbon — squeeze out piping bag and a "rainbow" shape forms, slightly overlapping each petal.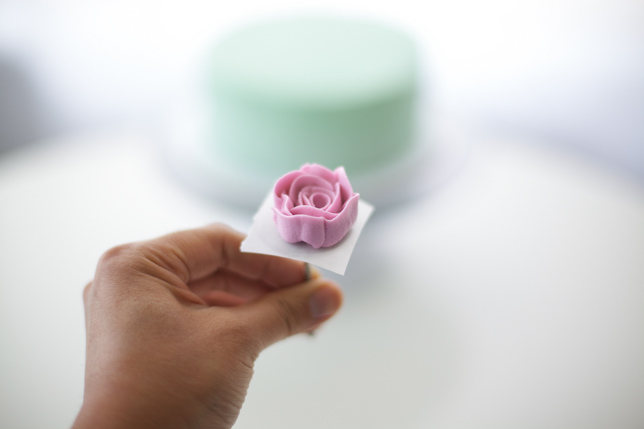 Step 4:
Continue to pipe another row of petals until you are happy with your rose! Carefully remove parchment paper with the rose on top, setting onto a plate. Keep piping more buttercream roses. Once you have a plate full of roses, place in freezer for 15 minutes to set.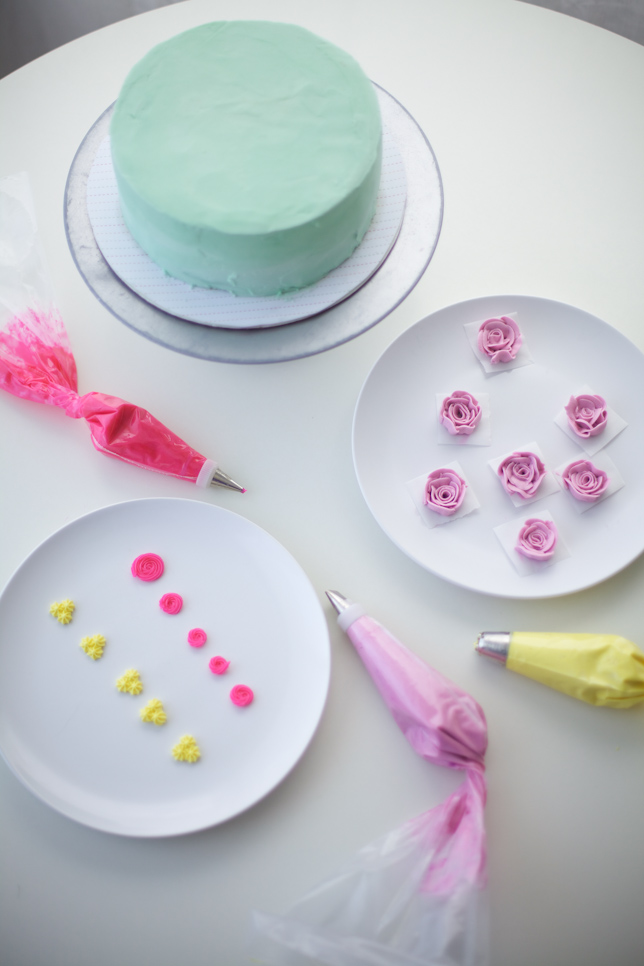 Now it's time to decorate our flower cake!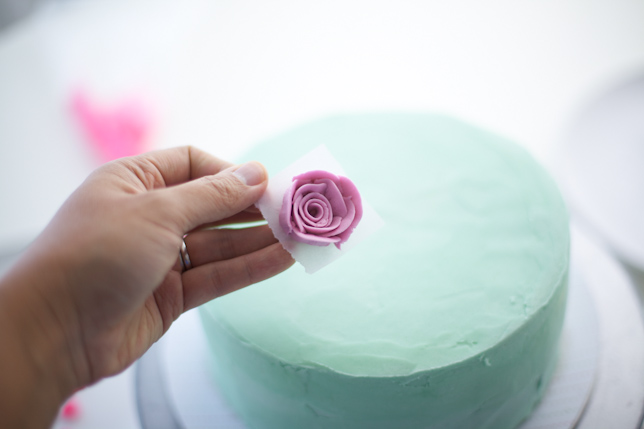 Step 5:
Remove the chilled buttercream roses from the parchment paper and place onto your cake.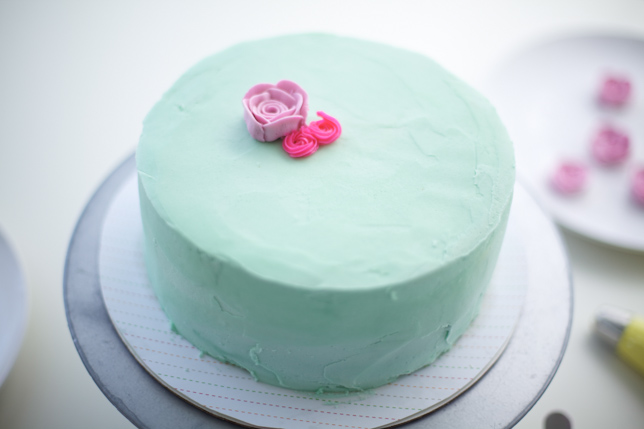 Step 6:
Using your piping bag fitted with the fuchsia buttercream and the #16 small open star tip, pipe rosettes by piping outward in a counterclockwise motion.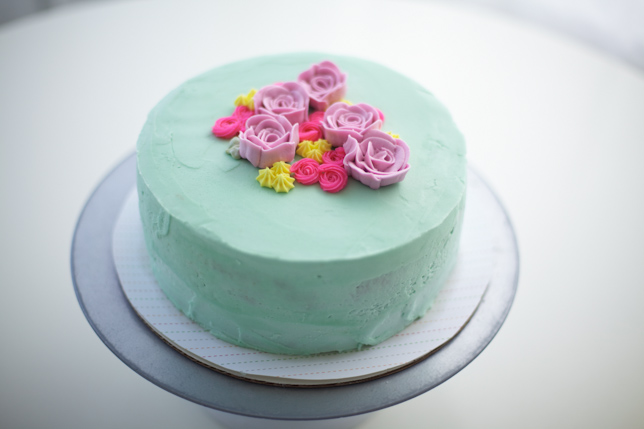 Step 7:
Keep placing the chilled roses onto the cake, adding the yellow drop stars and more rosettes wherever you like!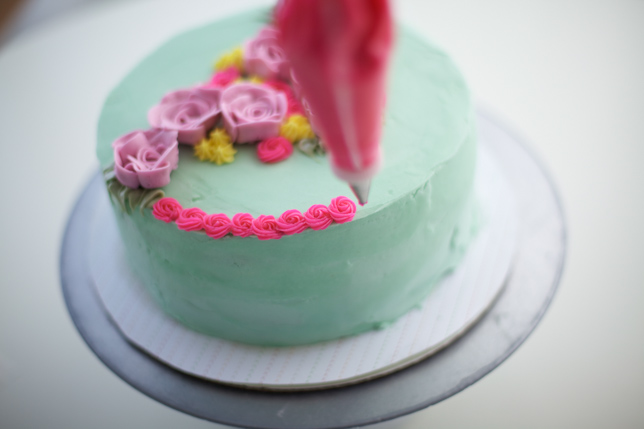 Step 8:
Using your leaf tip, add some leaf foliage to your roses. Then, pipe a mini rosette border on your cake by piping tiny rosettes all along the top edge of your cake using the same piping outward counterclockwise motion.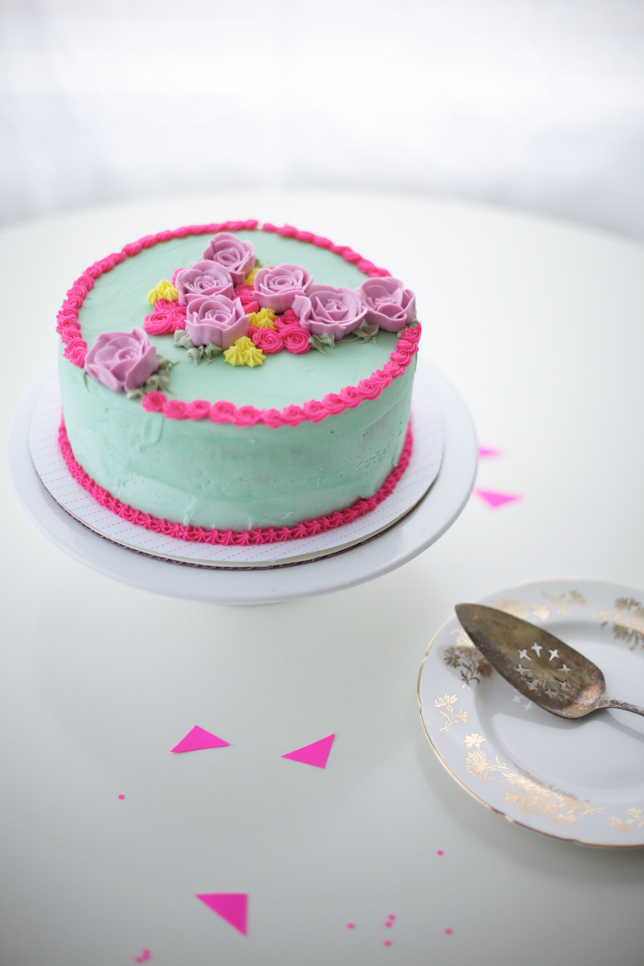 Step 9:
Finish the cake by piping a drop star border along the bottom of the cake! (Or, you could pipe more rosettes!) The fun thing about making a buttercream flower cake? You can put any flower you like on there, in any order you wish, in whatever colors you choose!
You'll find all the buttercream flower power you need to make gorgeous bouquet cakes in this great Craftsy class The Wilton Method: Piped Flowers with Beth Somers!
What's you favorite buttercream flower to make? Or, do you forego buttercream for sugar flowers?