This post is written by Kate Richbourg. Sign up for her FREE mini-class, Micro Torch Basics, to learn how to fill, light and adjust your torch and use it to shape, secure and finish metal jewelry you'll adore!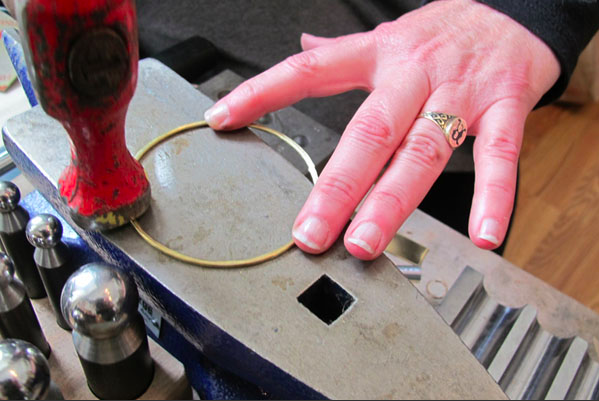 Hello all you soldered jewelry lovers! I am so glad that you are enjoying my FREE Craftsy mini-class on Micro Torch Basics. I love seeing all of the projects that you are posting. Going over the comments from class, I noticed that a few of you were asking about bangle bracelets and if the process for making them is similar to the stack ring that I teach in this class The answer is YES! Just think of simple slip-on bangles as large rings. The process is just about the same with a few added tips. Since bangles are really on-trend right now, I thought I'd share a quick tutorial with you on how to make some of your own.
First if you haven't watched my Micro Torch Basics class, jump on over and give it a go. The class explains how to get started with a butane micro torch. From setting up your workspace to safety, it's all right there. After you are familiar with the basics, you are ready to jump into making bangles.
How to make a beautiful bangle with a micro torch
Materials you'll need:
2 pair chain-nose pliers (in the photo I used a wide and a regular chain nose)
Flush cutter
Ruler
14-gauge wire (I used brass in the sample but any non ferrous jewelry metal will work. Try copper, nickel, sterling silver or gold-filled wire.)
A strip of paper
Plastic or rawhide mallet
Round bracelet mandrel or other round metal surface for shaping the bangle
Bench block or anvil
Fine grit sand paper or file
Your butane torch setup
Paste solder
Safety glasses (Remember: It's important to protect your eyes while cutting metal and soldering!)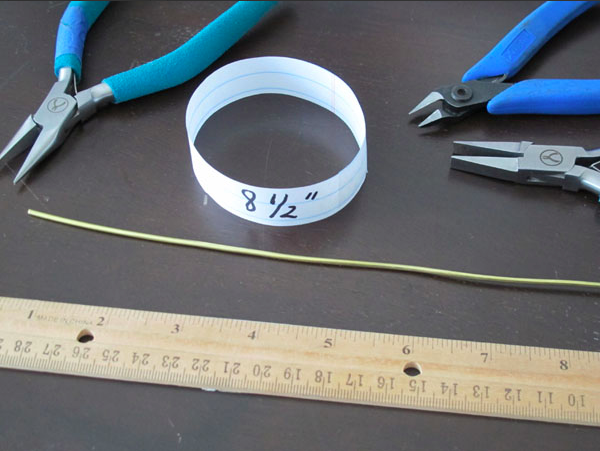 Step 1:
Cut a strip of paper to use as a template to size your bangle. Wrap the paper around your hand as if you were trying on a bracelet. Make a mark where the paper meets. Tape the ends of the paper together so it forms a circle and double check the size by slipping it on. Remember that a bangle needs to have room to slide on the hand so it will be sized about ¾ to 1" larger than a bracelet with a clasp. I wear a 7 ½" bracelet and an 8 ½" bangle.

Step 2:
Measure your wire according to your template. Cut each end flush using a flush wire cutter. Form the piece of wire into a circle shape. The shape will be fine-tuned after soldering. For now, just make sure that your ends are flush.

Step 3:
This step is what makes creating the bangle a breeze. With such a large piece of wire, it can be difficult to get the wire evenly heated and up to soldering temperature to get the paste solder to flow. I use two kiln bricks to help focus the heat on the join when soldering. Place a second brick as a backdrop against your soldering surface. The added brick acts like a mini oven to evenly heat your piece faster. Use a solder pick to apply a 2-3mm ball of paste solder directly on top of the join.

Step 4:
Just as you did with your rings, heat the wire piece evenly so the solder flows into the join. See the heat reflected off the kiln brick in the photo? That extra heat does the trick to get the solder flowing.

Step 5:
Quench and dry the bangle and slide it on a bracelet mandrel to shape. Lightly tap it with the mallet to shape and work-harden. If you use a metal hammer on this step, you will stretch the bangle, which could be a good thing if you want a hammered look or the bangle is too small.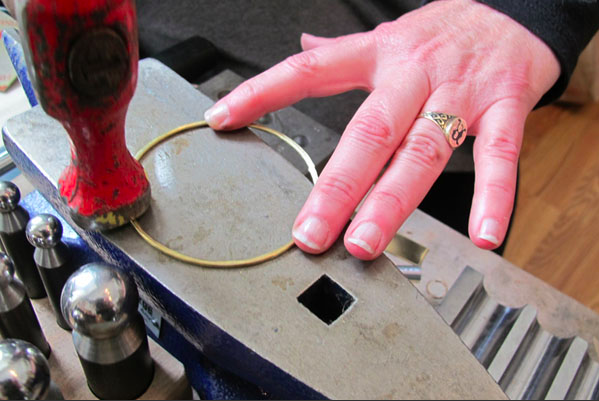 I also flattened the bangle slightly on my anvil to give it more shape and interest.

Step 6:
Use a file or fine grit sand paper to file away any extra solder.

Step 7:
Use the fine grit sand paper or place in pickle to remove the firescale. Finish with a pro polish pad or in the tumbler to shine.
Try adding a few wire-wrapped beads or charms to embellish if desired. I can't wait to see what you make!
About Kate Richbourg

Kate Richbourg has been designing jewelry and teaching others about jewelry making since 1992. She's the instructor of the free Craftsy mini-class Micro Torch Basics, and the author of Simple Soldering: A Beginner's Guide to Jewelry Making.