You've already done all the right things to prepare your precious quilt to be finished by a longarm quilter. But, ever what happens after you drop your quilt off with your longarmer? Now you can find out! Here's a behind-the-scenes glimpse of longarm quilting process.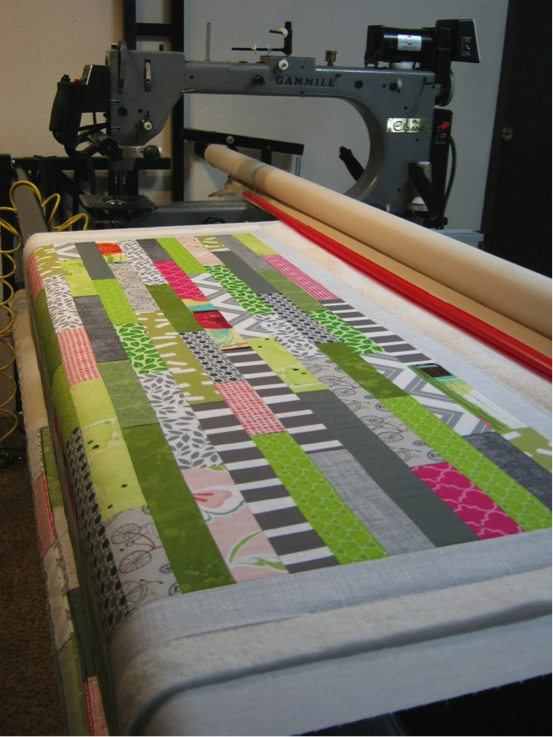 Let's explore the process of preparing and loading a quilt onto a longarm!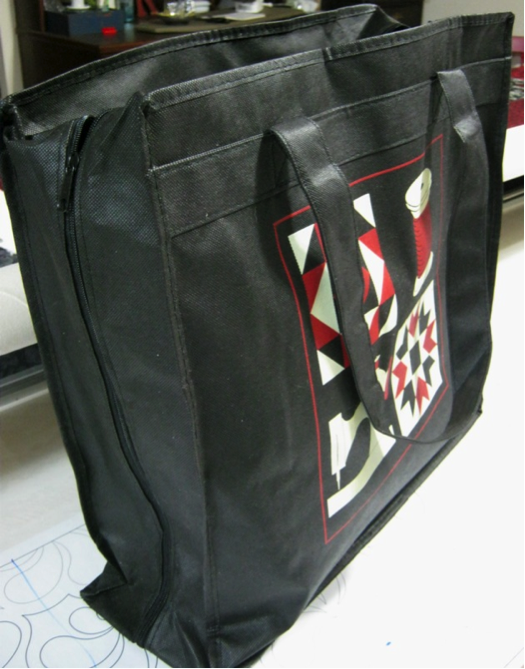 Step one:
It all begins by removing the quilt top and backing from a nice bag. These bags are my favorite! Each has zippers that come up from each side, a clear pouch for the client's name and a nice slot to place an invoice inside. These bags protect the quilt from dust and threads while waiting in the "queue," which can be a few months or more.
Your local quilt shop may offer this type of bag. If not, show them this post, and perhaps they can order them for you. These quilt bags are also wonderful to use when going on quilt retreats!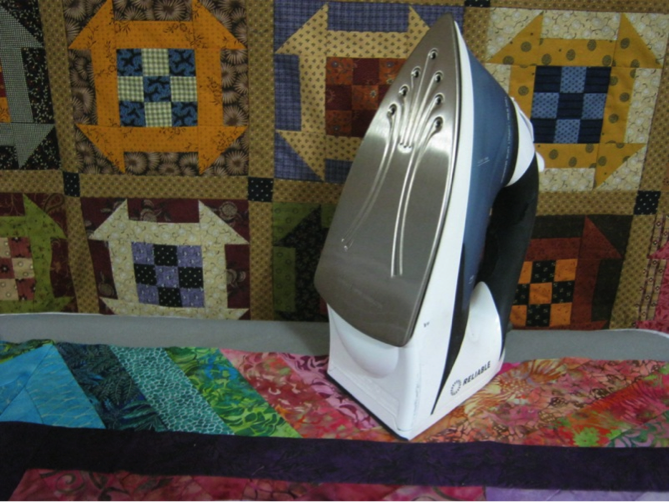 Step two:
Once the quilt is out of the queue, next comes ironing the quilt top and backing. Your quilt may have been folded for a number of months waiting to be machine quilted. Creases and wrinkles should be removed prior to loading onto the longarm.
Step three:
Now comes a choice, to pin or snap?
Longarmers have to "load" the quilt top and backing onto canvas leaders. This can take a quite bit of time depending on the size of the quilt. Loading happens one of two ways. Longarmers either pin the quilt top and backing onto canvas leaders, which are attached to three separate rollers, or they use a snapping system to lock the fabric onto each of the canvas leaders.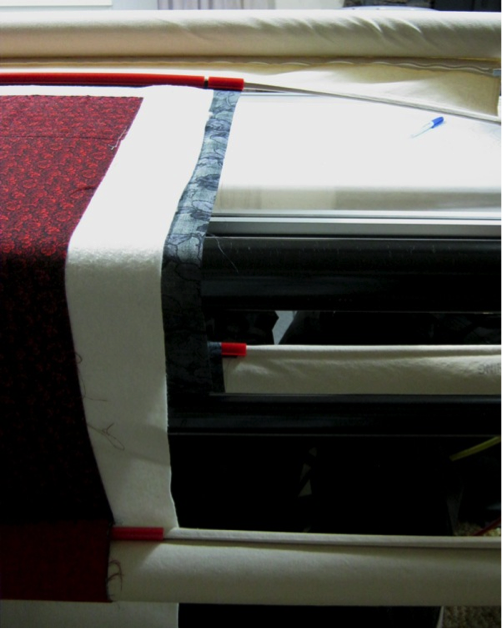 Here's a look at a product called Red Snappers. For those longarmers reading this post, I highly recommend using Red Snappers developed by Renea Haddadin. Pinning and unpinning takes a considerable amount of time and I find it hard on my back. Red Snappers are such a time saver! You can also check out Renea's YouTube video here.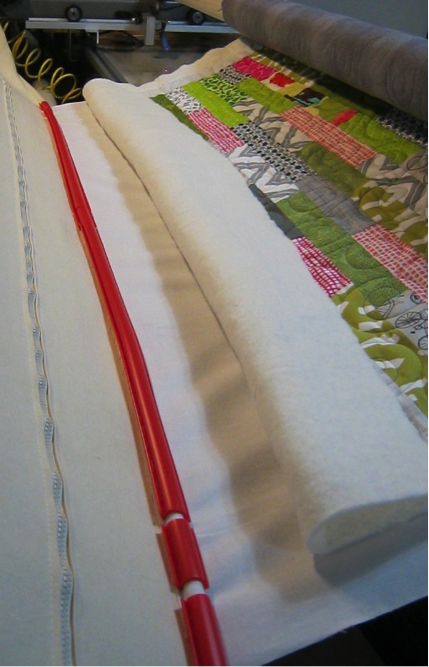 Step four:
Batting is placed on top of the backing fabric. A horizontal line is stitched along the top of the layered batting and backing; the quilt top is pinned to this line and basted into place. Now the quilt is nice and straight.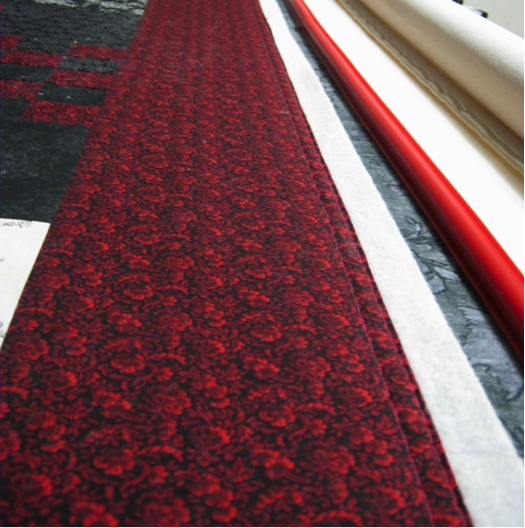 Step five:
Basting stitches hold the sides in place. Notice how the batting and backing extend beyond the quilt top. The extra batting and backing allows the longarmer to quilt beyond the quilt top ensuring consistent quilting. The clamps help keep the quilt back taut so no tucks occur underneath.
Now the quilt is securely fastened to the longarm and ready for quilting. The next decision is: how to quilt the quilt? Pantograph or custom? Stay tuned for the next installment of this series, where I'll discuss how to quilt on a quilt.
[box type="shadow"]
Learn longarm techniques for binding, appliqué and so much more now in Bluprint's FREE mini-class A New Look at Longarm Quilting. Working with two included patterns designed by professional longarm quilter Mandy Leins, or your own quilt top, you'll see how to handle quilting in narrow bands, sharp corners and areas of negative space.
[/box]
Do you use a bag like the one featured to carry your quilts? What's your favorite choice of luggage for quilting transport?