Naked cakes have a name that might make you do a double-take, but the name simply means that the cake is not frosted on the sides. Most naked cakes are layer cakes, so you'll see a generous spread of frosting between each cake round.
This style of cake has been trendy for quite a while, but semi-naked cakes are pushing them out of the spotlight these days. Semi-naked cakes have a similar aesthetic to naked cakes but are a bit more polished. They're popular for weddings and other "fancy" occasions, while their less-dressed counterparts have a more casual look.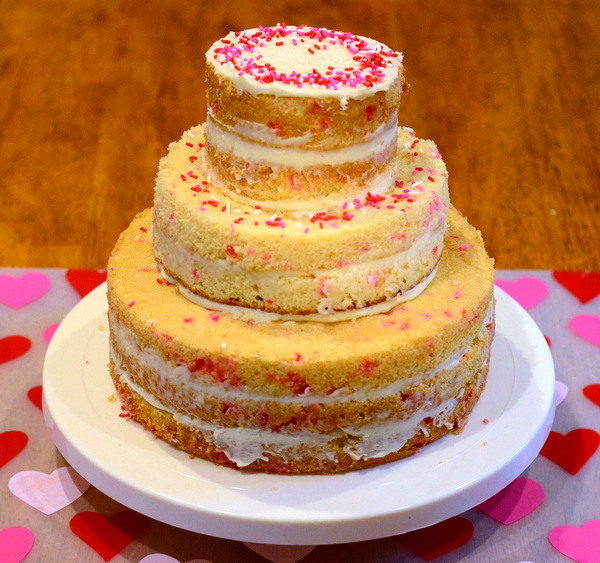 Create cakes that look as great as they taste!
Enjoy this FREE mini-class full of trade secrets from Last Cake Standing finalist Joshua John Russell.Enroll FREE Now »
The thing that makes a semi-naked cake look more "finished" than a completely naked cake is the frosting.
Instead of simply letting the frosting poke out messily between the layers, the excess frosting is spread over the exterior of the cake, giving the cake and the frosting smoother, cleaner sides.
The frosting that is pulled onto the sides of the cake should be in a very thin layer, similar to a crumb coat, and should not be as thick as it would be for a traditional layer cake. In fact, you want to make sure that you can clearly see the sides of each cake layer through the frosting – that is what makes it semi-naked, rather than just partially frosted. 
You can use any flavor of cake you like and any flavor of frosting. I like to use cake and frosting that are similar in color for this look – I used a vanilla cake and vanilla frosting – but using a contrasting cake and frosting can give the cake a unique look. 
Making this style of cake is easy and it is a project that decorators at all skill levels can tackle. 
How to frost a semi-naked cake
You will need:
Cake layers (at least 2-3 rounds per layer)
Frosting
Step 1: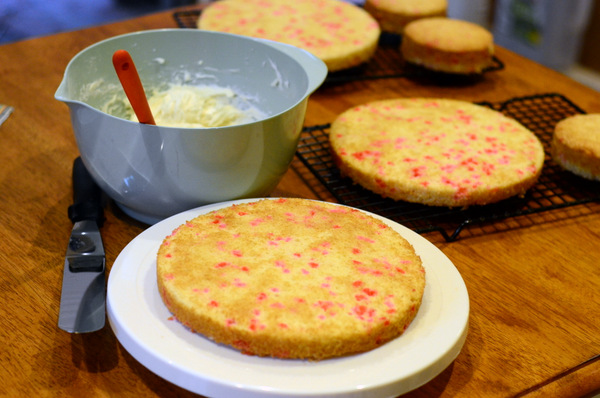 Place the first layer of your cake onto a cake turntable. You can frost the cake on a cake stand, but a turntable will make smoothing the frosting at the end much easier.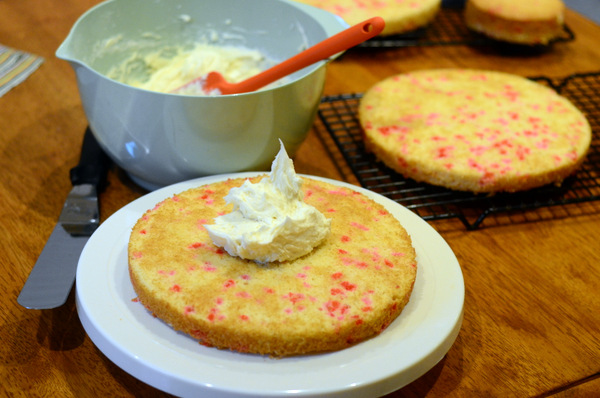 Coat the top of the cake layer with a generous layer of frosting, spreading it all the way to the edges of the cake.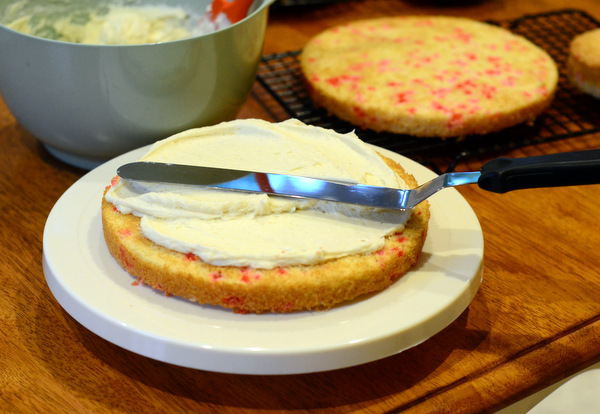 Step 2: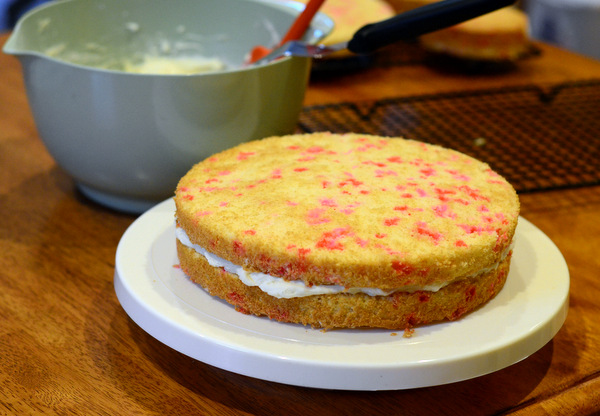 Place second round of cake on top of the first layer of frosting. Press down gently so that a little bit of frosting squeezes out between the layers of cake.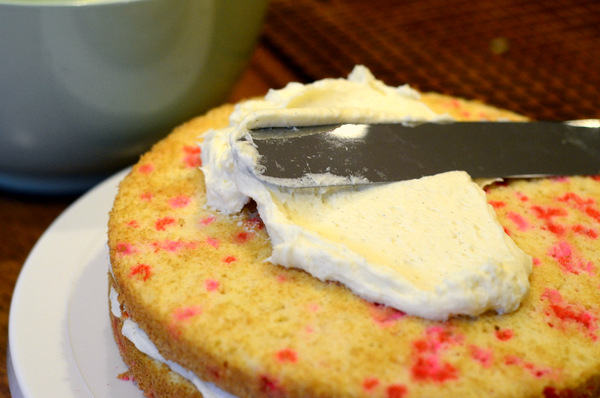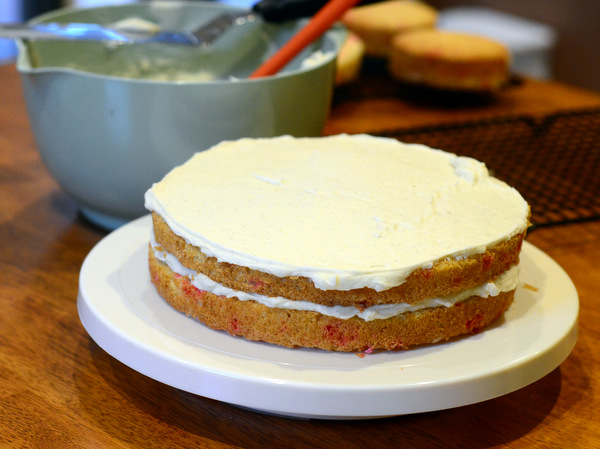 Repeat process with all remaining cake layers, pressing very, very gently as the cake gets taller.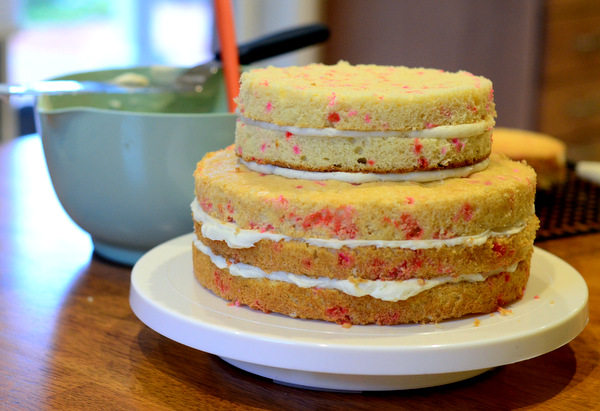 Finish with a layer of frosting on the very top of the cake. 
Step 3: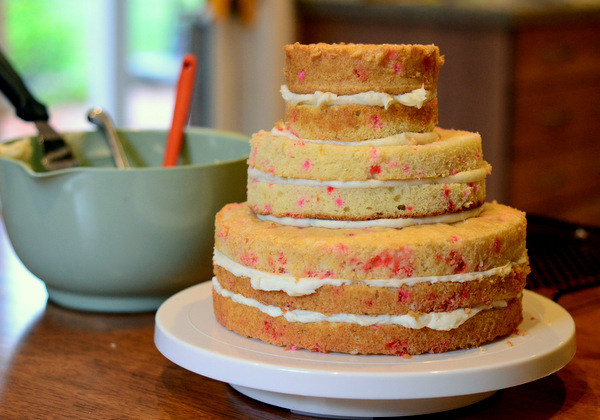 This is a naked cake. 
Step 4:
Place your offset spatula against the side of the cake and turn it at a 45-degree angle. Gently turn the cake, using the turntable, to smooth all excess frosting against the sides of the cake. Repeat with all cake layers. 
The finished cake layers can be decorated with frosting, berries, edible flowers, sprinkles or anything else you can think of before serving!
Create cakes that look as great as they taste!
Enjoy this FREE mini-class full of trade secrets from Last Cake Standing finalist Joshua John Russell.Enroll FREE Now »