October is Breast Cancer Awareness Month, and we've got several sweet breast cancer baking ideas and tips if you are wondering how to host a bake sale for charity. If you're a professional baker, baking for breast cancer awareness is a fantastic way to give back with your wonderful wares and beautifully decorated cakes, and align your business with a good cause. If you're an amateur baker, it's a way to showcase your sweets while giving people something to feel good about.
Here, we'll outline just a few of the ways you can pay your skill forward, offering delicious treats and raising money for a good cause.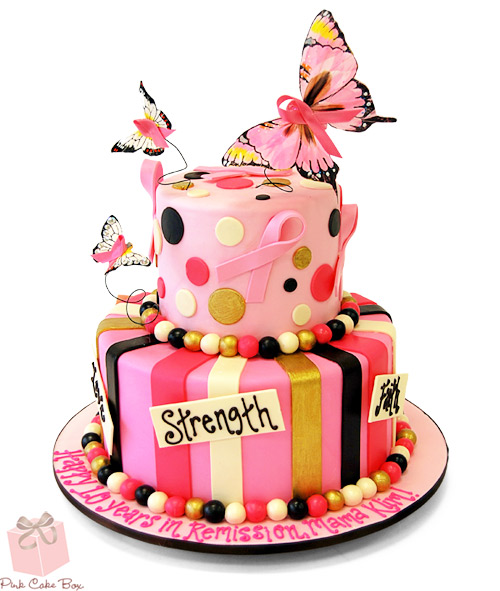 Photo via Pink Cake Box
Tips for hosting a charity bake sale
Hosting a bake sale is a great way to raise funds for breast cancer. But how to get the ball rolling?

fight breast cancer photo via Bluprint member Zeenadubai
First, take a little time to learn the rules.
While hosting a nonprofit bake sale is legal and shouldn't cost you anything to start up, there are typically rules that will govern how to do it correctly in your town. Check with your local government for the exact rules and requirements where you live, but some examples might include:
The food is all donated (bakers are not paid).
The recipient organization is a nonprofit, or a volunteer or charitable association.
The consumer must be informed that the food was prepared in private homes that were not licensed or inspected.
Generally, you won't be facing insurmountable hurdles, but these are important rules that must be followed.
Learn how to donate.
Choose your charity or the recipient of your funds before you move forward with the bake sale. This will help you in marketing your event — people love to know who will benefit from the funds earned at the sale. Make sure you know the best way to send them payment. Many will even accept donations online.
Next, you'll need a venue.
Once you've checked what standards you need to meet, you'll need to get tickin' with finding a venue. In general, you'll want a high-traffic location. Hit up local food banks, churches, libraries or schools to see if someone might be willing to donate some space to the sale. Though it may seem odd, a bakery might not be your best venue, because it is a for-profit business, and this can make nonprofit fundraising confusing.
Have a leader, but enlist volunteers.
Are you an expert at organization? Fantastic. It's good to have someone like that in control. Now, it's time to form your support team: bakers and volunteers. These are the people that will help you make it happen, from donating the baked goods to manning the tables to putting up posters to promote the event.
Make things easy for your bakers.
You don't want every single baker to show up with the same thing at the same time, so make it easy for bakers by setting some boundaries. Ask bakers to email or phone with what they'd like to bake, so you can make sure that 40 different bakers aren't all bringing brownies or chocolate chip cookies. Also, be sure to make a helpful list for bakers about what is required of the baked goods: if they need to be individually packed, labeled with ingredients, so on and so forth.
Arrange specific drop off or pickup times.
Keeping a specific window of time for bakers to drop off baked goods will help you avoid clogs in the flow of your event. Sure, there will be exceptions, but you'll at least have some guidelines to go by.
Label the ingredients.
As previously alluded to, labeling ingredients can be a very helpful practice for a bake sale. Not only will it save time and pain for people with allergies, but it will also promote sales because you will be better able to inform people about what they are buying.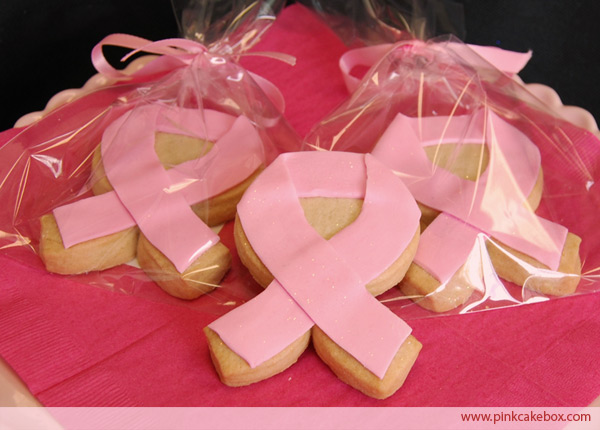 Photo via Pink Cake Box
What if you are a for-profit business?
Even if you are a for-profit business, you can include baking and cake decorating for breast cancer in your business.
Consider offering a special item that's designated as your "pink ribbon" item.
For example, Sprinkles Cupcakes in Los Angeles creates pink ribbon cupcakes each October, and a portion of proceeds from the sale of this item go to breast cancer research. So your customers can have their cake and know it's going to a good cause, too.
New Jersey's Pink Cake Box, owned by a Bluprint instructor Anne Heap, also bakes for breast cancer. Proceeds from their adorably decorated pink ribbon cookies, pictured above, are donated to breast cancer research.
Some bakeries even have entire cases dedicated to pink ribbon baked goods. Pipe pink ribbons on your sweets, create pink ombré cakes, or include the pink theme somehow — cute baked goods sell even better.
Boost your business and raise money for a cause!
Baking for breast cancer can also be a wonderful way to market your business. For example, Sunbelt Bakery announced a campaign where they will donate $1 per Facebook "like" of their page and Twitter "follow" that's attained and remains active throughout the month of October. This is brilliant on a few levels. One, they are aligning themselves with potential customers who believe in the same cause they do. While $1 each might seem steep, consider this — if they get 500 new followers, not only have they donated generously to a good cause, but they have a number of new potential customers.
Wondering what to sell at your charity bake sale? Check out our Breast Cancer Awareness cupcake tutorial for a fun and worthwhile cupcake decorating project. You might also enjoy our roundup of knitting patterns for breast cancer awareness.
How have you used your baking skills to donate to good causes?