Did you know our younger generation can learn to quilt as soon as they can hold a crayon or marker in their little hands? If a child can hold a crayon, a child can quilt. How? Through a simple method of getting them to create quilt blocks.
Here's a simple technique to help any child grow a passion for quilting: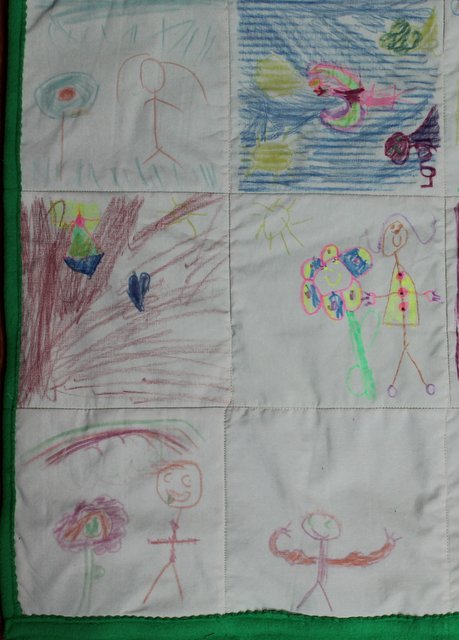 Quilting is a wonderful craft that needs to be shared with people of all ages, and that includes our children and grandchildren! They will be the ones to carry on this tradition that is hundreds of years old and take it to levels that we can't even imagine! Why not start them out when they are little? The art work a 3-year-old creates is priceless. By turning it into a quilt, you are not only starting the child on a new adventure but preserving a wonderful memory.
Supplies
A few 10" squares of white or light colored cotton fabric
Crayons (they can be fabric ones, but don't have to be)
Magic markers (optional)
A few 14" square pieces of cardboard
Masking tape
Paper towels
Directions
1. Place a fabric square onto a piece of cardboard, taping around the edges of the fabric. At this point, I often explain to the child what a quilt is composed of, chatting about the three layers, letting them feel how soft the batting is and how the top is a colorful piece of art that they are going to make.
2. Give the child the crayons or markers and ask them to draw a picture. Sometimes kids need encouragement as to what to draw. If you are having them make several blocks to turn into a quilt, then ask them to pick a theme and draw objects from the theme. Another idea is to get them to think about what makes them happy and then draw that.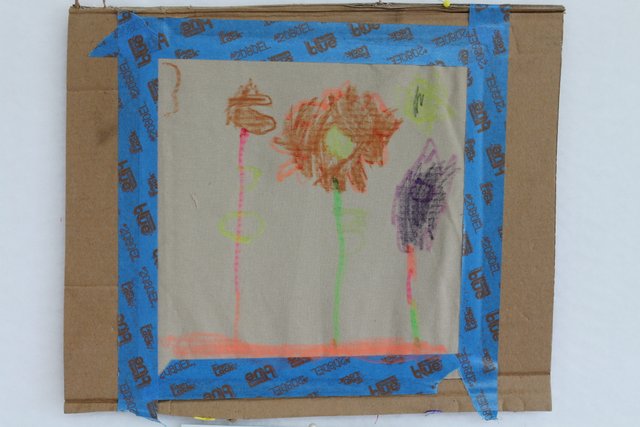 3. After they have finished drawing on the blocks, carefully peel the tape off of the fabric. Sandwich the piece of fabric between sheets of paper towels. Using a dry iron on a high heat setting, press the blocks to set the crayons and/or markers.
4. Once the blocks are set, cut them down to size if fraying occurred when removing the tape. Place them in a pleasing order and sew the blocks into a top. Quilt and bind.
5. Be sure to show the child the quilt they have created along with making a quilt label, stating who made it and the year it was made. If the quilt was made for a special occasion, it is a nice idea to add that to the label.
Looking for more inspiring kid-friendly quilting ideas? Here's a few more:
How about a stitch bible? Craftsy instructor Carol Ann Waugh created a free stitch bible tutorial to give your book a lovely, finished look that's sure to inspire even the youngest quilter. 
Why not try this quilt drawing project a child's next birthday party? It will be a fun activity for the kids to do and then the birthday kid will have an amazing keepsake!
Have a great babysitter or someone special that your child adores? Create a wall hanging by having your kid draw on four blocks and turn that into a cute wall quilt that will sure to be treasured by the recipient.
Another super way to get kids active in quilting and pay it forward: Go into a local school and have a class of children each make a quilt block. Ask the kids to draw something that they love to do. Explain to them that the quilt they are making is going to go a child just like them who needs comforting. Then quilt the the blocks together and finish the quilt at home. Bring it back into the class to show the kids what a wonderful gift their quilt is going to make for a little boy or girl. You can find places to donate your quilt here, through the non-profit Quilt for Kids. 
While you're teaching the next generation of quilters, why not pay homage to the previous generations? Join Craftsy instructor Joanna Figueroa for her online class Simple Fresh Quilts to recreate traditional, vintage quilt patterns using modern techniques!
What ideas do you have to encourage kids to quilt?