It's a new year full of good intentions and enthusiasm! Whether you are planning a painting exhibit in your studio, local library, arts association or gallery, the best advice is to plan early!
Here's a timeline to help you learn how to exhibit your art!
Fresh Picks Art Show at historic Muscoot Farm Gallery via Dorothy Lorenze
Book your venue and review this timeline to be well prepared and less stressed for a successful exhibit!
12 months out
Set a creative direction and goal for your artwork. Just as galleries expect you to have a cohesive body of work that shows your strengths, your own exhibit should exemplify your best work and reflect subjects that typify your genre. A cohesive body of work will also help suggest a title for your exhibit.
Know how many paintings and what sizes will best represent your work within the exhibition space (you will need actual wall measurements). Paint!
As an example, the postcard below announces a show that was held in the main house gallery of a historic farm. The paintings were still lifes with fresh fruits and vegetables and the farm also hosted a local farmers' market. The exhibit title Fresh Picks referred to the latest artwork and made a connection with the market.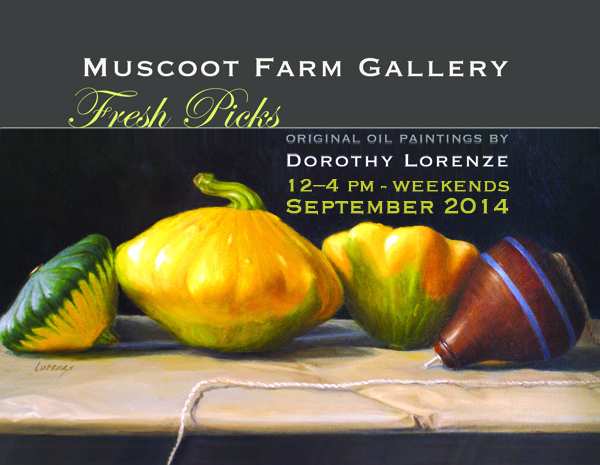 Postcard announcement featuring Top Form via Dorothy Lorenze
Six months out
A good mailing list is a must! Review contact information from previous shows, collectors and fellow artists as well as friends and colleagues. Both physical addresses and email addresses should be updated and ready to go.
Determine printing needs and lead time for post cards and signage. There are very good, reasonable printers online, but remember that local printers can be faster and will provide printed proofs (rather than digital).
Three months out
Photograph all completed artwork.
Write your artist statement. Gathering ideas about what inspires you can also help with press releases or interviews that may come up later.
Print postcards for mailing and handouts (include your name, exhibit title, date, time, location, contact info, website). Print more business cards if you need them and attach a business card to the back of each painting.
Two months out
Print signage for venue as well as smaller display signs pointing the way on roads leading to the venue.
For the best visual impact, as well as branding purposes, use the same image for signage, postcards and all promotional material.
Write succinct and interesting press releases. Include the "why" about your artwork.
Plan a simple but elegant reception. Be sure you know any restrictions about food and drink.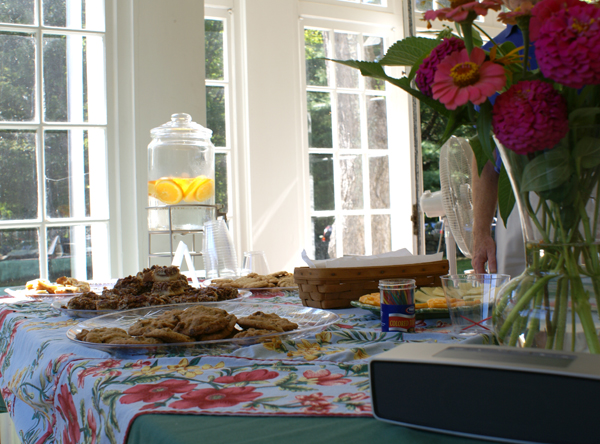 Four weeks out
Enlist friends to prepare food, help with decor or bar tend if possible. When folks share the effort, they also share the enthusiasm. They will help make your event a success!
Mail announcement postcards. Ask friends to pass them along as well.
Price your work! Review prices with help from fellow artists if you are unsure. Try to be consistent and don't play favorites! Similar subjects and sizes should be the same price.
Decide how you will accept payment. Cash only? Personal checks? Installment payments (holding the artwork until it's fully paid, of course). Credit card payments are easy using an app like Square, assuming there is adequate cell service or wifi. Test it out in advance!
Send those press releases.
Three weeks out
Post exhibit info on social media with images of your latest and greatest work.
Prepare labels for all artwork and be sure to follow venue regulations regarding sticky stuff on walls. Include title, dimensions and price on labels so folks will have all the info on hand. A classy way to do that is to mount labels on foam core and use double stick tape to attach them to the underside of the frame, like this:

Two weeks out
Gather reception supplies (cups, napkins, tablecloth, platters, etc.).
Plan for music! Atmosphere matters so create a play list for background music throughout your show, if allowed.
Get an artsy guest book to gather names and email addresses.
You may want to have a small table for display of business cards, this can also be your sales table. A small antique side table will work and look great. Borrow one if you can.
One week out
Make copies of your artist's statement, bio/resume, awards in a simple presentation binder for display.
Send reminder emails. Include an image of your announcement but also put all information — date, time, — in the body of the email so they don't have to download anything to get the basics.
Determine the layout for your work.
Review pricing and make price lists. List artwork in the order that it is hung in the room, moving clockwise. Proof price list against labels for accuracy. Print a dozen or so sheets and put them in plastic sleeves. It looks professional and people don't tend to take the price sheets.
Buy red dots for all your sales.
Have a sales book with duplicates to keep names, addresses and items purchased for sales. You will be very happy to have a copy of this info later!
What can you do to make the space more inviting? If you paint still life, set up small still life groupings to add interest.
During the exhibit
Engage with attendees, ask about their interests, find out how they heard about your show.
Encourage folks to sign the guest book but don't feel slighted if they choose not to. Make it clear that you will honor their privacy.
If you are comfortable demonstrating, great! If not, an easel with a work in progress will prompt conversation and engage.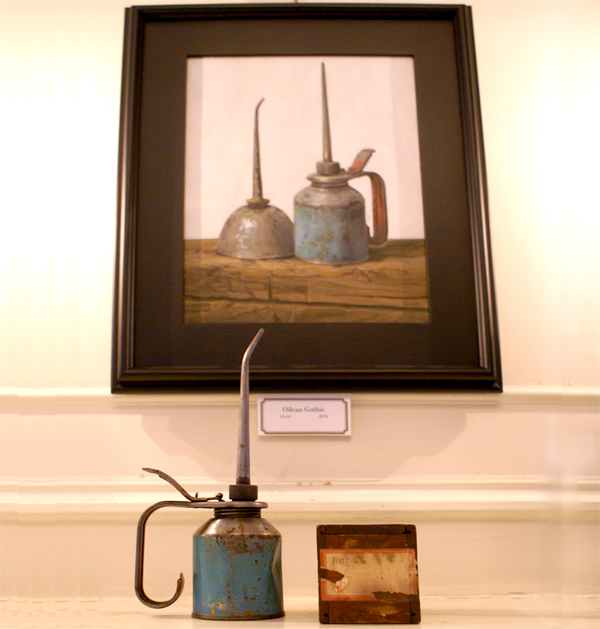 Oilcan Gothic via Dorothy Lorenze
It's a new year! Make it creative and wonderful!