In our last fashion design post, we covered how to draw fashion figure poses and movement. So far we have touched on some of the most important points when it comes to drawing for fashion design, except for the most important of all: the clothes!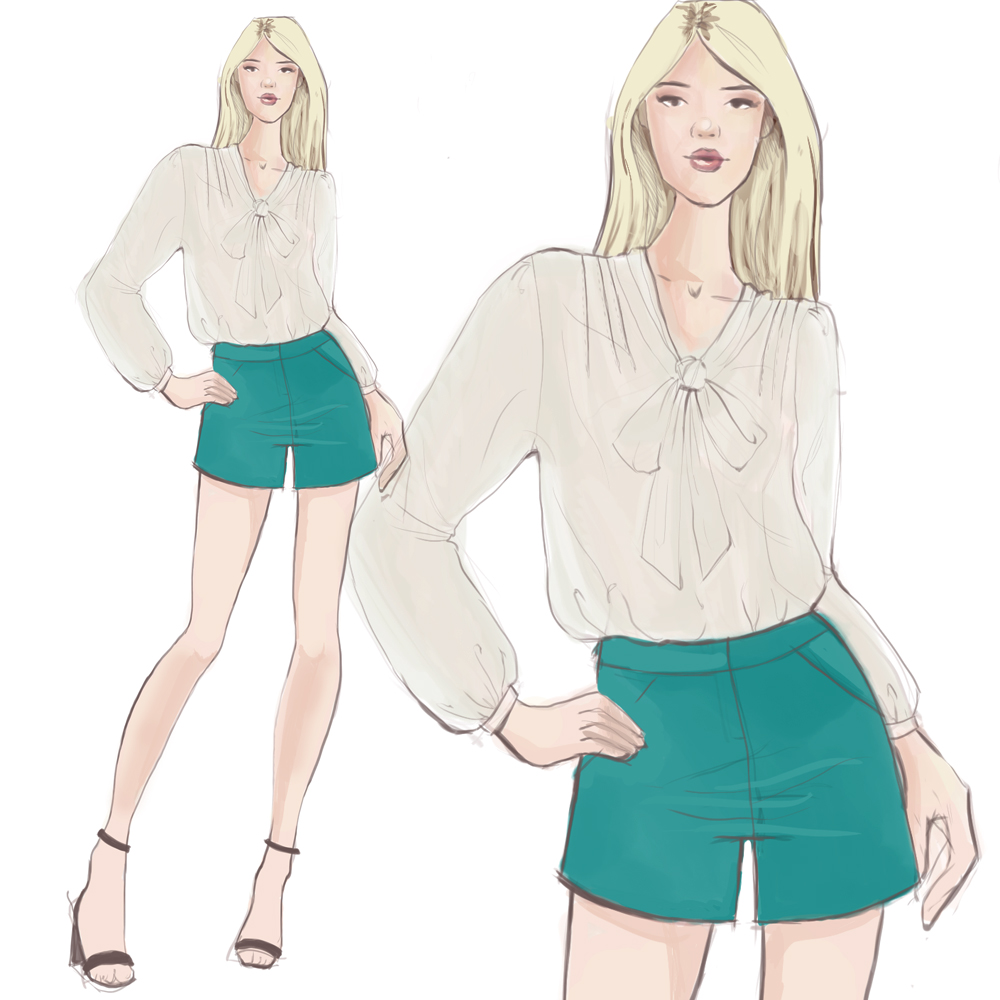 That is exactly what we will be talking about today. Go grab those poses and figure drawings you did last week and let's draw some clothes on them.
You will start off with your undressed figure drawing in pencil. It shouldn't be inked yet because you want to be able to erase the lines of the body that will be eventually covered by clothing.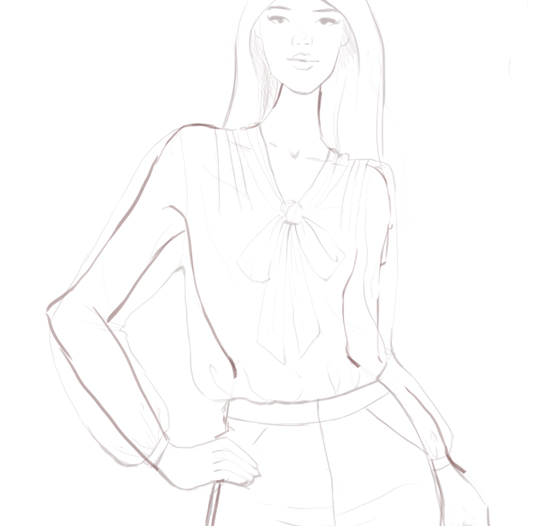 For this example, we are drawing a light, flowing blouse and a pair of high-waisted shorts. This blouse was very good to use as an example, as opposed to a tight-fitted shirt, because it gives you an idea of how to represent movement on a garment and how it flows and creases around the body.
We want it to look like the clothes are being worn by the body, which means that the fabric will fold and crease in places like the angle created by the arm at the elbow, there will be creases at the waist where the shirt is tucked in, etc.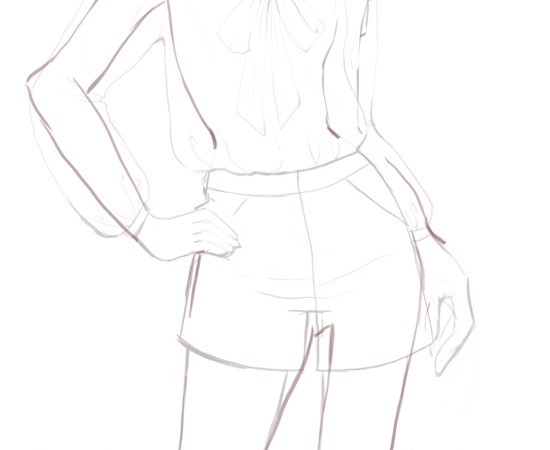 In contrast with the flowy top, we have these shorts made out of a heavier, stiffer fabric, meaning that there won't be as much movement on this garment as with the previous one. Despite this, we will still find slight creases and pull lines, especially if there is some movement in the pose. For example, a walking pose like the ones you come across on runway shows, will present more creases and fold on pants than a static pose where the model is standing still.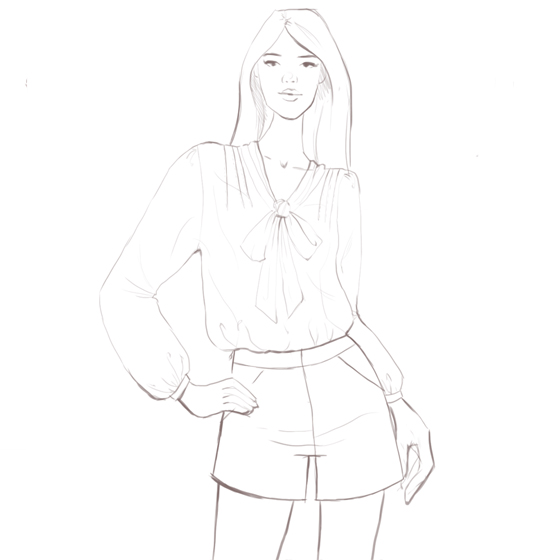 After you have drawn your design ideas on the fashion figure, you can erase the parts of the body that are covered by the garments. Considered, again, the types of fabric you will be using for these clothes. This will influence not only how they drape on the body but also if you should leave some lines visible.
For example, the blouse above is made out of somewhat sheer chiffon, so I left a faint outline of the waist and torso because it will be slightly visible through the fabric. Keep all of these details in mind throughout the whole process. This will result in more accurate and "true to life" representations of your design ideas.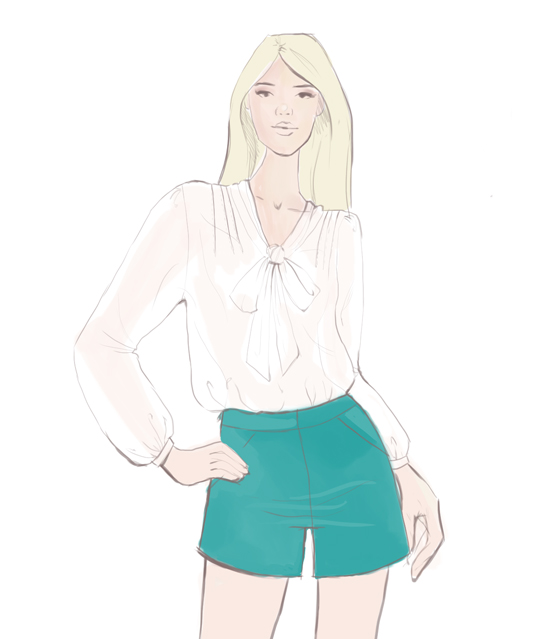 Details like the sheer nature of chiffon will be even more evident through the painting process. Here, I have quickly rendered what a white chiffon blouse would look like. You can see that by painting the areas of the body that are covered by the top with a very faint version of the figure's skin tone gives the illusion of a sheer fabric over it.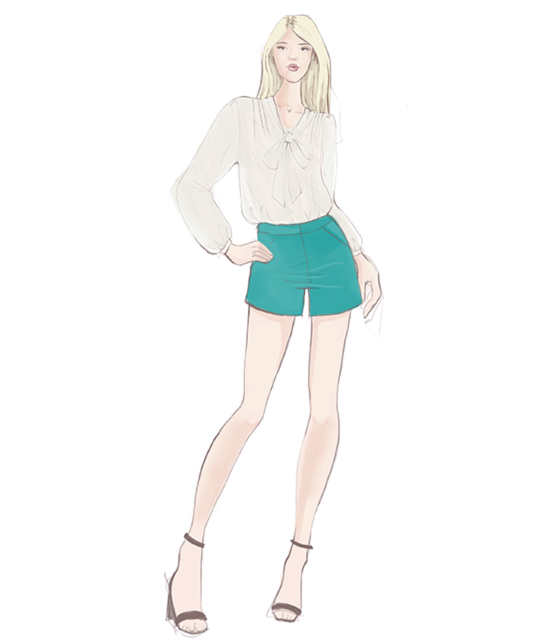 I hope you have found this short introductory series into illustration for fashion design useful! Share your drawings with us through the project section of the Craftsy site.
Do you have any other fashion design drawing topics you'd like to explore?