The days are growing shorter and colorful leaves blow in the wind against an indigo sky background. Bright, glowing pumpkins catch our eyes and hearken us back to our childhood and the excitement of Halloween. The Jack-o'-lantern is the most endearing and identifiable symbol of this fun holiday. It is also an easy subject to learn or practice in any artistic medium you like.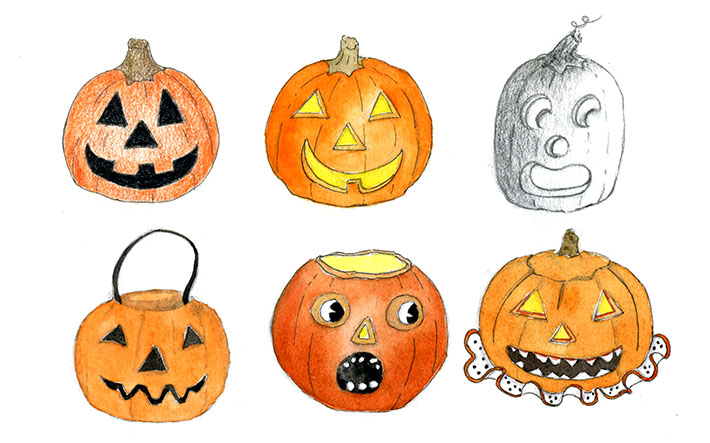 The jack-o'-lantern is the most endearing and prominent symbol of Halloween. It is also an easy subject to learn or practice any artistic medium you like.
The only artwork I remember being excited about as child was Halloween art at school. I was captivated by jack-o'-lanterns made of orange construction paper lined up on a little wooden fence with cotton-ball ghosts flying overhead. To this day, I still occasionally try to recreate the same feeling I had back then by creating a piece of fall-inspired artwork.
You can create your own special jack-o'-lantern piece of art with a few tips. Get some paper, pencils and an orange-colored medium, and let's have some Halloween fun!
Step 1: Prepare your pumpkin
Start by sketching a pumpkin shape, which has a round, convex shape. Sketch in lines, as shown in Image 1 (below), which will guide the placement of the face's features. Before drawing in the eyes, nose and mouth, keep reading for tips on designing your jack-o'-lantern face.
Image 2 shows how to draw an open top of a jack-o'-lantern. Draw a single line for the part of the opening closest to you (A) and a double line (B) for the back. That's the part of the opening where you would see the thickness of the wall of the pumpkin.
Lastly, remember to add some ribs on the pumpkin (Image 3).

Step 2: Choose the right eyes and nose for your jack-o'-lantern
As pumpkins come in many shapes, there are endless choices of facial features for your jack-o'-lantern. This becomes a personal choice because we want our pumpkin to reflect our own memories or a specific message. Here are a few simple suggestions to get you started!

Even if you go very primary (as in Image 1 here), you can still have a sweet little piece of art. To go a step further, add a little more perspective to your eyes and nose by drawing a second line along the sides where you may see the thickness of the pumpkin wall (Image 2, A).
For a different style, as you draw your eye, interrupt the shape with a half circle (as shown in Image 3.) This creates an illusion of an eyeball. When you are adding color, this eyeball is the painted the same color of the pumpkin, completing the effect.
Lastly, you can create a vintage-style pumpkin face by imitating Image 4. For the eyes, I drew a circle within a circle (A). Next, I drew a half-circle with a tiny wedge within the inner circle (b) to give the eye a little twinkle.
Step 3: Fun shapes for your jack-o'-lantern's mouth
There are many mouth shapes to choose from — here are a handful to get you going.

Top row
These are your basic jack-o'-lantern mouth shapes. Keep it simple or go through all four steps for more detailing.
Step 1: Draw a simple, generic mouth shape.
Step 2: Add a few jagged teeth.
Step 3: If you like, erase the lines from where the teeth join the mouth.
Step 4: Add a second line where the thickness of the pumpkin wall might be seen to add perspective.
Bottom row
1. Zigzag shape. Notice underneath I drew the letter M? Use this letter to start the form for this mouth.
2. A kidney bean–shaped mouth. Draw with or without teeth.
3. A rounded half-moon shape. Draw fun, sharp teeth for a spooky look.
4. This is a round mouth, but you can use any shape mouth with these fun vintage teeth. Little circles for teeth are all you need to draw. The inside of the mouth will be colored dark and the teeth stay white. 
Step 4: Add finishing touches
Whatever medium you choose to finish your jack o'lantern with, here are some pointers to make it your very best.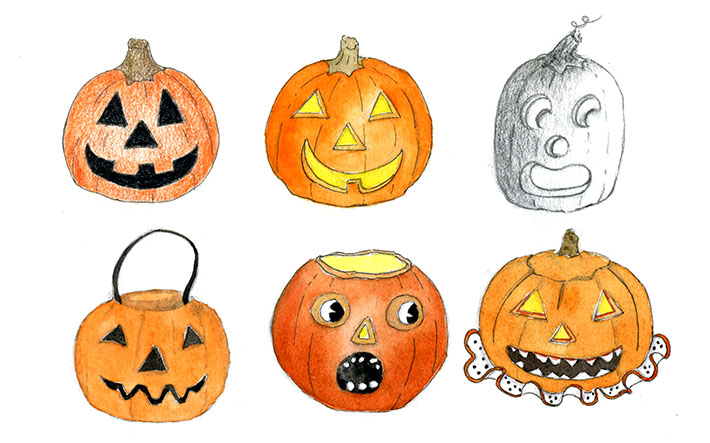 1. Shade the pumpkin so that the outermost area of its circumference is highlighted.
2. Color half of the jack-o'-lantern darker than the rest for a partially-in-the-shadows effect, the graphite sketch in the top right corner above.
3. For a glowing effect, color the inside of the mouth, nose and eyes bright yellow. If you have the top of the jack-o'-lantern open, too, paint this bright yellow, as well.
4. Add a thin red line to the inner eyes, nose and mouth make for a scary and vintage jack-o'-lantern, as you'll see in the example on the bottom right of the image above.
5. You can never go wrong with a basic orange-and-black Halloween jack. Add your coloring a little unevenly, with a little shading on the bottom and sides. Shade along the "rib" lines, too. You will be sure to have a sweet jack-o'-lantern when you are finished.