Have you ever wondered how to design a skirt pattern? Perhaps you've lusted after a silhouette you saw in a shop. Maybe you've longed to create something completely unique. Either way, it's actually not as hard as you think and definitely way more fun! As long as you have a well-fitting block as a starting point, the world is your oyster.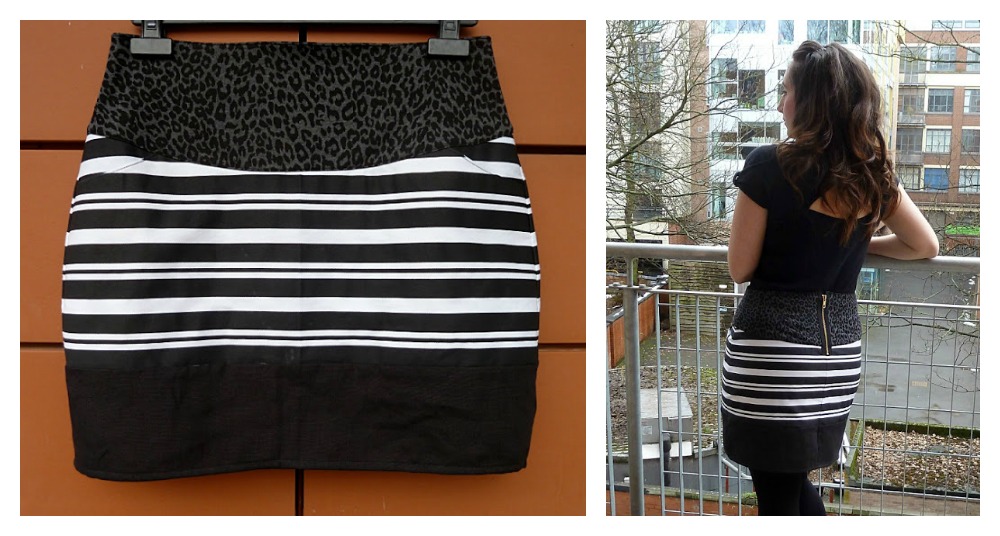 Photos via A Stitching Odyssey
My very own stripy creation started life as a very basic pencil skirt pattern that I drafted using Winifred Aldrich's Metric Pattern Cutting for Women's Wear. There's also the Patternmaking Basics: The Skirt Sloper class from Craftsy, which walks you through making a perfectly fitted skirt sloper to drafting A-line, bias and circle flared skirts, with all sorts of additional design details.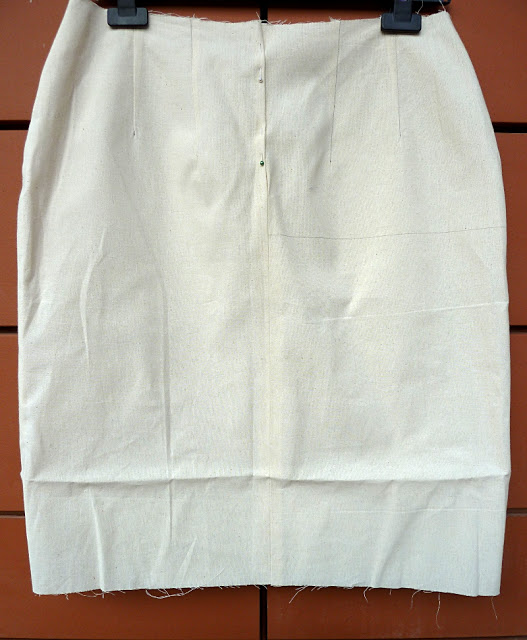 Once you have your finished skirt block, you can already see how the classic shape can become a wardrobe staple in itself, as well as easily lending itself to many variations. For my personal design journey, I wanted to challenge myself with a style that would take me out of my comfort zone. And I knew exactly what I wanted to create, as soon as I saw my inspiration skirt.
Follow along with this mini-tutorial for using a self-drafted block to design a skirt pattern that's uniquely yours!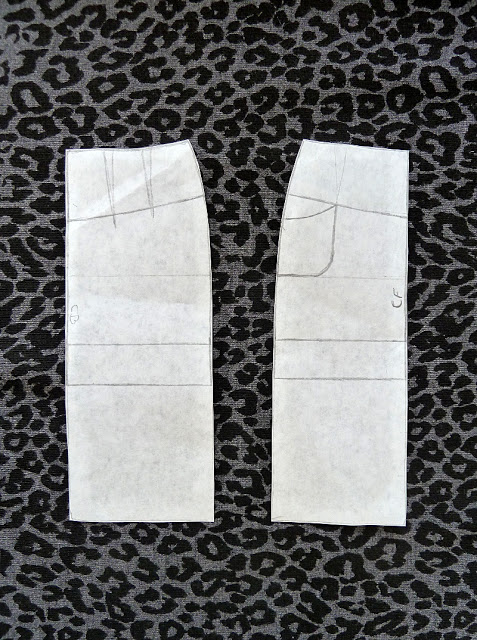 Step 1:
To get an idea of how your design will work and what pattern pieces you'll need, it's a good idea to start with some quarter-scale models of your basic skirt block, so you can mark out the new design lines on them.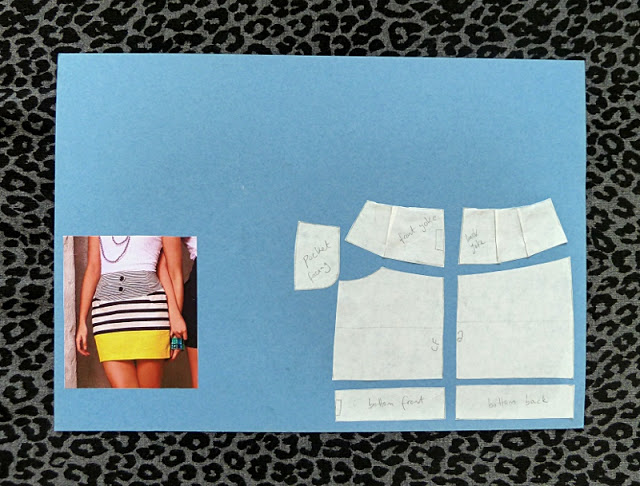 Step 2:
Then you can cut your quarter-scale pattern pieces out, to make sure nothing obvious is missing. This is quite a handy step, as it should highlight any possible problems and mistakes at an early stage.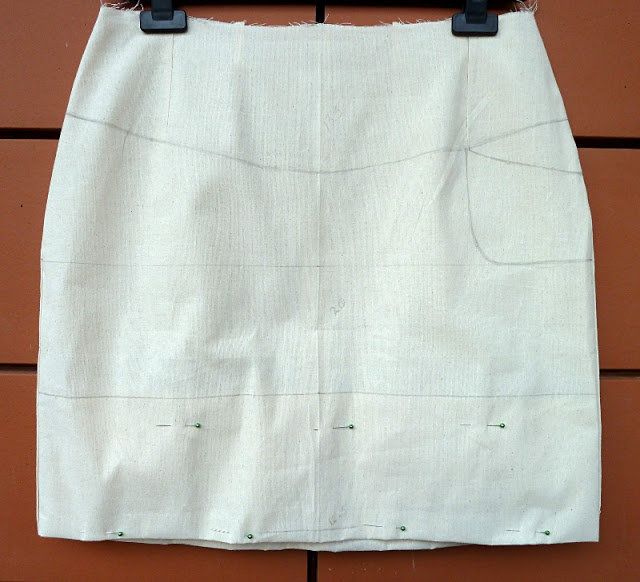 Step 3:
With a skirt design like mine, where proportions are everything, you can draw out your design on your original block. This is such a useful exercise because you can keep trying it on as you go along, allowing you to make adjustments and get the proportions of each pattern piece just right.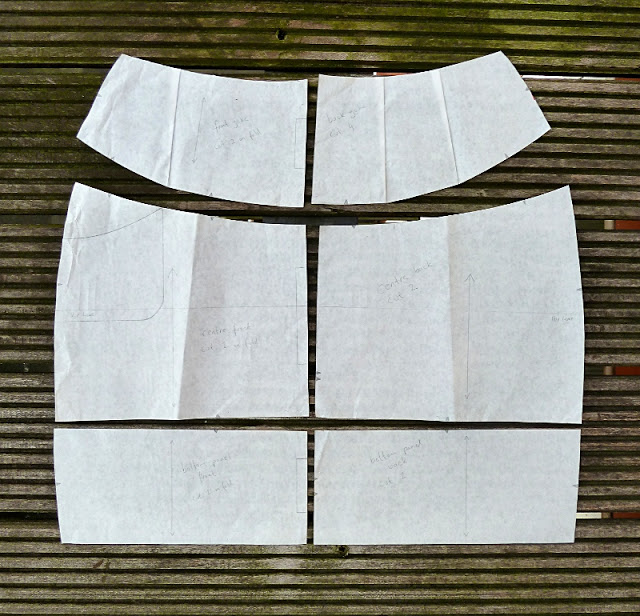 Step 4:
Once you're happy with the proportions of your pattern pieces, retrace your original pencil skirt block, copying the markings from your muslin onto it. Cut it all out and behold your actual pattern pieces in all their glory! Just remember that if your original skirt block doesn't include seam allowances, you'll have to add these to your new pattern pieces.
Step 5:
At this point, you're probably wondering where on earth my pocket pattern piece is? Well, because reinventing the wheel is pointless, I just adapted one from an existing pattern in my stash. So, the lesson here is: Don't be afraid to use and adapt what you already have!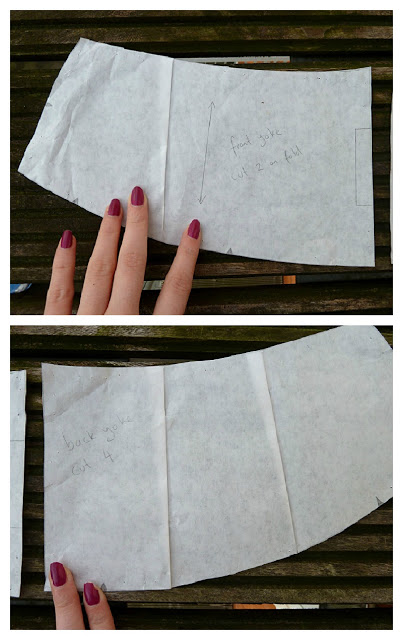 Step 6:
You've also probably noticed some folds on my skirt yoke pattern pieces. In order to have a nicely shaped yoke without darts, you just pinch the darts out of your pattern pieces. So you just trace the yoke pieces using your original skirt block – darts and all – and then just pinch and fold them out like magic. Clever stuff, no?
Hopefully this quick tutorial has given you just the confidence you need to be creative and start designing your own skirt pattern!
Have you designed your own skirt pattern before?