When people ask me for tips on planting a garden, the first thing I do is admit to the numerous mistakes I made when I planted my first outdoor garden. Instead of designing a garden layout I jumped right into gardening and started planting plants where I could fit them. Years later I'm still paying for this mistake that could have been easily avoided if I had sketched out a garden plan in one wintry afternoon.
If you can afford to hire a landscape architect or a garden designer, you should consult with one. For those of us working with tight budgets (or the DIY enthusiasts), sitting down and drawing what you want your garden to look like is an option.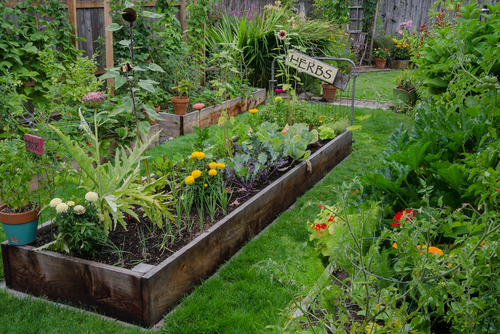 Photo via Shutterstock/Jamie Hooper
Free Online Gardening Class
Sketch your own garden design
Designing a garden layout can be really simple. Go out into your yard where you would like to plant a garden and sketch out the area you have available for planting. It doesn't matter if you can't draw; nobody besides you ever has to see your garden layout. If all you can draw are simple squares, triangles and circles to represent plants–that's fine. In your garden layout include any existing trees, plants and features you have. Now draw in your raised beds, planters, flower beds or anything else you want to add to your garden. Refer to your garden sketch when you're determining what kinds of plants you want to add and how many you have room for.
Using garden design software
You don't need to be a landscaping guru to be able to use a variety of free online garden planning tools. If you spent years planting and maintaining a garden on Facebook, you can design your own garden in minutes. Here are two options for designing your own garden layout online in a few minutes.
Garden Planner 3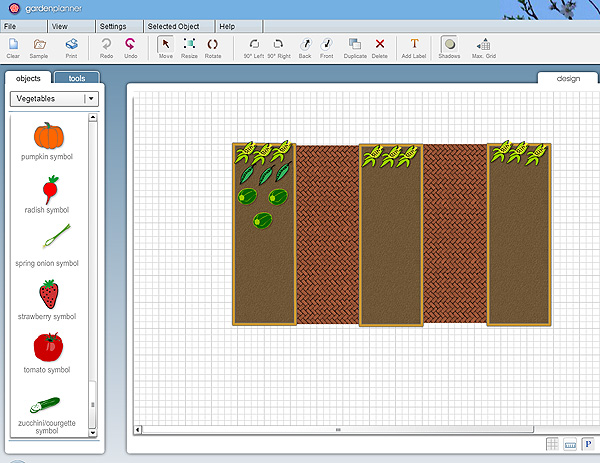 Garden Planner 3 screen shot via Small Blue Printer
Garden Planner 3 from Small Blue Printer is available as a web app, and a downloadable tool. The download comes with a 15-day free trial that has more bells and whistles, but there is no time restriction to experiment with the online version.
In the example above, I laid out three raised beds with the beginnings of a Three Sisters Garden in about 5 minutes and took a screenshot to give you an idea of what is possible. You can get a lot more creative with your garden plan by adding decks, lawns, pools, hedges, fountains, trees, shrubs, annuals, perennials, vegetables, and experiment with different styles to match your garden vision.
Garden Puzzle
Not everyone who wants to design a garden layout wants to grow a vegetable garden, and maybe a head-on view of the garden would help you visualize plants and their spacing better.
If you spent your childhood playing with paper dolls or books of reusable stickers, Garden Puzzle will seem like child's play.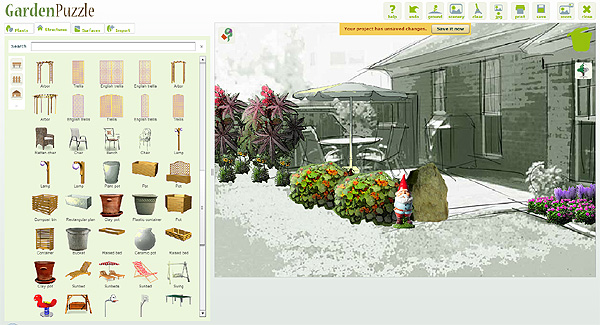 Garden Puzzle screen shot via Garden Puzzle
What's really cool about Garden Puzzle is that it allows you to drag and drop plants and objects on top of a background that may match your current home or yard. If you upgrade to the full version you can add your own photo.
In the example above, I chose a pretty common outdoor space that many may recognize and started layering plants and a few accents to give you an idea of what Garden Puzzle looks like. There's a tremendous selection of plants and trees to choose from along with structures ranging from basketball hoops to garden sheds.
Hopefully, this shows you how easy it is to design your own garden. If you're looking to learn how to design a garden layout, give these two tools a try or conduct an Internet search for some more DIY garden design software options.
Did you design your own garden, or did you work with a garden professional to build your garden? 
Free Online Gardening Class