As cake decorators we spend so much of our time learning new techniques and then practicing, practicing, and practicing some more. We love getting the details perfect and watching as we turn simple ingredients into a work of art, but before we even turn the oven on, we need a plan. How do we come up with that plan and design a cake that is different, unique and can wow our customers and ourselves? For new and exciting cake design ideas make sure to sign up for Jessica Harris's online Craftsy class Clean and Simple Cake Design!
I will take you through a cake that I designed for a photoshoot that was published on Every Last Detail. I will be honest and say that this was a very difficult design. It is not really my personal style, but it taught me a lot about the design process. First, take a look at a picture of the final cake. Then, we will discuss how to get to this point.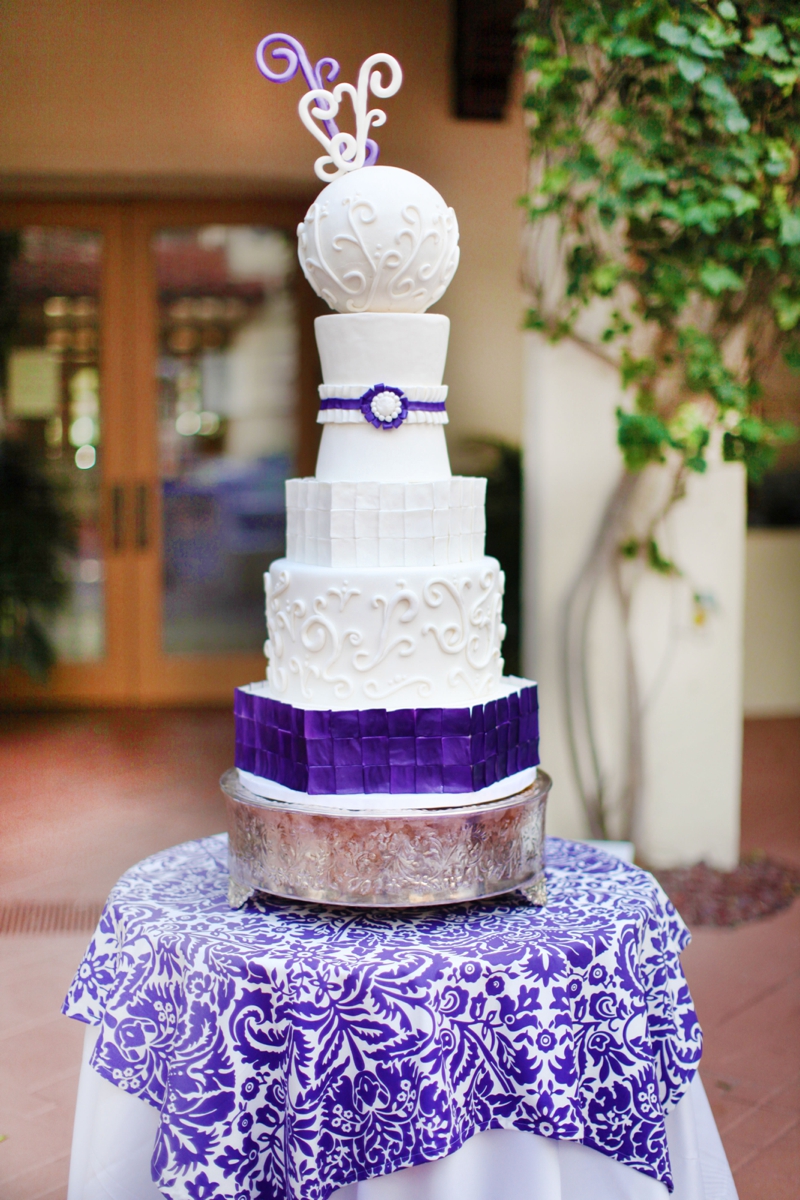 Cake via Wendy Woo Cakes
Photography via Wings of Glory Photography
As you talk with friends or customers about a design, you will find that some cakes and ideas are easier to design than others. If it fits your style or is something you are interested in doing, you may find it very easy to come up with a design; other times you may not.
Here are 5 steps that may help you on the road to designing a cake.
1. Know your customer. Whether the cake is for yourself or a client, get to know your customer. Ask for inspiration and about details of the event, other than the cake. What kind of flowers will be used? What are their colors? Do they love bling or pearls? Are their tastes modern or vintage, contemporary or cute? Where will the event be held? What else will be on the cake table? Is it part of a display? Will it be displayed outside?
All of these questions can help guide your design and give you a great jumping off point. Many times people will come to you with a picture of a cake they want you to replicate; try to steer away from that. Part of the fun of cake decorating is to design your own cakes so you can stand alone as a decorator. Take parts of a cake you like or your customer likes and rework them to fit the event. Take techniques you have learned and apply them to your cake in fun, new ways.
For my cake, I was told by the designer of the shoot that we would be using purple damask and green chevron with a modern look, but they wanted the cake mostly white. So I started by creating a few very different designs, to give myself and the designer a place to start. I emailed them to her to get her opinion; we agreed that we liked the top right cake the best, but were not in love with the design then I started again with a few more ideas.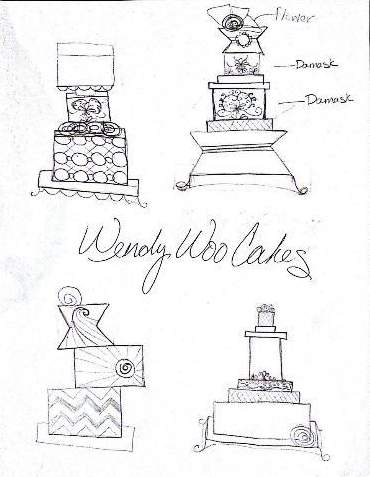 2. Know your number of servings. This is very important because many clients come in wanting a large four tier cake but only need to serve 20 people. Or vice versa, wherein they only want to pay for a two tier cake, but need enough cake to serve 100+ people. Also, knowing a budget or at least a range can help in the design of a cake. Make sure you are upfront with your pricing, so your customer is not expecting a four tier wedding cake for a very low cost.
3. Know your limits! I am all about trying new techniques and pushing my limits, but if you have decorated a cake before, you know that cakes almost always take much longer than you anticipate. Only agree to a cake design if you have the time to both design and produce the cake ordered. Also, it is best to try a technique before you tell a customer you can do it and before you have to place it on the cake. It will help a ton for your frustration levels. Practice a technique before you agree to put it on a cake! If you agree to a design or technique you have never tried, be sure to practice it at least once before trying it on your cake. Many cake techniques look much easier than they actually are.
4. Sketch, Sketch, Sketch! Get your ideas out on paper. When looking at inspiration, sketch out the first thing that comes to mind. If you don't like it, sketch a new idea. They don't have to be perfect sketches, they don't even need to look pretty, but getting them out will help you focus on what you are imagining in your mind. And you may find that you don't like that idea, or that it works perfectly.
On my cake, I went through many sketches. Here are the sketches I made. Just FYI, I was terrible at sketching cakes when I first started. I had a hard time sketching a stick figure, but I practiced. And although I am still not a pro at sketches, they now at least look like cakes! So don't be afraid of sketching, it is worth the practice!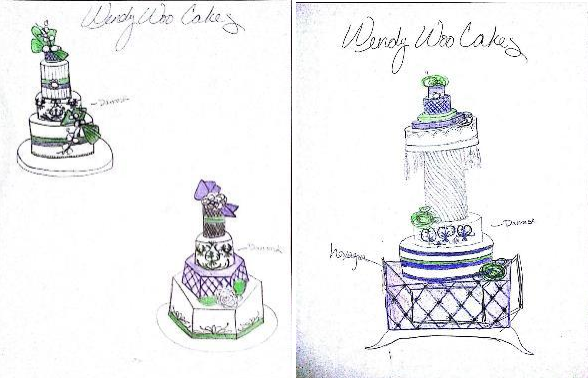 Left: too much color. Right: too much bling.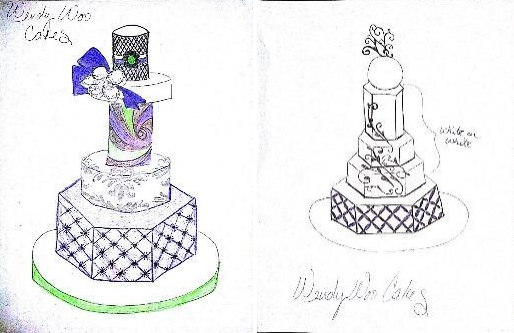 Left: too crazy and psychedelic. Right: a little too plain, but I like the topper.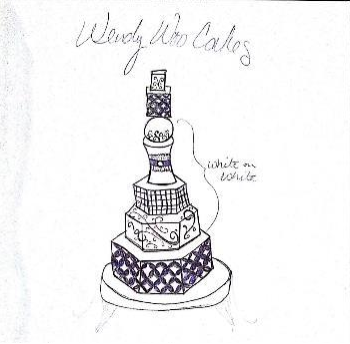 Just right, but weird top tiers.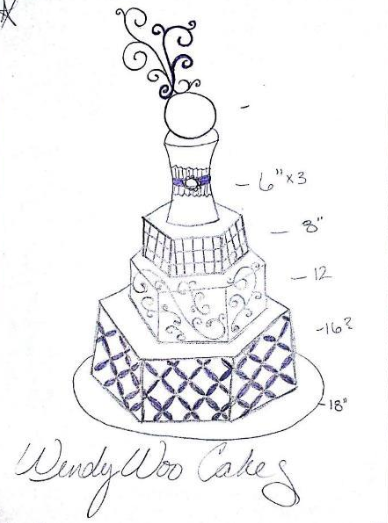 Love it!
5. Be flexible! Once you begin the actual decorating you may find that changes need to be made. You may finish and realize it just needs a few more final touches, or you may find that you have overdone it with your design and it may look better if you scale it back a bit. Be willing to make the necessary changes. Most customers will trust you enough to understand if you change the design at the last minute, there was a good reason. However if it a huge change, contact your customer to discuss it with them.
Lastly, have fun! Trust your artistic ability and go for it! Good luck!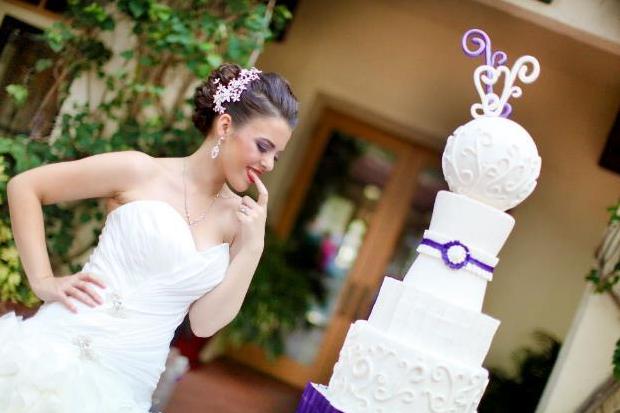 Cake via Wendy Woo Cakes
Photography via Wings of Glory Photography
To see the entire photo shoot visit Every Last Detail
For more ideas on how to design a cake, check out Marina Sousa's Craftsy class, Advanced Fondant Techniques, and Colette Peter's Piece of Cake.