We absolutely adore this technique for adding a touch of class and luxury to any cake design! The addition of a shimmering gold or silver painted fondant frame adorning the front of either a single or multi-tiered design really adds a wonderful sense of drama.
It is also easily customizable as you can add in small molded bugs, ornate monograms or gum paste flowers as part of the frame design.
Want to know how to create your own lavish style frame cake? Read on!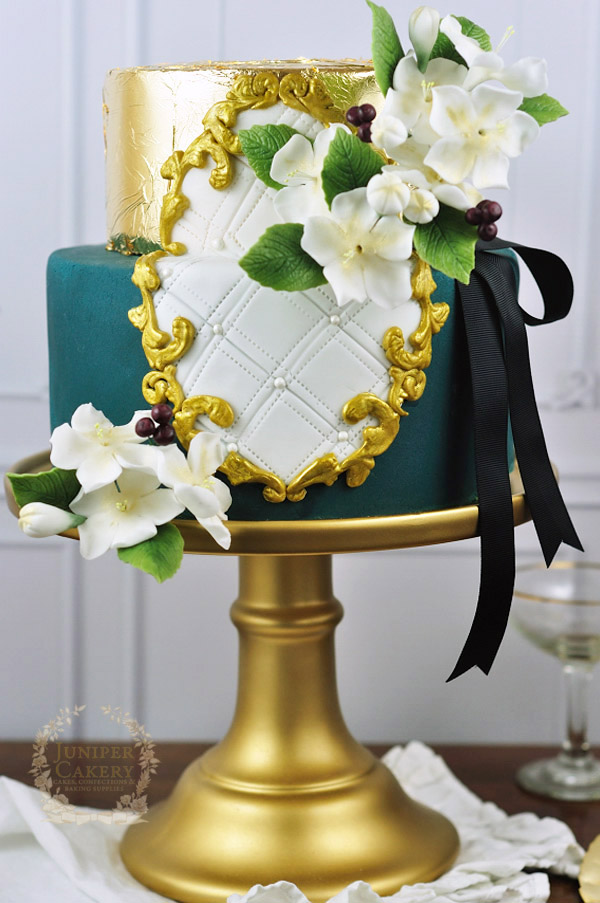 All photos via Juniper Cakery
For more stunning cake decorating techniques to try with fondant why not sign up for Marina Sousa's Designer Fondant Textures class today!
Sign me up!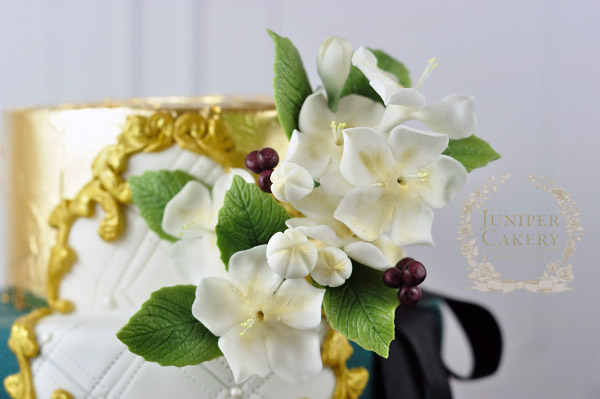 Materials needed:
A fondant covered cake (though more than one tier works best)
Turntable
Fondant
Cornstarch
Fondant rolling pin
Scroll molds
Edible glue
Paint brush
Gold or silver edible paint (or luster dust mixed with alcohol)
Thin metal scraper
Pizza or pastry cutter
Large rolling pin
Smoother
Step 1:
Roll out some fondant in white or ivory (or any color you'd like the background/middle of your frame to be).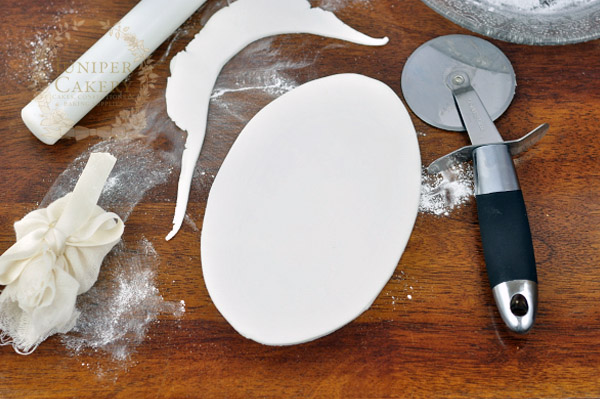 Step 2:
Cut out an oval shape (although this can be any shape you'd like your frame) to fit your cake. If you'd like your frame to cover 2 tiers or more remember to consider the 'steps' of each tier and their length or size as your piece of fondant will need to cover these sections also!
Step 3:
Paint where you'd like your frame on your cake with edible glue or water.
Step 4: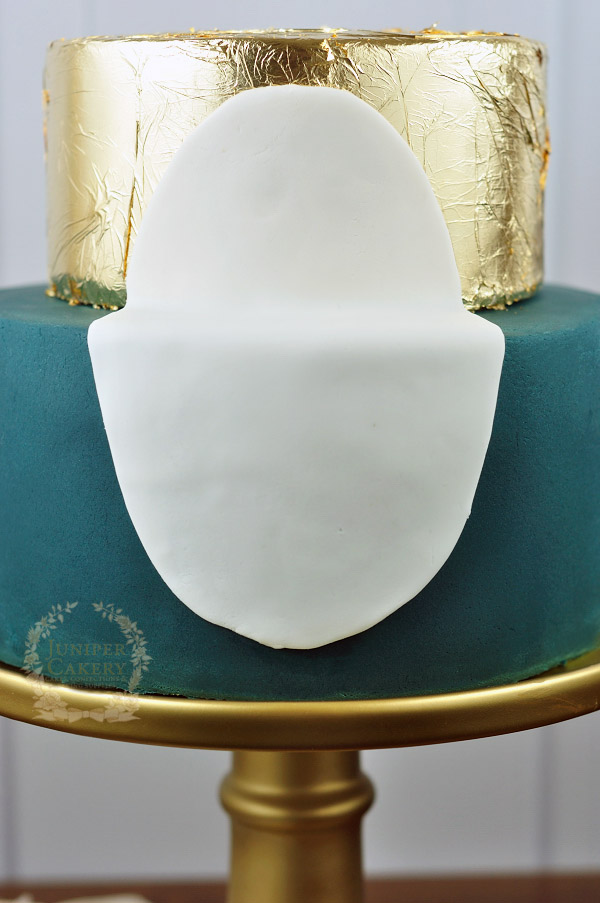 Using a rolling pin carefully lift your cut piece of fondant and transfer this to the front of your cake. You may need an extra helping hand for this step, however, with a little bit of caution, it can be done without a helper.
Once applied smooth down. It's perfectly fine if your background section is a little 'wonky' as you'll be covering the edge of this with some lovely molding work!
If you'd like the middle of your frame to feature a quilted or embossed look it's best to work this in now whilst your fondant is still soft. Adding textural looks to your fondant when it has dried will result in tiny cracks!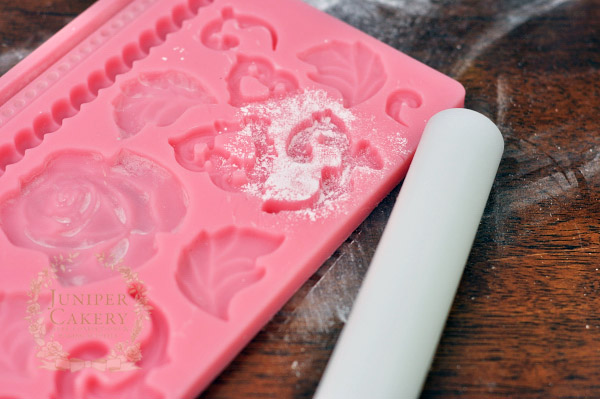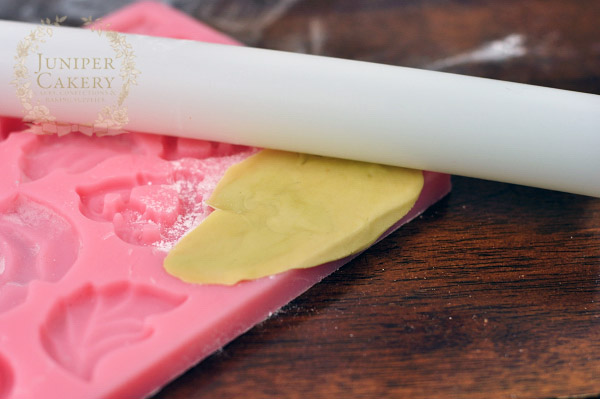 Step 5:
Now it's time to begin the exciting part! Dust the inside of your molds with a little cornstarch to stop any fondant from sticking. Take small pieces of fondant and press and roll into your molds. Roll until any excess fondant looks thin.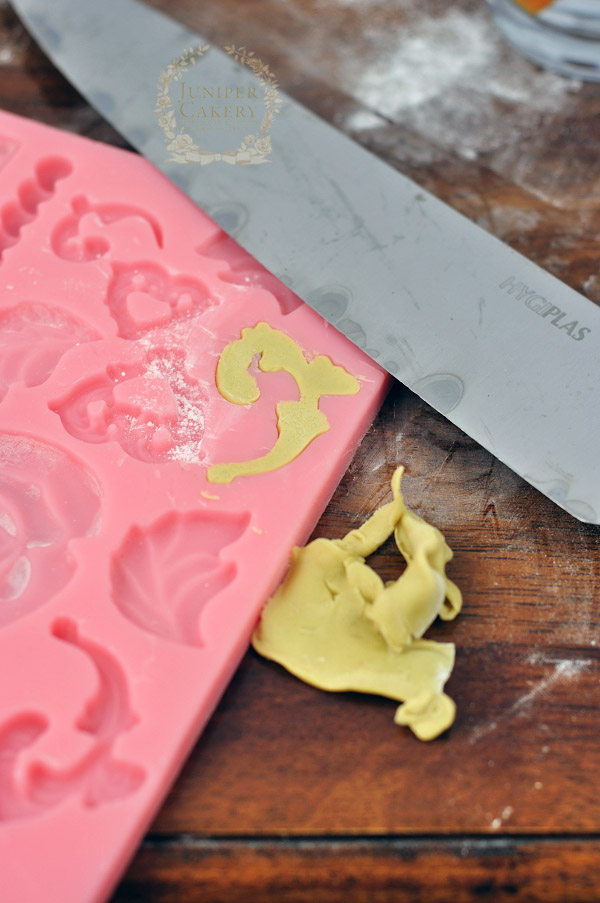 Step 6:
Take any excess fondant away by carefully scraping the back with a thin metal scraper whilst still in the mold.
Step 7:
Flip your mold over and carefully 'peel' the mold away/off of your fondant piece to release your scroll.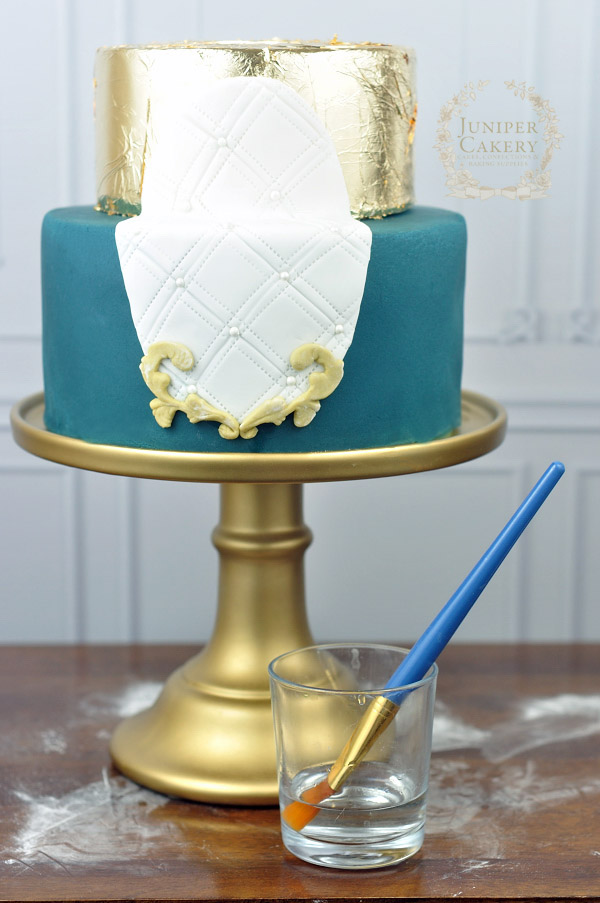 Step 8:
With a little edible glue attach the mold to your cake half on the background piece and half off to cover up any cut edges of the middle/background section.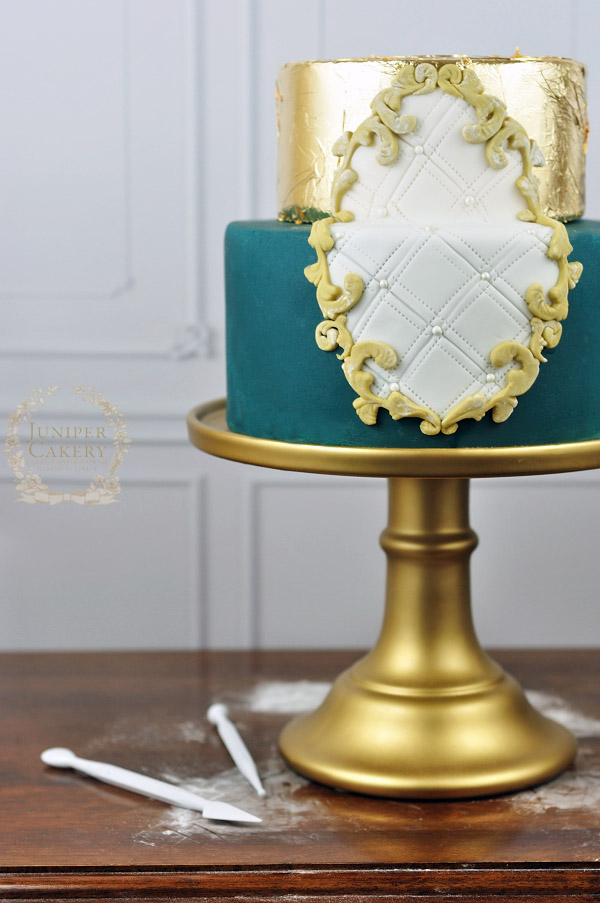 Step 9:
Work your way around the background piece of fondant repeating steps 5-8 until your frame is complete.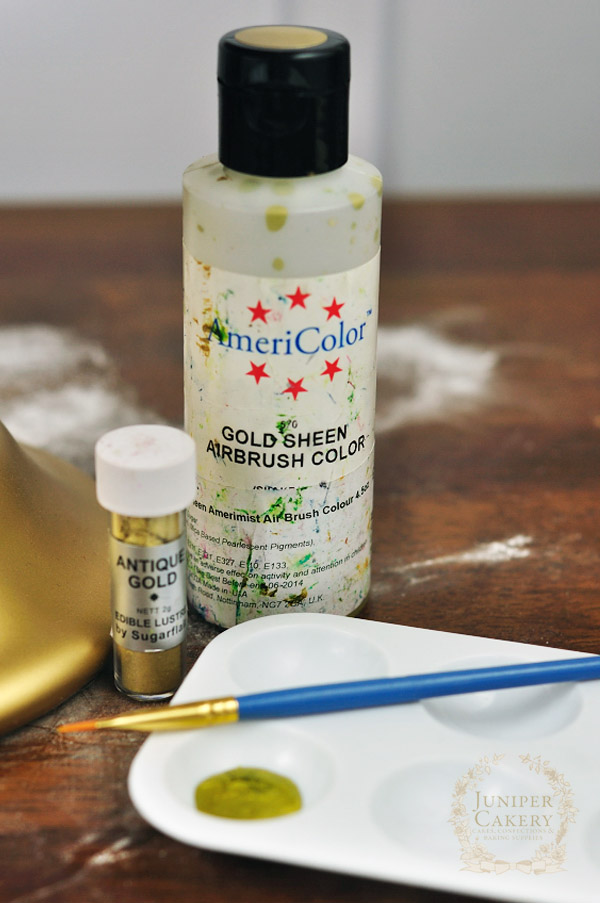 Step 10:
Take some edible gold or silver paint and cover each scroll section of your frame with a wonderful metallic finish! We like to use Americolor gold or silver sheen airbrush color hand painted onto the surface and when this has dried we dust with some shimmering Sugarflair lustre dust in Antique Gold.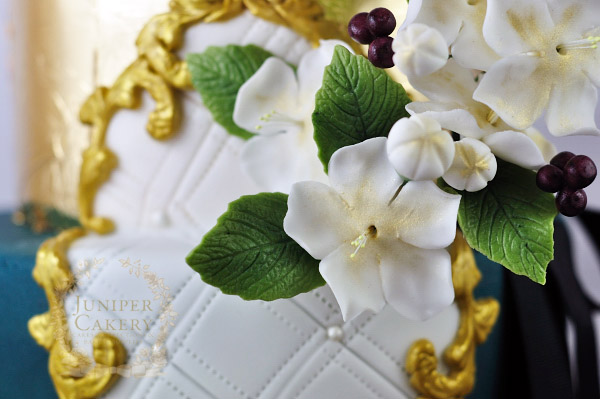 Voila! You should be left with one gorgeous edible frame design on the front of your cake. How wonderful and versatile is this technique? You can create plainer frames depending on your molds, add quirky aspects like buttons, animal figures or initials into the frame work too.
For the middle section why not hand paint scenery or a name, add embossed textures or fill with stripes for a chic look.