I had the unfortunate problem of someone stealing one of my photos recently. I knew it was possible this could happen and that I had some protection under the law, but had never thought about what I would do if I were a victim. Photography is my only means of making a living, so when a corporation takes one of my photos, they are taking away my ability to provide for myself and my family.
I'm not an expert on copyright law, and much like my post on contracts, this is not meant to be legal advice or an exhaustive handbook. These are just a few things I have learned about the advantage of and method for copyrighting photos, mostly from reading the law.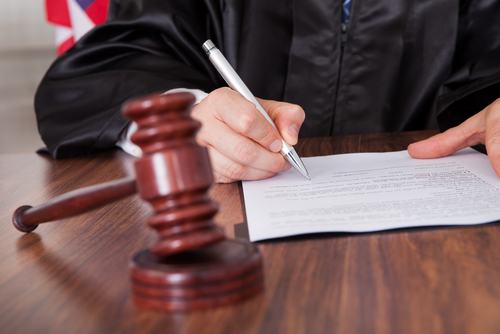 Photo via Shutterstock
Copyright and registration of copyright
Good news folks, the second you take an image you own the copyright.
According to The United States Copyright Office's document, "Copyright Basics," a "copyright is secured automatically when the work is 'created' when it is fixed in a copy or phonorecord for the first time. 'Copies' are material objects from which a work can be read or visually perceived either directly or with the aid of a machine or device, such as..film, videotape, or microfilm."
This means that when the image is copied from your camera sensor and becomes digital information on your memory card, you own the copyright on that image. And for images made since 1978 you have this copyright until 70 years after you die.
While you own the copyright to all your images, registering the copyright with the Copyright Office affords you additional protections under the law. In summary:
You have a public record of copyright
If infringed, you can file in court
You have some written evidence of ownership
You can seek out additional sums of compensation
How to register a copyright
The easiest way is to do this online through the United States Copyright Office. Detailed information on the process can be found here.
The first step is to complete the application. Then, you will need to pay the $35 registration fee and upload 600px thumbnails or contact sheets of your photos. The last step is probably the most difficult because it requires that you assemble a collection of your work, and, depending on your volume of work, this could be A LOT of photos. This will probably be a hassle the first time you do it, but if you make it a regular part of your workflow, say once a quarter or once a month, it will be a small investment toward your peace of mind and the safety of your work from dishonest people.
Other information
The Copyright office makes you distinguish between "Published" work and "Unpublished" work. They require separate applications. So, anything that has been put into print or on a client's Web site or even published to your own blog must be labeled as "Published." If an image is not yet published, but may be at some point, you can still register it as "Unpublished."
You can register many images all at the same time on one application and for one $35 fee. However, some cases have reduced the damages awarded to a fraction, based on the total number of images registered on a single application. Consider registering several hundred at a time rather than several thousand or putting very important images in an application on their own. Interpretation of copyright law is somewhat loose so there is no hard and fast rule for how to batch register.
See "The Photographer's Guide to to Copyright" by PhotoShelter and the American Society of Media Photographers for a more comprehensive guide to copyrighting photographs.
Has anyone filed a legal claim over their images? Did you register for copyright?