A plantain may resemble a banana, but it is quite a different thing. While it's true that they share the same family tree, they both have rather distinct identities when it comes to texture and flavor. You probably don't need to be told this if you've ever tried to peel a plantain and eat it as if it were a banana.
For one thing, the peel is far thicker, and generally needs to be sliced open to reveal the fruit. The fruit itself is much starchier than a banana, not to mention less sweet–making it largely unsuitable for out-of-hand eating, instead being favored as a cooked specialty.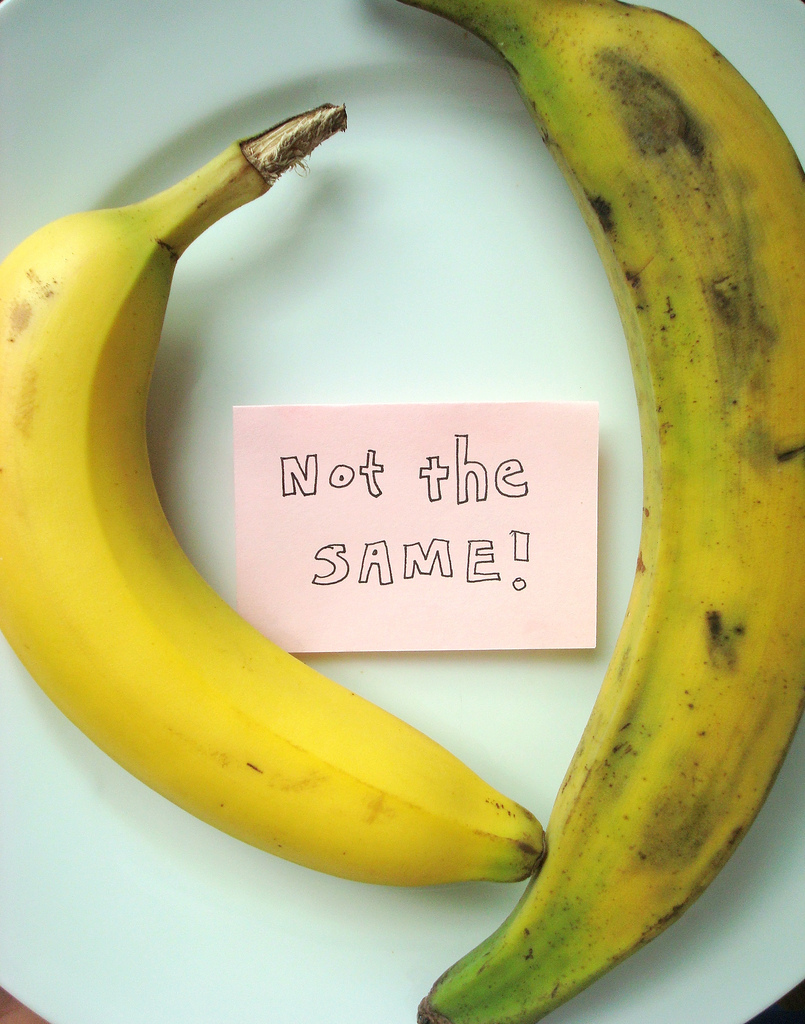 Cooking the plantains softens the texture and brings out the lightly sweet flavor, which can be used in a variety of savory or sweet dishes. In Africa, Latin American countries, and the Caribbean, plantains are considered a staple, and are most frequently served alongside savory foods.
Two simple recipes
Properly cooking your plantains is key in any recipe. Below, you'll find two simple and extremely useful recipes which will teach you how to cook plantains.
The first recipe is for fried plantains, which are a popular side dish in Caribbean cuisine. But you'll find that they work quite nicely with American fare, too–try substituting these for fries the next time you make a burger, or combine them with avocado in a salad for a wonderful flavor combination.
The second recipe is for baked plantains, which are baked in a butter, sugar, and rum infused mixture which caramelizes as it bakes, making for a fantastic dessert on its own, but it's even better used as an ice cream topping or a garnish for a cake.
How to select a plantain
Although plantains are not bananas, they can similarly be purchased in various stages of ripeness. Their ripeness can be determined by their color: green is under-ripe, yellow is ripe, yellow with some spots is very ripe, and when it turns brownish black, they're very ripe. While very ripe plantains may look past their prime, chances are they're still in good shape inside of the peel. Feel the plantain–it should be soft, but not mushy or cracked on the exterior. The fruit becomes sweeter the more ripe the plantains become, so for sweet recipes, these more ripe plantains are favored.
How to peel a plantain
Step 1:
First, cut off either end of the plantain. Discard the end pieces.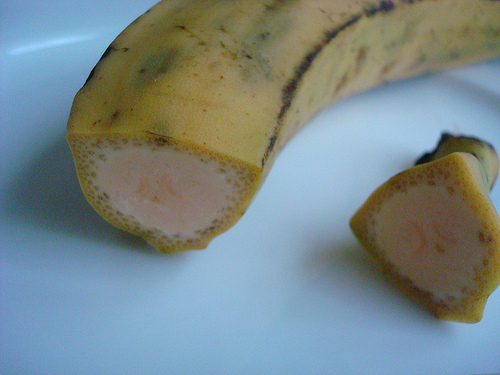 Step 2:
Slice down the length of the peel, taking care to only slice through the peel–not the fruit.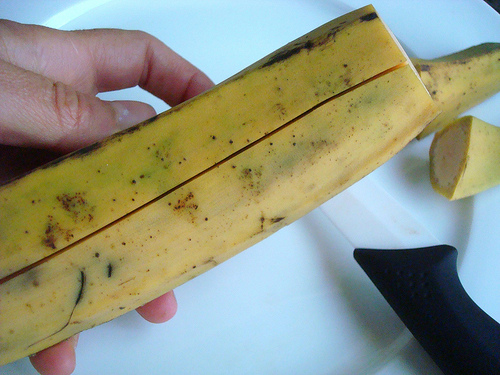 Step 3:
Pull the peel off in one piece. It should come off with minimal resistance.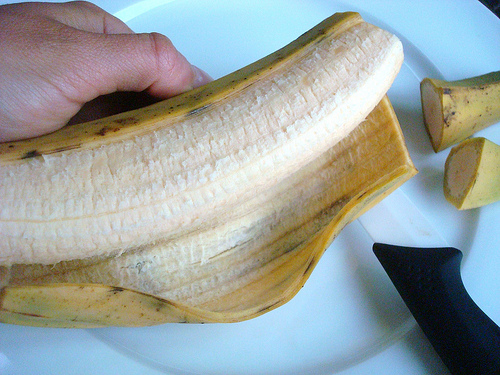 Now that you know how to handle your plantains, let's get cooking.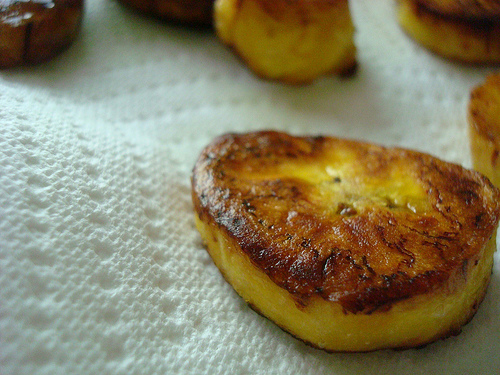 Fried plantains
In the Caribbean, this dish is ubiquitous. The fried plantains are served as a side dish alongside savory foods. For the perfect lightly sweet flavor that will complement meats or rice and beans or other savory dishes, use ripe plantains for this recipe: a yellow plantain generously spotted with brown or black spots.
Ingredients
2 ripe plantains
1/4 cup vegetable oil (more or less, depending on the size of your pan)
Sea salt, pepper, or spices of your choosing
Procedure
Step 1:
Place two or three paper towels on a plate. Set nearby your stovetop, as this is where you will place the plantains to blot and cool.
Step 2:
Remove the peel from the plantains. Slice the plantains into coins about 1/4 inch thick. If you'd like, slice at a diagonal angle.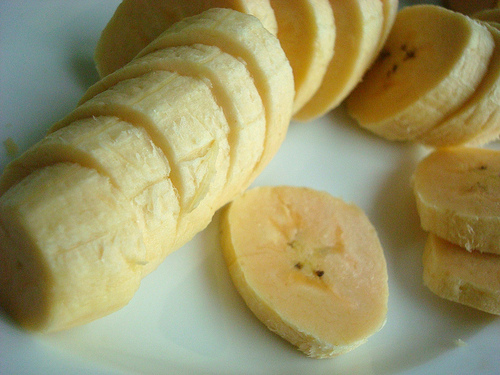 Step 3:
Pour the oil into the bottom of a frying pan. It should coat the entire bottom of the pan in a thin layer–depending on the size of your pan, you either may not use all of the oil, or may require a little bit more.
Step 4:
Place the pan with oil over medium heat. When the oil begins to shimmer across the surface of the pan, add as many plantains as you can fit into a single layer into the pan (it's OK to do more than one batch). Fry the plantains for 1 1/2 to 2 minutes, or until they have become crispy and medium brown (lift one to test before flipping them all).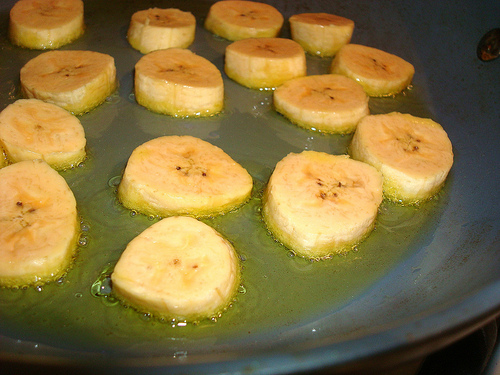 Step 5:
Flip over the plantains with either a spatula or tongs, and let them fry for about 1 minute on the second side. The second side will fry faster than the first side.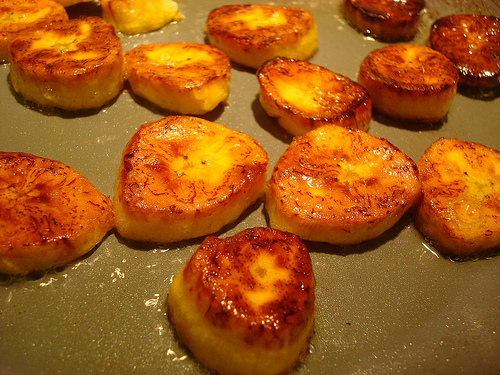 Step 6:
Remove the plantains from the pan and transfer to the paper towels waiting to the side to cool and blot the excess oil.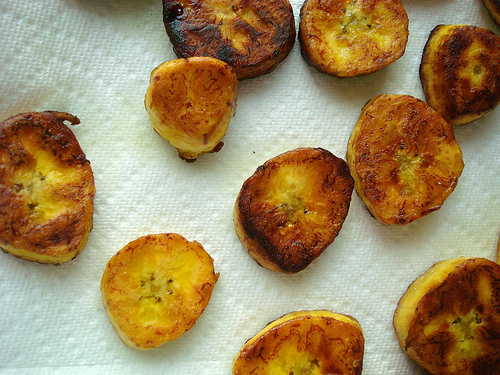 Step 7:
Continue frying until you've finished all of your plantain slices. If desired, salt the plantains, and add pepper and other spices to your liking.
These plantains are best the same day made. Serve warm.
Serving suggestions:
Serve alongside spicy meat dishes; use as a taco filling; use to top salads. Or, make them a sweet snack by garnishing them with honey or whipped cream (or both) once fried.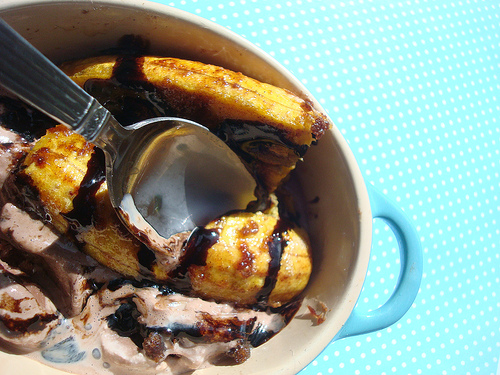 Sweet baked plantains
When a plantain becomes very ripe, it becomes sweeter and slightly less starchy, making it perfectly suited for sweet applications. In this recipe, plantain slices are baked in a butter, brown sugar, rum, and spice mixture which caramelizes around the fruit as it bakes, making for a warm, buttery indulgence that may call to mind Bananas Foster, but with a more subtle sweetness.
Ingredients
3 large or 4 medium sized very ripe plantains
1/4 cup unsalted butter
1/4 cup dark rum
1/4 cup dark brown sugar
1/2 teaspoon salt
2 teaspoons cinnamon
1/2 teaspoon nutmeg
Procedure
Step1:
Stir together the sugar, spices, and salt. Set aside.
Step 2:
Place half a stick of butter in a 9×13-inch baking pan.
Step 3:
Set the oven to 350 degrees. While it preheats, place the dish with the butter in the oven. It will melt within 5 minutes or so. Once it has melted, remove the pan from the oven and continue letting the oven preheat.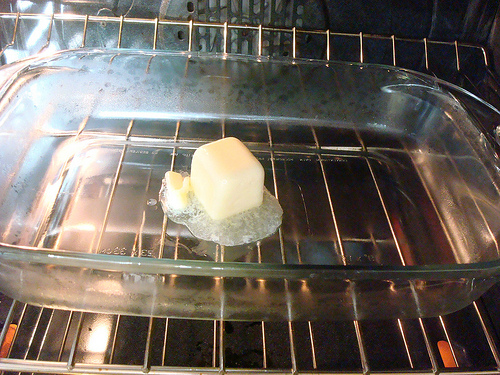 Step 4:
Sprinkle the melted butter evenly with the sugar and spice mixture. Drizzle the rum on top, as evenly as you can.
Step 5:
Slice the plantains lengthwise, and place them on top of the sugar-laden dish, face down. Cover the baking dish with a sheet of foil, and place in the preheated oven.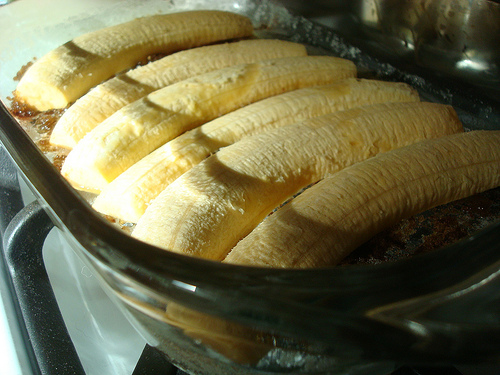 Step 6:
Bake for 20 minutes. Remove the pan from the oven. Take off the cover, and flip each of the plantains over.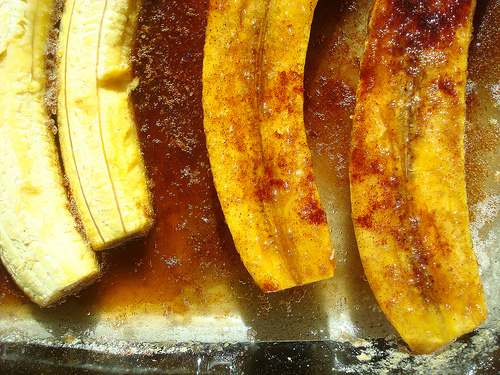 Step 7:
Place the dish back in the oven, uncovered this time. Bake for 15 minutes more, or until the entire mixture is bubbling and golden brown. If you are unsure if the plantains are done, remove the pan from the oven and slice one of the plantains–it should be so tender that it slices with a spoon or fork with minimal resistance.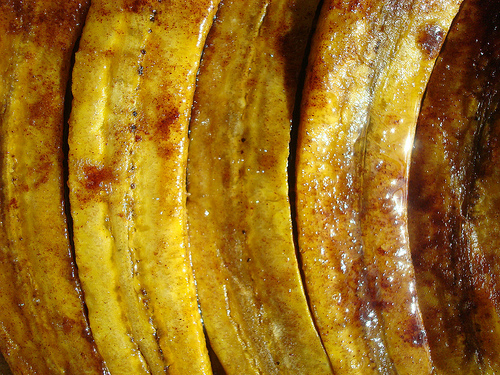 Remove the pan from the oven, and let the slices cool until the mixture is no longer bubbling. Serve while still warm–spoon some of the butter and sugar mixture on the bottom of the pan on to each serving.
Serving suggestions:
Serve on top of pound cake; serve with ice cream; slice and layer them in a s'more.