Are you at a loss when it comes to cooking gluten-free pasta that's actually edible? Maybe you've even given up on eating pasta altogether if you follow a gluten-free diet?
Here are a few must-know tips for learning how to cook gluten-free pasta to perfection.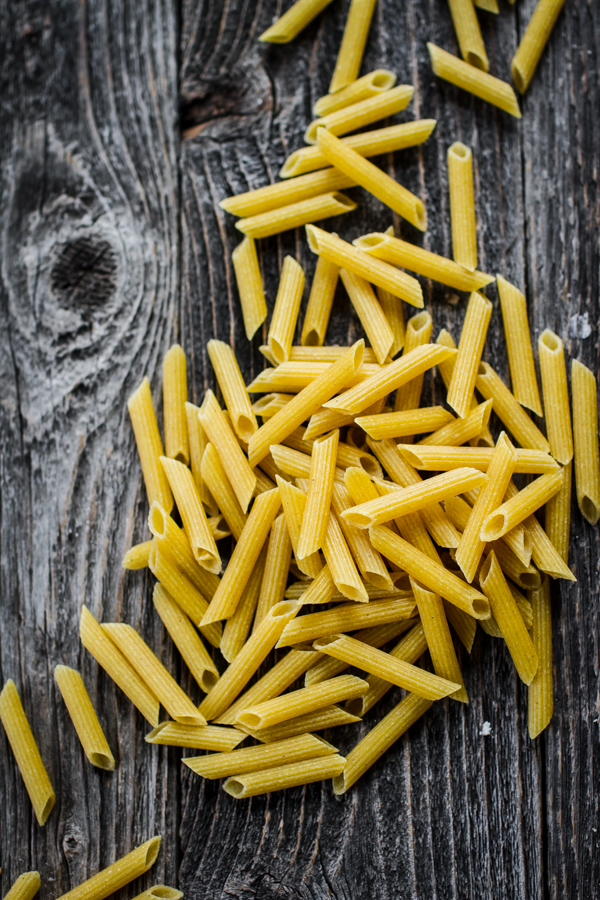 Photos via Edible Perspective
Master gluten-free Italian favorites!
From pasta and pizza to eggplant parmesan and flatbreads, whip up your favorite dishes tonight.Enroll Here Now »
First things first. Cooking gluten-free pasta is not the same as traditional pasta. There is just no way around it. The texture is always going to vary from pastas containing gluten.
Second. Some gluten-free pasta are going to taste grainy and earthy. If you aren't a fan of these flavors, it's easy to avoid them.
There are many different gluten-free pasta brands, all with varying ingredients, so it just may take some trial and error on your part to decide which is your favorite. You also may find you like certain brands for certain pasta shapes but you don't like their whole line.
While landing on a box of noodles that fall apart once cooked is never fun, just think of it as a big experiment and never buy that brand again.
If you're limited to just a few brands at your local grocery store that you've already tested with less than desirable results, talk to your store manager to see if they'd be willing to try other brands. You could also check reviews online to compare brands.
Over the years, here are the brands I've come to love when it comes to gluten-free pasta.
Ancient Harvest – Their original line of pasta is made up of quinoa flour and corn flour. It's very sturdy, with a slight earthy taste from the quinoa. Most gluten-free pastas are made with all (or mostly) rice flour, so this is a nice change of pace. Ancient Harvest also recently came out with quiona bean and lentil flour pastas that are packed with fiber and protein. The flavors are mild and I find the noodles slightly doughier, in a good way.
Jovial – This is hands down the best rice flour pasta I've tried. Many other rice pastas I've tried fall apart and turn gummy after cooking.
Explore Asian – These noodles may not go with your traditional marinara sauce but they're unique in both flavor and texture. My husband and I are obsessed with this line of gluten-free pasta. We love using the black bean noodles for veggie noodle bowls. They are also filled to the brim with fiber and protein (over 20 grams of each per serving!).
I'm sure there are other great brands out there, this is just what I've tried and loved so far.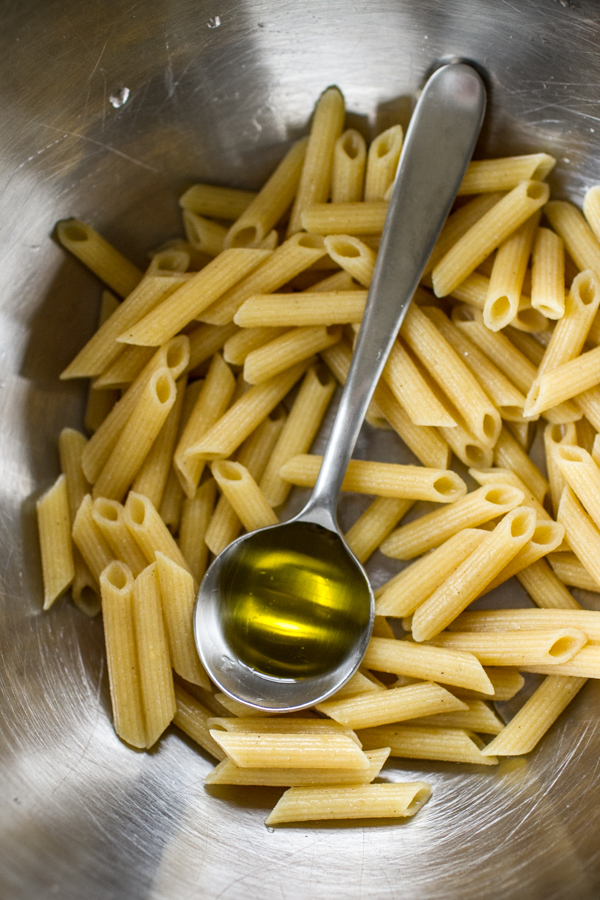 Okay. Hopefully you've made it this far and to the most important part of the post!
How To Cook Gluten-Free Pasta (8-12oz typical for gluten-free brands)
Bring a pot of water to a roaring boil over high heat. Make sure you have enough water for the amount of pasta you want to make. Also make sure to use a large pot so the noodles have room to move around.
Place a large colander securely in your sink.
Once boiling, add about 1-2 tablespoons of oil to the pot. (I like to use refined avocado oil but use whatever you like.)
Pour in your pasta and stir for about 10 seconds, keeping the heat on high. Set your timer to the low end of what the box reads. (Oftentimes this cook time is wrong.)
Return to a boil, stirring gently to deter the noodles from sticking.
Reduce heat to maintain a boil, stirring every minute or so.
Test a noodle about 1-2 minutes before the timer buzzes..
If serving the noodles hot: Cook until the noodles are slightly under-cooked, testing every minute. (The noodles will cook more as they warm in the sauce you use.)
Pour noodles into the colander and immediately rinse with cold water until fully chilled. (Rinsing helps halt the cooking process and also rids the noodles of a sometimes slightly gummy texture.)
Return to the pot with desired sauce and warm until heated to your liking.
If serving the noodles chilled: Cook until the noodles are tender to your liking, testing every minute.
Pour noodles into the colander and immediately rinse with cold water until fully chilled.
Place in a bowl and toss with 2-3 teaspoons of olive oil to prevent the noodles from sticking.
Proceed with the rest of your cold noodle recipe.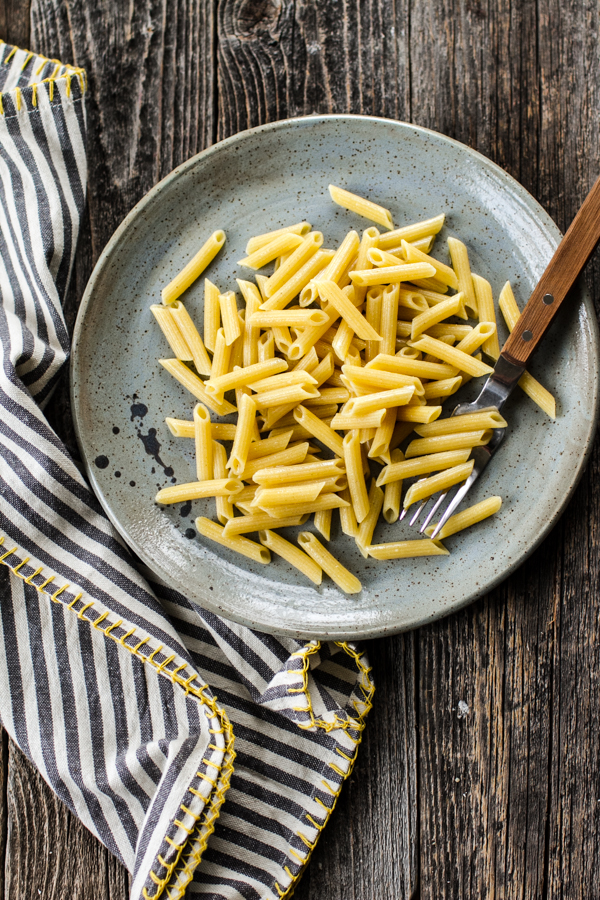 Key points to remember!
Use a large pot and enough water.
Keep the pasta at a full boil.
Add oil to the water to prevent the noodles from clumping in the pot.
Test the noodles frequently and don't always trust the cook time on the box.
Rinse noodles with cold water until fully chilled.
Cook slightly al dente if you'll be serving the noodles hot with sauce.
Add oil to the cooked and rinsed noodles if you are using them in a chilled dish.
With these tips you'll hopefully be on your way to cooking gluten-free pasta like a pro!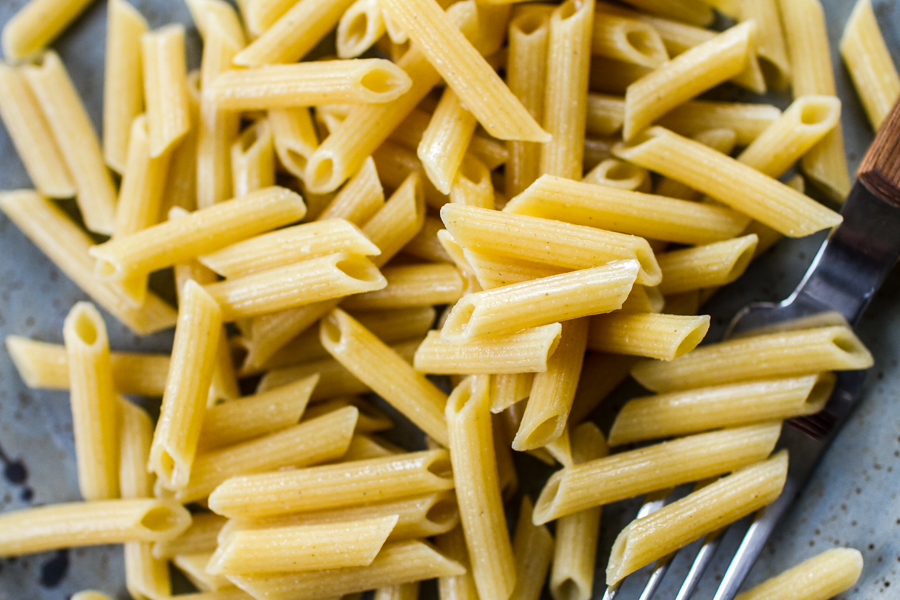 What Members Have to Say About Bluprint's Online Classes
I have taken a lot of online classes. As an educator, I have trained to become an online teacher. Bluprint has the best instructors, layout, lesson plans and videos of what is currently available on the internet now … Way to go Bluprint!
— Bluprint member guidance4u