Roasting your own squash, whether it's a classic sugar pie pumpkin or odd-shaped butternut, really is the way to go. But, let's be honest, the puree in canned form is much easier than yielding a heavy knife and whacking through the often very tough exterior. And their shape never lends itself to stay in a sturdy position when one is trying to take a whack through the center.
However, it is indeed squash season and their sweet, flavorful and tender flesh is well worth the effort. And, with a few tips and a little know-how, the stress and effort needed to turn a tough squash into a tender one is really quite minimal.
Let's start with how to prep one that is oh-so-easy to cook and oh-so-delicious to eat: the delicata squash.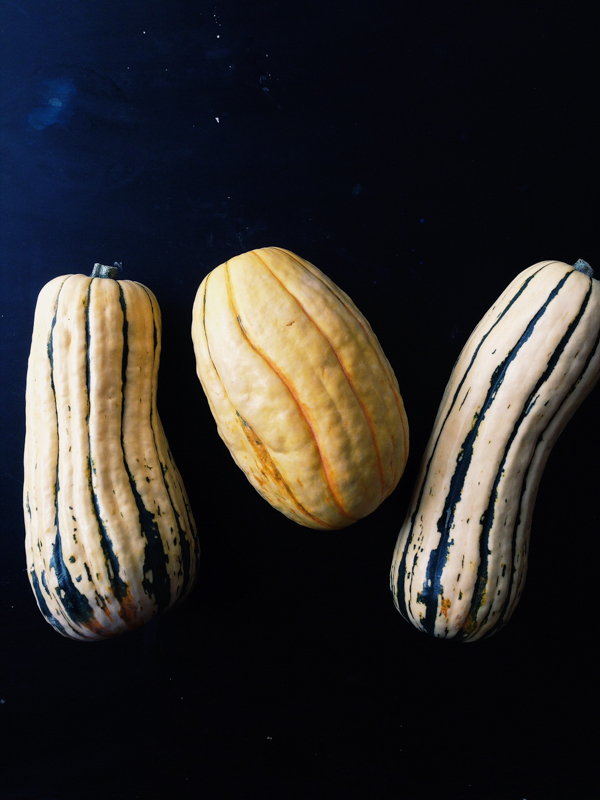 What is delicata squash?
Delicata is a long, slender squash with yellow skin and green stripes running the length. It's mild in flavor, easy to cut into and doesn't require a lot of cleaning before roasting. But you know my favorite part? You don't have to peel it! After a long roast in a hot oven the skin becomes tender and sweet and completely delicious.
The process starts by lopping of the stem end and bottom of the squash then slicing in half lengthwise, running a spoon down the middle to clean out the pulp and seeds and finally cutting the squash in half in moons. I brush those with butter, sprinkle with salt and pepper and rush out to the garden to grab a few sprigs of thyme to roast alongside. In the oven those orange moons soften then blister and char.
You could toss a bit of Parmesan on just before going into the oven and serve the squash warm just like that. Perfect for the holiday table, I'd say. I also love to toss the cooled, roasted squash pieces with some peppery greens — maybe even a bit of kale too with a vinaigrette that is biting and fresh from lots of lemon juice. I throw in some pomegranate arils for color and a sweet, tart pop, maybe some toasted pepitas (pumpkin seeds) and perhaps some creamy feta for a salty bite and richness.
Tonight, after roasting two squash I tossed the tender and sweet pieces with Farfalle pasta, chopped italian parsley, olive oil and lots of finely grated Parmesan. I went ahead and made plenty of leftovers for a few future lunches.
How to cook delicata squash
This recipe is just a starting point. Don't like thyme? Don't worry about it. I actually like mine with a bit of spice, so I added a touch of chile flake along with the sprinkling of salt. You want a long, hot roast so the sugars intensify, the flesh softens and the edges crisp and char to give the bite a nice textural contrast.
Cut the squash in half.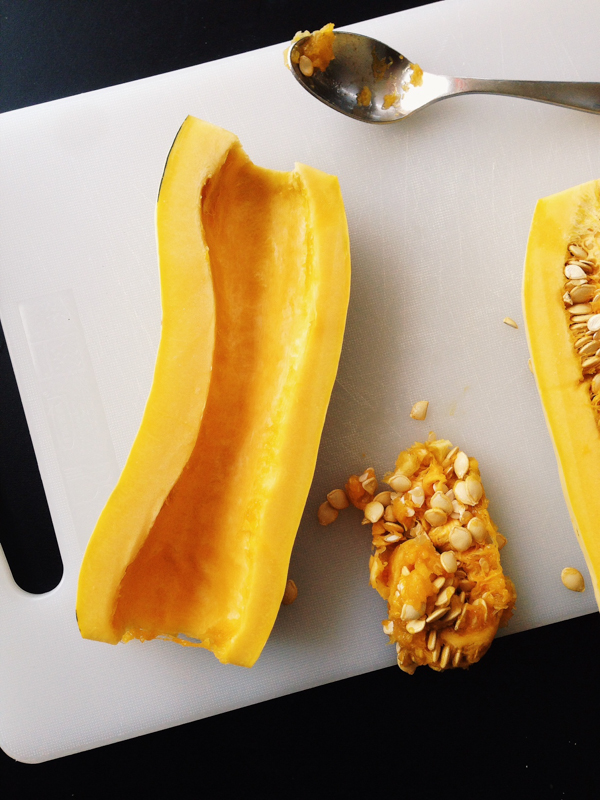 Scoop out the seeds with a spoon.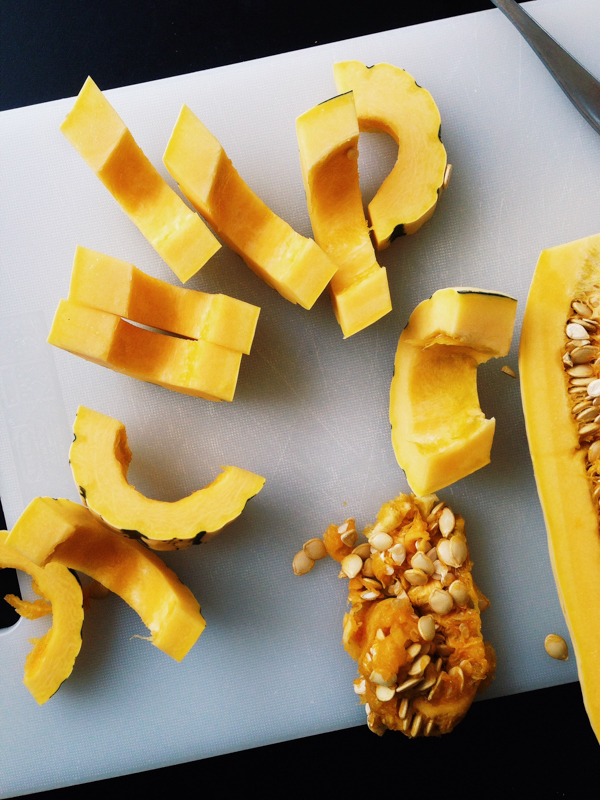 Cut the halves in rough 1/2 – inch pieces.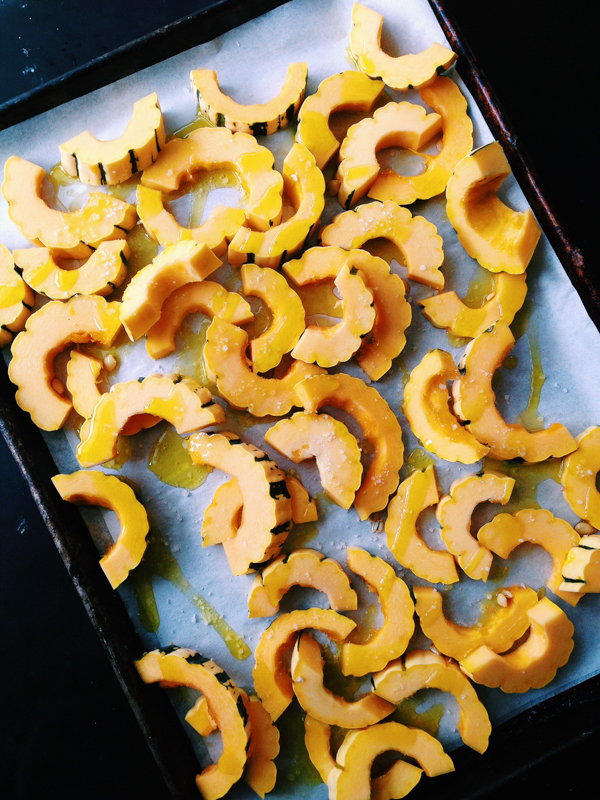 Place on a baking sheet with olive oil, salt & pepper (or chile flake, thyme, Parmesan, etc.)
Recipe for simple roasted delicata squash
Ingredients
2 delicata (2 1/2 pounds to 3 pounds / 1.2 to 1.4 kg), halved lengthwise, seeded, then cut in 1/2" wedges
2 tablespoons butter (melted) or olive oil
Fine sea salt or kosher salt
Freshly ground black pepper or chili flake
Pinch of freshly grated nutmeg
1 teaspoon fresh thyme leaves
Directions
1. Heat the oven to 400 F.
2. Arrange the pieces of squash on a rimmed baking sheet or in a large baking dish. Drizzle the butter or olive oil on the squash pieces or use a pastry brush to spread it around. Season with a little salt and a few grindings of pepper. Sprinkle a little nutmeg over each piece and thyme.
3. Bake the squash for 30 to 40 minutes or until the squash is tender when pierced with a knife and charred on the edges.
4. Serve as is, dressed with Parmesan, seasoned butter or cooled then added to a salad.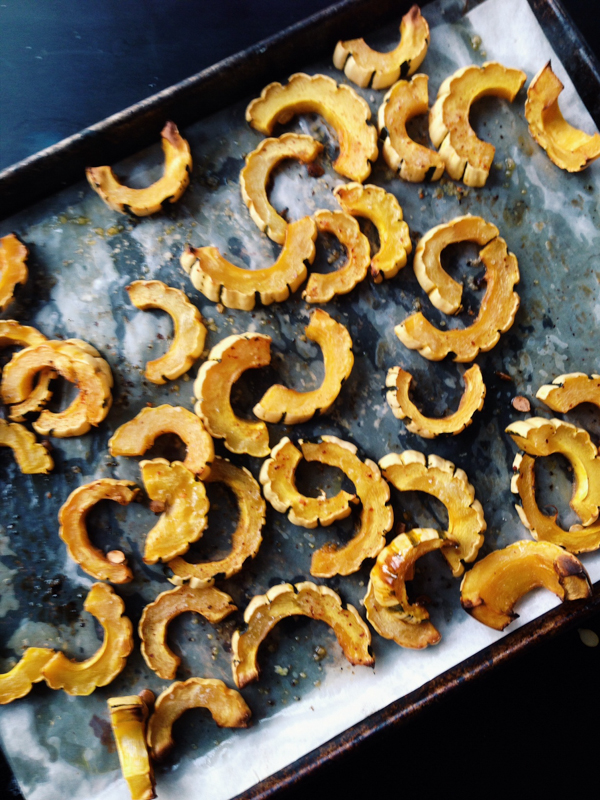 **Want to learn how to cut tricky vegetables like butternut squash? Check out the class below!