Are you ready to sew your first quilt? Congratulations, that is wonderful news! Nothing beats a warm, cozy, handmade quilt. They are wonderful for the home and make incredibly personal gifts for loved ones. Not only are they treasured goods, they are so much fun to make. Every step of the way can be embraced and enjoyed. That begins with choosing fabric.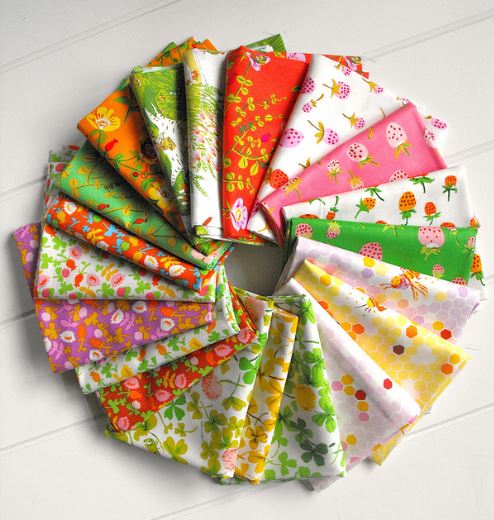 Photos via Fussy Cut blog
One of the biggest decisions to be made before the quilting process can even begin is fabric. Wondering how to choose fabric for a quilt? With the thousands of choices available these days, this can be a bit overwhelming. When creating a quilt, there are several different ways to tackle fabric choice.
Here are several things to keep in mind when choosing fabric for a quilt:
Favorite prints
Sometimes you just come across fabric that speaks to you. Whether it is the colors, prints or the general mood instilled, you fall in love. Use that fabric to build your quilt! Carefully evaluate all of the different colors featured there within that individual print, and pay close attention to those. By using a variety of fabrics in those coordinating shades, a cohesive quilt top can be formed.
Color palette
Perhaps you are looking to create a quilt that works around a specific color scheme. This happens often when you want to make a quilt to fit the decor of a room (like a nursery) or a gift for someone with specific favorite colors.
To create a cohesive color palette, it is always helpful to consult the ever-relevant color wheel. Locate your desired color on the wheel, and discover what other colors are its neighbors and those complementary colors located across the way. Those extra colors are the ones that work best with your initial color.
To find more information about the color wheel be sure to visit "The Art of Choosing" series on Jeni Baker's In Color Order blog.
You might be interested in our post "Choosing a Color Palette for Quilting". Get a even more in-depth look at working with color schemes and pattern pairs in  2014 Block of the Month: Craftsy Color Theory.
Scale
Once you choose a quilt pattern, it is important to pay close attention to the scale, or size, of the designs printed on fabric. If the pattern calls for small pieces, smaller printed fabrics work perfectly. Large scale fabrics and designs should be saved for those quilt patterns that have big pieces where they can be seen fully. Larger designs would be cut up and lost in patterns full of smaller pieces.
Pre-cuts
Are you completely overwhelmed when it comes to choosing fabric for quilts? Pre-cuts might be just the thing you need. They are collections of fabric that have been previously cut by machine, stacked into piles or rolled up, and tied together. One of the great things about pre-cut bundles is that they provide an inexpensive way to obtain a sampling of each fabric in a collection or line. There is at least one piece of each print included, sometimes two, so that means that you will have full coordinated set of fabric that is ready to be sewn into a quilt.
Here are some of the most common pre-cuts available:
Fat quarters – 18" x 22"
Charm packs – 5" squares
Layer cakes – 10" squares
Jelly rolls – 2.5" strips
Honeybuns – 1.5" strips
You might also enjoy our post "Using Those Pre-Cuts: A Pre-Cut Primer."
And check out Pre-Cut Piecing Made Simple with Camille Roskelley to learn how to use pre-cut fabrics to make four fabulous quilt designs, while also getting tips for cutting, pressing and pinning for accurate results every time.
Are you ready to choose fabric for your first quilt? Advanced quilters, do you have any tips to share?