With so many options available, buying an embroidery machine can be daunting. We've already discussed 12 things to consider when choosing an embroidery machine to help explain what type of machine to purchase, but what about where you purchase the machine? Finding the right dealer is of utmost importance when deciding where to purchase your new embroidery machine.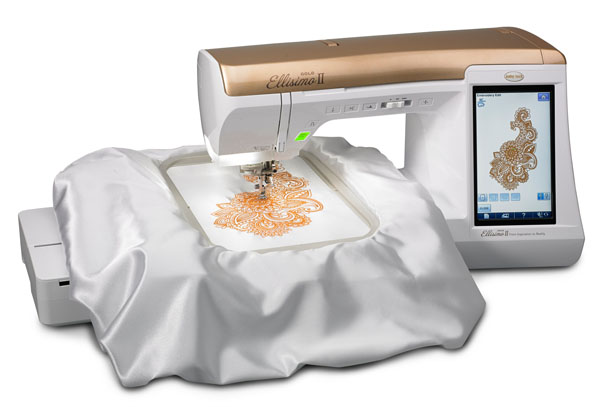 Ellisimo II photo via Baby Lock
When buying an embroidery machine, the choices are many: Babylock. Bernina. Brother. Janome. Pfaff. Husqvarna Viking. All are reputable companies, some having been around for more than 150 years. Most of the time, price and options dictate the brand to choose but the right dealer, or the wrong one, can make a world of difference.
Here are the 4 qualities to look for in a dealer when purchasing an embroidery machine!
Established reputation: Visit an authorized dealer.
Home embroidery machines can be a significant investment. With computerization comes sophistication in their capabilities and a comparable price tag. Part of the value is having someone knowledgeable who can be of help every step of the way.
Embroidery machine manufacturers have stringent dealer guidelines, including teacher training, certification and technical workshops, making them a valuable asset when customers have questions about equipment, software or techniques.
Authorized dealerships are independently owned, so their products and services vary. Overall, they provide an interactive store front, ensure warranty, make repairs along with sponsoring seminars, classes and special events. In addition to the physical attributes, the personality of a business is just as important.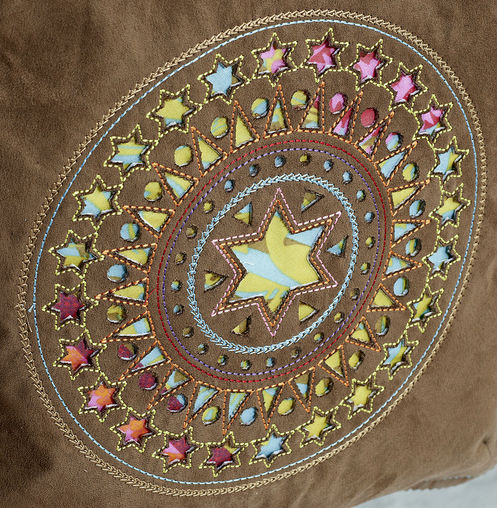 Created with Bernina Cutworks software and tool via Bernina
Inspirational: Look for a positive environment.
Research local sewing and embroidery shops in person. Consider it an interview of sorts. How is the atmosphere? Are products and displays new and inviting? What kind of selection is available regarding machine accessories, fabric and threads, stabilizers or software? Is the staff helpful and friendly, or aloof? Do the customers seem happy to be there?
Most of the time, an embroidery machine showroom has a display model or two that they routinely demonstrate and permit customers to use. It's a great way to not only test drive the machine, but to also try out the dealer.
Enthusiasm is contagious and passionate dealers keep customers excited about using their machines and learning new techniques.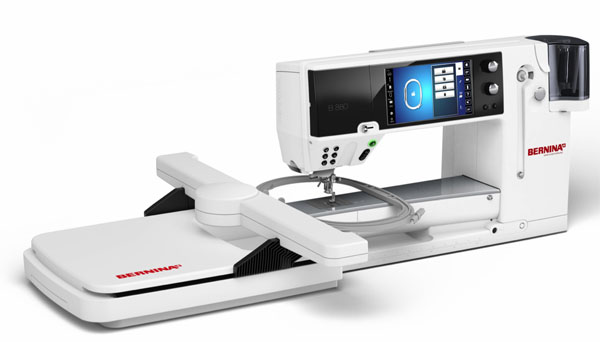 Bernina 880 via Bernina
Educational: Consider service and support resources.
While it is normal to be overwhelmed when learning new equipment, a friendly voice on the phone, online or across the counter can quickly put anxiety at ease.
Dealers should be proficient in cheerleading, teaching and mentoring. Many provide free owners classes to those purchasing new sewing or embroidery machines. Find out what's available. Even if there is a fee, it is a worthwhile investment and a good way to meet friends with similar interests.
Shops also sponsor refresher classes and training that promotes new techniques and accessories. In addition, they may also recommend instructional DVDs and videos helpful to new users. Kept up to date on industry trends, they are a wealth of fresh ideas and resources.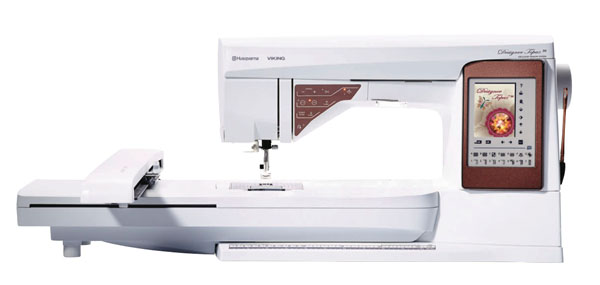 Designer Topaz 50 via Husqvarna Viking
Passionate: Like the machine, but love the dealer.
Option for option, there are many good embroidery machines on the market. Regardless of the brand, the knowledge and positive personality of the dealer makes the investment, and the experience, much more pleasant and worthwhile.
[box type="shadow"]
Browse the collection of machine embroidery patterns and take your new machine for a spin! Or, move beyond the pattern as you enjoy artistic freedom in the Bluprint class Free-Motion Machine Embroidery.
[/box]
What was important to you in choosing your dealer?