Up until a year ago, I hated cooking meat. I avoided the butcher's counter like the plague and flocked intuitively to green, turgid things. Vegetables are hard to mess up; meat, I knew, involved a whole new repertoire of vocabulary and skills that I didn't find myself compelled to learn at the time, including how to braise beef.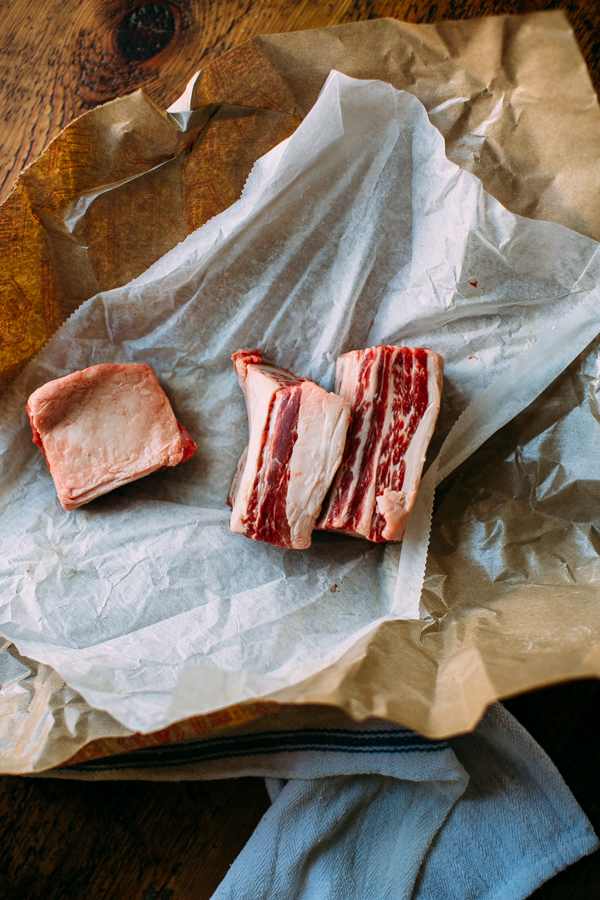 Master the braise, learning how to braise beef
But, a week with strep throat last winter kept me camped out on the couch with Julia Child's The Way To Cook, subsequently encouraging a new confidence to tackle the genre. Julia's notes on braising in particular left me feeling particularly enthused:
"A pot roast is definitely home cooking, the leisurely fragrant long-simmering kind known affectionately in France as la cuisine mijotée — slow-simmered cooking. The two terms, braised meat and pot roast, by the way, are synonymous, meaning meat that is browned then simmered in a fragrant liquid."
She makes everything sound so easy. And braised beef, in particular, really is. Braising is a perfect beginners technique — instead of fussing over timing and temperatures, braising essentially asks us to simmer the heck out of the chosen cut for 3-4 hours. Quite simply, braising involves browning meat, then simmering it in a desired liquid at a low heat in a covered pot. I prefer using an enamel-coated French oven.
Best beef cuts for braising
Best cuts for braised beef include the top round, bottom round, chuck roast, ribs, brisket, shanks and short ribs because they have more connective tissue. Braising breaks down and tenderizes these connective tissues and over the course of a few hours, turns it into collagen, then gelatin.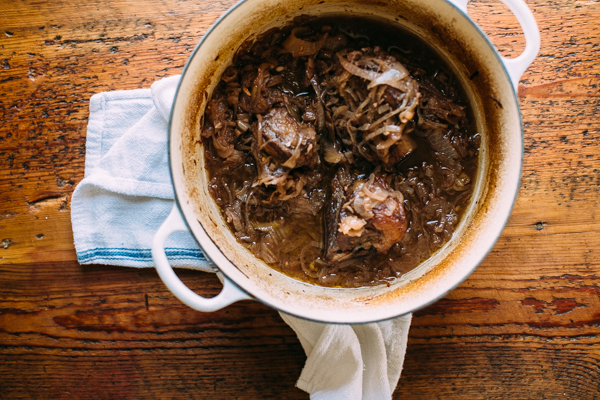 Photos via happyolks
Recipe for braised short ribs
Today, I've listed my recipe for braised bone-in short ribs in a red wine, onion broth. It can be used with a variety of cuts. The meat is served over a bed of buttery grits.
Ingredients:
2 pounds bone-in short ribs

3 yellow onions, sliced thin

1 bulb fennel, shaved

2 tablespoon minced garlic

½ cup + 1 tablespoon olive oil

2 cups red wine

1-2 cups beef broth

2 teaspoon salt

1 teaspoon cracked black pepper
Method:
Preheat the oven to 300 F. Season the short ribs with salt and pepper. Heat 1 tablespoon oil in a Dutch oven.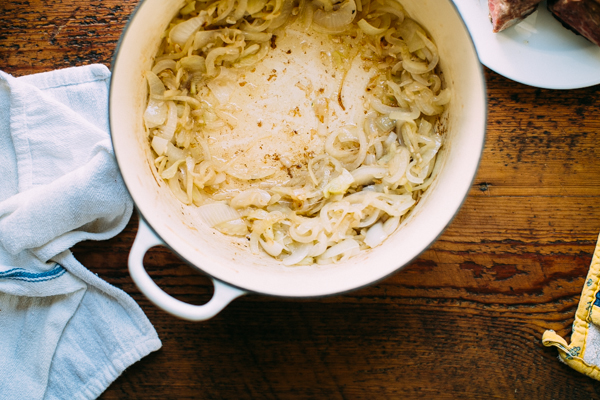 Cook for 2 minutes on both sides until the meat browns. Place on a plate and set aside. Deglaze the pot with the onions, garlic and fennel. Sauté for 10 minutes until browned and softened.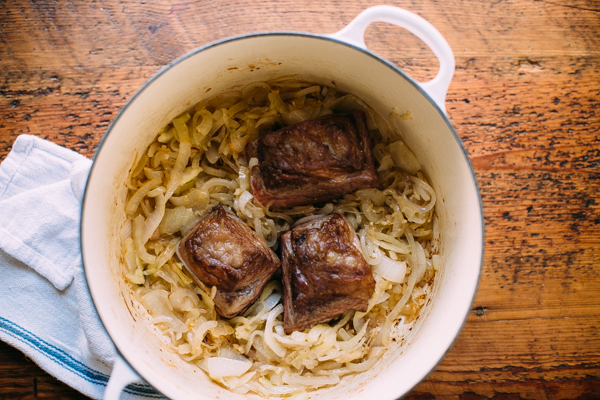 Place meat back into the pot with the onions
Pour wine and broth over the onions and ribs. Cover and place the pot on the middle rack of an oven. Cook for at least 2 hours, preferably 3 or 4.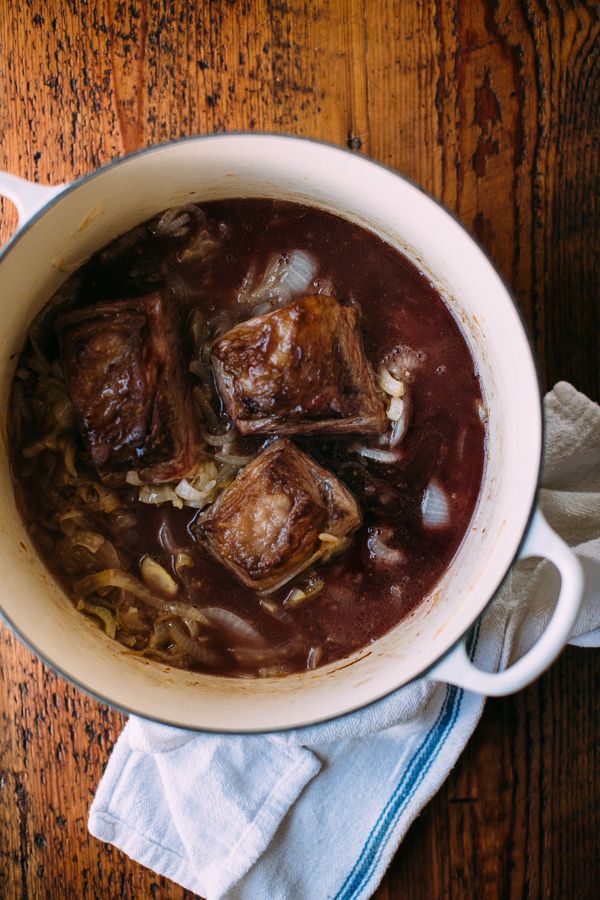 Serve a rib with onions and reduced wine-sauce over a bowl of buttery, warm grits.
Garnish with Parsley.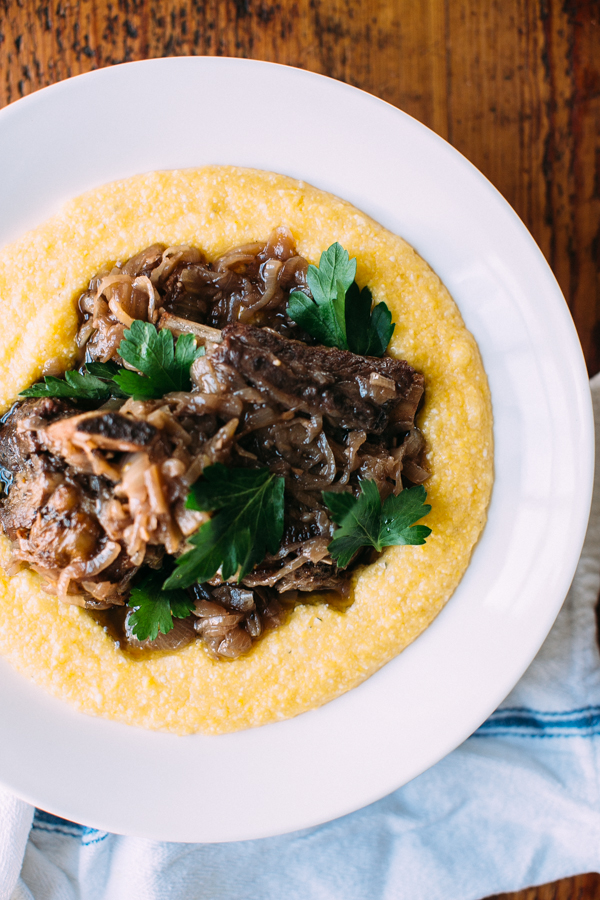 Hungry for more? Learn the secrets of the slow simmer for mouthwatering pork, chicken and beef in the Craftsy class Secrets of Slow Cooking: Mastering the Braise with critically-acclaimed cooking teacher Molly Stevens.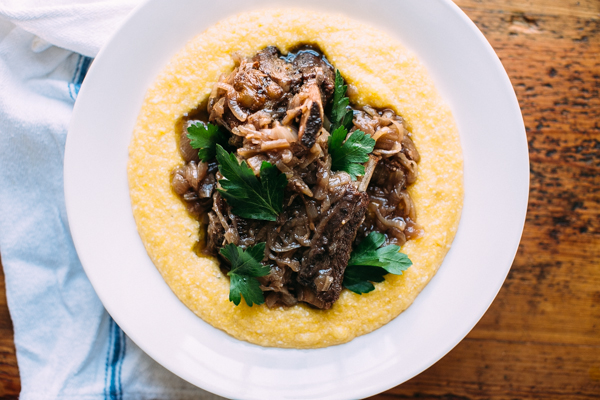 Ready to tackle braising? What cut of meat will you braise first?