Whether you have been quilting 10 days or 10 years, you've probably learned that there are more than a few ways to baste a quilt. And while everyone has an opinion on the best methods for basting, the two most popular ways to baste a quilt are pin basting and spray basting. Other methods include basting with fusibles and basting with thread, which you can read about here.
Once you've learned how to baste a quilt effectively using either of these methods, you'll be able to get great results no matter which way you do it! We've rounded up some helpful tips and tricks from quilters about pin basting and spray basting, so read on some great ideas.
Pin basting tips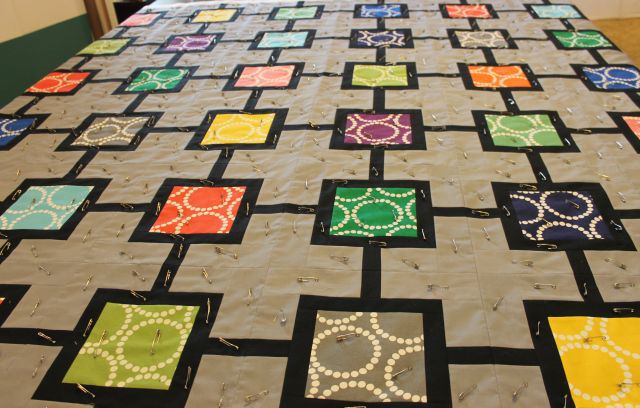 Photo via Christa Quilts
1. When pin basting, use 1 1/2" curved basting pins. Otherwise, 1 1/2" straight safety pins will do. Craftsy instructor Wendy Butler Berns, recommends about 100 pins for a twin-size quilt sandwich.
2. Sharon Schamber uses two boards to baste her quilts, which simulates a longarm quilting frame. She shares her board basting technique in this video.
3. If you have a large carpeted area, you can pin your quilt backing to the carpet with T pins. If you have a hard surface, packing tape or duct tape works fine to smooth out the fabric.
4. Don't like working on the floor? Try clamping a large piece of plywood to a dining room table or pool table and use this as your basting surface.
5. Are you using enough pins? Some quilters recommend using "the hand test." If you can place your hand on the quilt surface without touching any pins, use more pins!
6. While pin basting, Leanne at She Can Quilt says she trims the backing and batting to the same size rather than leaving the backing larger. This allows her to center and straighten the quilt front more easily. The batting and backing layer is about 3″ to 5″ larger than the front.
Spray basting tips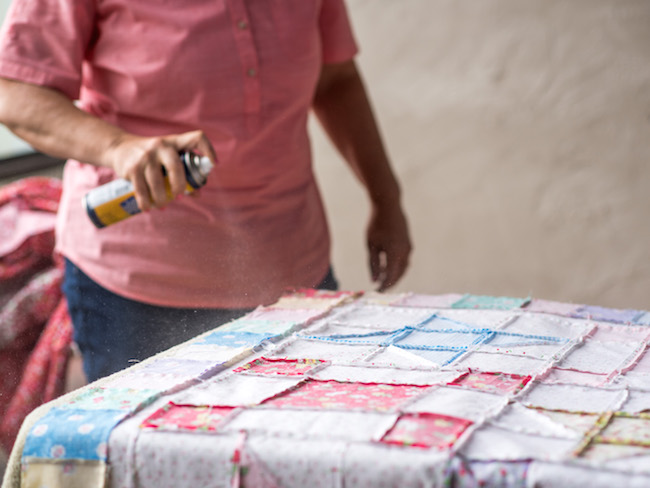 1. When spray basting your quilts, tape down the quilt back to a hard surface like the floor to keep it taut. Lightly spray the wrong side of the backing fabric, then smooth the batting over the backing, working from the center out. Repeat with the quilt top.
2. If you don't like working on your hands and knees, move your spray basting job to the design wall! Craftsy instructor Patsy Thompson shares her technique for spray basting upright on a design wall in this video.
3. If you don't have a design wall, you can spray the wrong side of your backing fabric outdoors on a clothesline, then move into the house to smooth it out onto the floor to finish the basting job. This will also save your floor from becoming sticky and save your home from so many fumes.
4. Becky added to the discussion at eQuilters with an ingenious tip for spray basting. She suggests asking a carpet store for a long carboard tube, which can be used to roll the backing fabric (wrong side out) onto a flat surface, followed by each layer of the quilt sandwich. The weight of the tube helps smooth out the quilt sandwich.
5. Working on an extra large quilt? To prevent puckering, take the quilt to your ironing board after spray basting and lightly press, as explained by Ann at Obsessive Quilter.
What's your best tip for how to baste a quilt?