Have you ever wondered how to bake doughnuts at home? Are you still skeptical about baking doughnuts instead of frying them? Not to worry, your fears are about to be calmed. Baking doughnuts is not only a healthier cooking option, but it's also really quite simple! Much more so than fussing with a pot of hot oil and waiting around for the dough to rise. Just stir, whisk, pour and bake. Easy!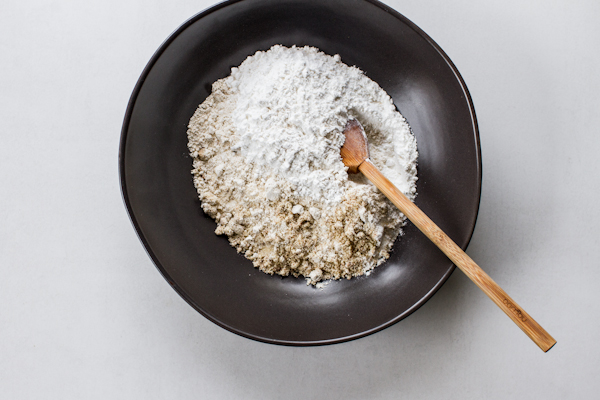 Photos via edible perspective
My method uses two bowls and zero fancy equipment. Heck, even if you don't have a doughnut pan, it's not a problem. You can totally use a muffin tin, or even pour the batter into a cake pan!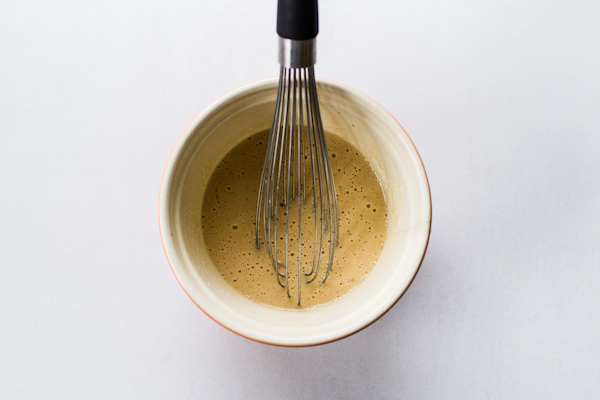 Also, these baked doughnuts just so happen to be gluten-free. No matter what your style of eating is, these doughnuts are going to impress the heck out of you. Let's banish the belief that gluten-free baked goods are crumbly, dry and gummy. I promise these doughnuts are none of the above. They have been tested, re-tested and approved by kids and adults alike.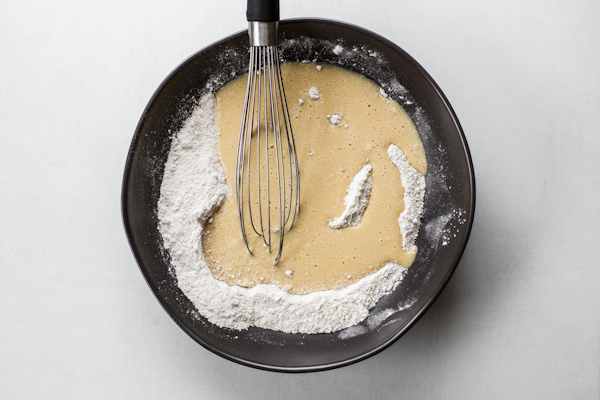 The texture is light and chewy and freakishly similar to a fried, cake doughnut. It's crazy, I know.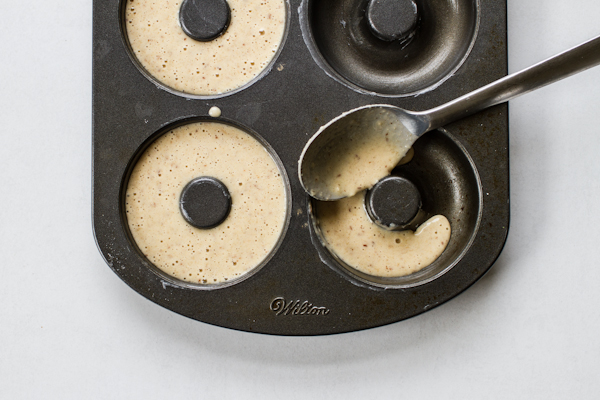 If you end up trying these doughnuts and just can't get enough, then I highly recommend you check out the cookbook I wrote and photographed that came out last fall. It's called Baked Doughnuts for Everyone and includes over 101 recipes for gluten-free baked doughnuts. You'll even find a savory chapter (think, bagel flavors), which is possibly my favorite.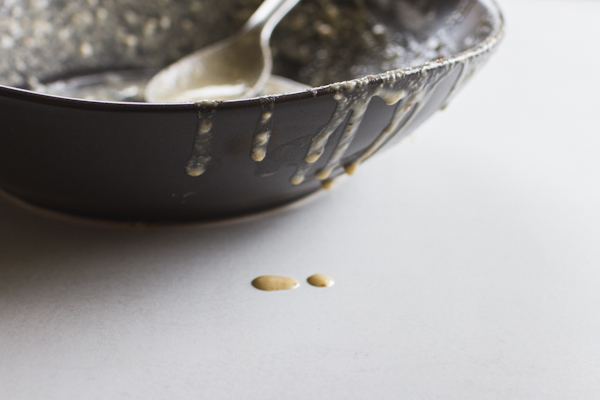 Now, back to the program.
The doughnuts will take about 20 minutes to finish baking.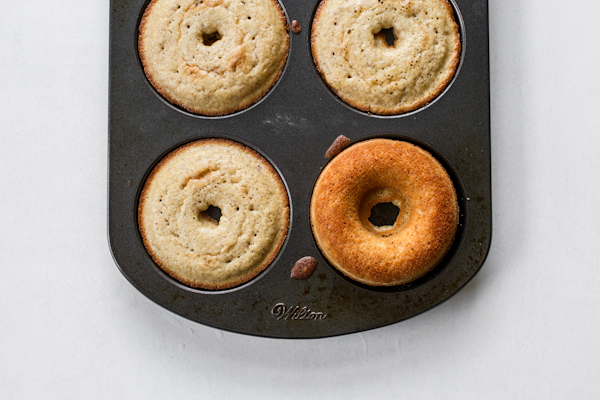 After they cool, it's time to dunk them into the glaze and sprinkles, which is possibly the best part.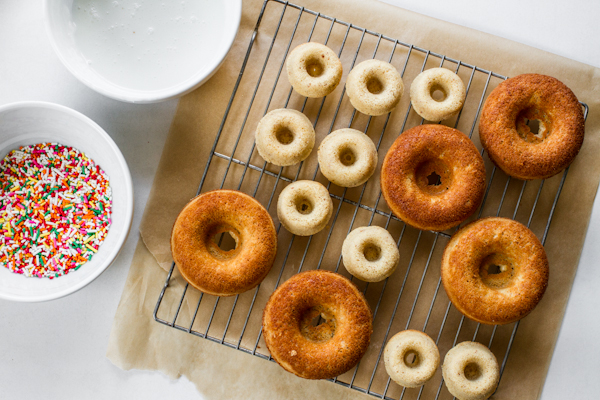 After dunking half of the doughnuts in vanilla glaze, I added cocoa powder and more cream to finish off the rest of the doughnuts with chocolate glaze. Best idea ever!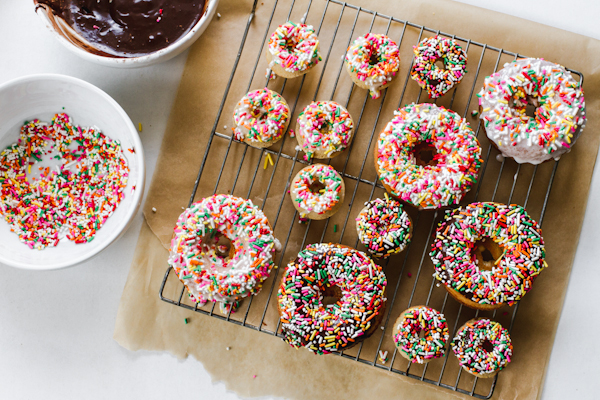 You'll find directions below for both the chocolate and vanilla glaze.
Am I beginning to convince you that baked doughnuts are worth your time?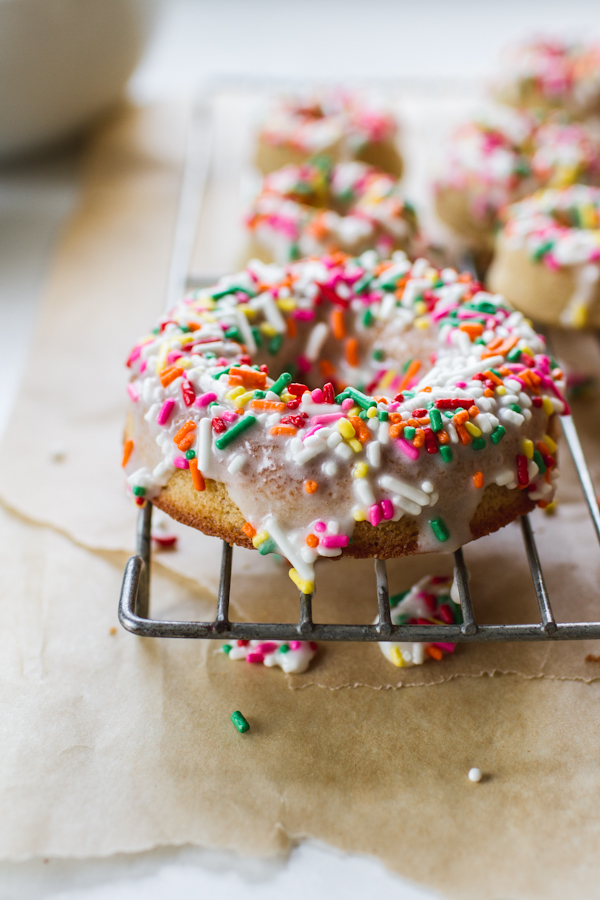 Read through my instructions below and then scroll through the photos again. They go step-by-step, so you'll get a good idea of just how they're made.
Gluten-free buttermilk baked doughnuts with chocolate & vanilla glaze
Yields: 7-9 standard baked doughnuts (using a Wilton pan)
Doughnut ingredients:
1/2 cup gluten-free oat flour
1/2 cup sweet rice flour
3 tablespoons almond meal
1/3 cup pure cane sugar
1 teaspoon baking powder
1/2 teaspoon salt
2 large eggs
1/3 cup buttermilk
1/4 cup unsweetened applesauce
2 tablespoons sunflower oil (or safflower, canola, etc.)
1 tablespoon pure vanilla extract
Butter or coconut oil (to grease your pan)
Glaze ingredients:
1 cup powdered sugar
3-5 tablespoons half & half
1/2 teaspoon pure vanilla extract
1-3 tablespoons unsweetened cocoa powder (optional)
Step 1:
Preheat your oven to 350 F. Thoroughly grease your doughnut pan with butter or coconut oil and set aside.
Step 2:
Place oat flour, sweet rice flour, almond meal, sugar, baking powder and salt in a mixing bowl and stir together.
Step 3:
In a separate bowl whisk the eggs together. Then whisk in the buttermilk, applesauce, oil and vanilla until well combined.
Step 4:
Pour the wet into the dry and whisk until ingredients are just combined (when you no longer see dry flour).
Step 5:
Scoop the batter with a spoon and slowly pour into one cavity of the pan. Repeat until each is filled 1/8-1/4-inch from the top of the pan. Fill a second pan or set batter aside to wait until the first batch is done. You can also fill up a muffin tin with the extra batter if desired (bake time will slightly increase).
Step 6:
Place in the center of your oven and bake for 18-22 minutes (for a standard Wilton doughnut pan) until the edges are golden brown and a toothpick comes out clean. Let cool in the pan for 15-20 minutes.
Step 7:
Using a small, thin spatula (or butter knife) loosen the edges of each doughnut (around the center, too) and pluck each doughnut out of the pan. Place on a cooling rack and allow to cool fully before dipping in the glaze.
Step 8:
Place the powdered sugar, half & half (start with 3 tablespoons) and vanilla in a bowl just big enough to dunk the doughnuts. Stir until fully combined with no lumps. Add more half & half for a thinner glaze if desired. If you want all chocolate glazed doughnuts add the cocoa powder and taste until it is to your liking. Slowly add more half & half to thin out. Or, after glazing 1/2 of the doughnuts with the vanilla glaze add cocoa powder and more half & half to glaze the second half with chocolate glaze.
Step 9:
Pour sprinkles into a bowl. Dunk the doughnut into the glaze, letting the excess drip off and then lightly dip into the bowl of sprinkles and place face up on a cooling rack with parchment paper or foil underneath (for easier cleanup). Repeat until all doughnuts are frosted. If you want half vanilla and half chocolate glazed, follow the instructions in Step 8. You can also do a light drizzle with the glaze if desired and shake the sprinkles on over top.
Recipe note:
There are no substitutions for sweet rice flour. If your local natural food store does not carry it, I highly recommend ordering it the sweet rice flour online or finding an Asian market in your area. I recently found sweet rice flour (aka, glutinous rice flour) at an Asian market for $1/lb which is 1/4 of the price I had been paying.
You can grind your own oat flour at home with oat groats, steel cut oats, Scottish oats or even rolled oats (use certified GF if needed). Simply grind/pulse small batches (I do about 1 cup in my Vita-Mix) in your blender, heavy duty coffee grinder, etc. until soft and flour-like in texture. Sift out any hard pieces. You can grind almond meal the same way using raw, unsalted almonds. You can also substitute almond flour instead of almond meal or use cashew meal or hazelnut meal (hazelnut will affect the flavor).
If you are unable to tolerate gluten-free oat flour you can sub your favorite gluten-free all purpose blend for the oat flour only. I like King Arthur's GF blend.
Dairy-free doughnut option:
5 tablespoons unsweetened almond milk (or soy milk)
1 teaspoon lemon juice
plain soy creamer or coconut creamer
After preheating your oven whisk together the milk and lemon juice. It should curdle and thicken right away. Set aside until ready to whisk in with the wet ingredients. This will act as your buttermilk. You can use soy or coconut creamer instead of the half & half for the glaze.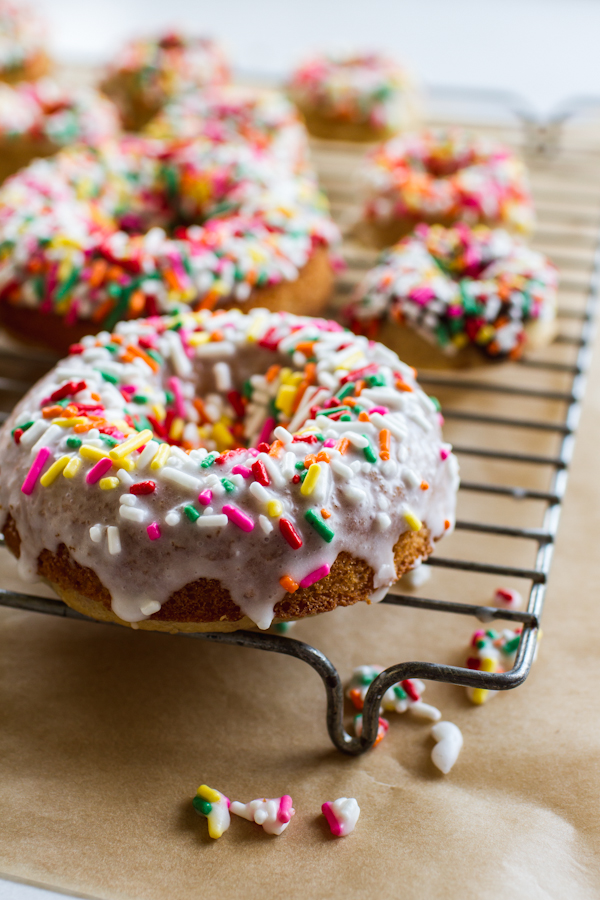 Doughnuts and sprinkles make for a happy day, don't you think?