The International Quilt Market in Houston was an explosion of color and excitement with popular fabric and pattern designers sharing their latest and greatest work. As the modern quilting movement continues to grow and develop, more bold designs, colorful fabric patterns and graphic images will continue to be seen. Today I present for you more modern quilting trends seen at the Houston quilt market in 2014. Be sure to read part 1, if you haven't already!
Have you spotted any of these trends?
Books for a modern demographic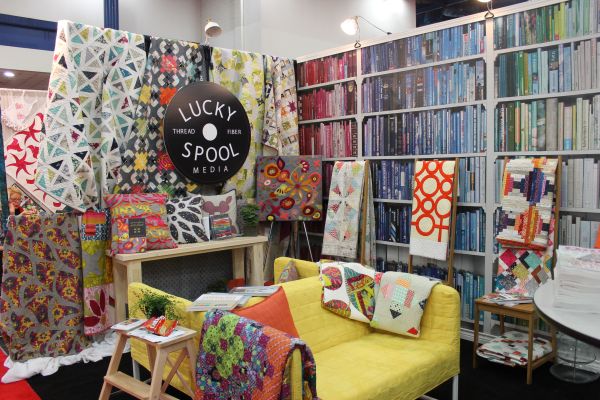 Photos via Bluprint member Christa Quilts
Lucky Spool Media is a relatively new publishing house, founded by former Bluprint team member and craft book editor Susanne Woods. Their goal is to nurture a more collaborative relationship between the author, publisher and reader to create beautiful books that enrich the maker's work. At fall market, they featured such works as The Essential Guide to Modern Quilt Making, School of Sewing and Savor Each Stitch.
Solids continue to sell
Nearly every major fabric manufacturer has come out with their own line of branded solids. Once seen as decidedly traditional and antiquated, richly colored solids are taking on a life of their own. Fabric company Robert Kaufman celebrated their love of solids with the 30th anniversary celebration of Kona Cottons.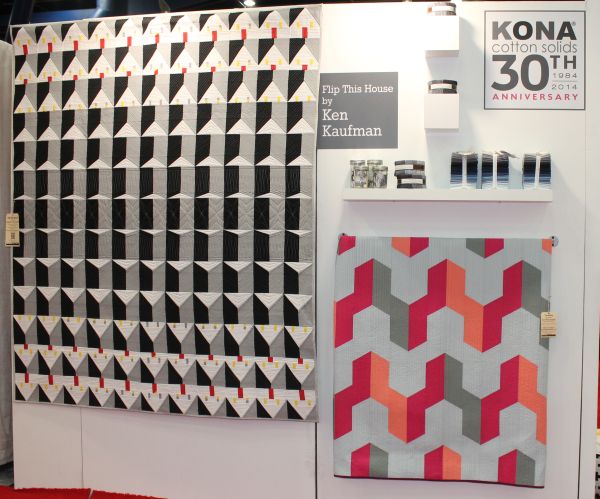 Fabric company Clothworks promoted their old-is-new concept for solids that is near and dear to many in the US. Their American Made brand of solids is completely manufactured in America from start to finish, or I should say from seed to end product. They kicked off their solids promotion with a special exhibit and competition of quilts made from their solids. It was aptly titled From Farm to Fabric.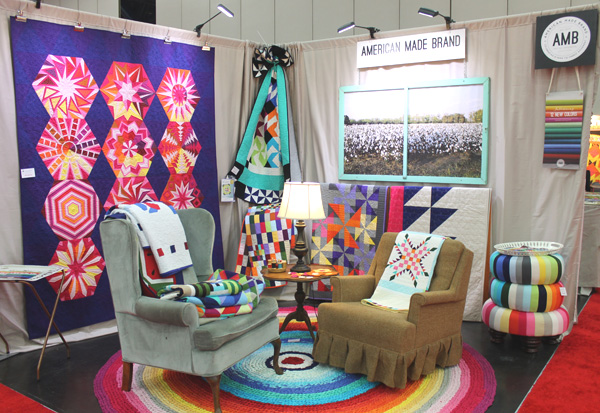 Graphic black and white is a favorite
Whether paired with a pop of color or standing on its own, the classic color combination of black and white is about as stark of a contrast as you can get. Popular fabric designer Jennifer Sampou took a break from fabric design from 2005 to 2011, but has come back with a vengeance and is making up for lost time. She's embraced a strong geometric aesthetic coupled with her unique sense of style.
Martingale author Dana Bolyard shared one of her graphic quilts from her new book, Imagine Quilts, in a schoolhouse presentation and book signing. You just can't go wrong with graphic black and white!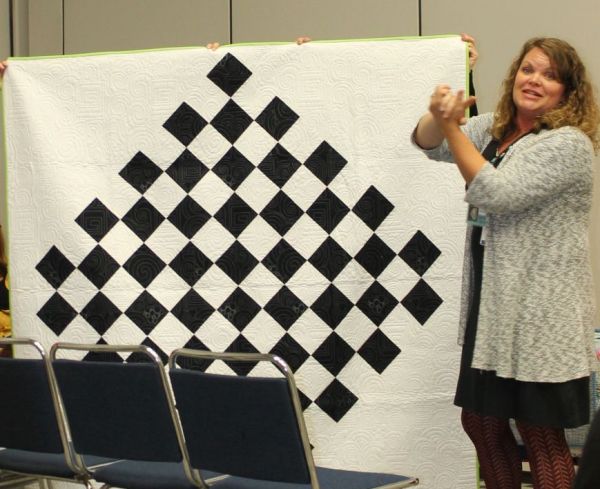 Churn dashes are everywhere
An extremely traditional block, the Churn Dash has been popping everywhere, but with a modern twist. Just as chevron quilts and plus designs have had their turn in the limelight, it is interesting to see how modern quilters use this block in a fresh, new way. Fabric designer and Bluprint instructor Camille Roskelley featured tiny churn dashes in her booth for Moda, showcasing her new fabric line Day Sail.
Australian influence
Australia is full of vibrant sewing enthusiasts, so it's no wonder that some of their influences have made their way around the world. Quilting artist Jen Kingwell debuted her first line of fabrics called Gardenvale with Moda at fall market.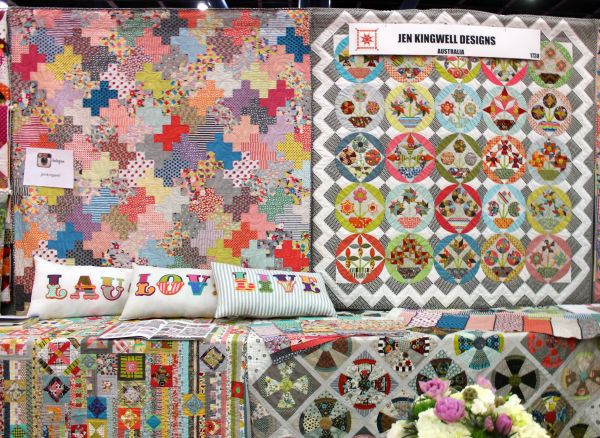 Although Jen Kingwell is not a self-proclaimed modern quilter, many within the modern movement have embraced her colorful style and exquisitely intricate piecing. She brings a fresh approach to the time-honored quilting tradition, and her quilts are happy and fun.
It will be interesting to see how trends influence modern quilting, and how the modern movement continues to impact the quilting community.
What trends do you predict coming up at the next show?