House quilts are inviting and full of charm. These blocks can sewn with every type of fabric, making them suitable for people of every age. Anything from solids to primitives to contemporary prints work wonderfully in this design. Quilt blocks can be made through a variety of different methods like regular piecework, raw edge appliqué, needle turn appliqué, and paper piecing.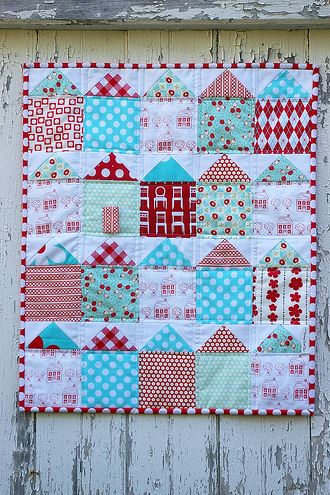 Photo via During Quiet Time

One way to feature houses in a quilt is by using a single block that is repeated throughout the project.
This block is usually pieced together by machine or hand. The houses can be simply made with only a few pieces, just like the red and aqua doll quilt above. This adorable mini quilt, designed and sewn by Amy Friend, is comprised of 20 blocks measuring 4.5" each. To learn how to make this quilt for yourself, visit her Web site.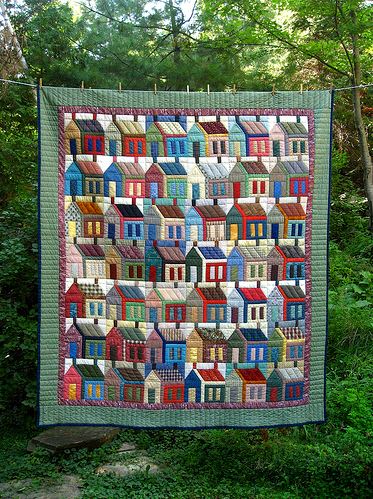 Quilt by Marion Ryland; photo via Thought & Found

Here is an example of a more complex house quilt that is also made of a single block that is repeated. This is a traditional House Block pattern sewn with brightly colored fabric, creating a pleasing mix of classic and contemporary. This queen-size quilt is made of 35 house blocks and is entirely hand quilted.
Many quilters also like to sew house quilts that are full of a variety of blocks, making it a sampler of sorts.
If you are the kind of quilter that gets tired of sewing the same block over and over, than this type of quilt is for you. Most, if not all, of the blocks are unique, making the construction engaging rather than monotonous. Are you in a quilting bee? A sampler house quilt is perfect for a bee where each participant creates their own block for for its new owner. The quilt below is an example of this.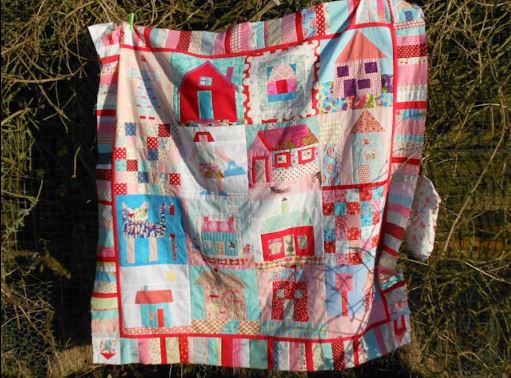 Photo via Bearpaw
Aren't house quilts so charming? If you love the idea of them but do not want to commit to sewing an entire quilt, there are plenty of smaller projects you can tackle first.
Here are just a few of my favorite house-themed projects:
Are you ready to make a house quilt of your own? Check out Frieda Anderson's Bluprint class Machine Quilting the Home Sweet Home Quilt. Frieda provides the pattern along with complete written instructions for her students to make the Home Sweet Home quilt before class even begins! Once you are ready to take your finished quilt top and turn it into a completed quilt, Frieda will show you how to prepare your workspace, baste the quilt, and then machine quilt your project.
What do you love about house quilts? Have you already made one of your own?