Nothing says "home sweet home" like a quilt or wall hanging using delightful house blocks. If you've been thinking about quilting a house design, here is a roundup of some inspiring house quilt pattern designs.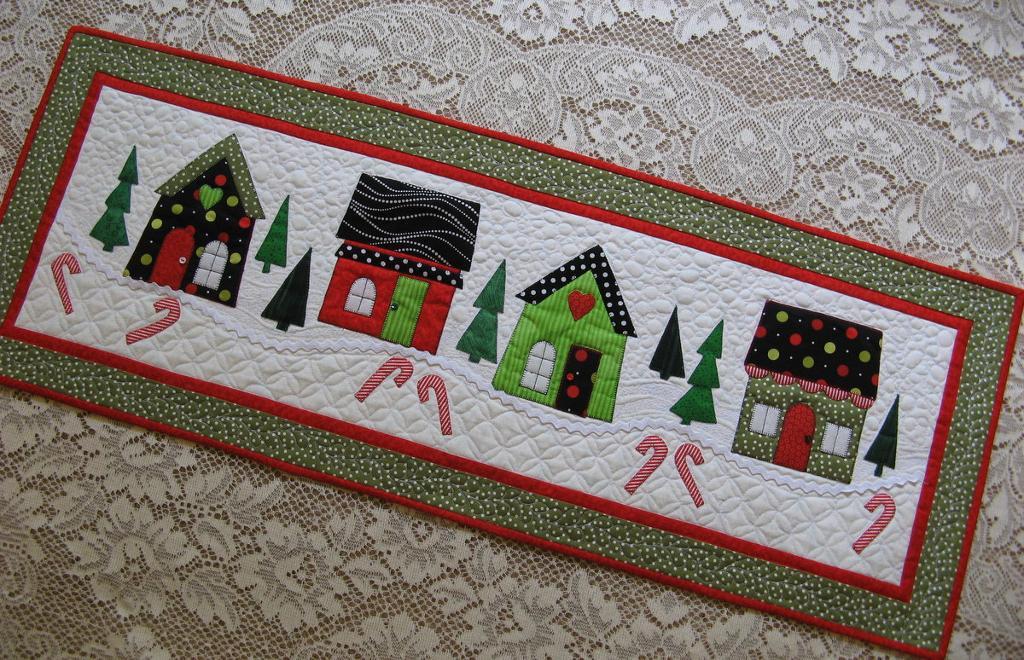 Photo via Bluprint member 2strings
Christmas houses table runner
This delightful and seasonally appropriate Christmas Houses Table Runner, available here on Bluprint, measures 15 ½" by 41 ½". Constructed using a quick-fuse appliqué method, this runner will go together quickly and is sure to add a bit of holiday cheer to your home with the beautifully decorated Christmas houses on a snowy-white background. You wouldn't have to use Christmas fabrics in making this runner, either — choose other seasonal prints or more "season-neutral" fabrics for a table runner you can use year-round.
Get the Christmas Houses Table Runner pattern.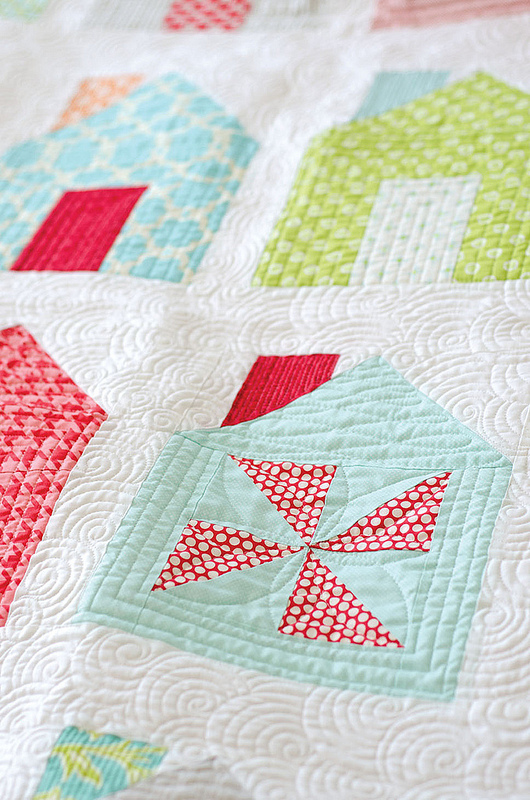 Photo via Camille Roskelley
Dwell
Dwell is a house quilt pattern from Camille Roskelley, instructor of the Bluprint classes Pre-Cut Piecing Made Simple and Playful Piecing Techniques. You can find this pattern in her book Simply Retro.  This delightful house quilt pattern features four different styles of house blocks for a sampler–style house quilt wall hanging. The individual house blocks measure 9″ by 12″ and the finished quilt measures 51″ by 66″, making it a very useable lap quilt size that goes together quickly.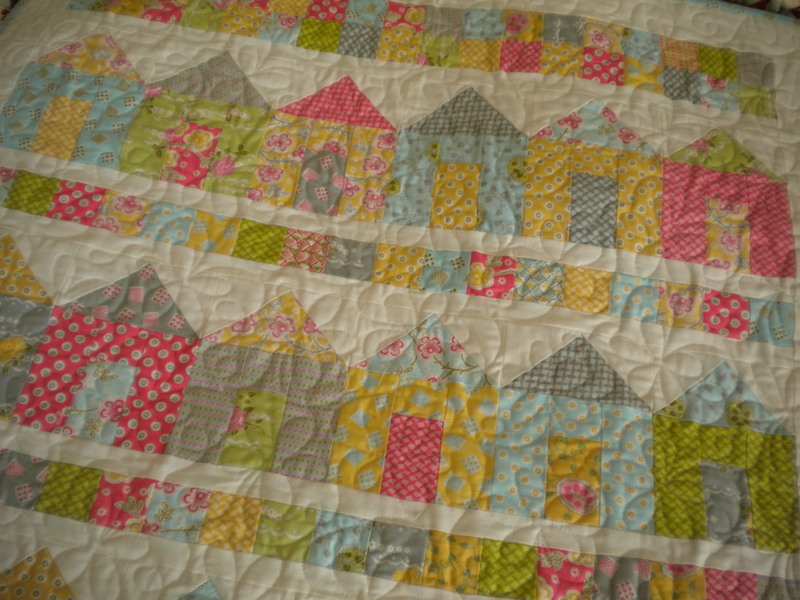 Photo via A Quilting Life
Full House
Full House is a pattern designed by Carrie Nelson of Miss Rosie's Quilt Co. These small house quilt blocks are simple to piece and feature roof tops made from the Flying Geese block pattern. The quilt is the perfect wall hanging size and finishes at 31″ by 36″. There is just one house block included, but you can vary fabric placement and style to get the look you want. Simple sashing and a checkerboard border add to the whimsy of this quilt design.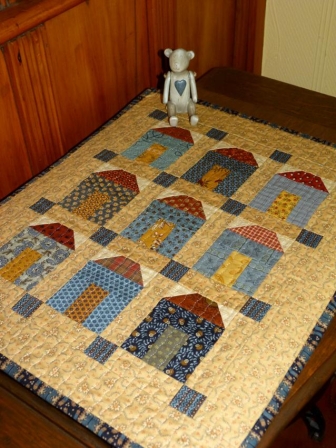 Photo via Bluprint member GourmetQuilter
Mini Houses
If you are thinking about making an even smaller house quilt, this Mini Houses pattern, available on Bluprint, measures just 17″ by 20″. It is the perfect house quilt pattern for using us especially small bits and pieces of fabrics. This pattern can be used to make a great small-sized wall hanging or doll quilt and also features a repeated house block design. Simple sashing and cornerstone finishing design elements are also featured in this pattern.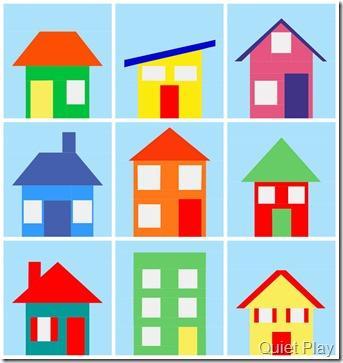 Image via Bluprint member Quiet Play
Little Houses
This delightful Little Houses pattern bundle features patterns for nine different houses with each house measuring 6″ by 6″ finished. You have the option of making all nine blocks and using them in a mini quilt, wall hanging or large quilt. Knowledge of paper piecing is required for this pattern.
Get the Little Houses Paper Pieced Bundle pattern.
House quilt patterns can be a lot of fun to make, and since the house blocks are often made up of small pieces, making a house quilt can be a terrific way to utilize those favorite fabrics found in your scrap bin. House quilt patterns are also fun when created with seasonal fabrics: think Halloween houses, spring cottages, or Christmas castles! Whatever fabrics you decide to use, your house quilt is destined to be a favorite. Individual house blocks also make perfect for making pillows and can also make a fun table runner or topper.
If you or someone you know is newer to quilting, house designs are a great place to start. Try Gail Kessler's FREE class, Piece, Patch Quilt. Then, be sure to check out Frieda Anderson's Machine Quilting the Home Sweet Home Quilt, where you'll create a lovely lap-size house quilt while mastering free-motion basics, more than a dozen delightful stitch designs, and a fun binding technique.
Which house quilt pattern would you like to make first?