It's rare that I care about trends on the runway, but I do get a little excited when one of those trends involves knitting. If you pay attention to fashion runways at all, you may have noticed that this fall the runways are full of houndstooth knits. Don't believe me? Just check out the fall 2013 collections from designers like Michael Kors, Tommy Hilfiger, and Rag & Bone. They're filled with everything from oversized sweaters to cozy coats that are printed with giant houndstooth patterns.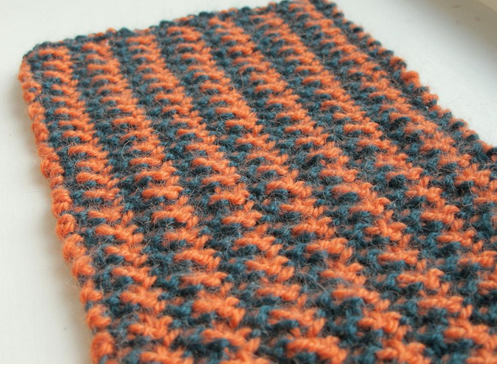 Photo via Sarah Montie Handknits
I don't care whether my knits are on trend, but I do love getting inspiration for new projects from the runway. Most of us have already started on fall and winter knitting, so why not get inspired by fall fashion and start on that houndstooth scarf or sweater?
How to knit the trend
Not sure how to incorporate houndstooth into your wardrobe? It's easy! Here are a few places to start:
Accessories: From scarves to cowls and even legwarmers, a small amount of houndstooth can go a long way. Incorporating a trend into an accessory is especially perfect for knitters who don't tend to go super bold with prints and patterns.
Dresses: If you're planning to knit a dress, let me first stand up and applaud you for taking on such a large project. Remember that houndstooth can be knit on both a small scale and a large scale. If you're not up for changing yarn every few stitches, go for a larger-scale design.
Sweaters: No need to knit the entire sweater in a houndstooth pattern. Knit just the body of the sweater in the pattern, then add solid-colored sleeves. For an even smaller nod, just add a houndstooth collar or border.
Ready to dive right in? Get a jump start on this fall look with these Craftsy patterns that will keep you warm and on trend all season long.
Handwarmers
I love how these houndstooth handwarmers put a little twist on the traditional black and white pattern.
Reversible cowl
This reversible houndstooth cowl has no wrong side, so it shows off a small-scale houndstooth on one side and a large-scale one on the other side. What's even better about reversible knits is that they're double the warmth.
Houndstooth scarf
Wrap up in a fall trend — literally — with this houndstooth scarf. The fringe is completely optional.
Houndstooth sweater
Make your kid just as trendy as you with this pattern for a Baird houndstooth sweater. The designer also provides tips for stranded colorwork, so don't be intimidated if it's your first time knitting with two colors at the same time.
Woven scarf
Yes, yes, I know this isn't knitting. But I couldn't help pointing out that you can also weave a lovely houndstooth and make almost anything out of it. Craftsy member L Jensen made this beautiful scarf for her daughter.
Another way to get runway-worthy knits is to make sure they fit your body. Stefanie Japel's Fit Your Knits class will walk you through making adjustments to patterns for the perfect fit in the bust, waist, hips — every part of the garment!
Do you ever incorporate trends into your knitting? Any other trends you're excited about for fall?