Do you get a kick out of sewing for your kitchen? A little bright and cheery fabric can turn any kitchen into a homey and welcoming space. Whether you are sewing for yourself or making quick little gifts, these hot pad sewing patterns are ready for your creative touch! Make custom pot holders from your favorite fabrics, and you'll enjoy them for years to come.
Cook up something delicious with these hot pad sewing patterns!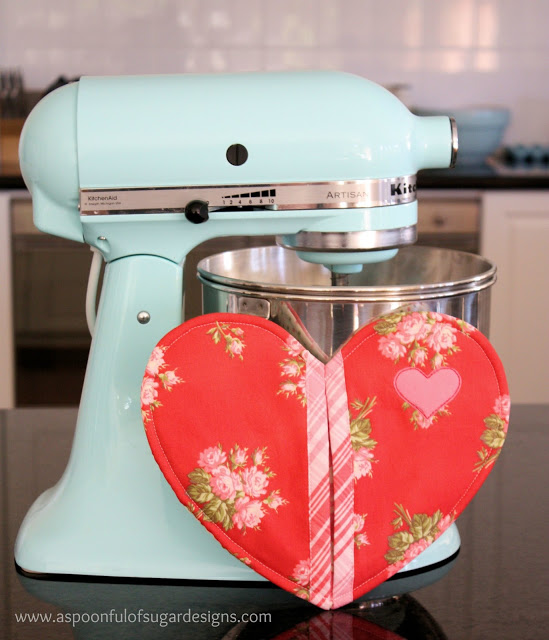 Photo via Spoonful of Sugar
Do you just love to bake? Then show your affection with a sweet Heart Pot Holder with this free tutorial. The unique design folds at the center so you can easily grip a casserole dish or pie pan, and the bias tape binding and cute applique patch add a nice contrast to your featured fabric.
Get the Heart Pot Holder pattern here.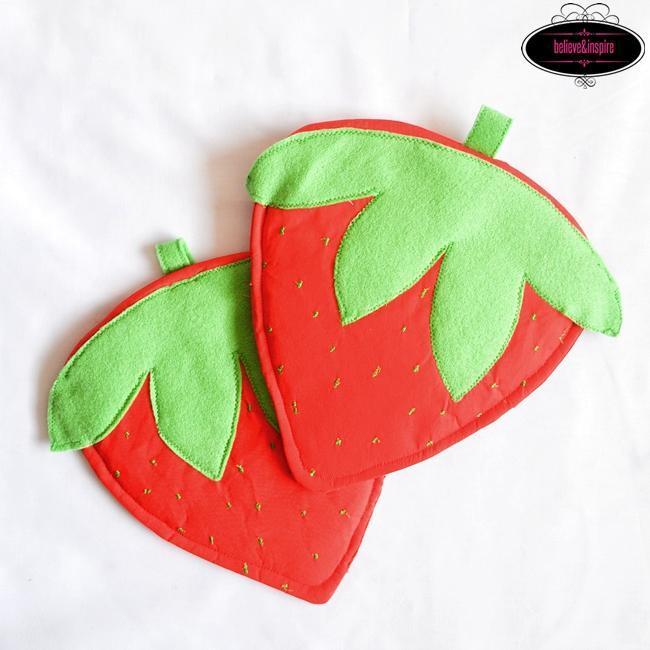 Photo via Craftsy member Javeriya Sayeed Siddiqui
How adorable are these berrylicious strawberry hot pads? Bedazzled with cute applique leaves and embroidered golden seeds, these pot holders would look cute on your summer picnic table. Make a pair of berries, and use the hanging loops at the top to display them in your kitchen.
Photo via Craftsy member Quilt Sew Chic
Bring the outdoors inside with this great gift for nature lovers! Stitch up some brilliant batiks to create a set of three leaf-shaped hot pads to grip warm dishes and protect your table top. Using fusible tape to join the leaf half sections, simple top-stitching secures the seams.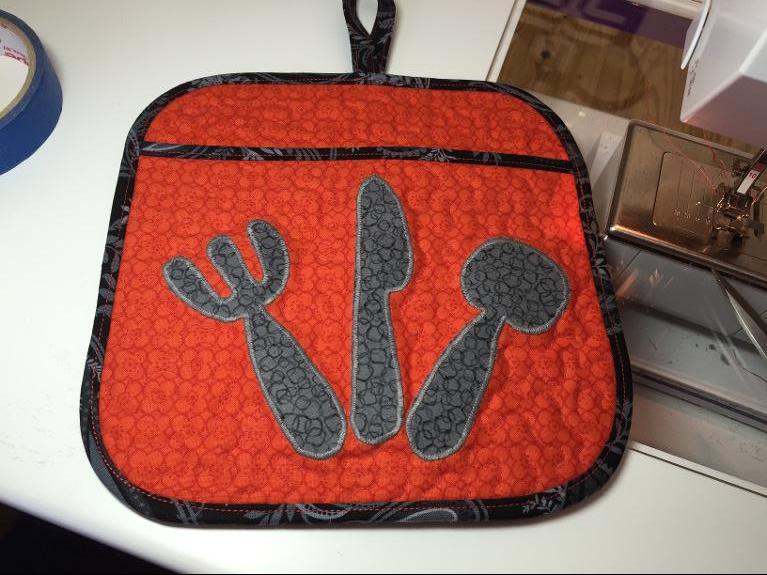 Photo via Craftsy member MadCowCreationz
A pocketed pot holder is great because it allows you to protect your whole hand inside, so you don't lose your grip and get a burn. This pocket doubles as a setting for festive silverware applique, though you could customize to feature a monogram or any design of your choice.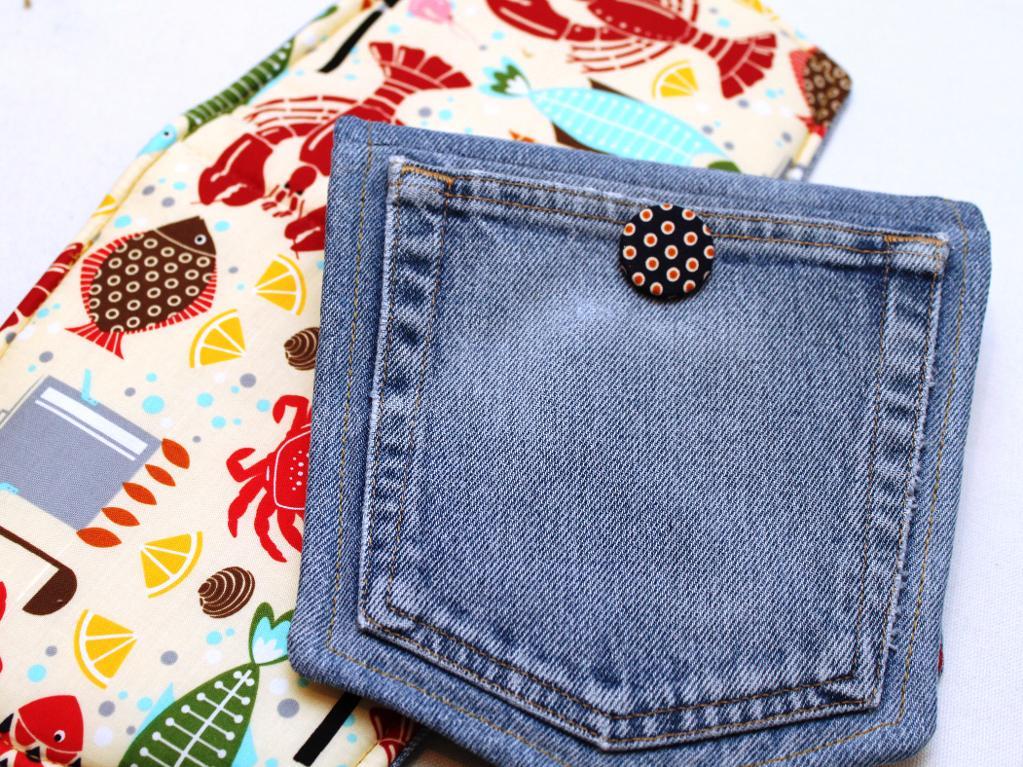 Photo via Craftsy member Inventive Denim
Turn two pairs of old jeans into a pair of pocket pot holders! Since each pair of jeans has two back pockets, each pocket is a front or back of this denim hot pad. Protect your hands and fingers from dishes that are too hot with durable denim. This pattern can be dressed up to look masculine with the right coordinating fabric, so get ready for the summer barbecues!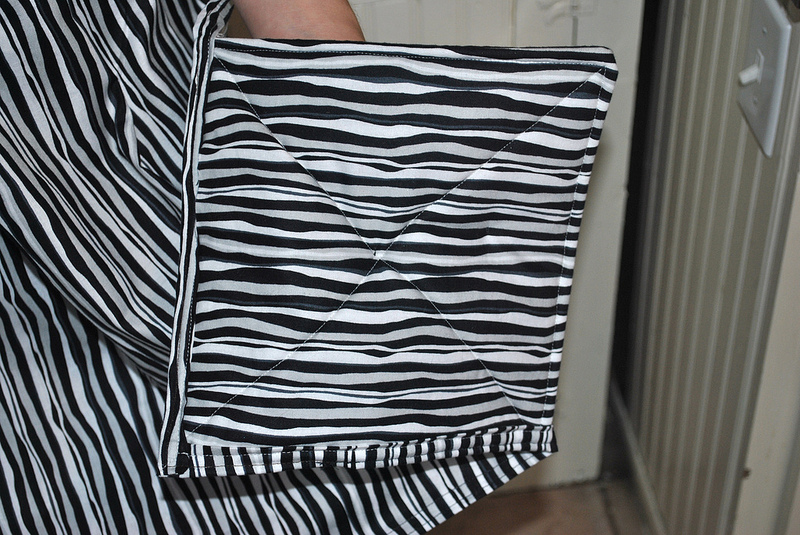 Photo via Lindsay Sews
It's an apron. It's a hot pad. It's the amazing hot pad apron! This half apron sewing pattern comes with instructions for built-in pot holders, so you'll never risk losing them. To make this apron, I used a pattern from the book "Fabric-by-Fabric One-Yard Wonders," though I've also admired this hot pad apron tutorial (with a secret phone pocket) at Merriment Design.
Check out the apron tutorial here.
Do you have any favorite pot holder sewing patterns? What features do you look for when choosing or making hot pads?