Hot cross buns are an Easter tradition for many. The spiced buns are traditionally served on Good Friday, but they can easily be found in the weeks leading up to Easter because they're so tasty and so distinctive. The traditional buns can be a bit labor intensive, but this no-knead version lets you to make delicious buns at home with minimal effort.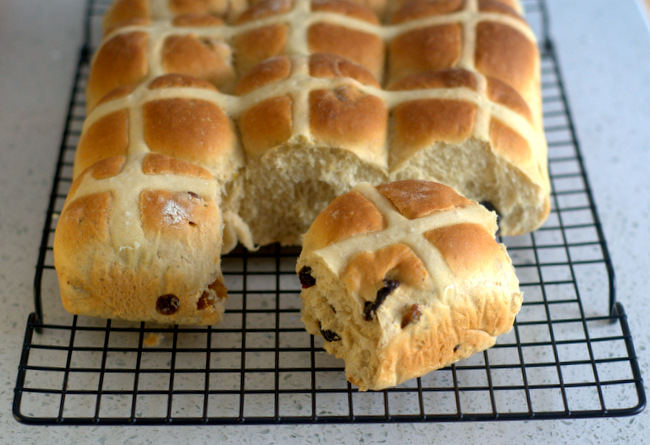 Hot cross buns are slightly sweet and packed with dried fruit, citrus and spices.
The dried fruit usually includes raisins and dried currants, while the citrus comes in the form of candied lemon and orange peels. But to keep things as simple as possible, I used only raisins — both black and golden raisins, which give the buns a beautiful look.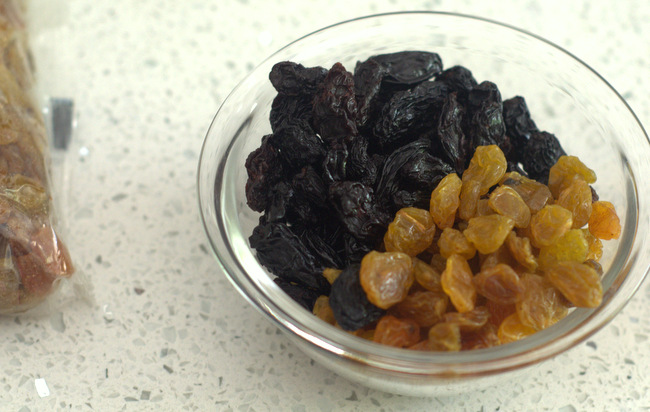 For the sake of simplicity, I also used orange and lemon zest instead of candied citrus. Candied citrus is a bit sweeter than the zest alone, but you get a wonderful citrus flavor from the fresh zest without having to search for a specialty ingredient or candy your own citrus at home.
The spices are usually listed in recipes as "mixed spice," which is a baking spice blend including cinnamon, allspice, nutmeg and mace. It's widely available outside of the U.S., but tends to be a bit less common here. I've used a mixture of cinnamon, allspice and nutmeg in this version. You can also use pumpkin pie spice which, surprisingly, is not that far off in terms of flavor!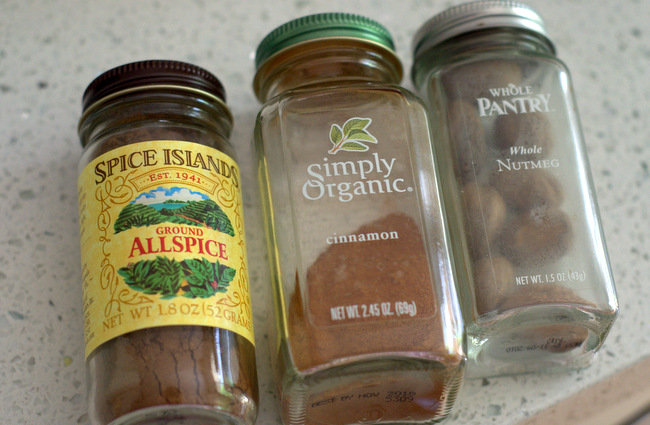 A bit about the dough
The yeast-based bread dough requires no kneading, so you don't need a stand mixer to make this recipe. The bread dough is quite soft and is very easy to work with overall.
That being said, if you're mixing by hand, you will have to put a bit of muscle into the dough using a wooden spoon to ensure it's smooth and evenly mixed. With a stand mixer, the process is much more "hands off" and you will have to do almost no work at all.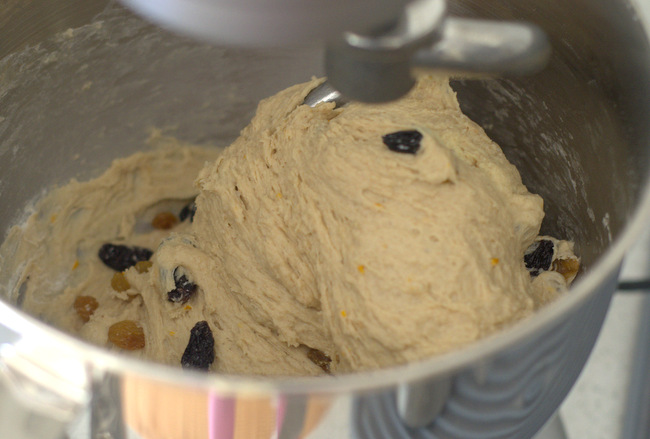 You'll need to handle the dough a bit to shape it into individual buns. First, you'll divide the dough into even pieces using a bench scraper, pizza wheel or large knife.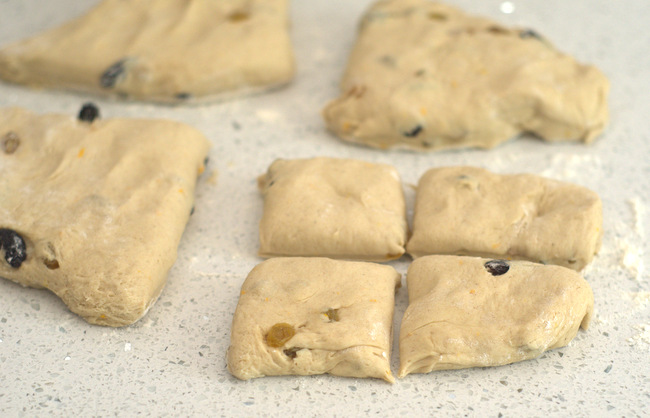 Then, you'll pinch together the corners of each piece to form a ball of dough.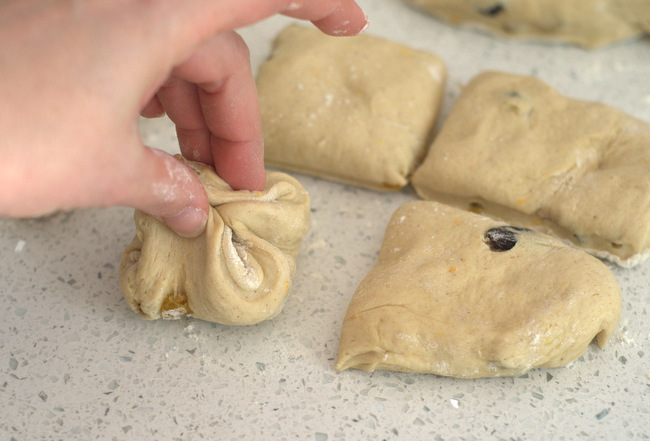 The ball does not need to be tightly shaped; it simply needs to have a round basic shape.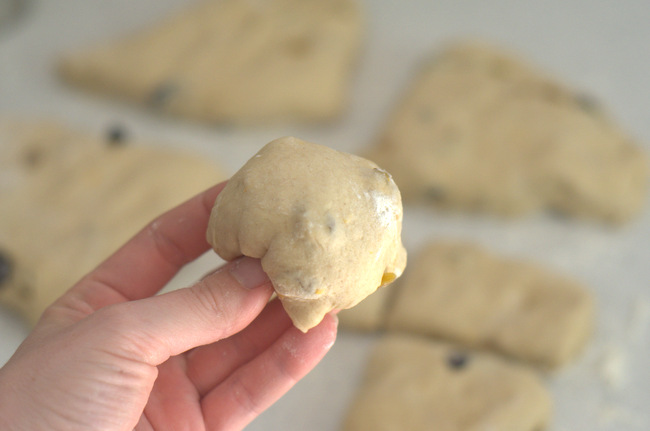 Then, you'll arrange the buns in a 9-by-13-inch baking pan and leave them to rise while the oven preheats.
The final touch on the buns is the cross on top that makes them, officially, hot cross buns. The decoration is made with a thick paste of flour and water that's piped onto the buns just before they go into the oven. The paste dries out and becomes crisp as the buns bake, holding its shape and marking each of the buns with a clear cross.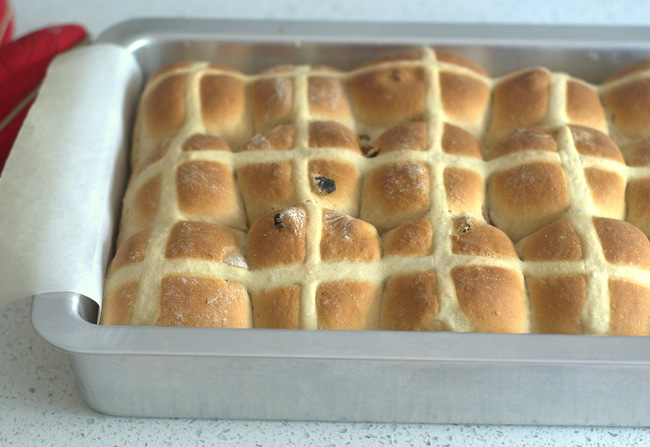 Serving your hot cross buns
The buns are ready to eat almost as soon as they come out of the oven. They're just as easy to serve as they are to make, as the individual buns can be pulled off of the whole "loaf" when you're ready to eat!
Though they're not too sweet, the buns can be enjoyed on their own. I like to serve them with butter and jam or honey, but feel free to get creative with them, as the spices and fruit in the buns go with a wide variety of toppings.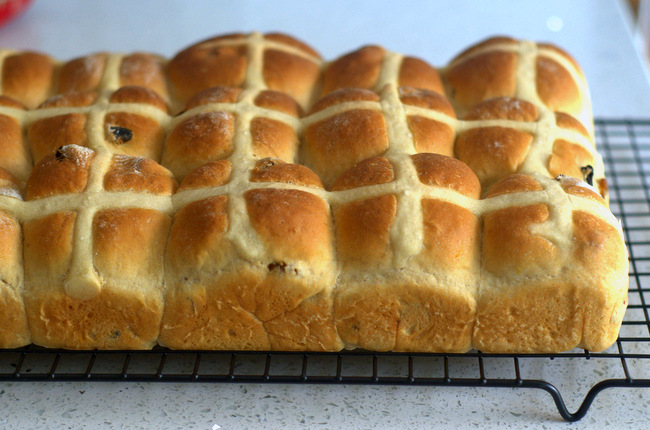 Easy hot cross buns recipe
Makes 15 buns
Ingredients:
5 teaspoon (½ ounce) active dry yeast
2 teaspoons sugar
¾ cup warm water (approximate  100 – 110 F), divided
5½ cups all-purpose flour, divided
1

½

 teaspoons ground cinnamon

½

 teaspoon ground allspice
¼ teaspoon ground nutmeg

¼

cup brown sugar
1 teaspoon salt
1 large egg

¼

 cup butter, melted and cooled
1 cup warm milk 

(approximately 100 – 110 F)

1

¼

cups raisins
1 tablespoon orange zest
1 tablespoon lemon zest
For the topping:
½ cup all-purpose flour
1/3 cup water
Step 1: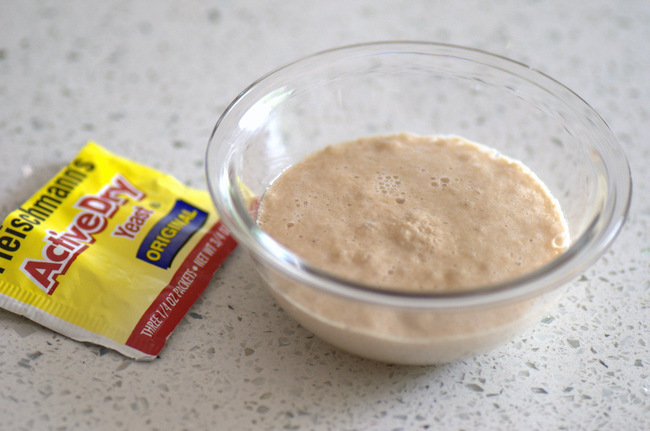 In a small bowl, combine yeast, sugar and ½ cup warm water. Allow mixture to sit for about 5 minutes, until yeast becomes foamy. Transfer mixture to a large mixing bowl or the bowl of a stand mixer. 
Step 2:
To the yeast mixture, add 2 cups all-purpose flour, spices, brown sugar, salt and egg. Stir to combine. Use the paddle attachment if using a stand mixer. Mix in butter and warm milk, along with 2 additional cups of flour. Stir until smooth using a wooden spoon.
Gradually incorporate the remaining 1½ cups of flour. If using a stand mixer, switch to the dough hook. Keep mixing until the dough is smooth, the stir in the raisins and citrus zest until well-distributed.
Step 3:
Scrape dough into a large, lightly oiled bowl and cover with plastic wrap.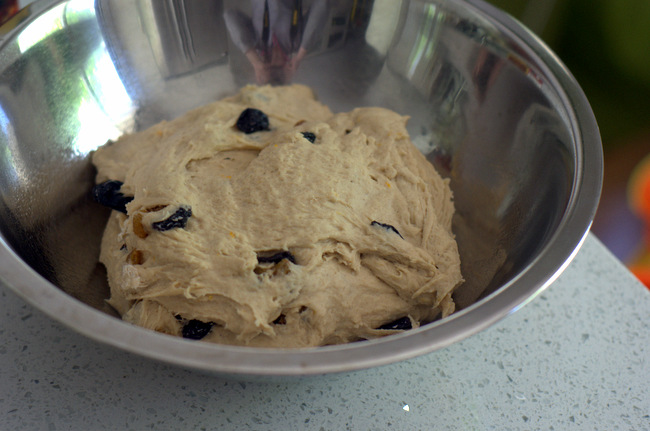 Let dough rise for 45 minutes, or until about doubled in size.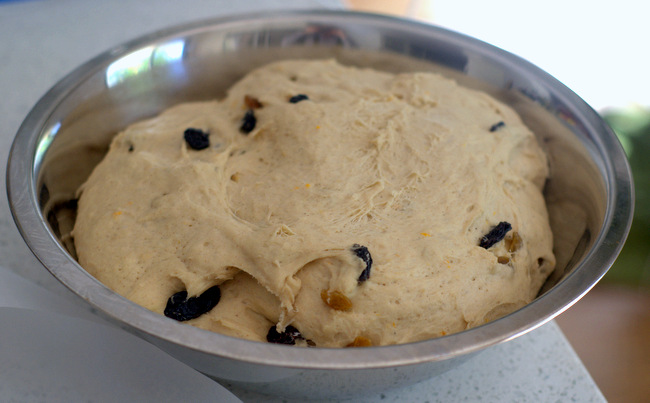 Step 4:
Lightly grease a 9-by-13-inch baking pan. Line the bottom with parchment paper.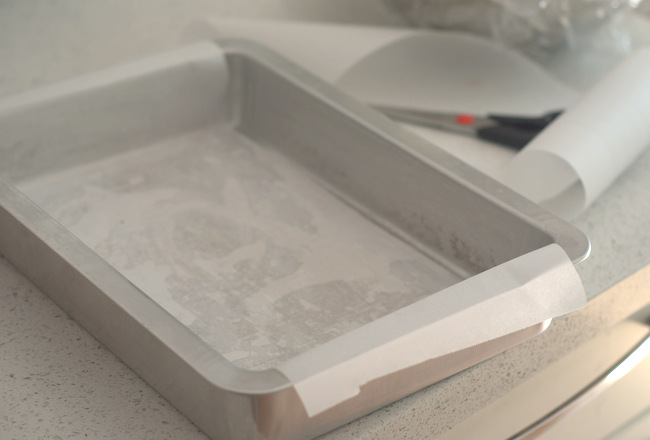 Turn dough out onto a lightly floured surface and pat into a rough rectangle.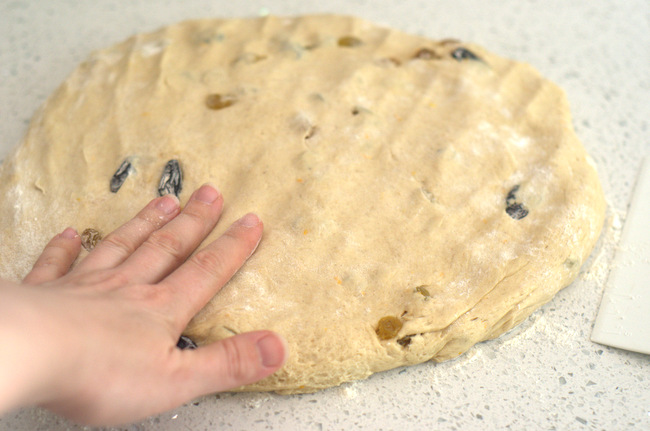 Divide rectangle into 15 equal pieces. Working with one piece of dough at a time, pinch all the corners together to create a loose, round ball of dough. Place ball of dough in the prepared pan and repeat with the rest of the dough, forming five rows of three buns each.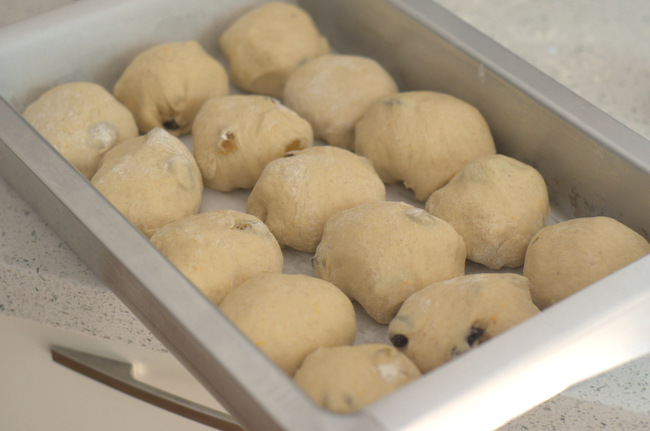 Step 5:
Allow the buns to rise for 25 minutes. While the buns rise, prepare the topping by whisking together the flour and water in a small bowl until very smooth.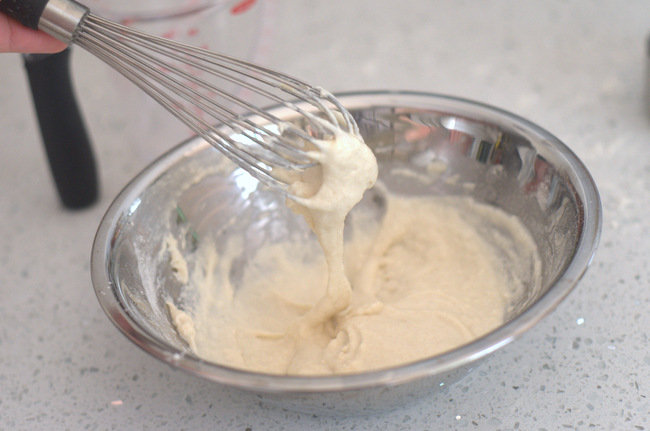 Transfer mixture to a piping bag or a zip-top bag with the corner snipped off. 
Step 6:
Preheat oven to 400F. Just before putting the buns in the oven, use the flour mixture to pipe a cross on top of each bun.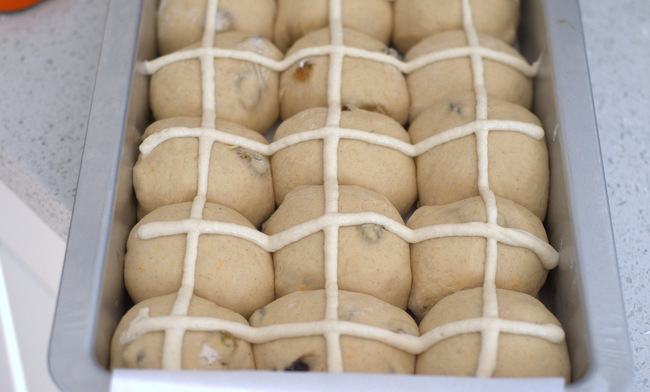 Step 7:
Bake buns for 35 minutes until golden brown. The buns should sound hollow when tapped, and an instant read thermometer inserted into the center of one of the buns should read 190-200 F. Transfer buns to a wire rack to cool slightly before serving.