I do feel a touch of guilt as I write this sinful recipe to share with you, but my excitement to share this far exceeds that guilt! Chocolate, peanuts, caramel and nougat are the signature components of the ever popular and delicious Snickers candy bars. Today, I will change the way we look at this candy bar, proving YOU can make it in the comfort of your own kitchen, from scratch, using ingredients of your choosing.
Making snickers candy bars from scratch will be so much more scrumptious and mouthwatering than its store-bought cousin. In this case, the saying, "the journey is the reward" proves to be absolutely true. Once you have a taste, you'll never look at store-bought candy bars the same way ever again!

Homemade Snickers Bars —
Makes 20 bars or 80 bites
Chocolate top and bottom layer ingredients:
2 cups (12oz bag) Semisweet chocolate chips
1 teaspoon instant espresso powder
½ cup peanut butter; divided
Caramel layer ingredients:
1 cup sugar
6 tablespoons butter
½ cup heavy cream
2 tablespoons corn syrup
Nougat layer ingredients:
1 ½ cups cocktail (salted) peanuts, chopped
3 tablespoons olive oil
1 cup sugar
¼ cup heavy cream
1 ½ cups (2.5 oz) mini marshmallows or 15 regular marshmallows
¼ cup peanut butter
1 ½ teaspoons vanilla
Equipment:
9×9 pan(s) or similar size; see below
parchment paper
2 saucepans
Whisk(s)
Spatulas
Please note that there will be gaps of cooling time after creating each delicious layer.
Preparations:
Line two 9 x 9 pans with parchment paper. If you've only got one pan, that's OK, we'll make it work! Alternatively, an 8×8 or at least two loaf pans will work as well. Just remember that these adjustments will make your bars thicker! Follow the directions carefully in the next section.
Forming the chocolate layers:
We'll start by making the chocolate top and bottom layers. I recommend using either Ghirardelli or Guittard chocolate.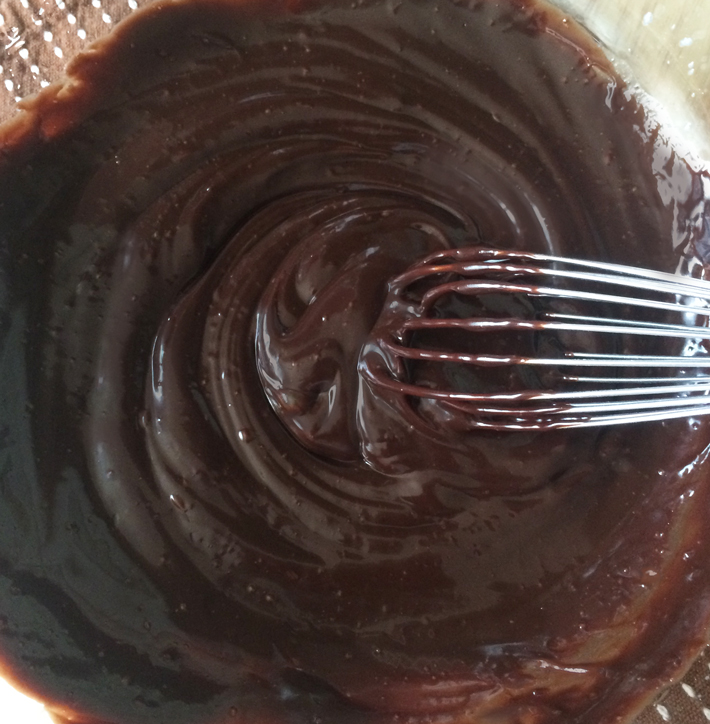 In a large microwave-safe bowl, combine chocolate, peanut butter and espresso powder. Microwave at 45-second intervals, stirring between each interval, until completely melted and smooth. It should be just slightly warmer than body temperature. Pour half of the chocolate mixture into each pan, spread it evenly along the bottom and place in the fridge.
If you only have one 9 x 9, 8 x 8 or two loaf pans, pour half the chocolate mixture into the pan(s) and place in the freezer until it hardens completely, about 15-20 minutes. When it's hard to the touch, fold the excess parchment over the top, lift the whole thing out of the pan and place in the fridge until needed. Re-line the pan with parchment. Reheat and pour the other half of the chocolate mixture into the pan(s) and place in the freezer until it has hardened.
Making the caramel:
This layer will actually go on top of the nougat layer, but we will need to make it first because it will take longer to cool before we can pour and spread it.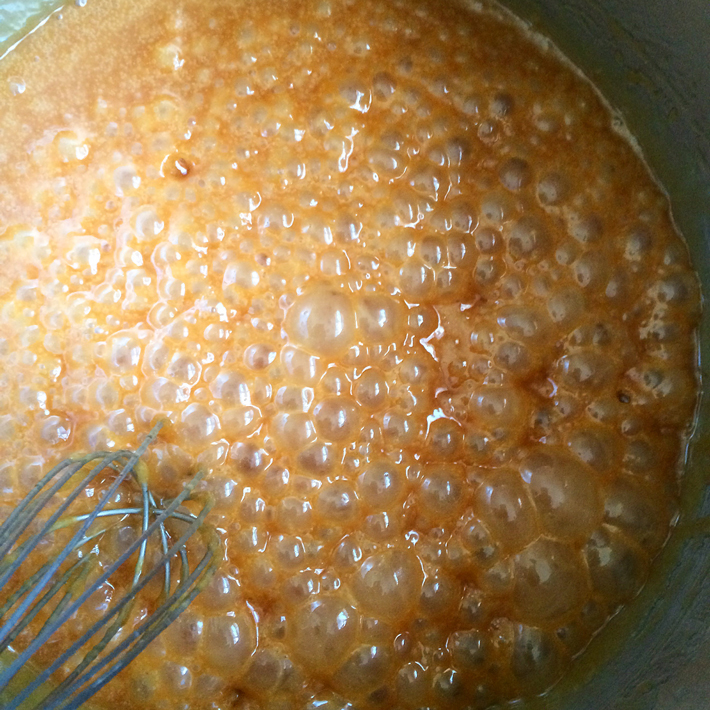 In a large saucepan, heat sugar over medium high heat. Whisk it as it melts. Once the sugar turns into a deep amber color, add the butter and whisk until it melts. Then carefully add the cream. It will go crazy and bubble up, so be very careful! Turn off the heat and whisk until it's smooth. add the corn syrup and continue to whisk until there are no longer any lumps. Set aside and let cool.
Nougat layer:
Rough chop the peanuts and set aside. Alternatively, you can leave them whole for a bigger crunch.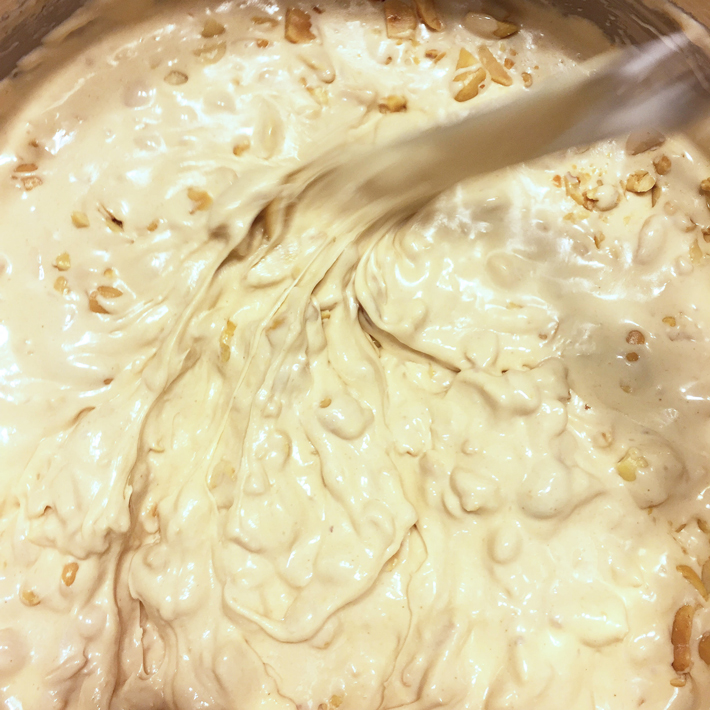 In a medium saucepan, bring olive oil, sugar and cream to a simmer, whisking until the sugar has been dissolved. Add marshmallows and stir until melted. I like to use Kraft marshmallows. Add peanut butter and vanilla. Stir until combined and completely smooth. Remove from heat. Stir in peanuts.
Assembling
Remove pan from fridge or freezer. The chocolate should be hard to the touch. Pour nougat mixture over the chocolate and spread it evenly into the pan. Let cool for 10 minutes.
The caramel should be cool to the touch by this point. Pour and spread evenly over the nougat.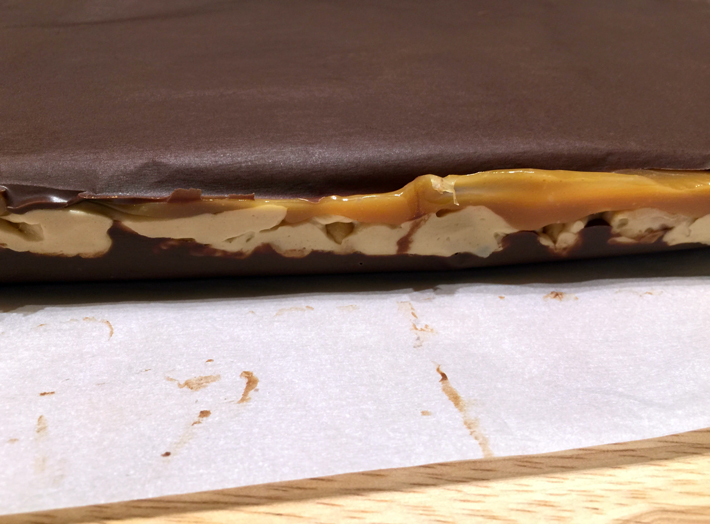 Lastly, lift out the other chocolate layer by removing the tape and lifting out the parchment. Separate the sides from the chocolate, but not the bottom. The parchment should still be adhered to the bottom. Carefully invert and place the exposed chocolate side over the caramel. Press down lightly. Place in the fridge for an hour to set before cutting and serving.
Cut as desired. I like to cut the 9 x 9 square in half, then cut ten bars from each half and wrapping it in parchment for gifting.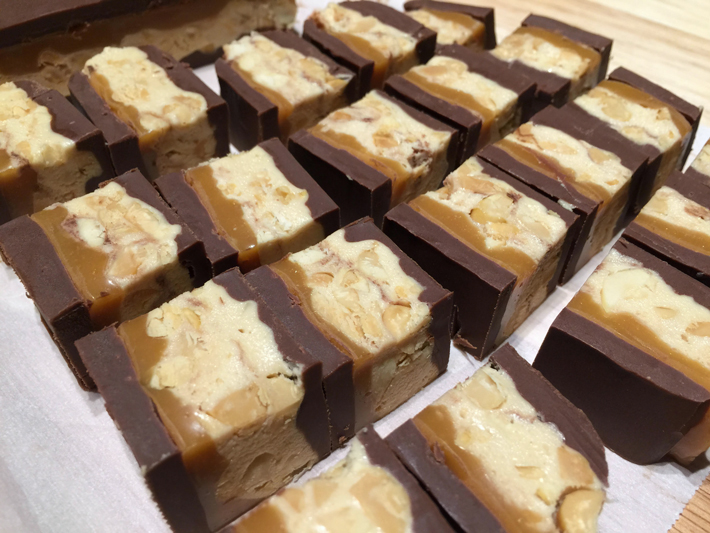 I like to cut them into bites for parties or gatherings (or for portion control when you're home alone!). Keep refrigerated in an airtight container until serving. Please enjoy all of your hard work!