Crispy, salted pita chips are deliciously addictive. They can even be more versatile than potato chips for snacking and pair perfectly with all kinds of salsas and dips — homemade hummus anyone?!
The problem with pita chips is that some brands are too salty, while others are too bland, and it's hard to find that perfect pita. Solve the problem by making your own homemade pita chips and topping them your way! After trying this recipe, you may never by store-bought pita chips again!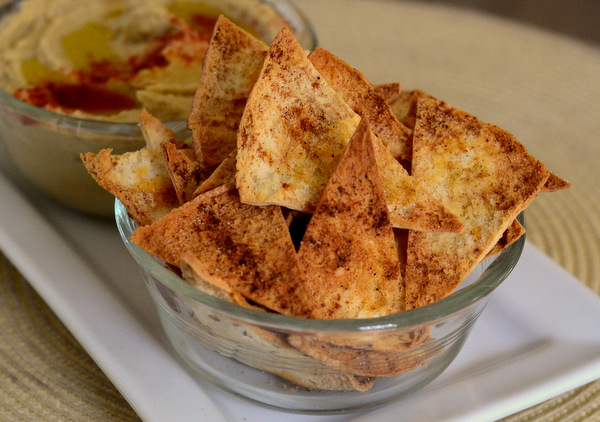 Photos by Nicole Weston of Baking Bites
Homemade pita chips start out with pita bread. You can make your own pita bread, however it is easier and more convenient to buy pita bread from your local market, especially if you need enough chips for entertaining a crowd.
If you have leftover pita bread around, you can freeze it so that you will have it on hand when you get the urge to bake some pita chips on short notice, too. Once you have your bread, it needs to be cut into wedges of approximately equal size.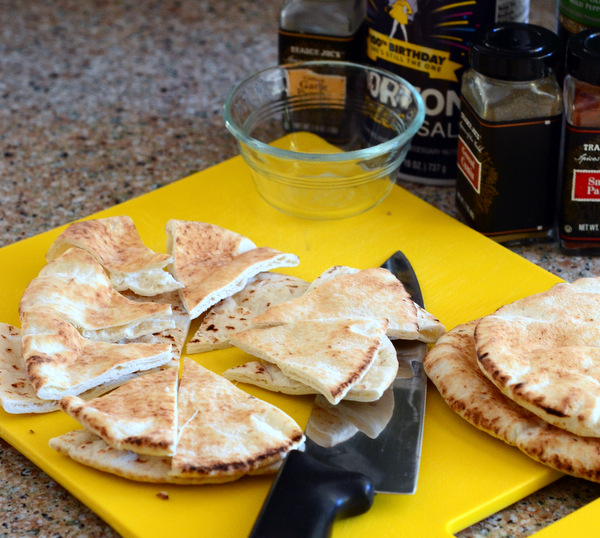 Since pita bread has a pocket, your wedges will initially be quite thick. You can bake them that way, for a thick and substantial chip that is suitable for pairing with extra-thick dips that need a sturdy scoop, or you can divide the pita pockets in half for a much thinner and more cracker-like chip.
I personally enjoy them both ways, but the addictive quality of the extra thin pita chips means that I make the thinner version slightly more often in my house.
The pita wedges are brushed lightly with olive oil and dusted with a cumin-based spice mixture before baking. The olive oil not only helps ensure that the chips become crisp, but it also helps the spice mixture to adhere to the bread. A pastry brush is the best way to give the chips a quick coating, however you can also give the chips a quick drizzle of oil if you don't have a pastry brush in your kitchen.
Bake the chips at a high temperature until they are crisp and golden. The baking time will vary form batch to batch, as pitas are not always a consistent thickness. They can burn easily once they take on a light golden color, especially the thinner chips, so keep an eye on them while they bake to ensure that they don't get overdone. Once the chips are baked, allow them to cool and serve them with your favorite salsa, hummus or other dip!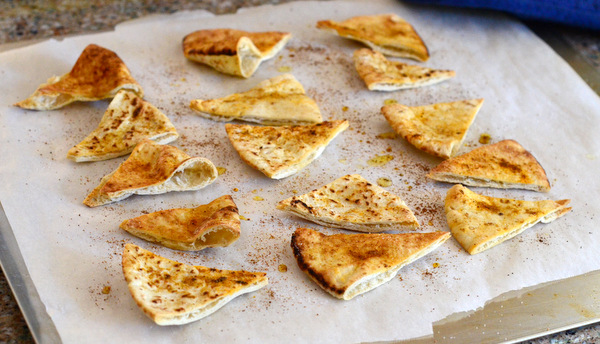 Homemade Pita Chips
Yield: 6-8 servings
Ingredients
6 pita bread rounds
1/4 cup  olive oil
1 tsp ground cumin
1/2 tsp garlic powder
1/2 tsp paprika
1/2 tsp salt
Step 1:
Preheat your oven to 400 F. Line a baking sheet with parchment paper. Cut each of the the pita bread rounds into 8 wedges using a large knife. Arrange wedges on prepared baking sheet.
If extra-crispy pita chips are desired, separate the pita bread wedges into thinner triangles by pulling the pockets apart.
Step 2:
Brush pita wedges with olive oil. In a small bowl, whisk together cumin, garlic powder, paprika and salt. Sprinkle seasoning mixture lightly over the wedges.
Step 3:
Bake for 5-10 minutes, or until light golden and crisp. Allow chips to cool before serving.