You've probably heard of soy milk and almond milk. But have you ever heard of homemade oat milk?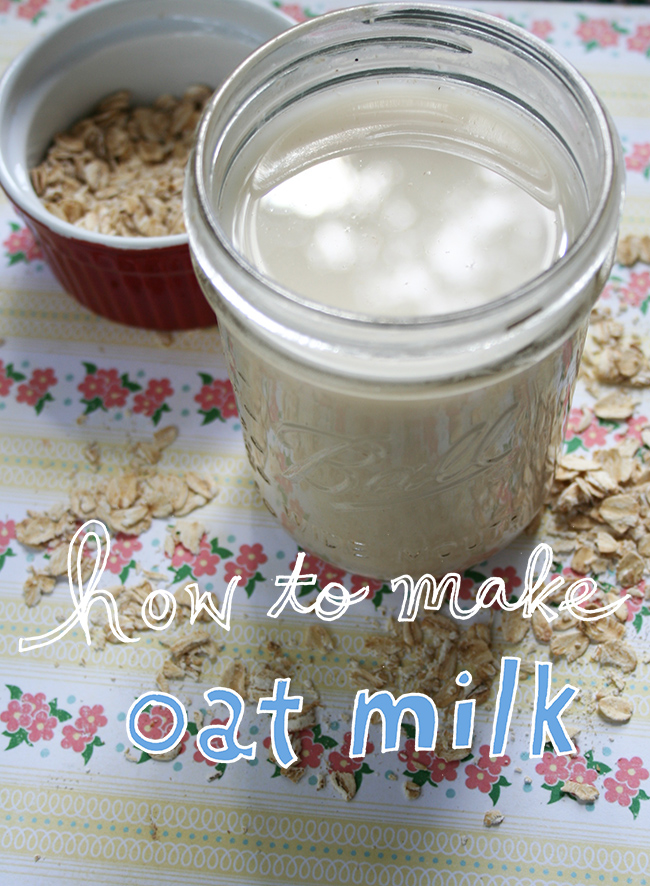 What is oat milk?
Oat milk is a milk substitute made from oats and water, sometimes with added seasonings.
Why should I use oat milk?
This milk alternative has a lot going for it. To start, homemade oat milk is easy to make and inexpensive since the only ingredients you need are oats, water, and seasonings of your choosing.
Oat milk is also naturally vegan, dairy-free and nut-free, which makes it suitable for a number of different diets. But perhaps most importantly, in addition to being nutritious, it's absolutely delicious.
Here, we'll guide you through how to make oat milk, with plenty of opportunities to adapt this easy-to-follow recipe to suit your personal preferences! 
Homemade oat milk recipe
Yield: about 2¼ cups
Necessary ingredients:
1 cup old-fashioned (not quick-cooking) rolled oats
3 cups cold water 
Optional additions:
1/8 teaspoon salt 
1 teaspoon vanilla extract
1-2 tablespoons or to taste sweetener (sugar, honey, maple syrup, etc.) 
Equipment:
Measuring cups and spoons
Large bowl
Blender
Fine mesh sieve
Container for storing milk
Directions
Step 1:
Combine the oats and the water in a large bowl. Cover with plastic (to keep debris from falling in) and let the oats soak for at least one hour, or up to or overnight in the fridge. 
Step 2:
Transfer the oat-and-water mixture to your blender. Blend on high speed until mostly smooth.
Step 3: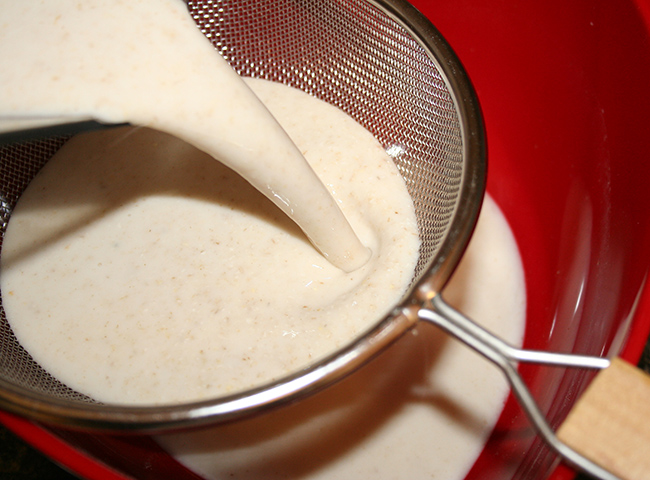 Strain the mixture through your sieve. You can discard the pulp, or see the recipe notes below for suggested uses.
Step 4:
If you want to include additional flavorings, add them to the milk mixture now. Whether or not you're adding additional flavors, transfer the milk back to the blender and blend one more time.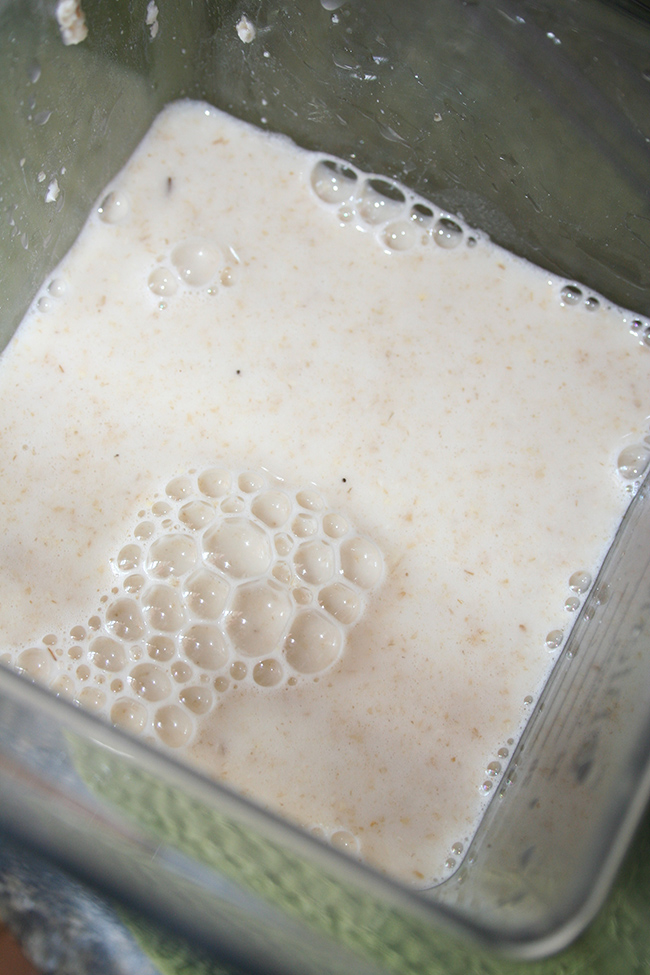 Step 5:
Strain the mixture once more after the second blending. This will help ensure that your milk has a smooth drinking quality.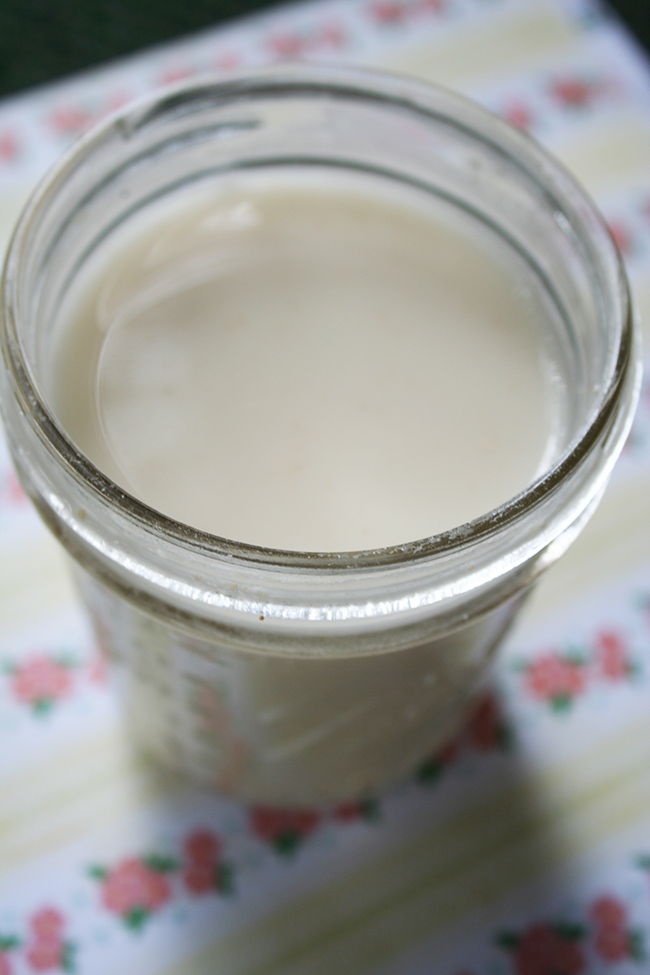 Step 6:
Transfer to a storage container and place in the refrigerator. Shake well before using. 
More homemade oat milk FAQs
Can I use the leftover pulp?
Yes! You don't need to discard the pulp when you strain your oat milk. You can stir the pulp into a smoothie, add a spoonful to yogurt or even stir it into your next batch of homemade bread. 
How should I use oat milk?
Oat milk tastes great with cereals both hot or cold. It's also great to add to smoothies or to drink as a milk substitute! 
Can I bake with oat milk?
You can substitute oat milk for dairy milk in baked goods in equal quantities. Please note, however, that it will impart a distinct oat flavor on your baked goods, and may result in a slightly thicker or more dense texture.
So, for instance, while it might be a great choice for making pancakes or muffins, it might not be the best substitution if you want to make a light, delicate layer cake.
Can I heat up oat milk?
If you heat this homemade oat milk, it will thicken and become somewhat gelatinous. This might be pleasant if you're adding it to a hot cereal, but perhaps not so pleasant if you're adding it to coffee. 
What about steel cut oats?
If you adore steel cut oats, you can absolutely substitute them for the old-fashioned oats called for in this recipe. However, you will need to soak them for several more hours or overnight or until softened. 
How can I simplify the process?
If you just don't feel like straining and mixing the milk twice, it's not completely necessary. Your milk may just have a little bit more texture to it if you skip straining.
What if I want really thick oat milk?
If your blender is very powerful and you don't feel like discarding or straining the oats, you can feel free to leave them in for a thicker milk. Just be sure to shake vigorously before enjoying, as the contents may settle.