We in Seattle take our football pretty seriously. Or I guess I should say, some of us (ahem) take our football food pretty seriously. I'm so serious about it I almost typed foodball just then.
Sure I love watching the game and being a proud member of the 12th-man family but what really gets me pumped for game days is the snacks. What better time to have an excuse to roast off a dozen jalapeños and then stuff them with a spicy cheese mixture and then coat them in all sort of deliciousness and fry them?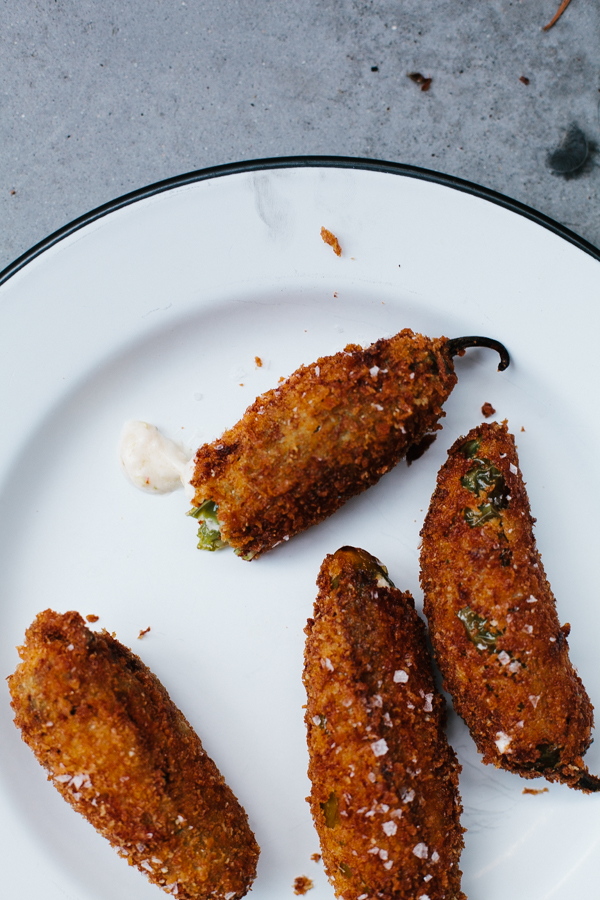 Impress your guests with DIY signature snacks!
Discover how fun it is to create delicious breadsticks, chips, pretzels & more in your own kitchen with these HD video lessons. Enroll Now »
About this jalapeño poppers recipe
The mix of cream cheese and sharp cheddar give these homemade jalapeño poppers a super creamy and pungent bite. The Parmesan cheese in the crust adds even more flavor and yet, don't be shy with the salt. It needs it here.
I suppose if you peeled the peppers after roasting, the crunchy exterior may not shatter as much once you bite into them but who has time for that when a big game is on? In fact, most jalapeño poppers recipes don't have you roast the peppers at all. But I find that it plays up the peppers natural sweetness and adds even more flavor.
How to make jalapeño poppers
Ingredients:
12 – 15 small jalapeños
1 tablespoon olive oil
Salt
8 ounces cream cheese
1 1/2 cups grated sharp cheddar
1 teaspoon hot sauce
1 teaspoon kosher salt
1 garlic clove
1/4 cup milk
1 egg
1/2 cup flour
1 cup panko bread crumbs
1/2 cup Parmesan
4 cups vegetable or peanut oil, for frying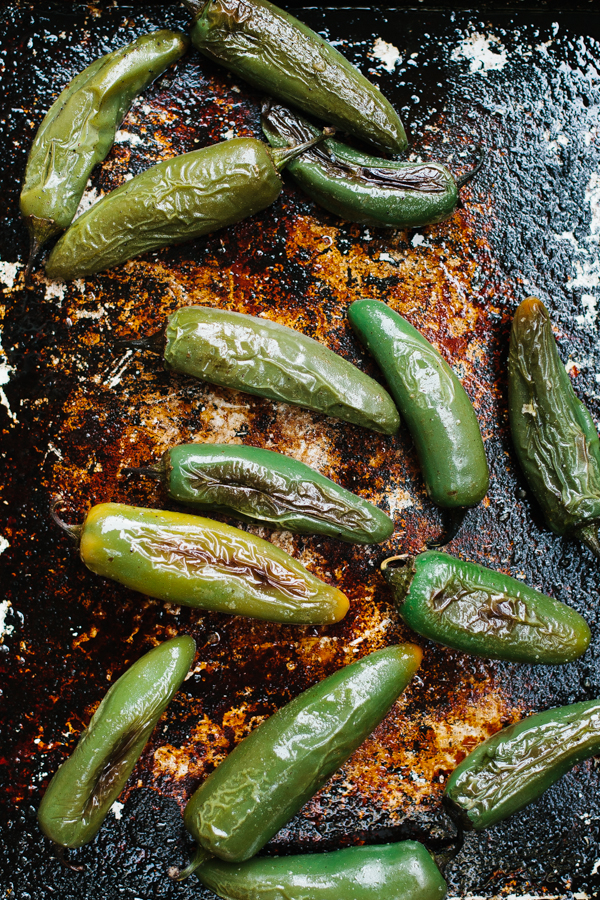 Step 1:
Preheat an oven to 500 F. Place the jalapeños on a sheet tray then drizzle with the olive oil and a good pinch of salt. Roast for 10 minutes or until charred in parts and softened. Set aside to cool.
Step 2:
While the jalapeños cool, add the cream cheese, sharp cheddar, hot sauce, salt and garlic to the bowl of a food processor. Process until smooth. Taste and add more hot sauce if you want more heat, just keep in mind that that jalapeños offer a good bit of heat.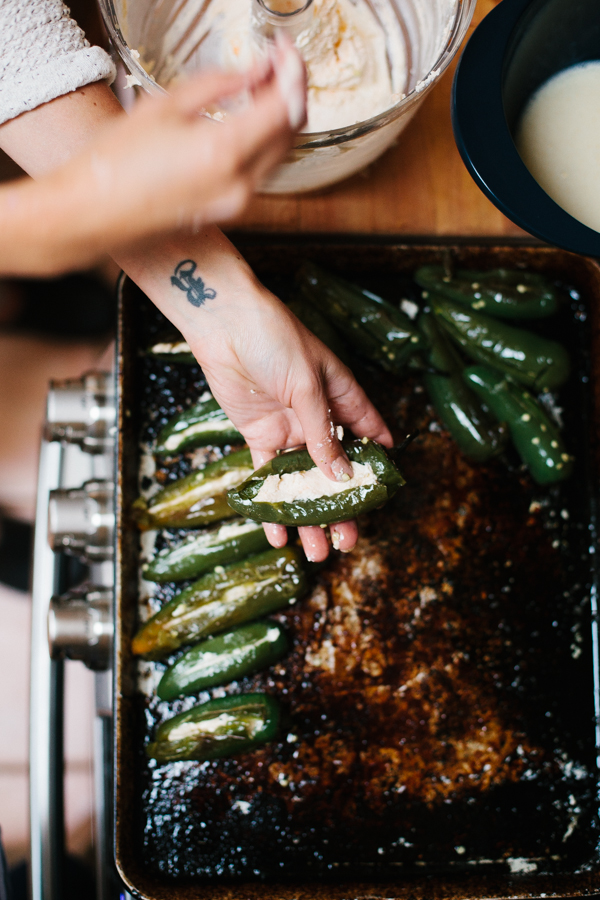 Step 3:
Once the jalapeños have cooled, cut a slit along the top near the stem then run the knife down the length of the jalapeño to form a long "T". Be careful not to cut all the way through. We just want to create a nice pocket for the cheese filling.
Fill the jalapeños with the cheese. About 1 tablespoon each, depending on the size. As delicious as the cheese filling is, be careful not to over-stuff, as it will cause the cheese to ooze out while frying. 
Step 4:
Heat the oil in a very large pan to 350 F.
Step 5:
Combine the flour and salt in a bowl then set aside. 
Step 6:
Whisk together the milk and egg in another bowl then set aside.
Step 7:
Finally, combine the panko bread crumbs and the Parmesan in another bowl.
Step 8:
Take one of the stuffed peppers and first dip it into the flour, making sure it is completely coated. Then dip it into the milk and egg mixture. Now there should be a sticky paste all over, which will help the panko and Parmesan stick. Dip it into that final bowl now and really press the crumbs onto it.
Repeat this process for all of the peppers.
Step 9:
Fry the peppers in the hot oil until they are deeply golden and crisp.
Step 10:
Sprinkle them with salt once they are out of the frying while still warm.
Serve warm or room temperature. Watch out, these are spicy!
Impress your guests with DIY signature snacks!
Discover how fun it is to create delicious breadsticks, chips, pretzels & more in your own kitchen with these HD video lessons. Enroll Now »