When it comes to summer desserts, this is how we roll: with a beautiful ice cream roll cake (or, if you're feeling fancy, an ice cream roulade).
A jelly roll–style cake is given a summer makeover when it's filled with ice cream. This soft, spongy cake is the perfect, slightly absorbent counterpart to ice cream, and it makes for an ice cream cake experience that is substantially different than commercially produced ice cream cakes! 
This simple chocolate sponge cake can be rolled with whatever ice cream flavor you prefer. I used a flavor called "Strawberry BonBon," a homemade strawberry ice cream with chocolate bits, that I picked up from a local ice cream shop.
How to make an ice cream cake roll
Makes 1 roll cake (about 8 servings)
Ingredients:
5 eggs, separated, at room temperature
1 cup powdered sugar, divided
¼ teaspoon salt
3 tablespoons unsweetened cocoa powder, sifted (plus more for dusting pan)
For filling: 1 quart ice cream, your choice of flavor 
Directions:
Step 1:
Preheat your oven to 400 F. Generously grease the bottom and sides of a jelly roll pan (15½" by 10½"). Line the greased pan with parchment paper and generously grease the top of that too. Dust the greased parchment paper with sifted cocoa powder.
Step 2:
In a large bowl, use a hand mixer to beat the egg whites on high speed until they form soft peaks. Reduce speed to low and add ½ cup of the powdered sugar. Increase the speed back to high, and beat until the egg whites hold stiff and form glossy-looking peaks.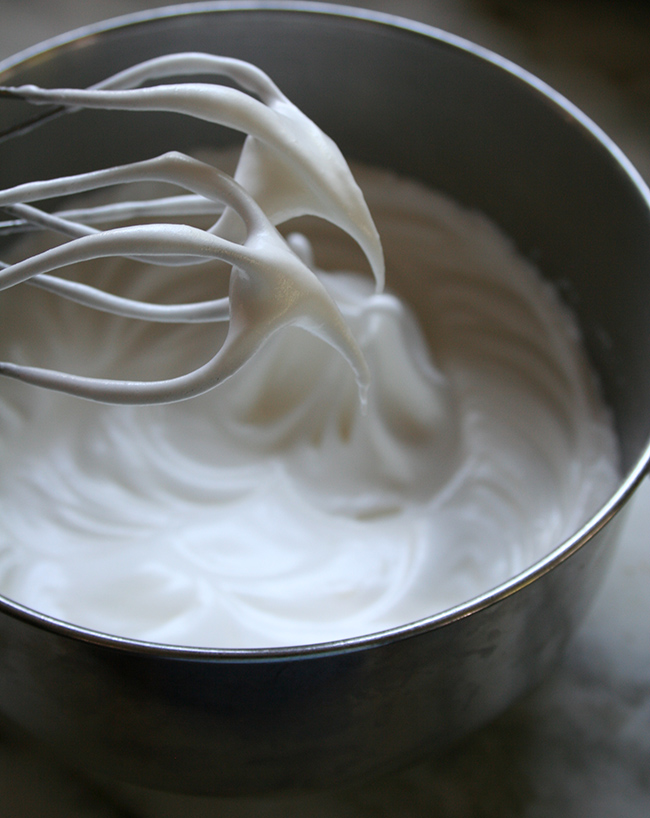 Note: This can be done with a stand mixer as well, but a hand mixer is easier for this recipe as you can use it for the next step too without having to bother with washing out the stand mixer's bowl. 
Step 3:
In a separate medium bowl, use the same hand mixer (no need to clean off or change the beaters) to vigorously mix the egg yolks until lightened in color. Add the remaining powdered sugar, salt and sifted cocoa powder. Continue to mix until the mixture is cohesive.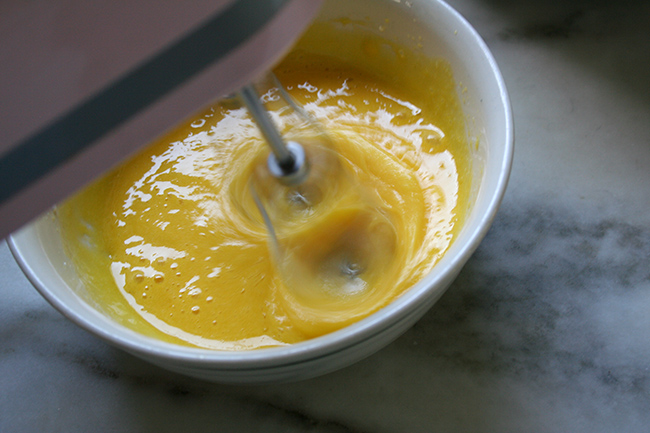 Step 4:
Using a rubber spatula, fold the chocolate mixture into the egg whites, mixing gently only until no streaks remain.
Step 5:
Spread the batter in your prepared pan. Bake in the preheated oven for 12-15 minutes, or until the top of the cake springs back when gently touched (your finger shouldn't leave an imprint).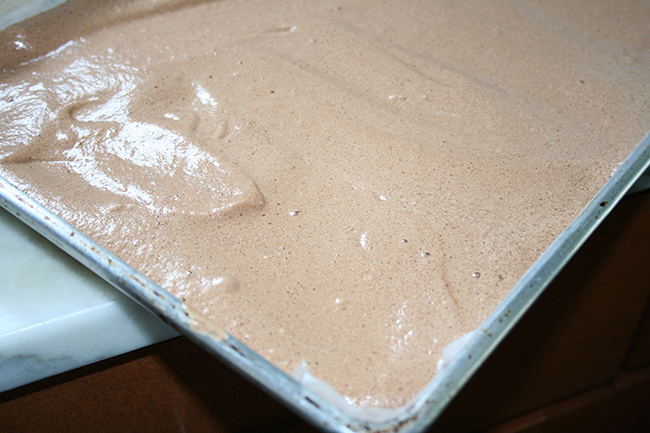 Step 6:
Remove the cake from the oven, and use a wire spatula to gently loosen the edges. Dust a very clean kitchen towel with cocoa powder; invert the cake on top. Carefully peel off the parchment paper from the former bottom (now top) of the cake.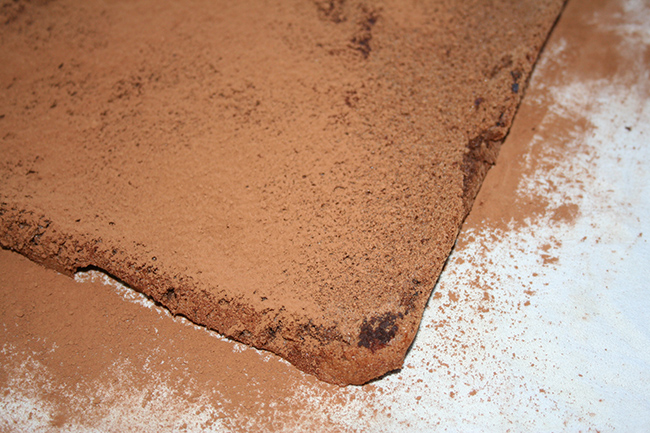 Step 7:
Roll the towel with the cake from the narrow end, jelly roll style. Place the wrapped unit, seam-side down on a wire rack and let it cool to room temperature.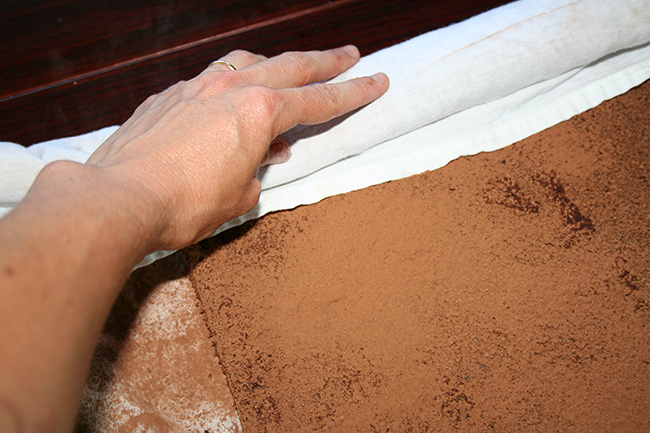 Step 8:
Near the end of this cooling period take your ice cream out of the freezer so that it can soften slightly for the next step. Have a large sheet of waxed paper ready, and make sure that you have a safe spot in the freezer to put your cake once it's rolled.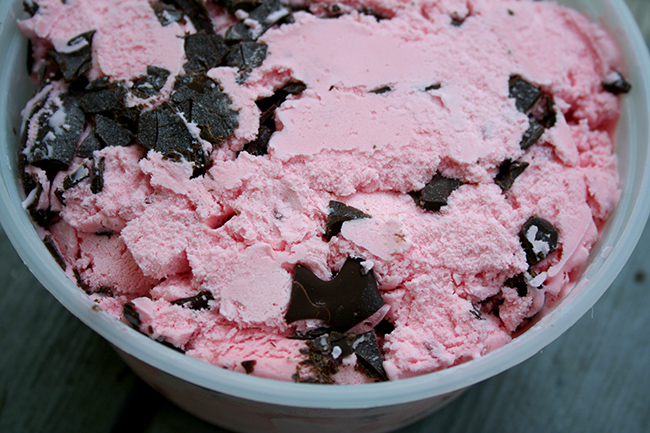 Step 9: 
Unroll the cake. Spoon the ice cream evenly over the surface. Using a spoon or spatula, smooth the ice cream so that it creates an even layer on top of the cake, covering the surface. You want to work fairly quickly here because the ice cream will melt as you work.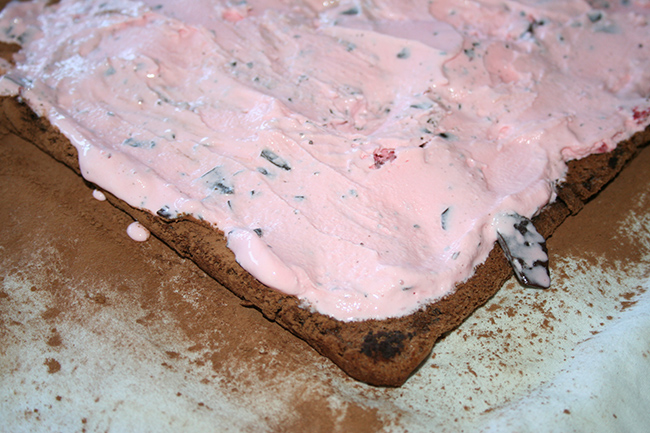 Step 10:
Re-roll the cake, with the ice cream inside. Wrap the whole roll in waxed paper, making sure to seal off the ends, which helps minimize the melted ice cream mess.
Place the cake, seam side down, in your freezer and let it chill for several hours before serving. The cake may slightly flatten during the freezing time but that's OK.  Serve in slices and store any leftovers immediately in the freezer after slicing.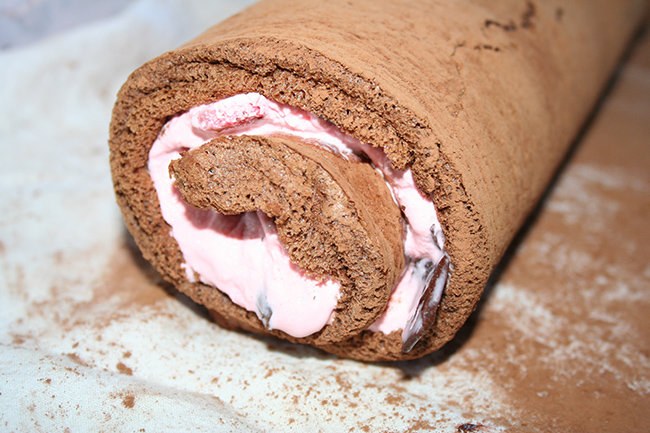 Want to master more frozen delights? Check out Craftsy course Bigger Bolder Frozen Desserts: Ice Cream, Gelato, and More! You'll learn the basics of making ice cream, gelato, and sorbet, and will also score some sweet recipes for desserts to make with your homemade frozen treats.