Everything about cooking homemade chicken soup is good. It heals the sick. It soothes the soul. It's cheap and filling and nutritious. Make a big pot, eat some for dinner, bring some to work for lunch, take some to your friend who just had a baby and freeze some for later when there's no time to cook. A pot of chicken soup feeds many and is meant to be shared! So go ahead, slurp up!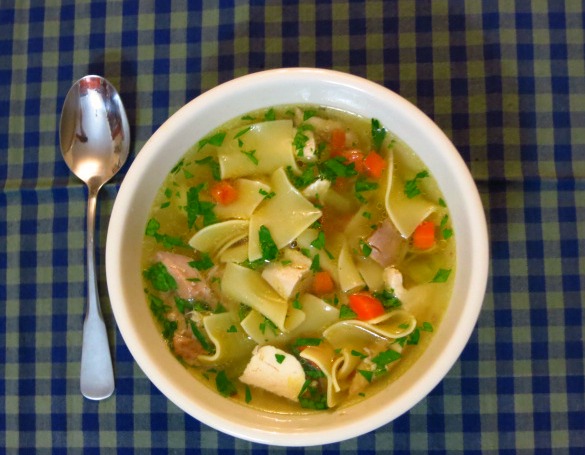 For every person who has glowing childhood memories of chicken noodle soup, there is another with slightly less appealing recollections. Some recall steaming bowls of grandma's homemade chicken soup with juicy chunks of meat, hearty vegetables and tender noodles. Others remember flavorless, gray-ish chicken and mushy, disintegrating vegetables, the product of hours of boiling followed by indifferent seasoning.
But, armed with a great recipe as well as a few tips and tricks, you can learn to make the kind of chicken soup that inspires smiles, hugs and instant nostalgia!
Secrets for the ultimate chicken noodle soup!
The broth
You will never achieve chicken soup excellence with store-bought stock. Some recipes call for you to simmer your chicken in pre-made stock as a shortcut, which is perfectly fine. Personally, I make my soup the old-fashioned way, with a whole chicken, aromatics and water.
It's essential to use chicken with bones to make a broth that's not only richly flavored, but also has that silky, palate-satisfying texture. You can use a whole chicken, or a bunch of legs and thighs. To further intensify the broth, throw in extra wings, necks or any bones you may have saved in the freezer from the last time you roasted a chicken.
The collagen in the chicken's bones and connective tissues is what gives homemade broth its luxurious texture. In fact, you can really take your broth to the next level by adding chicken feet (available at most Asian markets). Their high collagen content makes the broth extra silky.
The meat
It's crucial to simmer the chicken long enough to extract all of that good stuff. But, here's the number one challenge of homemade chicken soup: how do you simmer the chicken long enough to make a rich, savory broth without cooking all the flavor out of the chicken?
I set out to solve this conundrum by cutting the chicken into smaller pieces rather than putting it in the pot whole. By exposing more surface area, and cutting right through some of the bones, the water would have direct contact with more of the meat, collagen and marrow, giving it more flavor in less time. However, I left the breasts whole. Because their white meat cooks faster and dries out more readily than dark meat. I wanted to be able to pull them out of the broth as soon as they were cooked through.
The vegetables
The next element of perfect homemade chicken soup is the vegetables. The classic trio is onions, carrots and celery. They, like the chicken, give flavor to the broth as it cooks, but they also have the potential to become bland and mushy when cooked too long.
I solved this by using a double dose of vegetables. The first set was just to flavor the broth, and I chopped the vegetables in big pieces, so they'd be easy to fish out and discard. The second set of vegetables was for the soup itself. I cut them into a medium dice and sauteed them gently for about 10 minutes, until the onions were soft and the carrots and celery were tender but still had a little bit of bite to them.
By adding the vegetables to the soup right before serving, they retained their own flavors rather than blending, giving the soup new dimensions of taste and texture.
The noodles (or rice, barley…)
Noodles are a classic choice for this soup, but rice certainly has its fans, most famously acknowledged by Maurice Sendak. If you want to walk on the wild side, how about barley, farro, wild rice or bulgur? Just like with the vegetables, I prefer to cook my starches separately and add right before serving, to avoid the dreaded mushiness.
Even with the noodles, I like my soup with a side of crusty bread for dipping. Check out the Craftsy class Artisan Bread Making to learn how to make delicious fresh bread to pair perfectly with your soup!
The seasonings
The only essential seasoning for chicken soup is salt. Don't even think about serving the soup without adding salt. Some freshly cracked pepper wouldn't go amiss while you're at it, although some may argue that it spoils the aesthetics of the blond broth.
Lots of people like to finish it off with a sprinkle of fresh herbs, too. I am an advocate of parsley, but there is a strong pro-dill faction out there too.
Finally, you may want to add a little bit of acid to brighten the flavor of the soup. Some may think it mars the purity of the chicken flavor, but for me, a little squeeze of lemon makes a big difference. You could also try cider or white wine vinegar. If you're not sure, ladle out a small bowl of the finished soup and add a little bit of acid to see if you like it.
The variations
The perfect classic chicken soup is delicious, but you can build on this foundation to make other kinds of soup. Try these fun variations:
Veggie filled: Add mushrooms, green beans or spinach.
Asian-inspired: Add ginger, star anise and extra garlic along with the other aromatics. Finish it off with rice noodles.
Mexican-style tortilla: Add chopped chipotles in adobo, a squeeze of lime and a garnish of tortilla strips and avocado.
With a chicken in your pot, you're ready to make a lifetime's worth of delicious, soothing homemade soup.
Classic homemade chicken soup recipe
Makes approximately 4 quarts
1 whole 4 1/2 to 5 pound chicken
2 medium onions
5 medium carrots
5 stalks celery
3 cloves garlic
10 parsley stems
1 sprig thyme
1/2 teaspoon peppercorns
1 bay leaf
3 tablespoons olive oil
8 ounces wide egg noodles (optional)
1/2 cup chopped parsley (optional)
Juice of 1/2 lemon (optional)
Salt and pepper to taste
Step 1:

Cutting the chicken into smaller pieces exposes more meat and bone, flavoring the broth quicker.
Cut up chicken by first removing the backbone with kitchen shears, then spreading it out, skin side up, on a cutting board. Use a cleaver or chef's knife to separate wings, thighs and legs. Then cut each piece in half or thirds. Separate breasts, but leave them whole.
Step 2: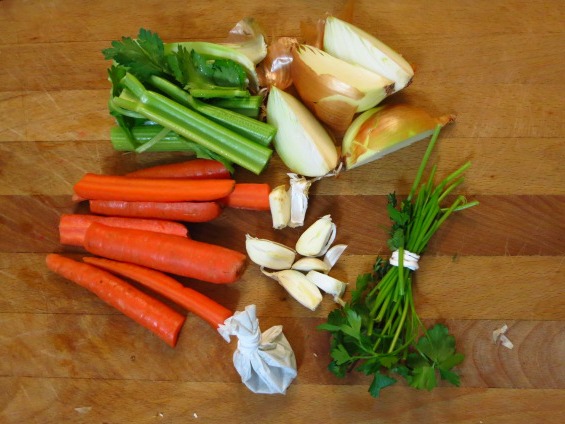 Leave the aromatics in big enough pieces that they're easy to scoop out of the broth when it's done simmering.
Cut one of the onions into quarters, through root end (do not peel). Cut two of the carrots and two of the celery stalks in half lengthwise, then in half again crosswise. Cut each of the garlic cloves in half.
Bundle the parsley stems and thyme sprig together with butcher's twine or a food-safe silicone band. Bundle the peppercorns into a piece of cheesecloth or a coffee filter and tie closed with twine or silicone band.
Step 3: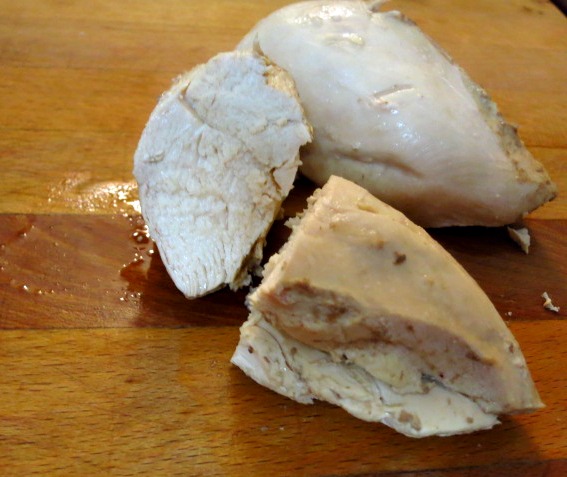 The chicken breasts are perfectly cooked after 20 minutes. No more tough, flavorless meat!
Add chicken and aromatics to a stockpot or Dutch oven and cover with 4 quarts of cool water (use less water if your chicken is under 4 pounds). Bring to a boil. Then, immediately turn down to low, just enough heat to keep it at a simmer.
After 20 minutes, check chicken breasts for doneness. As soon as they are no longer pink in the middle, remove from pot and set aside. Allow remaining ingredients to simmer another 30 minutes.
Step 4: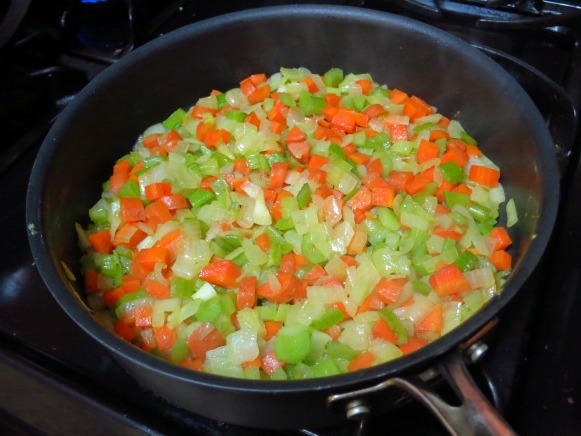 Sauté the onion, carrot and celery separately. Add to the soup just before serving so the vegetables retain flavor.
While the broth simmers, cut the remaining onion, 3 carrots and 3 celery stalks into a medium dice. Heat 2 tablespoons olive oil in a large skillet and sauté vegetables over medium heat until carrots are tender but still firm, about 10 minutes. Salt to taste and set aside.
Step 5:
Cook noodles according to package directions. Drain and toss with remaining 1 tablespoon olive oil.
Step 6: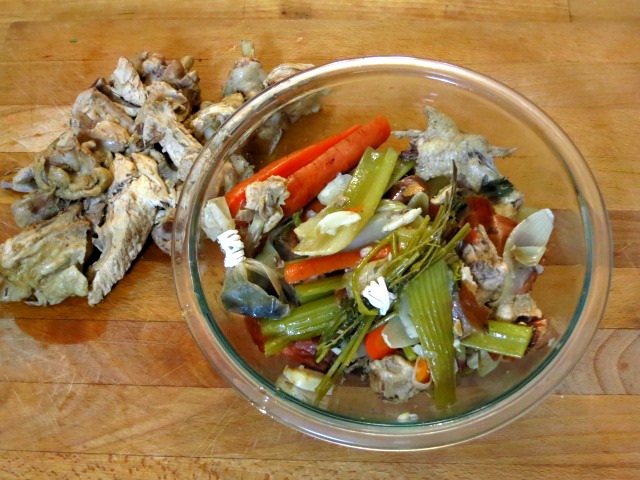 The aftermath of the aromatics. All their flavor is in the broth!
After broth has simmered about 50 minutes, turn off the heat and remove chicken thighs, legs and wings. Allow to cool a few minutes, then pull the meat off the bones, discarding the bones. Now, you can also dice or shred the chicken breasts.
Remove any remaining aromatics and bones from the broth and discard them.
Step 7: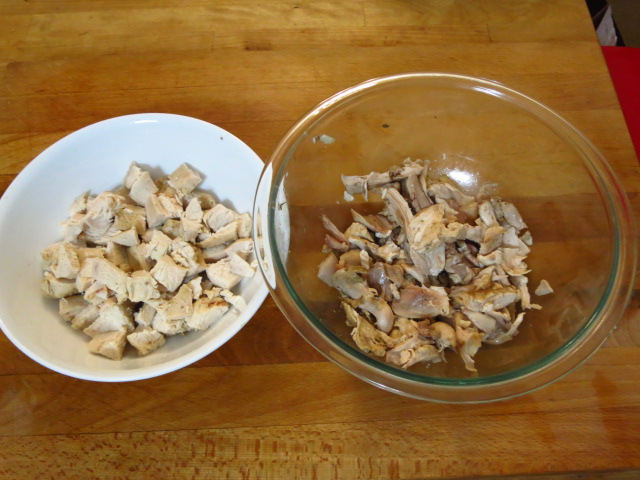 Perfectly cooked, still-flavorful chicken, ready to be added back to the broth.
Add chicken and sautéed vegetables to strained broth. Season to taste with salt, pepper and lemon juice, if desired.
Add noodles and fresh herbs only to the portions of soup you plan to eat right away. Store the remaining noodles and herbs separately and add them to the soup each time you reheat it.
Step 8:
Serve hot, preferably with fresh crusty bread and butter.
To learn even more about using seasoning and more to dish up delectable soups, be sure to take a look at Building Flavorful Soups, offering plenty of expert methods for taking your flavor profiles to the next level.
When is your favorite time to eat homemade chicken soup? Do you have a secret for how to make it delicious?