Chai tea is sweet, creamy and very satisfying. Learn how to make your own homemade chai for endless warming cups!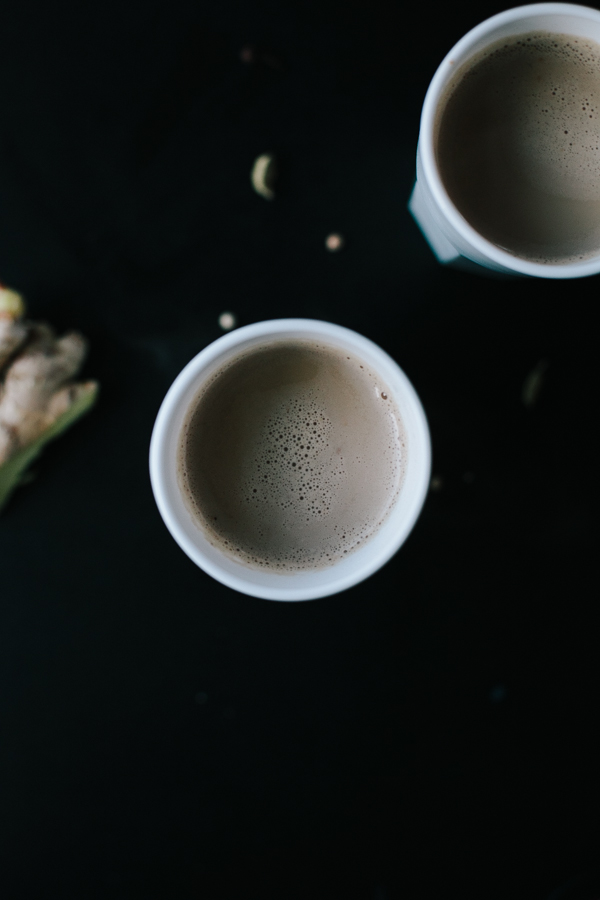 It snowed last Friday. Just enough for the kids to sled down the hill at Grandma's house a few times before they'd run inside to warm up their fingers and toes. One week later there are still traces of snow as the freezing temperatures keep it clinging to roof tops, power lines, and little corners where the sun rarely hits.
For many parts of the country this is normal but for us in Seattle we aren't used to continuous days of freezing temperatures. So my solution to our cold spell: Homemade Chai Tea.
You all know I'm weak when it comes to a cup of hot cocoa but for everyday drinking a cup of spicy chai in the afternoon not only curbs that sweet craving that seems to always come knocking about 3:00 pm but it also gives a bit of a caffeine pick me up during the part of the day where I really could use it. Of course you could use decaf tea if you'd prefer to slowly sip this sweet and creamy tea in the evening.
The base of the tea is made of sweet spices that are toasted to bring out their flavor. There is ginger and peppercorns for a warming heat and cinnamon, cloves and cardamom for a nod towards all things sweet. The recipe below is the one I prefer; heavy on cardamom, just enough heat and a heady punch of ginger. But you can feel free to adjust the ratios to your taste. I also prefer mine quite creamy so the amount of whole milk in my recipe might me more than what you'd normally see, so again, feel free to play around with this.
Freezing temperatures or not (try it iced!) a spicy homemade chai is as satisfying as it is comforting. Try it for yourself!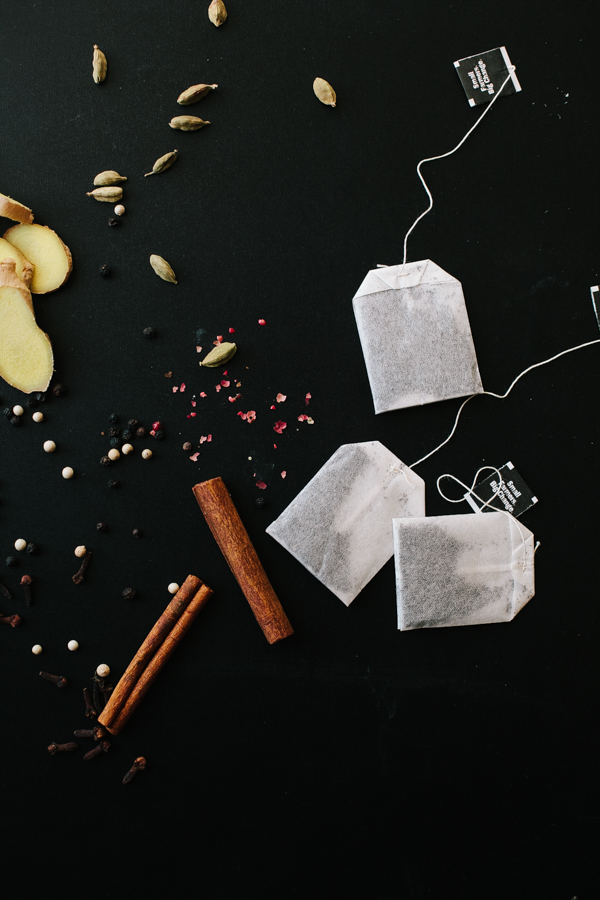 Chai tea is a mixture of toasted spices brewed with black tea then milk and sugar or honey are added. In this recipe we use cinnamon sticks, fresh ginger, black peppercorns, cloves, and cardamom.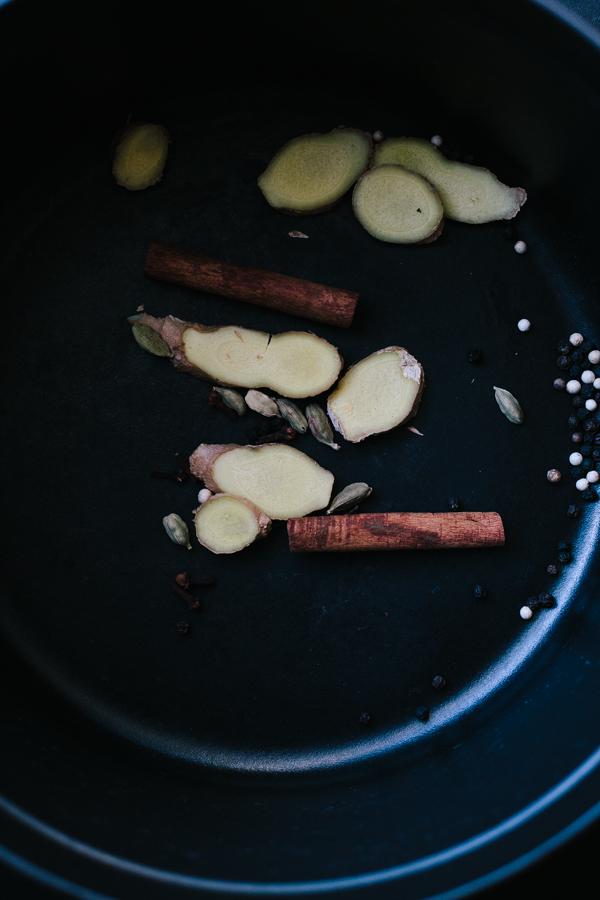 The spices are toasted and smashed in a dry pan over medium low heat to bring out their flavor giving the tea a real strong spiced flavor.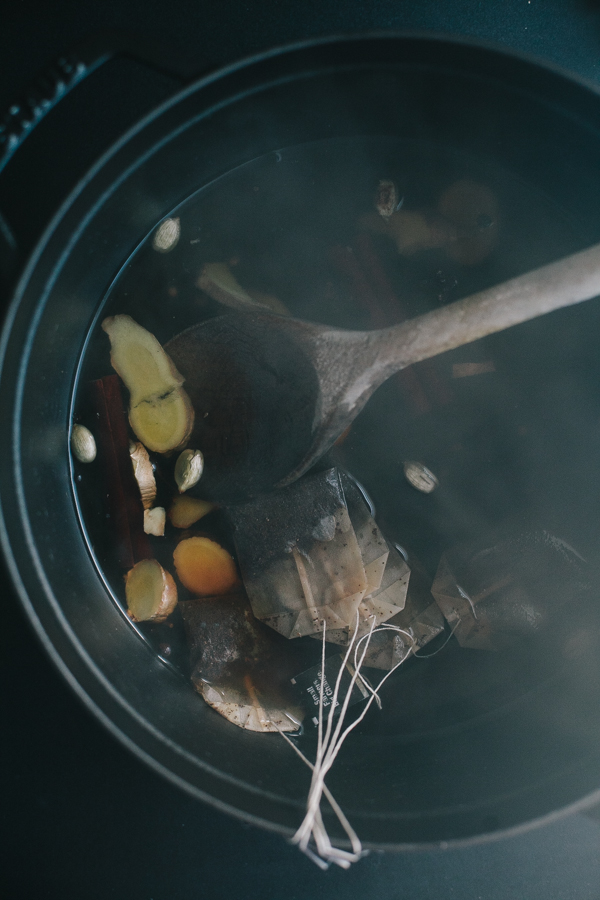 After the spices are toasted water is added them brought to a boil to essentially make a tea from the toasted spices. Then black tea is added and let to steep.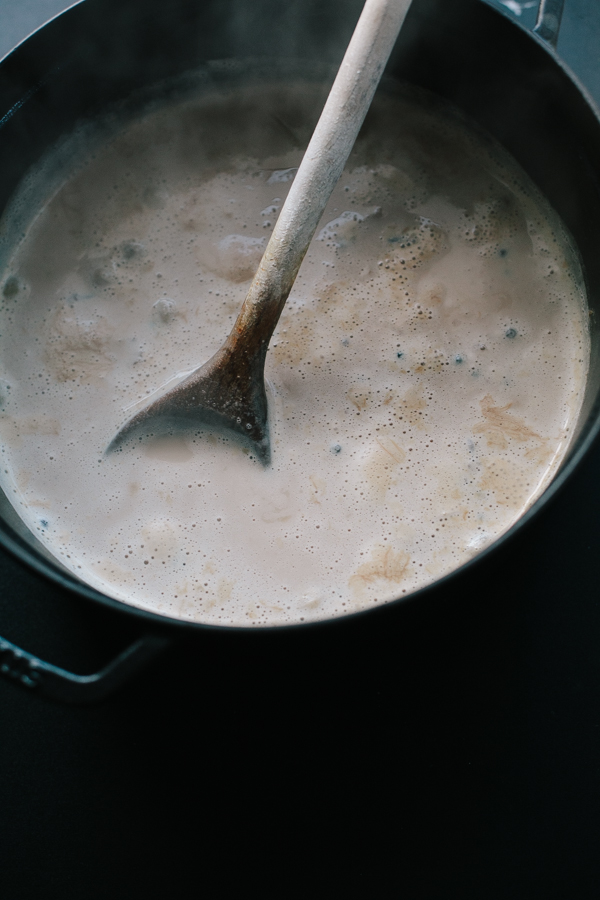 Finally the milk and sweetener is added once the tea bags have been removed. It is all brought back to a boil and then ready to serve.
Homemade chai tea
Serves 6-8
Ingredients:
3-inch piece fresh ginger, thinly sliced
2 cinnamon sticks
2 teaspoons black peppercorns
10 whole cloves
8 cardamom pods
4 cups water
6 black tea bags
3 cups whole milk
1/3 cup packed dark brown sugar (or honey)
Directions:
1. In a medium saucepan combine the ginger, cinnamon sticks, peppercorns, cloves, and cardamom. Toast over medium low heat and crack the spices with a wooden spoon. Toast until deeply fragrant, about 3 to 4 minutes.
2. Carefully add the water then bring to a boil. Reduce the heat and simmer for 10 minutes
3. Remove the pan from the heat then add the tea bags. Let this steep for 5 minutes.
4. Remove the tea bags, add the milk and sugar then bring the whole mixture back to a simmer. Serve.
Storing leftovers
Any leftover chai can be refrigerated for up to 1 week. It makes a great cold drink as well.
You could also make a large batch up to the point where the milk and sweetener is added to have a chai concentrate ready for everyday. Just add milk and a bit of sweetness, warm and serve. The concentrate would keep, refrigerated for 1 month.
Give it as a gift! For a sweet and simple gift idea bundle the spices in a little muslin bag tied with a ribbon and add to that package some black tea.Tuck this recipe into the gift and you're set.