Before we know it, the gift-giving season will be upon us and with that comes the task of wrapping. Big or small, box or bag — attaching your own handmade holiday gift tags not only dresses up the package, it adds an extra special, personal touch. 
Tag tips
Your DIY gift tags need not be the traditional "tag" shape. Use journaling cards, frames or labels with scalloped, stitched or rounded edges.
Include the "to" and "from" portion on the back of your tag. By doing so, the recipient can reuse the tag on another package or even better, re-purpose the tag as an ornamental keepsake. 
Add simple layers, sequins or 3-D elements such as buttons or die-cut snowflakes.
Use small pieces of foam tape behind layers or embellishments to add quick and easy dimension to any design.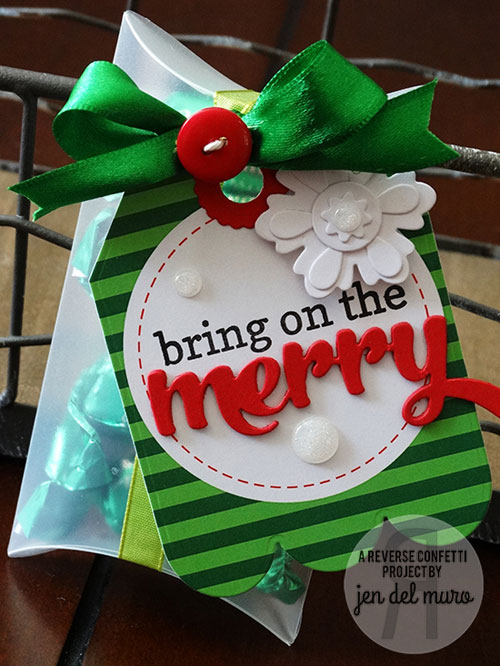 Photo via Jen Del Muro of Reverse Confetti
1. Bold and bright
Jen dressed up a simple, frosted pillow box using patterned paper, a pretty ribbon and a multi-colored sentiment. The edge of the "y" hanging past the side of the tag along with the pretty layered snowflake and scalloped bottom edge add interest, transforming an ordinary box into an extraordinary box.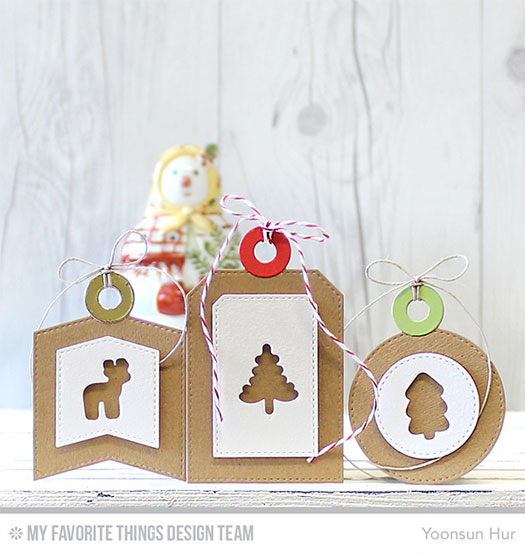 Photo via Yoonsun Hur of Rejoicing Crafts
2. Pretty punches
Trendy stitched die-cut elements make for quick and easy gift tags. Yoonsun added dimension to her design by popping up the negative die-cut panels, creating focal points using the silhouettes of the deer and trees. Pops of color were added using colored card stock for the die-cut loops. Simple and oh-so cute!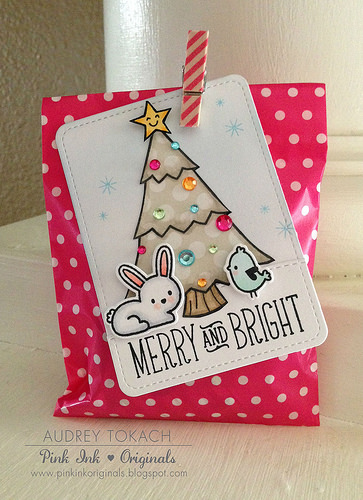 Photo via Audrey Tokach of Pink Ink Originals
3. Journaling card double duty
Audrey creatively used a stitched journaling card as her tag base. The tree is paper-pieced with a subtle pattern, allowing the multi-colored rhinestones to stand out against the background. Additional elements are raised on foam tape, and the tag is adhered to the gift pouch using a small clothes pin, cleverly decorated with washi tape.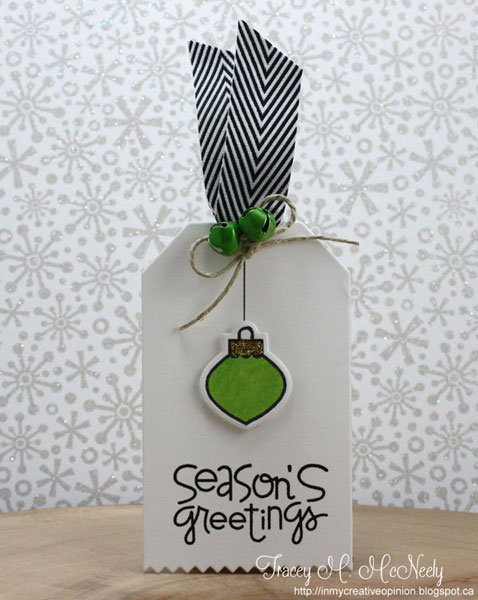 Photo via Tracey McNeely of In My Creative Opinion
4. Jingling accents
Tracey's clean and simple design uses a large sentiment with a popped up die-cut ornament "hanging" from hemp cord. The wide ribbon and die-cut edge add a bit of pattern and texture while the jingle bells create interactive fun.
Photo via Jill Foster of Studio Sessions, featured in The CLASSroom
5. Mixed media magic
Jill used a mixed media approach in creating her stunning tag using gesso, embossing powder and gelatos. The reindeer and delicate die-cut snowflakes pop among the non-traditional oranges and yellows. Everything ties together beautifully with the bright purple ribbon, rhinestones and die-cut sentiment.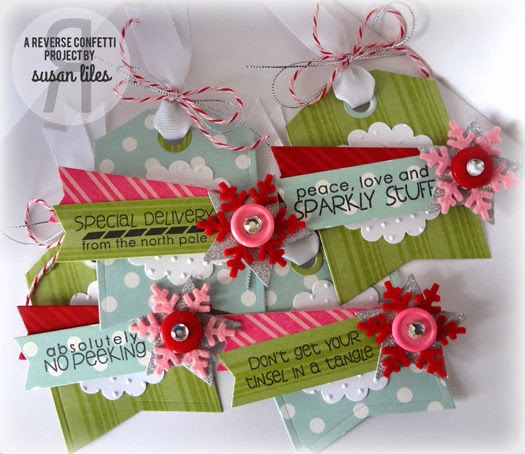 Photo via Susan Liles of Susie Stamp a Lot.com
6. Fun phrases
Susan used white scalloped circles to offset the space behind the layered flags on her tags. The centers of the snowflakes add interesting detail and the quirky sentiments are unexpected and fun!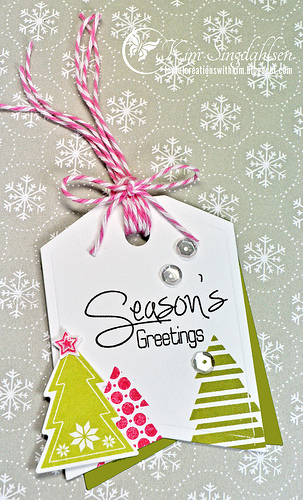 Photo via Kim Singdghlsen of Joyful Creations with Kim
7. A pop of pink
Kim used lime green with an unexpected vibrant pink in her design. The offset tag beneath the base creates definition, while the die-cut tree over the edge adds interest and the sequins sprinkled about add just a bit of shine. The pink baker's twine finishes off the tag, perfectly pulling all elements together.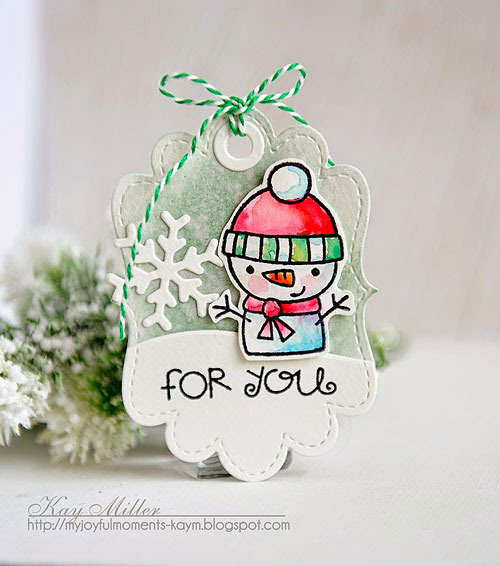 Photo via Kay Miller of My Joyful Moments
8. Wee watercolors
Kay die-cut all elements of her tag from watercolor paper. She used a fancy scalloped-edge frame as a tag base then sponged and spritzed with distress ink to create the background for her darling watercolored snowman.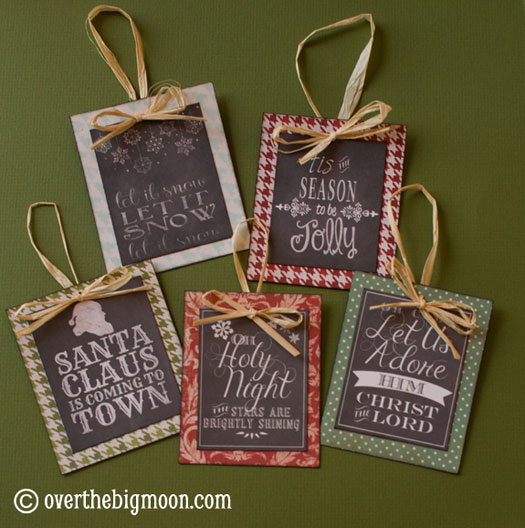 Photo via Pam Dana of Over the Big Moon
9. Chalkboard printables
Pam used free chalkboard printables to create quick and easy ornaments which also work perfectly as tags. After reducing the prints to size, she printed them, matted each onto patterned paper and tied with raffia. Cute and fast!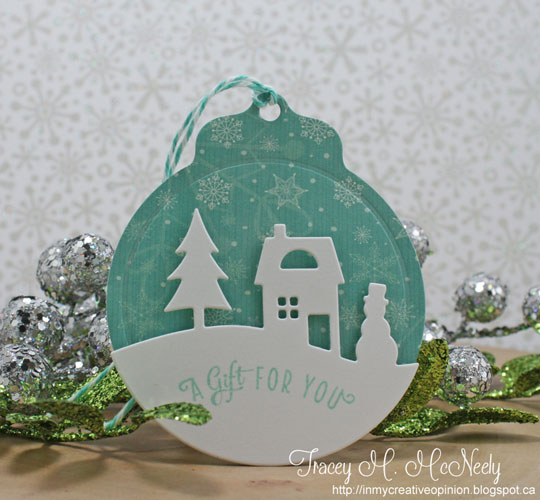 Photo via Tracey McNeely of In My Creative Opinion
10. Serene silhouette
Tracy used an ornament die with a coordinating silhouette to create this clean and simple tag. A touch of shadow behind the tree, house and snowman comes from adhering foam tape beneath those portions of the silhouette.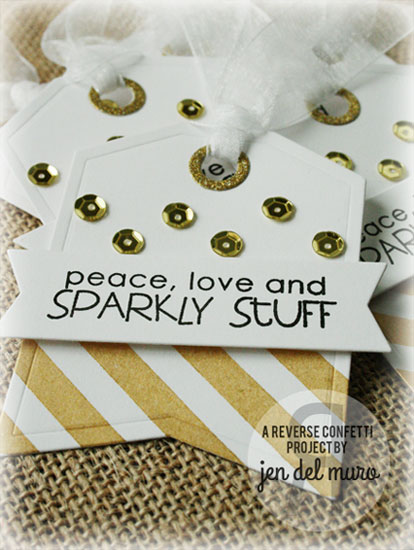 Photo via Jen Del Muro of Reverse Confetti
11. Sparkly stuff
Jen used a pattern of gold sequins to add sparkle and shine to her clean and simple tag. The gold striped paper and glitter ribbon ring create perfect balance from top to bottom. And let's not forget that fun sentiment, stamped and popped up on foam tape.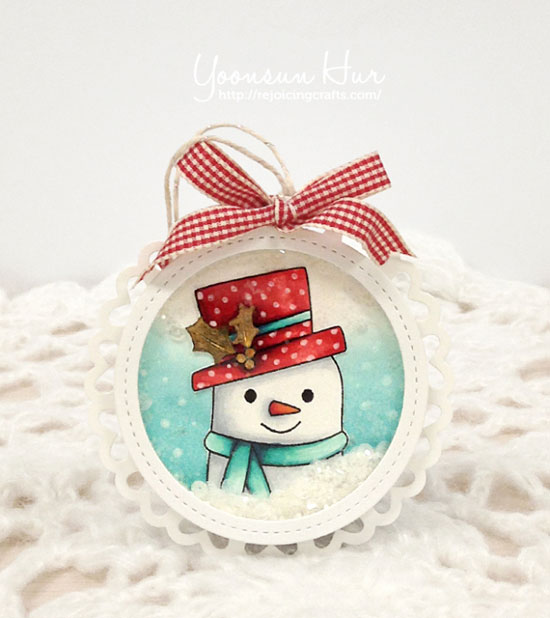 Photo via Yoonsun Hur of Rejoicing Crafts
12. Shake it up
A fun shaker tag showcases a beautifully colored snowman. The designer colored and framed just the top portion of the stamped image, added clear sequins and glitter, and framed her design with a stitched border and scalloped circle. Too cute for words!