Requests for show-stopping cakes that replicate real life items are on the rise and these fabulous fashion-inspired cakes certainly are no exception! Creating intricate and stylish, high-heel cakes and cake toppers are perfect for chic parties. Plus, they're quite the conversation starter. Take a look at these gorgeous edible stilettos and pumps and get inspired to make your own pair today!
Here's our haute couture list of 5 inspirational high-heeled shoe cake designs…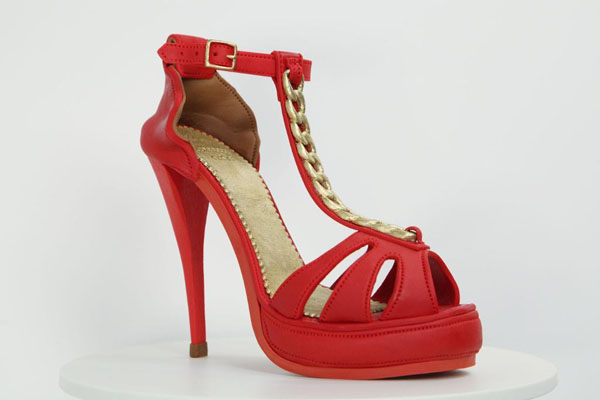 Photo via Craftsy instructor Elisa Strauss
Red stiletto heels
These are definitely statement high-fashion shoes… and they're edible too! On this heel, it's the small details that really add the wow-factor — such as the tiny gold buckle, intricate stitching and gold-painted metal chain! With a stunning pastillage shoe as realistic as this, you'll be forgiven for attempting to try them on.
When it comes to designing and creating your own high-fashion shoe cake a great tip is to take inspiration from real life shoes. Research high-end department stores online or look through various runway shows for eye-grabbing designs that are simple yet have striking detail. Just remember to be selective!
To help create eye-catching edible shoe cakes why not head on over to Craftsy instructor Elisa Strauss' helpful post where she shares her recipe and tutorial on how to make pastillage!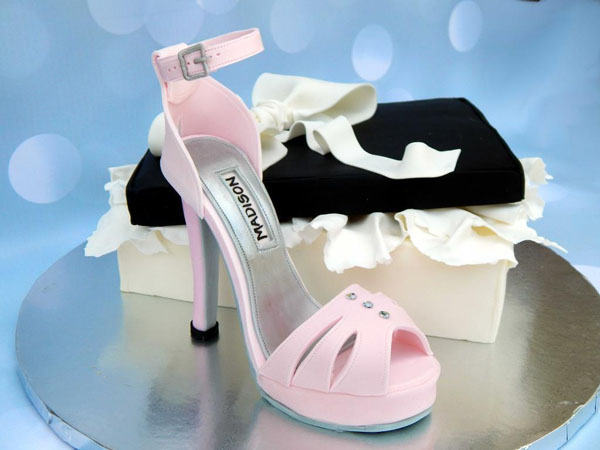 Photo via Craftsy member Sprinkles CS
Pink high heel with show box cake
This blush pink heel and shoe box cake is a fun way to celebrate any chic event. We love the added personalisation of piping or hand painting the lucky recipient's name on the shoe label. Why not even create a pastillage price tag complete with their age for a birthday or a gift card featuring a thoughtful message?
Playful cakes like this lend themselves to a whole host of customisation ideas from added fashion accessories, personalised monogram designer prints (think Louis Vuitton), adding names or greetings via fondant ribbon or shopping bag logos, etc. For an added luxury element, you could design a logo of the recipient's name or initials — what a fabulous way to make someone feel extra special!
For some valuable ideas and advice on adding lettering and monogram designs to your cakes enroll in Nicholas Lodge's Custom Letter & Monograms class now!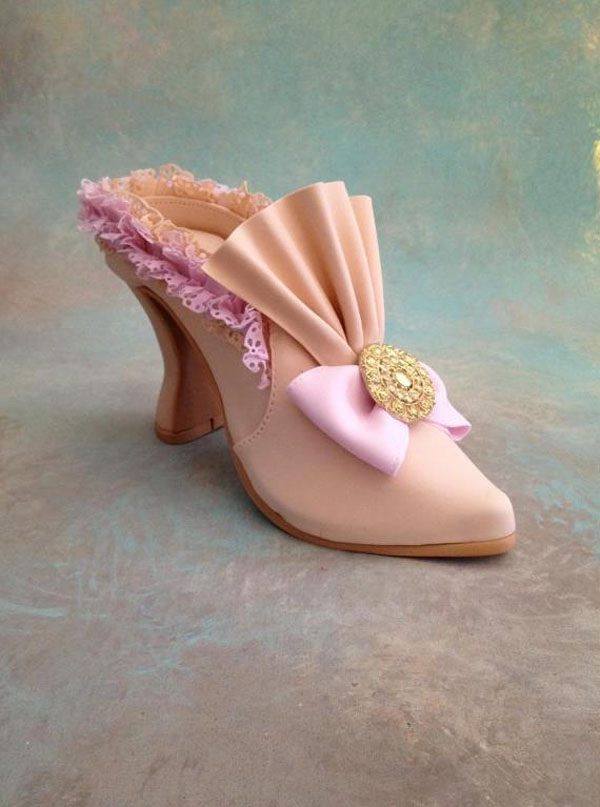 Photo via Craftsy member irezoagli1150229
Marie Antoinette-inspired heel
Take inspiration from vintage and historic fashion and design an edible piece of costume like this dainty Marie Antoinette heel. We especially love the ruffle lace, fanned fondant detail and the glimmering brooch set on the front. This quirky, antique-inspired shoe would be perfect perched on a swag bordered cake on a damask stenciled board for an added touch of old fashioned decadence.
For any fashion and history aficionado a cake featuring some delightful costume influenced detail is a perfect match. Look into any favourite fashion movements of the recipient; pay attention to more historic fabric styles such as chintz, brocade or toile de jouy for color or print ideas; and make sure to take note of shoe and heel shapes as different eras tend to feature different silhouettes!
To master jeweled details fit for royalty sign up for Marina Sousa's Jeweled Wedding Cake class for some stunning design ideas and tips!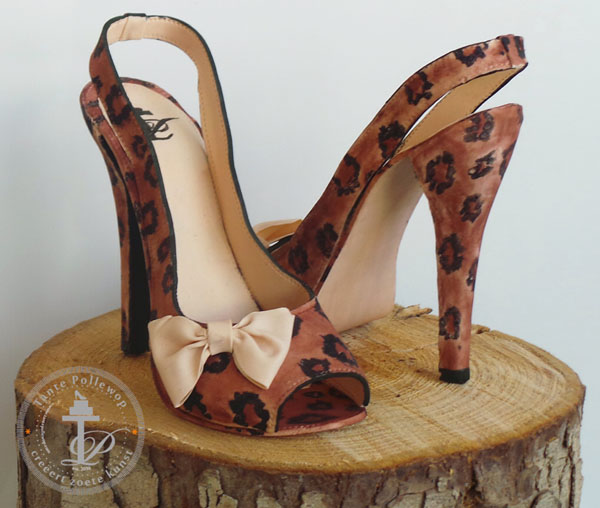 Photo via Craftsy member Tante Pollewop
Leopard print shoes
Add a bold statement to your next fashion influenced cake and hand paint patterns and prints to your edible heels! These flirty sling-backs feature soft fondant bows paired with a daring leopard print for a playful look. Why not combine these with bright sugar roses and peonies and a quilted cake board for a super chic cake!
Before you begin painting onto your edible shoes test your cake paints on some rolled out gum paste or pastillage to check your colors. If you need any extra pointers, check out our top 5 tips on using and making edible cake paint.
If you're new to painting onto cakes why not try Erin Shaefgen's FREE The Hand-Painted Cake mini-class for some top tips and how-tos!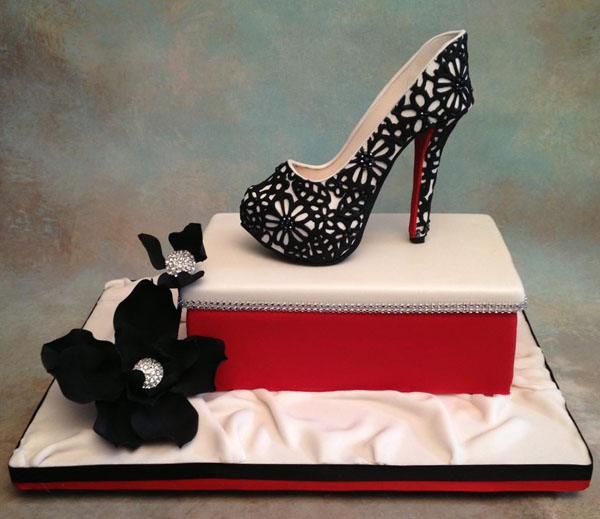 Photo via Craftsy member irezoagli1150229
Floral, lace gum paste high heel
Wow. These glamorous Christian Louboutin-inspired heels would absolutely make the perfect birthday cake for any fashion appreciating sartorialist! The balanced and strict color palette of red, black, silver and ivory help make this cake a definite eye-catcher. We love how the lace on the shoe itself is mimicked by the styled anemone flowers and that the diamanté detail is carried on throughout the design too.
When working on any cake it's important to be a little playful with your design. Think of some ways to incorporate something that makes your client feel as though they've gotten a little extra with their already bespoke order. It's little things like this that help keep you and your work in mind for someone's next event!
Create beautiful anemone flowers with the help of Nicholas Lodge's Classic Sugar Flowers class that will make your cakes really stand out in the crowd!
Creating an impressive high heel cake will make you the star of the show at any event. Guests and clients will stop in their tracks over the realistic stitching, fanciful design, and on-trend look as well as wondering just how you created such a feat… with sugar! Why not surprise someone with their dream designer shoe at a fraction of the price tag for their birthday?
Put your best foot forward and sign up for Elisa Strauss's High-Fashion Heel Cake class today to make stylish cakes ready to impress!
Which high-fashion designer shoe do you dream of recreating in cake?