You don't have to dig too far into the wonderful world of quilting to come across hexagons. Quilt patterns have featured this six-sided shape for hundreds of years. According to MuseumLink Illinois, the earliest dated hexagon template goes all the way back to 1770 England. Popularity rose quickly amongst British quilters, and by 1830 hexagons were one of the most popular quilting patterns around.
Once the pattern made its way to the United States, its popularity grew readily. This reached its culmination around the 1920s and 30s, with many woman hand stitching Grandmother's Flower Garden quilts. It was the perfect quilt pattern of the time. Women hand pieced hexagons that were easily sewn out of scraps and featured bright beautiful colors, reminiscent of a flower garden, in an otherwise dark and difficult time. Traditionally each flower in this pattern consists of a center hexagon (sometimes yellow like a real flower's center) circled by 6 hexagons, and then circled again by another 12. Solid hexagons are sometimes used in between each flower to separate them.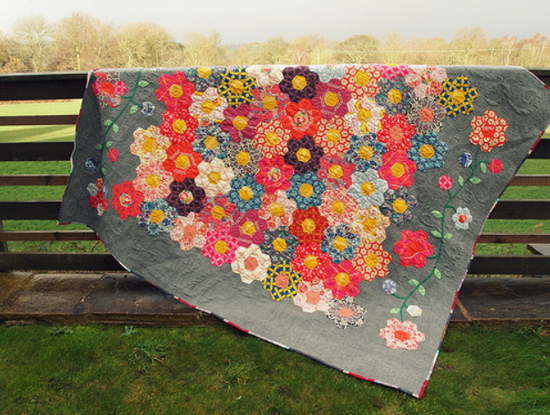 Photo via Hexy MF quilt by Katy Jones
Hexagons were originally made by English paper piecing. Templates cut out of paper are used to form the shape. Fabric is cut slightly larger than the template, at least ¼" on each side. The template is layered against the wrong side of the fabric, the edges are folded over it, and then basted together to create the hexagon shape. In general, the template remains inside the fabric hexagon until they are hand stitched together from the back using a whipstitch. At this point, the paper templates can be removed and possibly reused. Take a more in-depth look at English paper piecing.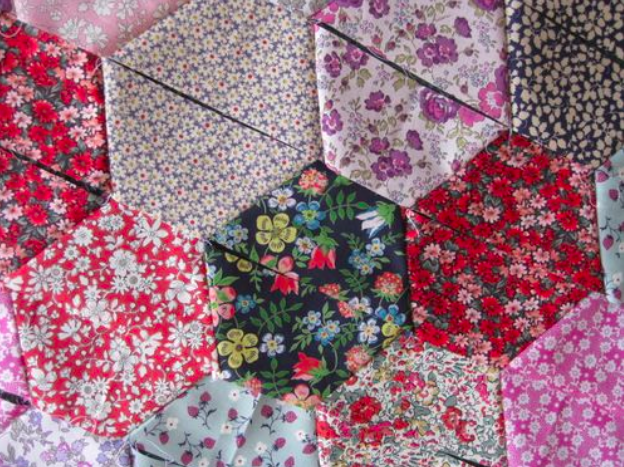 Photo via Half Hexagon Quilt by Aneela Hoey
EPP is not the only way to sew hexagons, they can also be sewn on your machine. One way to do this is by using half hexagons. This is exactly what it sounds like- one hexagon cut into half. What is the benefit to this? When you use half hexagons, you get the full visual effect of hexagons, but easy piecing! The half hexagons are sewn together in simple rows, then the rows are sewn together creating the full hexagons.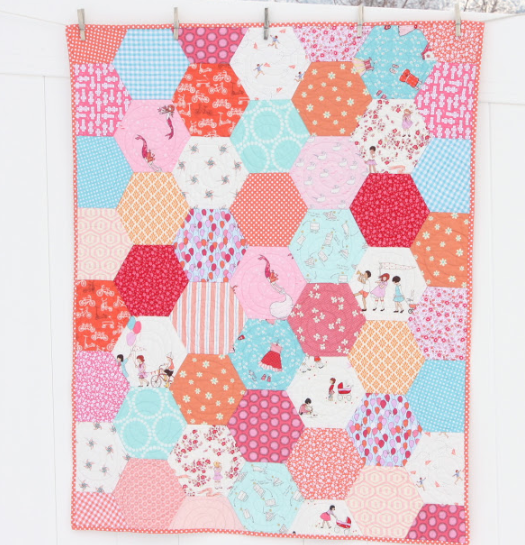 Photo via Hexagon quilt by Amy Smart
Another option for machine sewing is piecing whole hexagons. With careful planning and precision piecing, entire hexagons can be sewn together right on a sewing machine to create a stunning quilt. This type of piecework takes a bit of time, but it is definitely faster than EPP. Head over to Kati Spencer's blog to find a thorough tutorial on machine sewing hexagons, including instructions on how to cut out your own hexagons without using a template. A couple tips? Check out Moda's new honeycomb pre-cuts, or cut out your own hexagons using an AccuQuilt cutter and hexagon die!