To add a touch of texture and fragrance to bouquets, consider adding some redolent herbs to your bouquets. They tend to last well and make inexpensive fillers for bouquets, and the best part is, you can repurpose them for cooking later!
Read on to discover 10 herbs that will hold up particularly well in your herb flower arrangements once cut.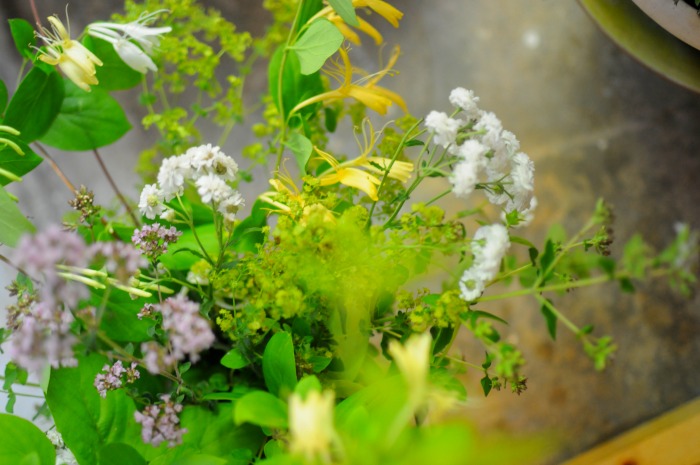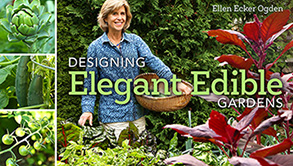 Design a beautiful kitchen garden! Enroll in the Craftsy class Designing Elegant Edible Gardens, taught by renowned food and garden writer Ellen Ogden, and enjoy anytime, anywhere access to your online class and never sweat your purchase with a 100% money back guarantee.
Join Now!
1. Rosemary
The more you cut, the more you'll have! Rosemary lasts weeks in an arrangement, and then once it's dry, you can toss it into your stews and breads. Rosemary makes a great filler for bouquets when used at a taller height than the flowers to offer a wild flavor to arrangements.
2. Sage
Sage is a bit bulkier so it makes an incredible filler to take up space so that you won't need to use as many stems. The tricolor purple-ish varieties look stunning with coreopsis and verbena while the gray-greens always look gorgeous with pink garden roses and alchemilla.
3. Oregano
Oregano is gorgeous when you let it flower. The purple blossoms add gorgeous texture and color to herb flower arrangements.
4. Parsley
Parsley is an unexpected addition that offers a ruffly, green filler for bouquets of helianthus and strawflower.
5. Bay leaves
Bay leaves will last at least a month and look gorgeous in large-scale arrangements, creating lovely curving shapes.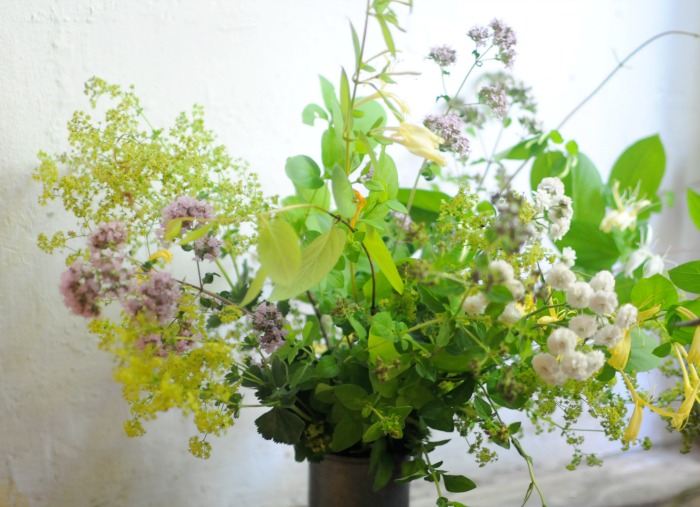 6. Scented geranium
Scented geranium is the florist's favorite summer greenery. The charming scalloped leaves make adorable collars for hand-tied bouquets and fillers for small-scale arrangements. The sweet scents offer a lovely addition to sweet summer garden bouquets.
7. Chives
Add a dash of purple blossoms poking up from little jam jar arrangements. Chives add lovely texture and height to all herbal bouquets or other bouquets with small-scale blossoms like verbena or nigella.
8. Mint
Mint offers a refreshing fragrance that pairs well with sweet garden roses and cosmos. Be sure to condition mint well and clip in the morning. It can be a little sensitive but as  long as it's kept in water and away from bright sun, it will last at least a week.
9. Dill flowers
Dill flowers look stunning in large, wild arrangements. Pair them with pink for a lovely color scheme. They'll dry in the vase in the most charming way.
10. Thyme
Thyme is gorgeous for tiny hand-tied hostess gifts. The stems tend to be shorter, so they are best for charming little bouquets or small tea cup arrangements. You might also enjoy our post on how to grow thyme indoors.
Tips for creating herb flower arrangements
As with any cut stems, be sure to harvest in the early morning or evening when flowers are most hydrated.
Cut stems at an angle, to allow them to drink as much water as possible. Use clean buckets, clippers and vases.
Most herbs will last at least a week or two, and then once dried you can use them in cooking.
Herbs like lemon balm, cilantro and basil can also be used, but they are much more sensitive.
If your herbs start wilting on you, submerge them completely in water, then re-cut and put in a clean jar of fresh water. Watch them perk up and come back to life!
Always keep flower arrangements away from drafts and bright sunlight and try to change the water daily.