Most women are drawn to the romance of lace, ruffles and vintage reproductions so it's a natural transition to translate traditional sewing techniques to new and exciting in-the-hoop techniques.
Heirloom sewing is needlework that imitates the look of French hand-sewing styles created by women in the late 1800s and early 1900s. While traditionally made on a machine, (though it can still be done by hand such as with beads and ribbon embroidery) it can now be recreated with the embroidery units on home-based embroidery machines. Let's get started with our step-by-step tutorial!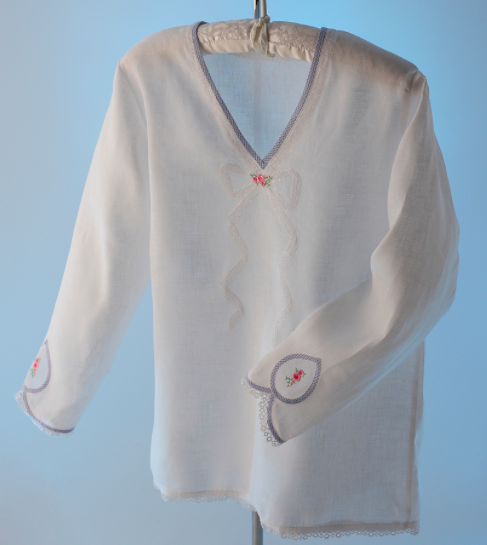 The image above is a good representation of traditional heirloom techniques along with in-the-hoop machine embroidery designs. The lace bow on the bodice is traditional Lace Shaping Flip Flop Bow, which uses heirloom insertion lace, glass head pins, a lace shaping board and delicate wing needle stitches. There are several free videos on the Internet showing lace shaping in action. Click here to see a YouTube video from Sew Beautiful Magazine. The sleeve shows a new in-the-hoop Madeira windowpane technique which is created using some simple embroidery know-how.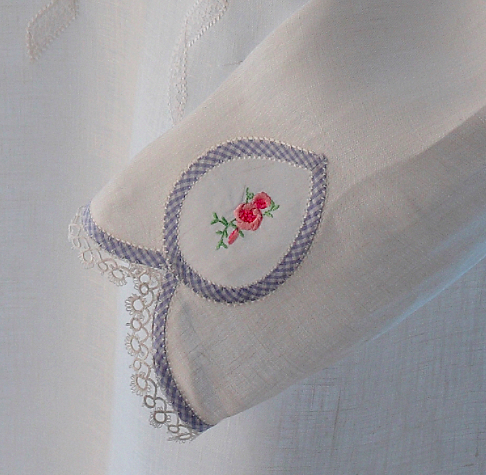 Whether you are creating traditional heirloom techniques or in-the-hoop techniques, both have some common elements that are necessary to keep the vintage feel:
Both techniques use natural fiber fabrics: Cotton, linen, rayon, silk, lightweight wool or a blend of any listed.
Small machine needles: 60-70 universal needle used to join trims, heirloom insertion, heirloom edging or Victorian trims together.
Large machine needles: 100-110 universal or 100-120 size wing needles are used to create delicate holes, spreading the fabric fibers apart for a delicate christening gown appeal.
Threads: Lightweight cotton thread such as Tanne 8o wt thread, Heirloom 100 wt thread, or 60 wt thread.
English cotton netting: English cotton netting is used to create lace trims, or as a base for heirloom machine embroidery and is widely used in Europe to create runway style lingerie from many of the top designers. An interesting fact about English cotton netting is that it is still created on hand looms and takes about a week to make 500 yards, which is the reason for it's high cost ($30.00-$45.00/yd).
Spray starch: Lots and lots of spray starch is used to stabilizer delicate fabrics, laces and English cotton netting.
Madeira appliqué is another heirloom technique that originated from Madeira Portugal which is used on fine linens to created a turned under curved border or shapely hemline which has several steps, when done on a machine, to hide all the raw edges. After creating the curved border it is then applied to a foundation fabric using a "pinstitch" and a large universal needle or a wing needle.
Heirloom Embellishment Created In-the-Hoop
Materials Needed
5" x 7" embroidery hoop
Cotton organdy or silk organza fabric and handkerchief linen fabric
Spray starch
[one_half_last]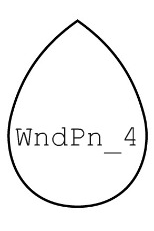 [/one_half_last]
Step 1
Heavily starch linen fabric until it is crisp and hoop the fabric without any stabilizer using a 5" x 7" embroidery hoop. It's best to pre-shrink the fabric by either hand washing in warm water, or wash in a machine on a delicate cycle and then apply several layers of spray starch, ironing in-between each layer of starch.
Step 2
Load the teardrop machine embroidery design (shown above) onto the machine and thread a 70 universal needle with lightweight cotton thread. Place lightweight thread in the bobbin and attach the embroidery hoop on the machine.
Step 3
Embroider color # 1 which is a placement line, stitched on the fabric only. When color # 1 is complete, lay a piece of heavyweight clear water soluble stabilizer on top of the embroidery hoop, making sure the stabilizer is at least 2" larger than the stitching line. Embroider color # 2 which is the same teardrop shape as color 1. Color 2 will attach the stabilizer to the hooped fabric. Remove the hoop from the embroidery arm and take the fabric out of the embroidery hoop.
The concept: Think of the heavyweight water soluble stabilizer as creating a facing for blouse neckline. If you have ever sewn a blouse that had a facing, think about why you created a facing for a blouse! A facing is used to neatly turn under raw edges on the garment, allowing them to turn to the wrong side, which allows for neatly turned under curved edges with no raw edges exposed. Pretend the stabilizer is your facing and the fabric is the blouse. Lets prepare the embroidery so we can use it as we would in a facing on a blouse.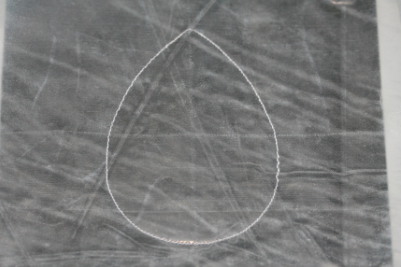 Step 4
Trim away the center of the teardrop fabric and stabilizer, leaving a ¼" seam allowance.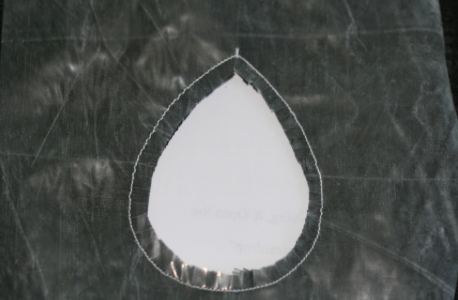 Step 5
Make small snips inside the seam allowance around the teardrop spacing them ¼" apart, making sure you don't trim into the seam allowance.
Step 6
Make a small snip in the point area of the seam allowance, being careful not to cut into the stitching line.
Step 7
Use the stabilizer as a facing and push it through the opening in the middle of the teardrop, bringing it to the wrong side. Manipulate the stabilizer so none of it shows on the right side of the fabric, and use your fingers to carefully smooth the line angles.
Step 8
Use a press cloth to cover the right side of the fabric, and iron the right side using a low temperature setting. On the wrong side, trim away the excess stabilizer leaving ½" of stabilizer. The image below shows the wrong side of the fabric. Notice the stabilizer thickens slightly due to the heat of the iron. Important: Do not use steam, or spray starch, in the iron as this will cause the stabilizer to start to dissolve prematurely causing severe distortion of the teardrop shape.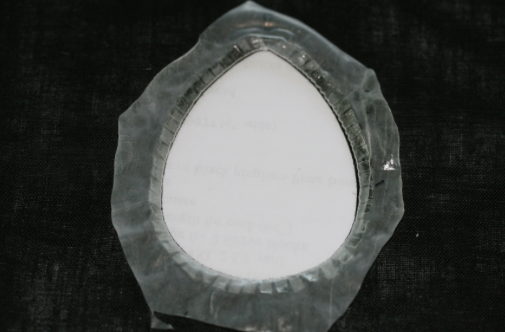 There are some embroidery machines on the market that have built frame shapes that would work for this type of technique. Some machines have a frames category which includes several different circles, ovals, hearts, rectangles, triangles and diamond shapes that would lend themselves perfectly for the Madeira appliqué in-the-hoop techniques. If using the built in designs, look for shapes with a single straight running stitch, rather than decorative or satin stitches.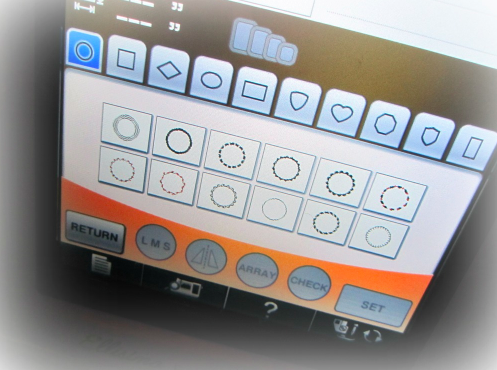 To finish off the pretty Madeira border, just add a piece of embroidered fabric behind the opening and topstitch in place, or if you are seasoned heirloom sewist, use a pinstitch or wing needle entredeux stitch to attach the two pieces of fabric together. Wouldn't it be lovely to add a monogram or pretty rose design behind the opening?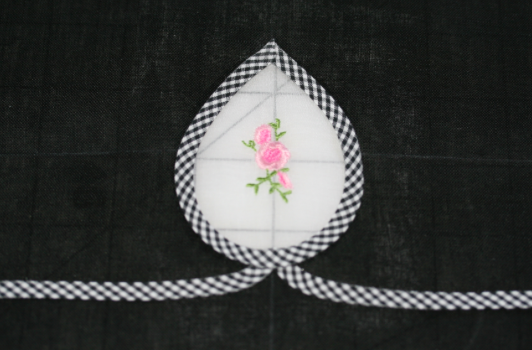 Maybe you are a fan of making garments. How about using this technique to make a large tote bag?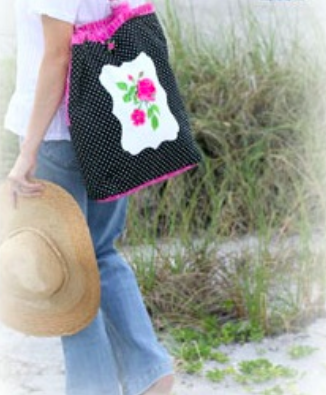 Looking for something new to do? Check out Bluprint's Machine Embroidery Hand-Stitched Looks class on creating embroidery stitches with your machines.