The drudge of winter calls for comfort food. A hearty vegetarian stew is the perfect weekday meal — thicker and more filling than soup, but just as easy to make.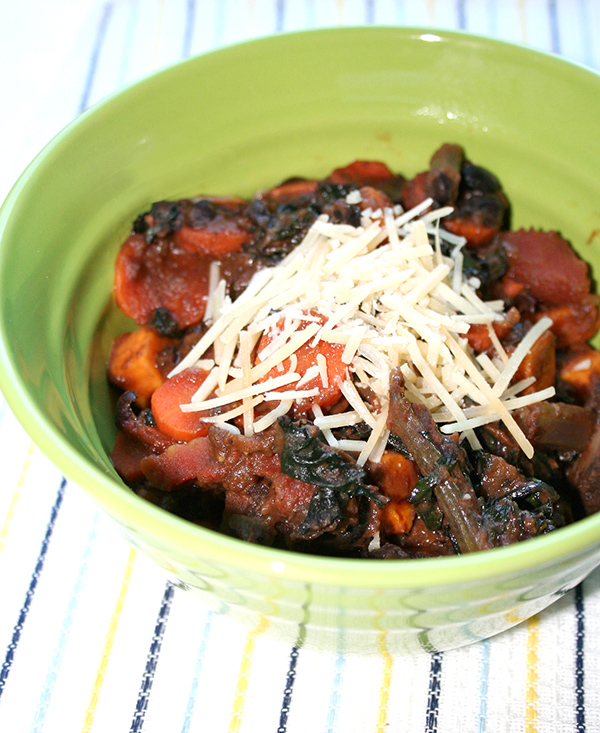 Photos via CakeSpy
This delicious vegetarian stew is a heathy one-dish meal, bursting with flavor. It's made with a beautiful mix of filling root vegetables, earthy mushroom broth and rich black beans. It provides exactly the slow burning energy you need for cold-weather activities, whether you're ice skating, hitting the ski slopes or simply shoveling out the snow from your driveway.
Plus, stews freeze beautifully, so you can make a big batch and thaw it whenever you need a cozy, comforting meal.
Recipe notes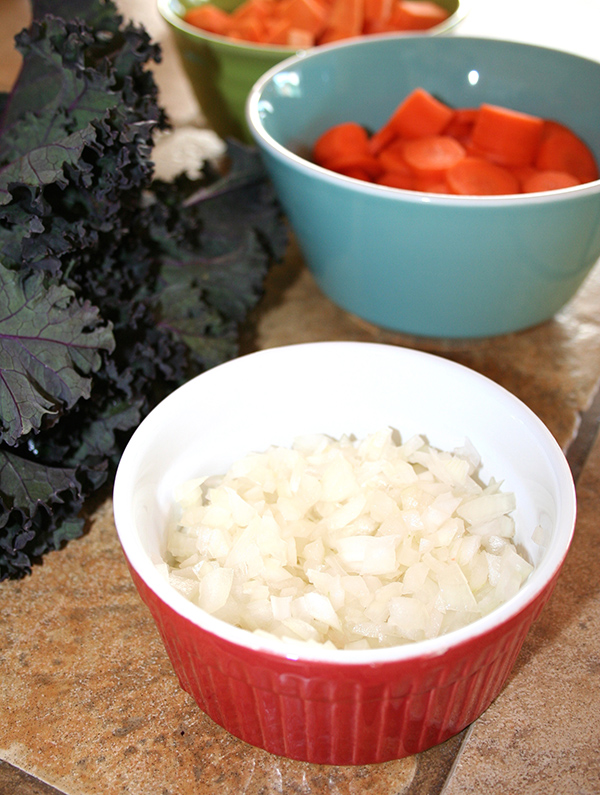 You can freeze portions of veggie stew in the freezer, in freezer bags or containers, for up to 6 months.
If you don't have mushroom broth, you can use any vegetable broth (or even a meat broth, if you are not vegetarian) for this recipe.
Substitutions can be made within reason in this recipe: for instance, yams for sweet potatoes, white beans for black beans, et cetera. It is an easy recipe to adapt.
This recipe is naturally gluten-free, and vegan if you omit the optional parmesan garnish.
Author's note: Looking for a way to use any leftover vegetable stew? I love to serve a small portion in a ramekin at breakfast time and top it with a poached or soft boiled egg.
Black Bean, Sweet Potato and Kale stew
Adapted from Whole Living
Makes 4 servings
Ingredients
2 tablespoons extra virgin olive oil
1 small onion, diced
1 clove garlic, chopped
2 carrots, peeled and cut into thin coins
Coarse salt, freshly ground pepper, and any other seasoning of your choice
1 can (15 ounces) whole tomatoes, chopped (juice reserved)
1/2 pound sweet potatoes, scrubbed and cut into cubes
1 can (15 ounces) black beans, rinsed and drained
3 cups mushroom broth
1 bunch kale (1 pound), stems removed and leaves torn into small pieces
2 cups water (optional, to thin while cooking)
1/2 cup freshly grated Parmesan (optional)
Note: International readers may enjoy our handy metric conversion guide.
Directions
Step 1:
Heat the oil in a large stock pot over medium heat. Add the onion and garlic and stir frequently until the onions have progressed through translucence and begin to brown, up to 10 minutes.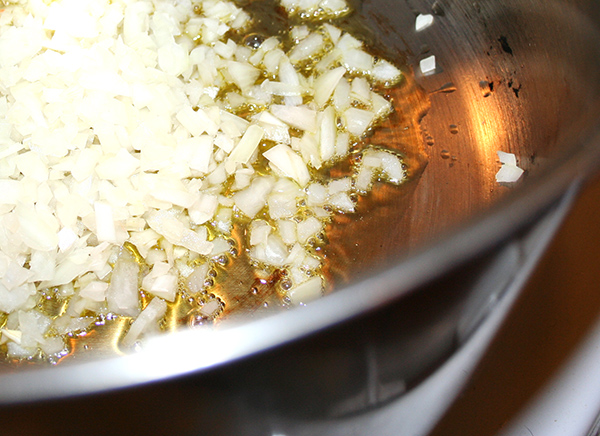 Step 2:
Add the carrots, sweet potatoes, and a bit of salt and pepper. Cook the vegetables until lightly tender, about 10 minutes on medium heat.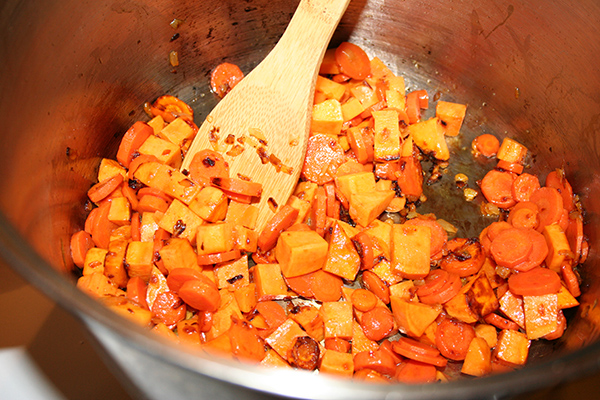 Step 3:
Increase heat to medium high and add tomatoes and their juice. Cook, stirring, until mixture begins to caramelize, less than five minutes.
Step 4:
Add 3 cups of mushroom broth and the black beans. Bring the mixture to a boil, and reduce heat. Simmer until the potatoes and carrots have become nice and soft, about 10 minutes.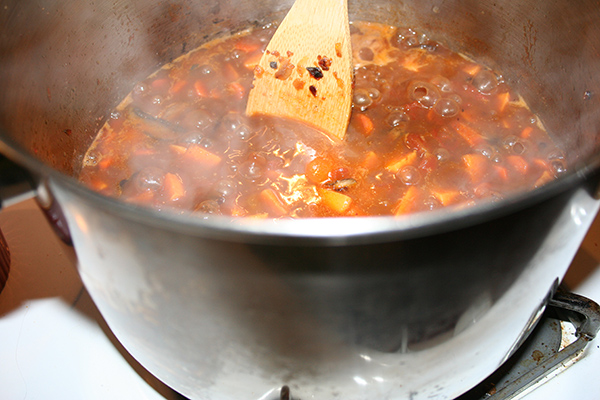 Step 5:
Add the kale. It will seem like quite a lot of kale at first but it will quickly reduce in size once it is added to the hot mixture.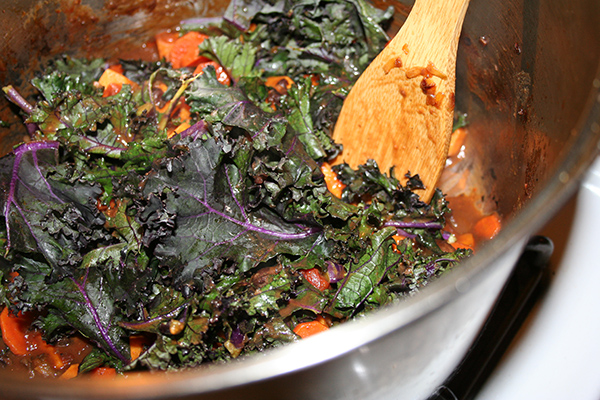 Step 6:
If necessary, add the extra liquid, up to 2 cups of water, a little at a time. You may add just a small portion of the extra water, or if you prefer a thicker stew, perhaps none at all. Cook until the greens have become tender, then season with salt and pepper or however you desire.
Garnish with Parmesan, if desired.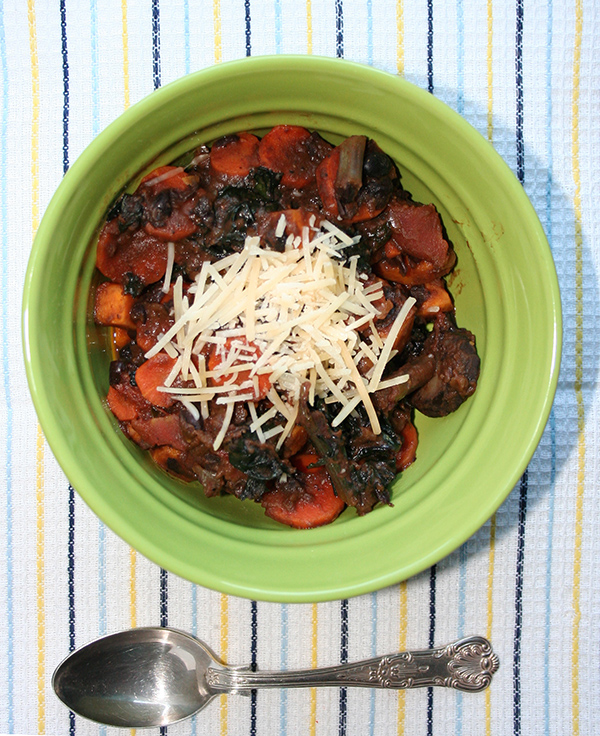 Create 6 vegetarian one-bowl wonders!
Get the techniques and recipes you need to make 6 crowd-pleasing vegetarian bowls! You'll love the up-close, expert instruction & HD video lessons.Enroll Here Now »