Combine a popular crazy quilt theme with easy-to-use text software and you can create a machine embroidered Valentine's Day project that pays tribute to broken hearts in a good way!
When I first saw this heart embroidery design, I knew it was perfect for a creating a special valentine. By using themed fabrics and heart-felt text that easily wraps around the design, I had the makings of an extraordinary gift.
Get the Simply Crazy Hearts Pt. 4, Heart 14 design here.
Follow along to create your own heart embroidery piece!
Making the text
Calligraphy Project Designer by Designs in Machine Embroidery is a stand-alone program for creating text with built-in graphic ornaments and scroll work. It also allows you to pull other designs into the program and wrap text around them. I found it is much easier to use than my native embroidery software.
A variety of fonts are available. I chose one that was easy to read, typed each word separately, and arranged the lettering around the heart.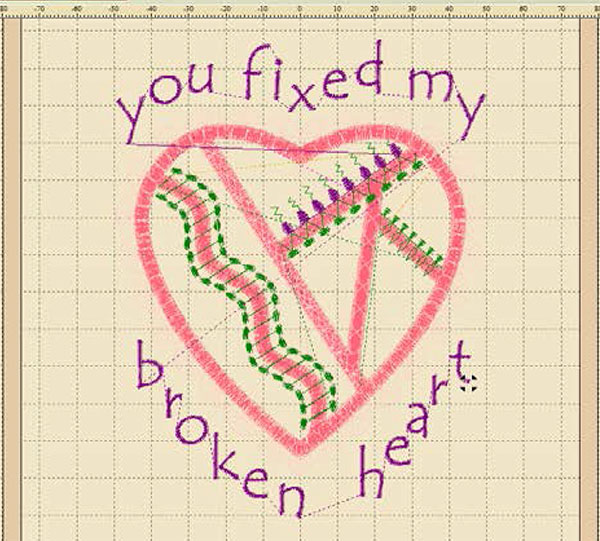 Although you can place an entire selection of text along a path with Calligraphy Project Designer, I prefer to manipulate text word by word around shapes. I made the text all one color so it would stitch out independent of the heart components.
When the text arrangement is satisfactory, just save the design in your format and you are ready to stitch.
If you need a refresher on manipulating design files and jumping through design sequences, check out these Bluprint classes: Elements of Design Editing and Embroidery Software Essentials.
Get the Calligraphy Project Designer software here.
The fabrics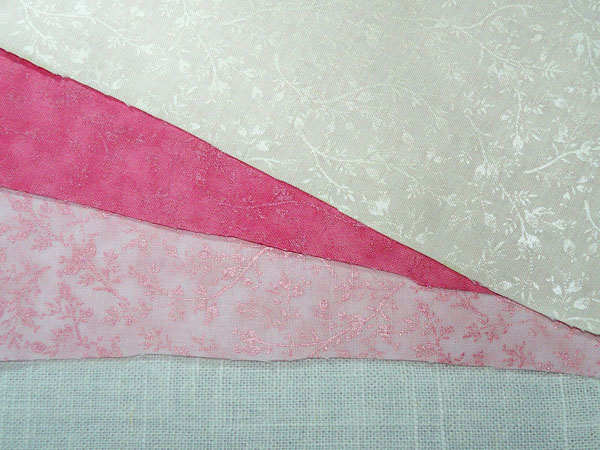 Staying with the romantic theme, I chose three fabrics for this project. All were tone-on-tone with shimmering accents in shades of ivory, light pink, and fuchsia. the base fabric was an ivory linen blend.
A mesh cutaway stabilizer in the hoop worked well with the linen and did not show through.
Altering the design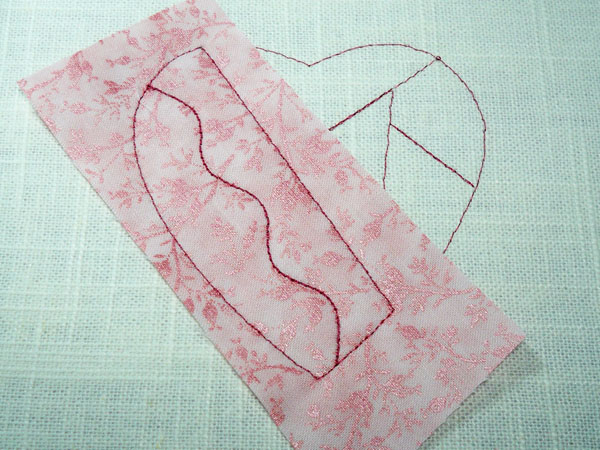 In the original design, both sides of the broken heart segment featured different appliqué fabrics. I chose to make my fabrics the same to emphasize the "break." Instead of stitching the tack down stitches and trimming each side, I stitched both, then only had to trim the outside edges.
I kept the embellishment stitches within the three fabric colors. The rest of the design was stitched as instructed.
See the full stitching sequence at Crazy Patch Embroidery: How to Stitch a Crazy Heart Two Ways.
Finish and frame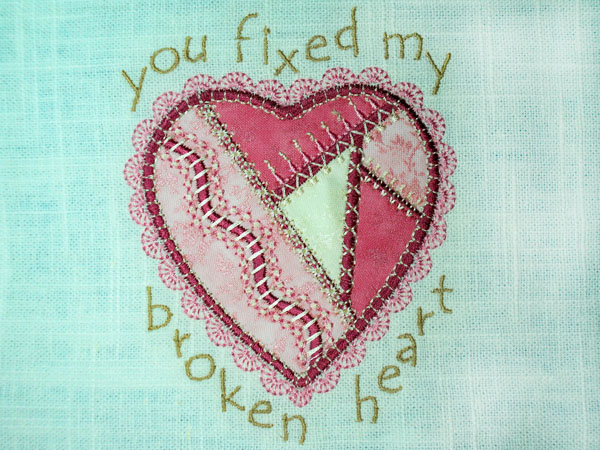 When finished, I trimmed all jump stitches in the text, trimmed the cut-away mesh stabilizer close to the stitching, and placed the design in a decorative frame.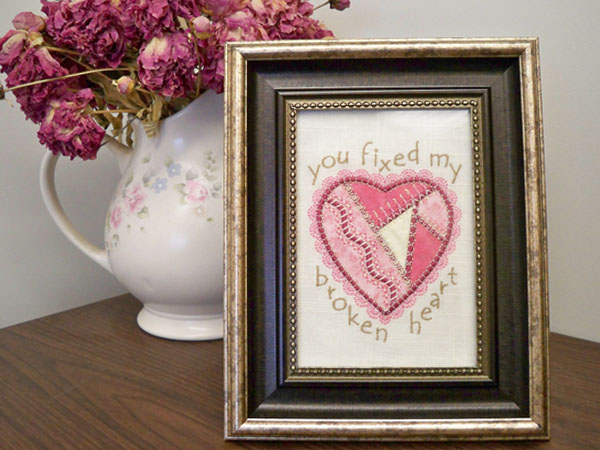 Free Online Embroidery Class