Love is in the air! Valentine's Day is upon us and that means chocolates, roses and a sea of hearts abound. Hearts are the universal symbol of affection and the perfect way to convey your message of love. If you really want to make an impression, why not say "I love you" with a custom decorated cake?
We know you're hungry for a big serving of Valentine's eye candy, so take a peek at these 8 heart cakes that are sure to satisfy any appetite!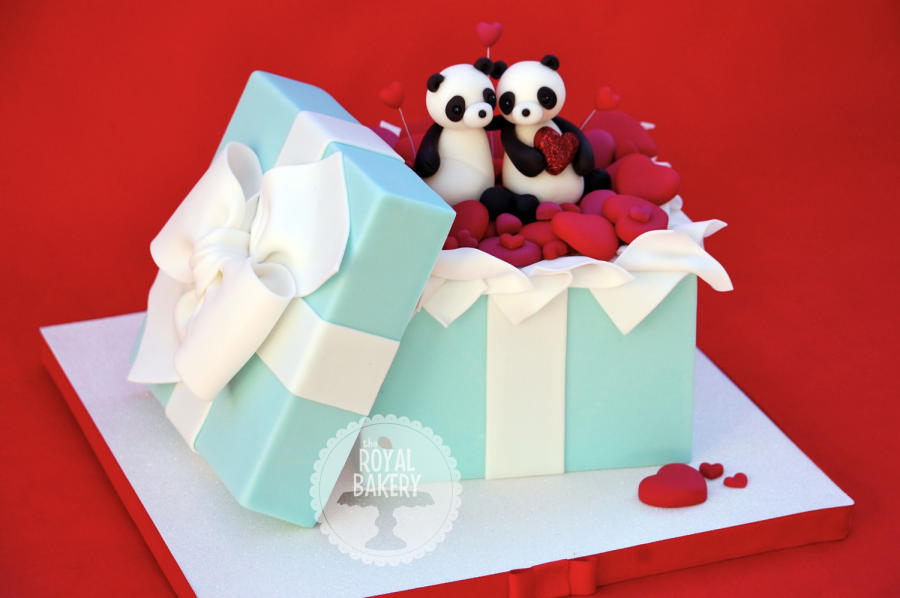 Photo via Royal bakery
Boxful of love cake
You absolutely cannot go wrong with a Tiffany box when it comes to Valentine's Day (especially one made from chocolate mud cake, vanilla bean Swiss meringue buttercream, and dark chocolate ganache). This little cake from Bluprint blogger Lesley of The Royal Bakery includes a fondant bow, tissue paper and hearts, and is topped off with two hand-modeled pandas. The tiny scattering of hearts outside the box balances the design perfectly by adding a splash of red to the cake board, which has been meticulously finished with red ribbon and a tiny, perfect bow. Boxful of love, indeed!
[box type="shadow"]You can learn to model characters like these adorable panda bears in Sharon Wee's Cake Topper Techniques: Fondant Animals.[/box]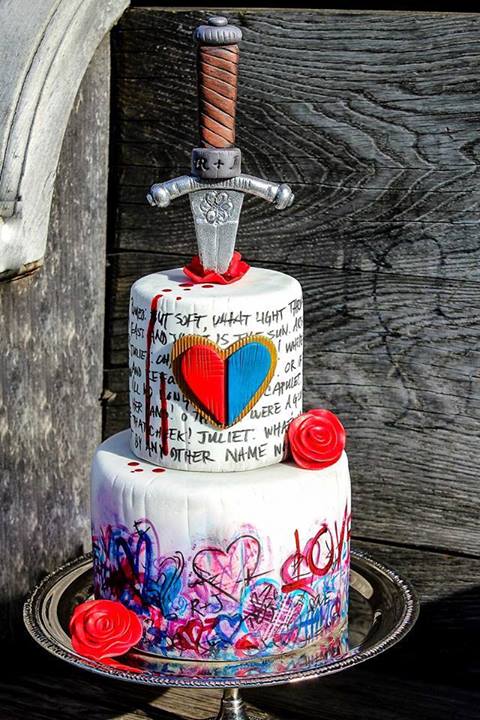 Photo via Man Bakes Cake
Love graffiti cake
This cake centers around Romeo and Juliet and was inspired by the Baz Luhrmann film, Shakespeare's text, and a trip to Italy where the artist, Rudy of Man Bakes Cake, saw first-hand accounts of love graffiti scattered throughout the cities he visited. The dagger was modeled from fondant and then hand-painted, the graffiti effect was achieved using a dry-brush technique, stamp and edible markers, and the text was hand-painted with edible marker. The two-toned heart is a clever representation of the lovers' feuding families. It's refreshing to see a modern twist on a classic love story, especially in cake!
[box type="shadow"]To learn more about hand-painting and stamping techniques, check the FREE mini-class The Hand-Painted Cake with Erin Schaefgen.[/box]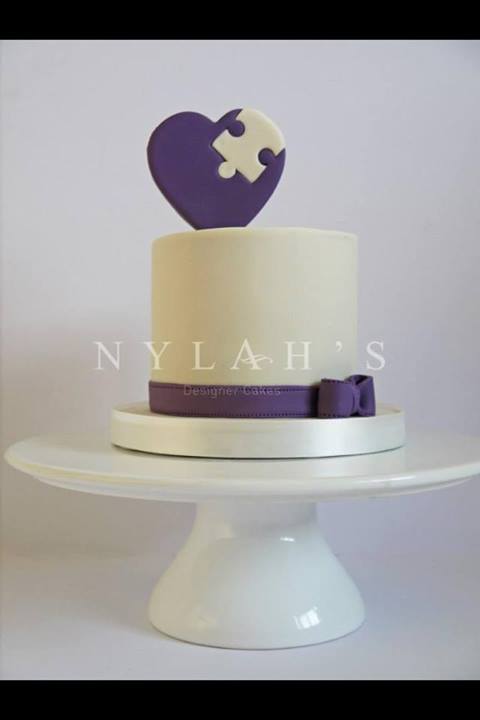 Photo via Nylah's Designer Cakes
Heart puzzle cake
This little beauty is a tiny 4″ chocolate fudge cake. The heart and puzzle piece were made using a fondant cutter. The stitching on the fondant bow and fondant ribbon border are a lovely added detail. Think "you're the missing piece to my puzzle" or "you complete me" for this one. It's too tasty to be corny if you say it with cake!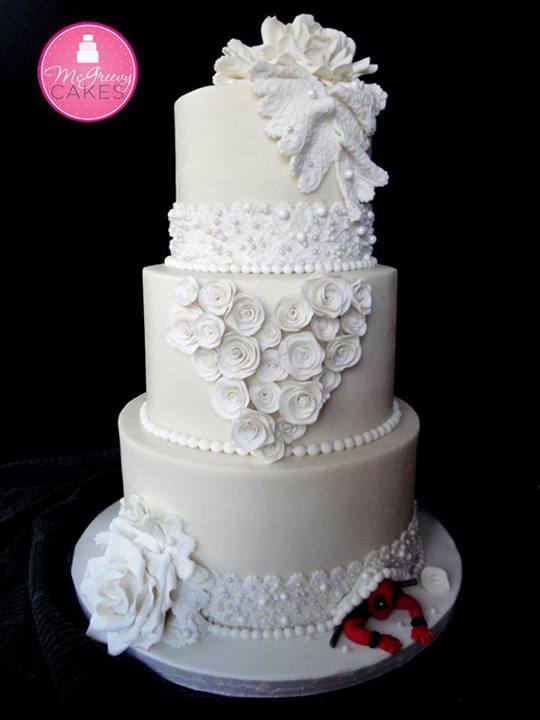 Photo via McGreevy Cakes
Heart bouquet cake
We love a cake perfectly finished in buttercream! This one is covered in hand-made roses and features a heart-shaped rose bouquet in gum paste. The beaded pearl borders are fondant and so are the lace ribbon borders. The ribbons are embellished with several different neutral shades of sugar pearls. Though this design is demure, the quirky "guest appearance'" on the bottom tier by the comic book character Deadpool adds just enough whimsy to prevent this cake from taking itself too seriously.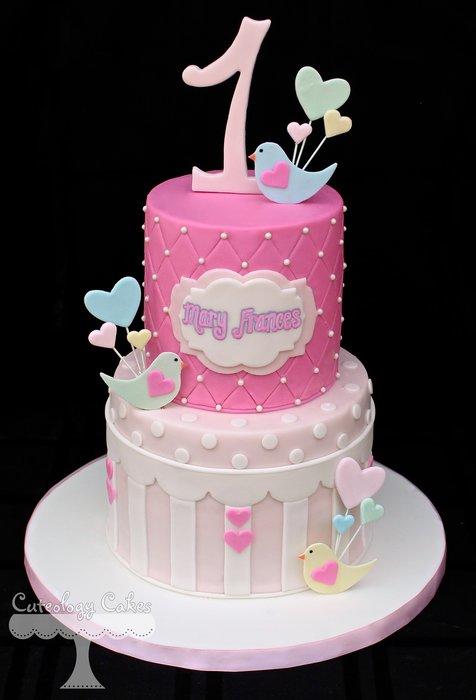 Photo via Cuteology
Love birds and hearts cake
Fresh strawberry cake is hiding inside this happy little design. This cake features a diamond-impressed top tier with perfectly placed edible pearls, a middle tier with a custom name plaque (cutter from Not Just Cakes by Annie), and a bottom tier cleverly assembled using a scalloped fondant border cutter. The cake was finished off with fondant polka dots, dainty love birds, and pastel hearts for a soft, delicate look. We're smitten!
[box type="shadow"]To learn how to create a fondant number topper for your cake, check out our post "The Number One Topper Tutorial" and be sure to download our FREE 5 Fondant Tutorial bundle, which includes a fondant number topper!  [/box]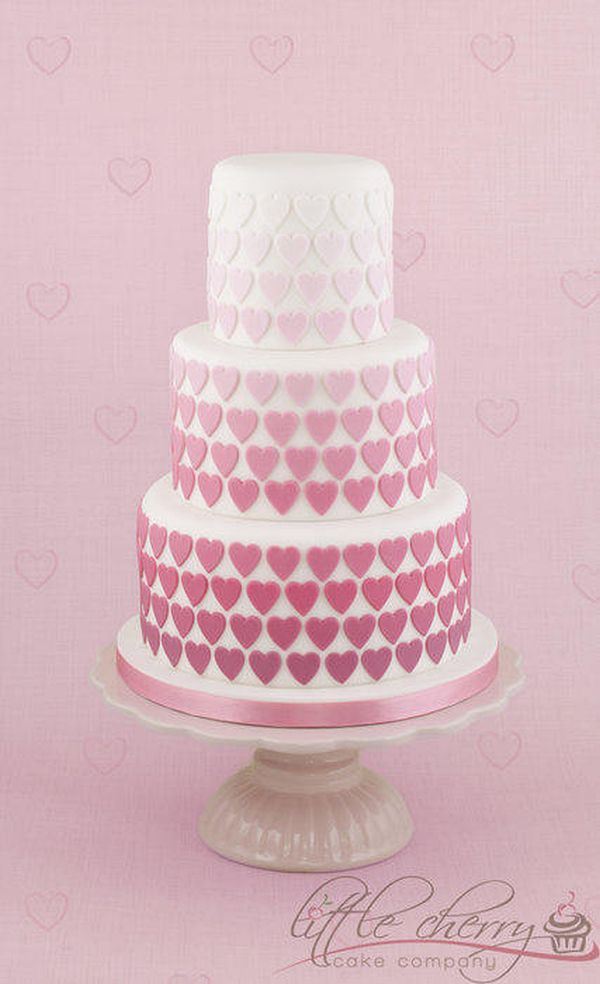 Photo via Little Cherry Cake Company
Graduated hearts cake
Ombré took the world by storm a few years ago, and the cake world was no exception. You've seen it all over the place, and here's a cake that will make you happy to see it once more. This flavored sponge cake is covered in fondant and has been painstakingly decorated in dozens upon dozens of fondant cutouts in perfectly graduated shades of pink. Be still my heart! (Get it??)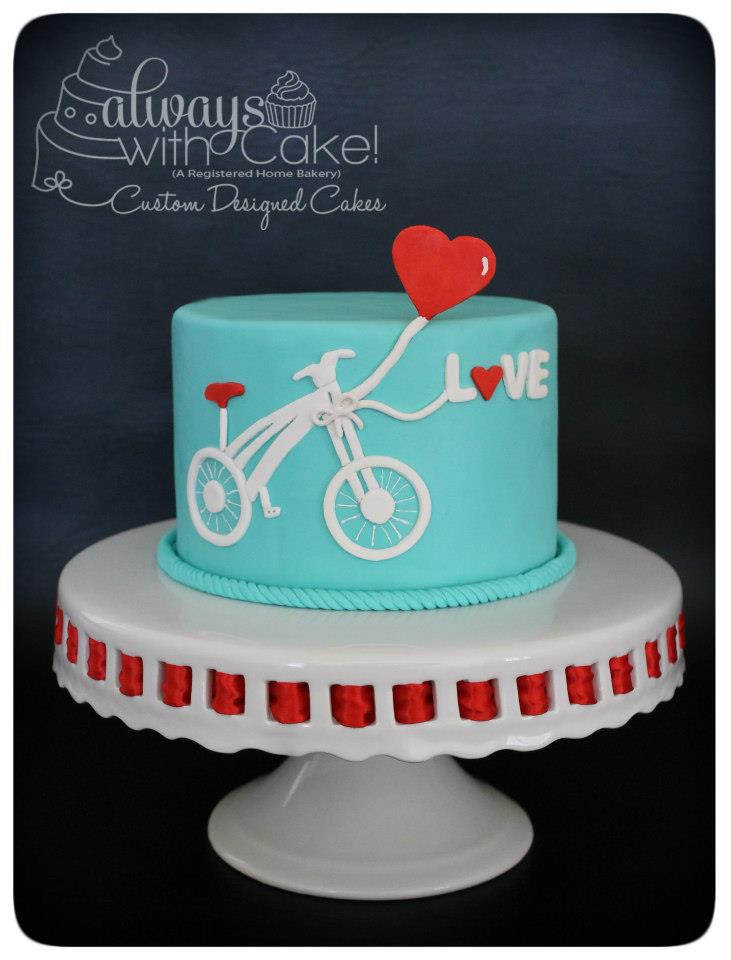 Photo via Always With Cake
Bicycle love cake
Inspiration is everywhere and this toffee nut cake with Heath Bar buttercream and marshmallow fondant is a perfect example of that, since it was inspired by a greeting card! Accented with a custom fondant bicycle with hand-painted spokes, this super clean design is proof positive that red and blue work together to provide a beautiful color palette. The "cherry on top" of this cake is the oversized gum paste balloon, which makes our hearts soar!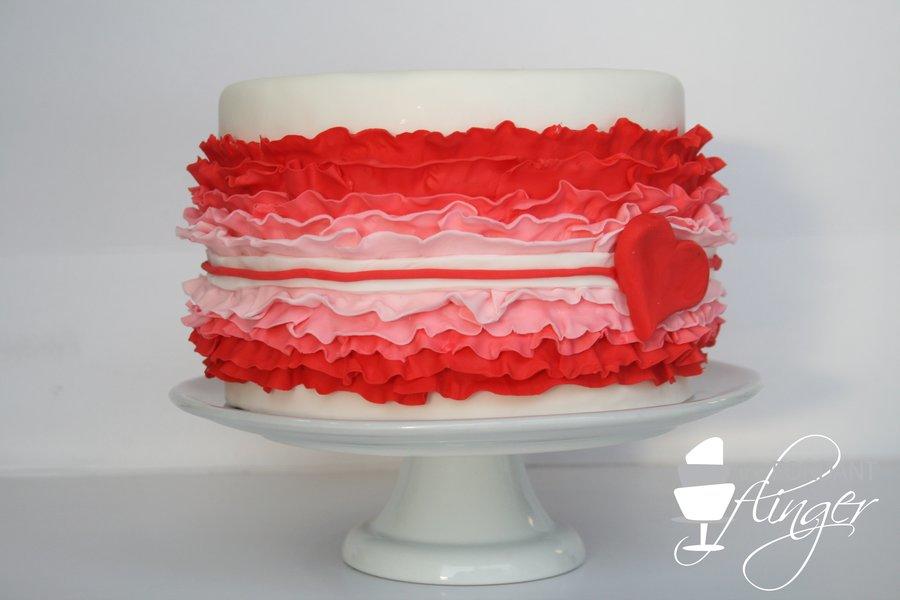 Photo via The Fondant Flinger
Ruffled heart cake
Here's a little 6″ strawberry cake filled and iced with Swiss meringue buttercream. The cake is finished in fondant with, yep, more ombré: this time on the ruffles of the cake's "belt." The ruffles play host to an offset heart that perfectly balances the finished design — and we love it! Learn to perfect your ruffles with Maggie Austin in her Fondant Frills Bluprint class.
[box type="shadow"]We hope our heart-themed cake walk has inspired you to create something for someone special. Our FREE mini-classes, Basic Fondant Techniques with Elisa Strauss and The Hand-Painted Cake with Erin Schaefgen,  are the perfect way to get started![/box]
Come back to the Bluprint blog tomorrow to see the winners of our first ever Valentine's Day Cake Decorating Contest!
[box type="shadow"]
Put your heart into it!
On Valentine's Day, hearts are on everyone's mind! Before you whip up that pretty heart cake, take a minute to think of those who are not lucky enough to have a strong heart, like those with Congenital Heart Disease, the #1 birth defect in the nations. 2Hearts is a national organization that was created with just those people in mind, and is dedicated to helping children, teens and young adults who have been diagnosed with CHD.  2 Hearts is helping these youth transition into adulthood in a healthy, safe and informed way through activities, info sessions and more.
Spread the love with Bluprint Cares this Valentine's Day! Learn more about the 2Hearts mission and how you can make a difference: Learn more on the Bluprint Cares page![/box]
Who do you most want to make a love-themed cake for?