Fresh rolls remained a takeout staple for us until one day, we realized we can just as easily make them at home! In fact, our homemade versions are cheaper, fresher and more fun to make than ordering them in.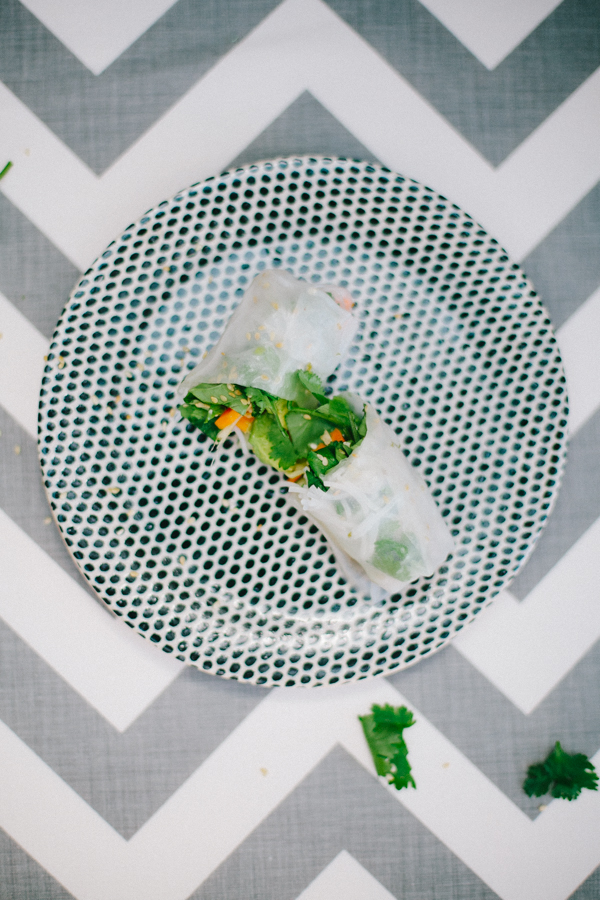 What are fresh spring rolls?
Fresh spring rolls are typically an assortment of herbs, vegetables and often meat or tofu that is tightly wrapped in a rice paper wrapper. Rice paper wrappers can be found at Asian markets or in the Asian aisle of many supermarkets.
When you open up the package the wrappers are dry and brittle. You wonder how you can roll anything in them! But, after a quick soak in hot water they soften and become pliable.
What do you fill 'em with?
Using whatever ingredients you have lying at the bottom of the vegetable drawer, fresh rolls are the perfect clean-out-the-fridge sort of food. Or, they are perfectly suited to adapt to many food allergies or aversions as they are naturally gluten-free and can easily be made vegetarian and vegan.
My favorite fresh rolls use a hearty bit of freshly chopped herbs — basil, mint and cilantro. These herbs are bright and pungent and give a fresh flavor I love. To that I add carrot, cucumber and fresh ginger that have been sliced into very thin matchsticks and are quickly tossed with some of the dipping sauce to add more flavor to the roll.
I happen to also love avocado in my roll while my husband is a huge fan of rice noodles and shrimp.
Whatever your preference fresh rolls are fun to make, easy to adapt, very nutritious and delicious. This recipe is a great place to start. Add to it and make it your own.
Fresh Spring Rolls Recipe With Ginger and Sesame
Serves 2
Ingredients:
For the dipping sauce
1⁄2 cup / 120 g rice vinegar
2 tablespoons dark brown sugar
1 garlic clove, minced
1 scallion, thinly sliced (white and green parts)
1⁄2 teaspoon sesame oil
1⁄2 teaspoon fresh ginger, minced
1⁄2 red jalapeño pepper, finely diced (more or less depending on desired amount of heat)
Zest and juice of 1 lime
For the rolls
1 carrot, julienned
1⁄2 large English cucumber, julienned
1-inch piece fresh ginger, finely julienned
1⁄2 avocado, thinly sliced
1 cup / 30 g total of fresh basil, mint, and cilantro leaves
2 tablespoons toasted sesame seeds
2 ounces / 60 g rice noodles (optional), cooked according to package directions and cooled
6 large rice paper wrappers
Preparation:
For the dipping sauce
Whisk together the rice vinegar, brown sugar, garlic, scallion, sesame oil, ginger, jalapeño, lime zest, and lime juice. Can be made up to 2 days in advance.
For the rolls:
In a medium bowl, combine the carrot, cucumber, and ginger. Toss with 1 tablespoon of the dipping sauce. Set aside to marinate for at least 15 minutes.
Prep the remaining roll ingredients and place on a tray or large platter. You'll want everything together for the assembly.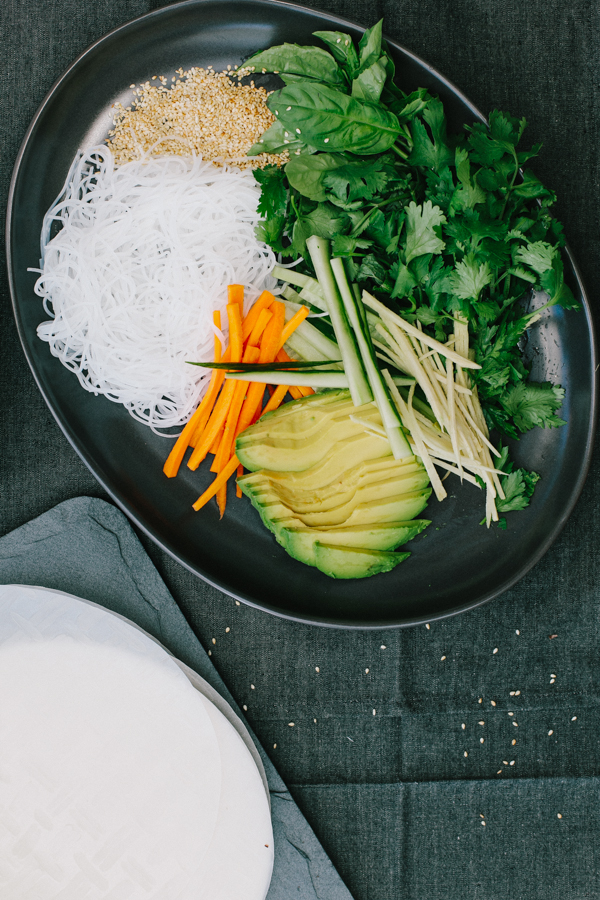 To assemble the rolls, have a pan larger than the size of the rice paper wrappers (like a large pie plate) filled with hot water.
Dip one of the wrappers in the hot water and keep submerged until translucent and pliable, about 20 to 30 seconds.

Carefully lay the wrapper on a cutting board or other flat surface.

Grab a small amount of the marinated vegetable mixture, some fresh herbs, two slices of avocado, and some rice noodles, if using, and place in the middle of the wrapper.

Finish with a sprinkling of toasted sesame seeds.

Roll the top of the wrapper over the filling, using your fingers to pull the filling together tightly.

Fold in the sides to seal the edges and continue to roll as you would a burrito.
The finished product should be a neat, tight roll about 1 inch thick. But if yours are like my husband's— oversized, covered with holes, and packed way too full — no problem. They are still delicious.
Serve the fresh rolls immediately with the dipping sauce.