We're approaching spring, which means summer is around the corner, which means only one thing. Summer cookouts. And with summer cookouts always come traditional recipes like potato salad. Potato salad that is drenched in a thick coating of mayonnaise and tastes totally predictable.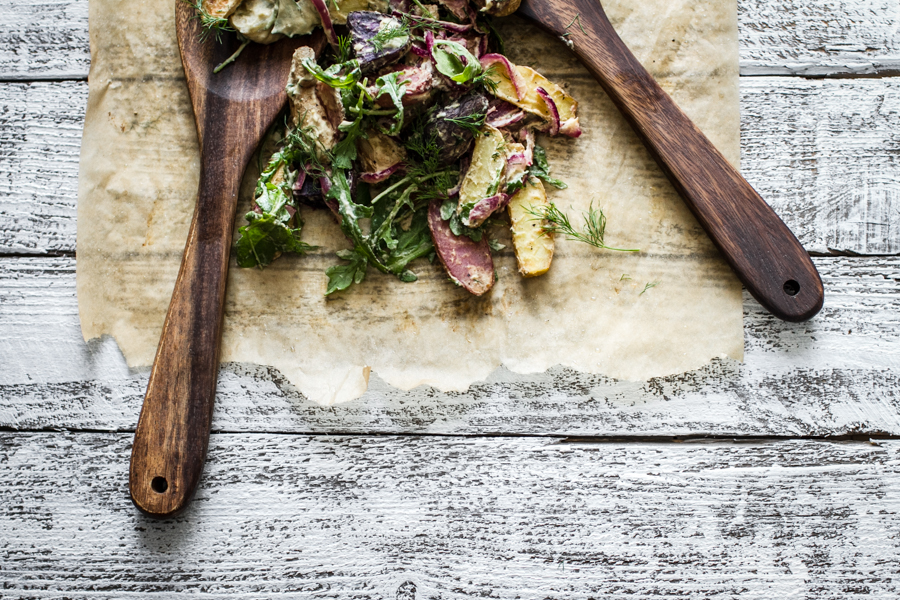 Photos via Edible Perspective
But not anymore! I'm going to save your taste buds with today's healthy potato salad recipe. It's rich and creamy, and laced with lemon and dill. Your family and friends won't know what  hit them when they try this out!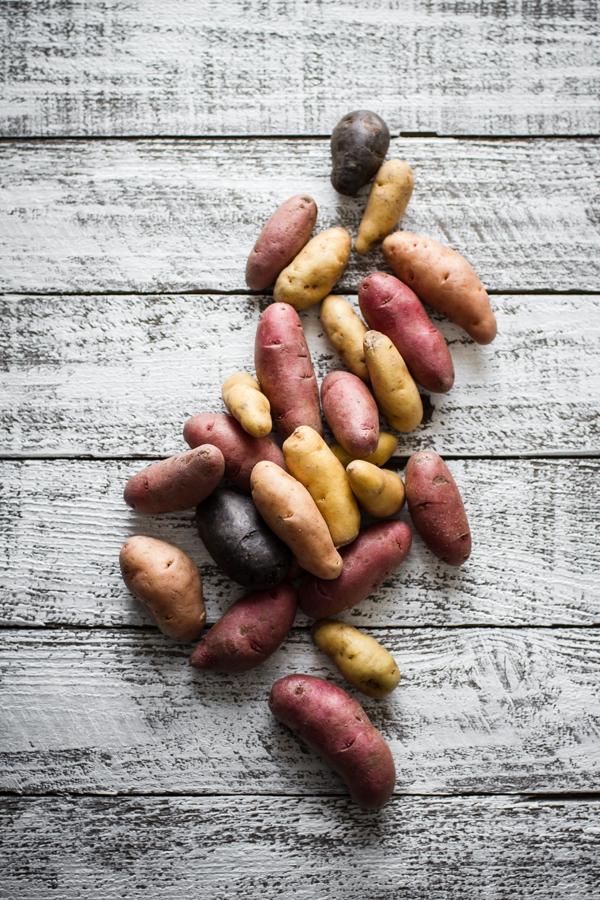 I love finding ways to reinvent classic recipes and this healthy potato salad is a great example of that.
While it may be healthier than the traditional version, we're still pumping this salad full of fat and protein. It comes in the form of chickpeas and cashews and they are the base for the dressing. It may sound a little odd, but you just have to trust me.
And guess what? This recipes is also vegan, which no one will ever guess. Trust me, again.
Like many classic potato salad recipes this version uses lemon and dill to add brightness and fresh, herby flavor. I absolutely adore dill but find it hard to figure out what to pair it with other than potato salad. Do you have any favorite recipes with dill?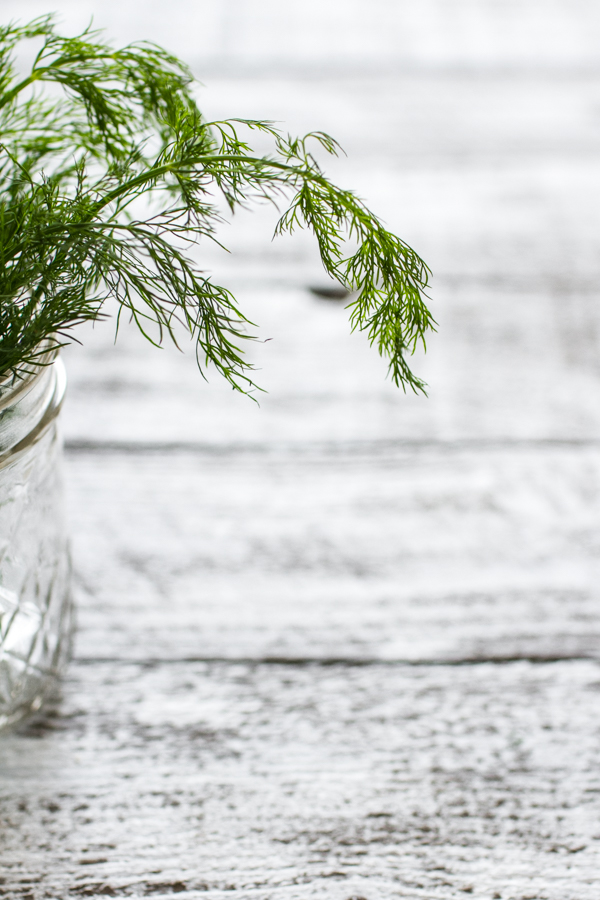 And while we're at it, why not make this potato salad pop with a little color? I've used fingerling potatoes which are super creamy and tender. They're one of my favorite kind of potatoes and work perfectly in this recipe. You can also use red potatoes or all yellow (or purple) fingerling if that's what you find.
This recipe is pretty simple to make, too! While your potatoes roast you'll blend all of the dressing ingredients in a blender. At the end of the potato roasting you'll toss in the onions and garlic and keep things cooking a bit longer. When the potatoes and onions are finished you'll toss them with the dressing, a few handfuls of arugula, and dill. And that's it!
You can handle that, right?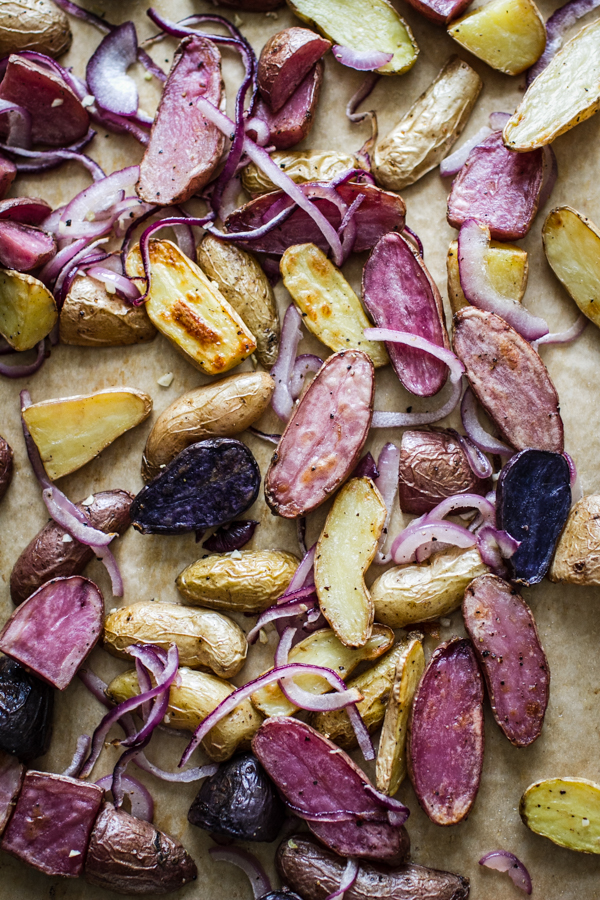 Healthy Potato Salad
Yield: 3-4 servings 
Vegan, gluten-free
Ingredients:
1 1/2 pounds fingerling potatoes, sliced lengthwise (or red potatoes)
1 tablespoon refined avocado oil (or other high heat oil)
salt + pepper
1/3 cup raw cashews (soaked for at least 4 hours)
1/3 cup chickpeas, rinsed and drained
5 tablespoons lemon juice
3 tablespoons extra virgin olive oil
1-2 tablespoons water
1 1/2 teaspoons dijon mustard (vegan if needed)
1 teaspoon minced garlic
1/4 teaspoon salt + pepper
1/2 small red onion, thinly sliced
1 clove garlic
3 loose handfuls arugula
2 tablespoons dill (plus more for garnish)
lemon wedges
Step 1:
Preheat your oven to 400 F. Place a sheet of parchment paper on a large baking sheet.
Step 2:
Toss sliced potatoes with 1 tablespoon oil and a generous pinch of salt and pepper. Place in the oven for 15 minutes. Toss and continue to roast for 15 more minutes, until light golden brown.
Step 3:
While potatoes are roasting add the cashews, chickpeas, lemon juice, olive oil, 1 tablespoon water, mustard, garlic, salt, and pepper to a blender. Turn on and blend until fully smooth. The dressing will be very thick. Blend in a few more teaspoons of water if needed to help the mixture move. Scrape the blender as needed. (A heavy duty food processor may also work. You want the dressing fully pureed and smooth.)
Step 4:
After the potatoes finish the second roast, remove the pan from the oven and reduce heat to 375° F.
Step 5:
Toss the potatoes with the sliced onion and roast for 10 minutes, until the onions have softened.
Step 6:
Next, toss the garlic with the potatoes and onions and roast for another 5 minutes.
Step 7:
Remove the potatoes from the oven and place in a large, heat safe bowl. Toss with desired amount of dressing until well coated. Add in the arugula and dill and toss to coat. Add more dressing if desired. Taste and add more salt and pepper as needed. Transfer to a serving dish if desired. Finish with a few squeezes of fresh lemon juice and garnish with more fresh dill. Serve immediately.
Step 8:
To serve chilled: Let the potatoes come to room temperature then toss with the dressing and place in the fridge until ready to serve. Just before serving toss with the dill, arugula, and add more dressing (or lemon juice, salt, pepper) if needed.